Batboy barrels way into Hall of Fame
Reliford broke Georgia State League color barrier at age of 12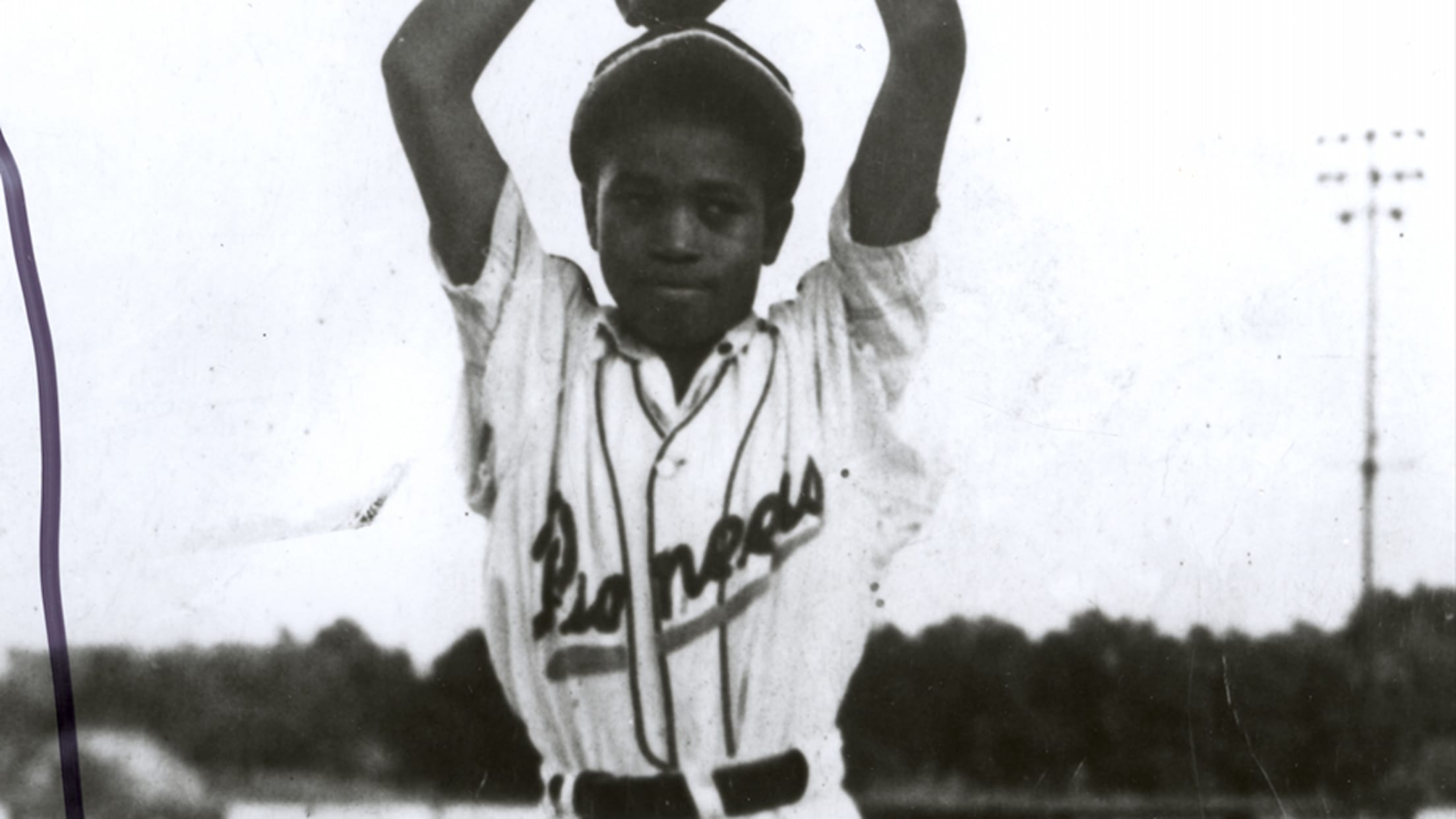 Joe Reliford earned a spot in the Baseball Hall of Fame with his Minor League appearance in 1952. (Joe Reliford)
Minor League Baseball is known for its rich history dating back more than 100 years. While much has been written about the best teams and top players who have graced the Minors, there remain many stories either untold or largely forgotten. Each week, MiLB.com will attempt to fill that gap
Minor League Baseball is known for its rich history dating back more than 100 years. While much has been written about the best teams and top players who have graced the Minors, there remain many stories either untold or largely forgotten. Each week, MiLB.com will attempt to fill that gap and explore these historical oddities in our feature, "Cracked Bats." Know of any stories to be considered for this feature in the future? Send an email and let us know.
Joe Louis Reliford simply wanted a job. What he got instead was a place in baseball history.
Reliford grew up in the Deep South in the late 1940s and early 1950s, one of 10 children raised by a single mother. His father died when he was 4 years old and as Reliford got older, the desire to help his mother and take care of the family grew stronger.
So, he did what any 10-year-old would do. He headed to the place he knew best -- the hometown ballpark in Fitzgerald, Georgia. Reliford had spent countless hours watching the Fitzgerald Pioneers of the Class D Georgia State League from the nearby railroad tracks. What better way to earn some money, he thought, than through baseball?
What Reliford didn't know, however, is that when he decided to approach Ace Adams, the Pioneers owner, that spring day in 1950, he would be set on a path that would secure him a place in the Hall of Fame. Not only did Reliford come away with a job as a batboy, he went on to break the color barrier in the Georgia State League and become the youngest person ever to play in a professional baseball game.
"I got the job because I wanted to help my mom," Reliford, 67, said. "We had the field right down the street and I watched games for years and years, and I got to know the players by watching from the tracks and hanging on the fence. I finally got the nerve to go find out who the manager [and owner] was. And when I found out it was Ace Adams, I told him I wanted to be the batboy for his team.
"I went back the next day after school, and he told me what a batboy had to do. I also told him he'd have to ask my mom if it was OK because this was a team that traveled. He asked my mom and she said yes. So he took me back to the ballpark and gave me a uniform. That uniform was so big, it would fit me today. My mom had to alter it."
While segregation was still prevalent in the South in the early '50s, particularly in baseball, Reliford said it was never much of an issue for him. Though Fitzgerald had an all-white team, he only heard the occasional hateful remark. In fact, Adams and most of the players grew to like the youngster.
One such player was Charlie Ridgeway, a speedy infielder who joined the Pioneers in 1952. Reliford took an immediate liking to Ridgeway. The feeling was mutual and a friendship was formed.
"Mr. Ridgeway was a pretty good ballplayer and he took me under his wing," Reliford said. "I wanted to be a runner and steal bases like he did, so I took up with him. And sure enough, when he got promoted to field manager, he let me go out and warm up the pitcher, shag flies, field grounders at different positions and practice with the team. After a while, I got pretty good. But being a child, it was just fun to me. I didn't think anything of it."
As the calendar turned toward the summer, Fitzgerald was languishing near the bottom of the eight-team circuit. The Pioneers eventually finished sixth, 14 games under .500 and 20 games out of first place. So it was no surprise that on July 19, they were getting shellacked at Statesboro, another team of questionable quality.
What made that game a bit different, however, was the crowd. Sparse crowds were commonplace, but the local Elks Lodge was sponsoring the game. The stands were packed with lodge members, many of whom had been enjoying their share of adult beverages. When Fitzgerald fell behind, 13-0, heading into the eighth inning, the crowd started chanting for Ridgeway to "put in the batboy."
A less courageous man might have ignored the pleas. Ridgeway did not.
"I asked the umpire [Ed Kubick] what would happen if I put him in, and he said, 'I guess if he gets a hit you'll have to forfeit the game,'" Ridgeway, 83, recalled. "So Joe grabbed a bat and he went up to hit. We didn't have a bad club, but it was one of those days where everything went wrong and the crowd just wanted to be entertained.
"He was 12, but he had been working out with us every day and we let him hit once in a while, so I knew he wouldn't embarrass us. I didn't even think about his color because we didn't have any racists on the club."
So Reliford grabbed a bat and -- 131 days shy of his 13th birthday -- stepped into the history books, becoming the youngest player ever to appear in a professional baseball game. Joe Nuxhall previously held that distinction, appearing in a game for the Cincinnati Reds as a 15-year-old in 1944.
Reliford proceeded to dig into the batter's box against shocked Statesboro pitcher Curtis White, who threw a fastball right by him. The next pitch was another fastball, but Reliford was ready. He caught it perfectly and drilled a hard grounder down the line that appeared to be headed for the left-field corner.
But the Statesboro third baseman snagged the ball with a nifty backhand play and fired to first base, throwing out Reliford by a step. That should have been the end of Reliford's outing, but Ridgeway felt compelled to put him in the field. So he told the youngster to grab his glove and head to right for what would be an eventful bottom of the eighth.
"They had one fellow on first base when another one hit a grounder to me," Reliford said. "The runner was headed to third because I guess he was thinking 'That little child can't throw me out.' But when he got to third base, the ball was waiting on him and I had thrown him out."
The next batter was Harold Shuster, Statesboro's best hitter and one of the league's more feared sluggers. Shuster smacked a drive to right field that sent Reliford racing back to the wall. He leaped, making a spectacular catch -- ending Shuster's 21-game hitting streak -- and pandemonium ensued.
"The bleachers emptied, and it scared me to death," Reliford said. "I caught a ball and I wasn't even supposed to be on the field. All those white folks were coming toward me and I thought they were doing it because I caught the ball. But they were happy for me and I didn't know it. I was 12 years old and I was scared to death.
"After that, Mr. Ridgeway rushed me into the dressing room. He looked at my back pocket when we were in there and saw that it was full of money. They stuffed my pockets full of money. I couldn't handle it. I didn't know what to do. But I did something that no one had ever done before, and I remember that day just like it was yesterday."
Ridgeway was fined $50 by the league and suspended for five days for allowing Reliford to play. He said the town took up a collection to pay the fine and raised $52. Kubick wasn't so lucky. The league fired him for allowing such an incident to take place. Reliford left Fitzgerald later that summer to work for the Fitzgerald Lucky Stars of the Negro Minor Leagues.
"I didn't even think about the history aspect of it until the Associated Press and a couple of magazines picked it up," Ridgeway said. "That's how it took off. I would probably get a much worse fine if I did it today. But the league president was very understanding."
What remains one of the most astonishing aspects of Reliford's story is the fact that his historic effort remains the highlight of his baseball career. What could have been a promising future was cut short by a broken collarbone suffered in college, preventing him from making a bigger name for himself in the sports world.
Reliford appeared in a few games for the Lucky Stars after that Georgia State League cameo. After college, he went on to become an electrical technician and deputy sheriff, a post he held until retiring in 1998.
"I never met Jackie Robinson, but I do view myself as a pioneer," Reliford said. "He and I broke in five years apart. But I later learned that I was the one that opened the door for players like Hank Aaron, Willie McCovey and Frank Robinson. Hank played in our league in 1953."
Reliford tucked away the memory of that eventful day, never truly realizing what he'd achieved until 1980. He decided to sell some of his memorabilia and called the Oakland A's -- Fitzgerald was a Kansas City A's affiliate in 1952 -- with some questions about that game. He was floored by the response he received.
The folks in Oakland not only knew who he was, they informed him there was a small display honoring his achievement in the Baseball Hall of Fame. A quick call to the Hall confirmed what the A's had told him. In addition, Reliford has a place in the Guinness Book of Records and was featured on the television show, "Ripley's Believe It or Not." He has since written a best seller, From Batboy to the Hall of Fame, about the event with plans for a movie.
"That's the way I found out about myself," he said. "I didn't even know I was in the Hall of Fame."
Reliford still keeps in touch with Ridgeway and spends much of his time doting on his 16 grandchildren. He lives in Douglas, Georgia, where he had the distinction of being the third African-American hired to the city's police force. He's an active member in his church and still loves talking about that day in 1952, speaking of the event as recently as last April in Cooperstown.
"I've had a lovely life," he said. "I've been blessed. God has been good to me."
Kevin Czerwinski is a reporter for MiLB.com.