Ben Joyce Blazes Path To Big Leagues
Reliever thriving at MLB Spring Training after debuting for Trash Pandas in 2022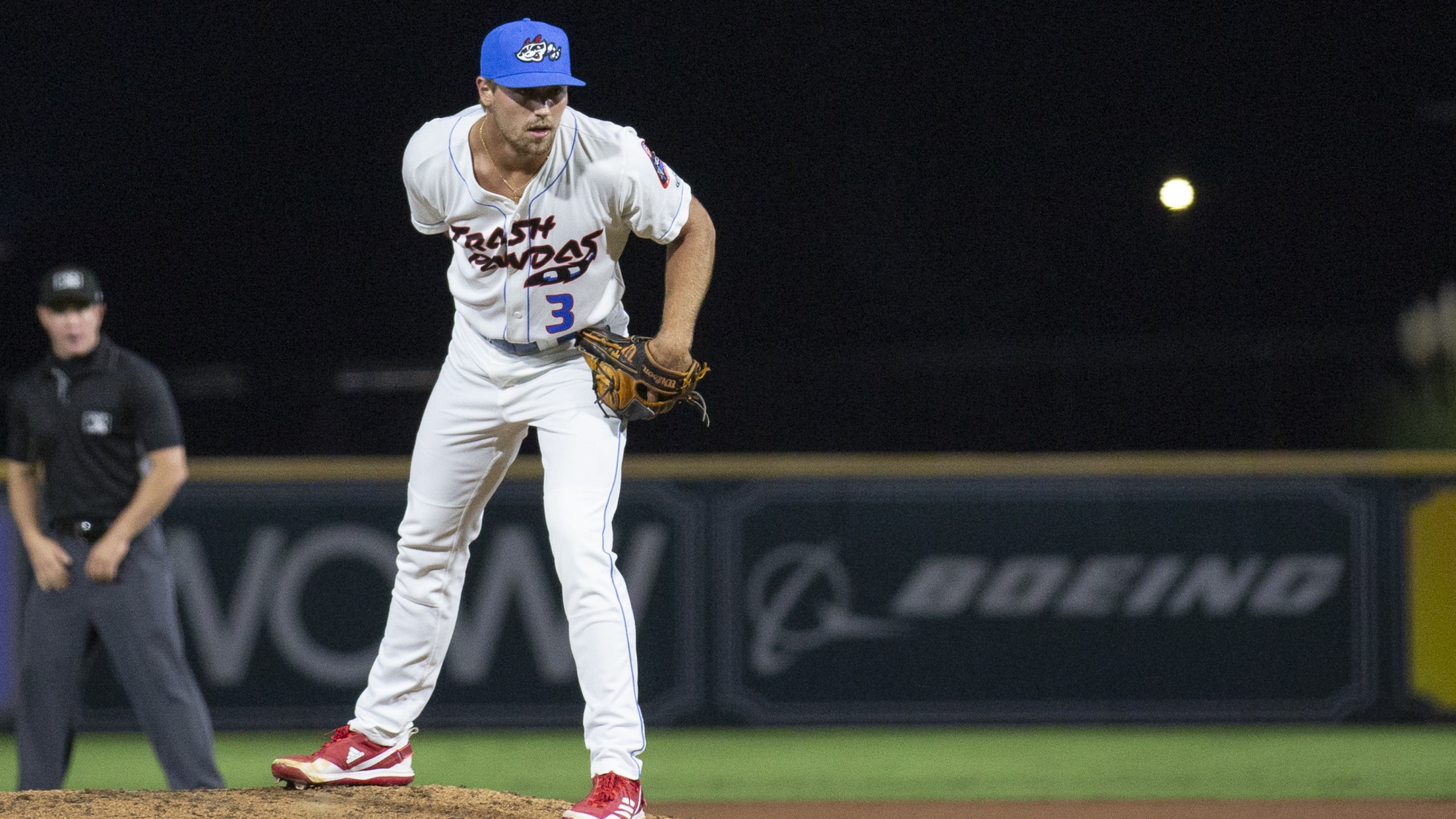 Ben Joyce debuted for Rocket City in 2022 after the Angels drafted him in the third round. (Javier Sanchez/Rocket City Trash Pandas)
On March 9, 2022, Tennessee pitcher Ben Joyce entered a game against James Madison looking to hold a 1-0 lead in the fourth inning. He faced only one batter and walked him on eight pitches, one of which was a wild pitch. Tennessee eventually won the game 10-2. It wasn't
On March 9, 2022, Tennessee pitcher Ben Joyce entered a game against James Madison looking to hold a 1-0 lead in the fourth inning. He faced only one batter and walked him on eight pitches, one of which was a wild pitch. Tennessee eventually won the game 10-2. It wasn't the outing Joyce was hoping for.
What a difference a year makes.
On March 9, 2023, Joyce took the mound in a Major League game for the Los Angeles Angels, facing Team USA in a World Baseball Classic tune-up. At Tempe Diablo Stadium, Joyce faced Major League stars Kyle Schwarber, Bobby Witt Jr., and Pete Alonso. He threw a scoreless ninth inning, striking out Alonso with a wicked slider to put himself on the radar for a potential Major League roster spot as the season opens in the coming weeks.
"It was a pretty surreal experience, especially seeing their lineup before the game," Joyce said of Team USA. "Knowing I'd pitch against them was pretty cool. Seeing Kyle Schwarber and Pete Alonso, it was great to know that I'm on the same field as those guys and able to compete with guys I've been watching growing up."
"He doesn't get ahead of himself. He treats every day as its own entity, like it's got a life of its own. And good or bad, he's really good about moving on to the next one," Trash Pandas Manager Andy Schatzley said of Joyce. "He's done a great job of not getting ahead of himself, giving each day the focus that it deserves and because of that the progress has been very consistent."
For Joyce, that was a recent chapter in an incredible journey that has led him from Knoxville to the cusp of the Angels roster, with a debut stop in Rocket City in between as he begins his professional baseball career.
Already, he can already boast about accomplishing a feat few in the history have baseball have done before him.
While pitching for Tennessee on May 1, 2022, Joyce reached back and threw a fastball 105.5 miles per hour against Auburn. That put him among the fastest recorded pitches the game has ever seen with Aroldis Chapman, Nolan Ryan, Justin Verlander, and Bob Feller.
Ben Joyce's 105.5 MPH Fastball. pic.twitter.com/4a2R8iMw1A

— Rob Friedman (@PitchingNinja) May 1, 2022
While the pitch against Auburn was a little faster than Joyce's season average, he consistently reached triple digits in his final collegiate season. The feeling that created was a joy for both Joyce and those watching in the stands.
"It's a huge adrenaline rush for me. Especially when the radar gun reading is on the scoreboard and the crowd gets into it," Joyce said. "I'm seeing the hard work and the results paying off with the velocity on my fastball. The reaction from everyone, getting to see that number that day in Tennessee was crazy."
As his fastball velocity rose, so did his draft stock. The Los Angeles Angels came calling on the second day of the draft, picking him in the third round with the 89th overall selection. Joyce remembered that the Angels were one of many teams that reached out leading up to the draft, but he was still surprised when they picked him.
The surprises kept coming from there, as he soon learned he would make the jump straight to Double-A to make his professional debut for the Rocket City Trash Pandas, not too far from his childhood home in Knoxville, Tennessee.
"It was exciting to hear that I was going to start in Double-A," he said. "Getting to start back up after a great college season and go to a team that was playing winning baseball, it was great to start my career there."
His professional debut at Toyota Field on August 2 against his hometown Tennessee Smokies doesn't look pretty on the box score, as he allowed two runs on four hits in one inning of work. It wasn't because of a lack of velocity, as a couple broken bat hits spoiled his outing. They didn't spoil his spirit since he had to get back to work quickly.
"The welcome to professional baseball moment was my first outing. I gave up three broken bat singles, allowed a few runs, and couldn't get any luck there," he recalled. "Then I got back to the dugout and was told to get ready to do it again in two days. It shows you how quick of a turnaround there is in professional baseball."
With his debut behind him, Joyce flourished in the remainder of the regular season. He did not allow an earned run over his next nine outings, including his first professional victory on August 20 vs. Chattanooga and his first save five days later at Smokies Stadium in Knoxville. With the Trash Pandas, Joyce's fastball reached as high as 103 miles per hour, impressing his teammates in the process.
"I'm much happier that I have a glove in my hand and not a bat when he's on the mound," catcher Logan O'Hoppe said. "He's a big guy so it's a different look when he's coming down the mound."
During the regular season, 10 of Joyce's outings for the playoff-bound Trash Pandas were scoreless. However, when the Trash Pandas met the Smokies in the postseason, Joyce struggled, allowing four runs on a pair of home runs over two games as Rocket City was defeated in a tightly-contested three-game series. The disappointing feeling left by the end of an otherwise stellar season now motivates Joyce as he begins his first full season.
"It didn't go our way. I definitely could have pitched better," he said. "It just didn't go our way. It leaves an unfinished business taste. You never want to lose, especially in an environment like that."
Since then, the environment has changed for Joyce. His strong performance with the Trash Pandas helped him earn a spot as the Angels No. 12 prospect according to MLB.com entering the 2023 season. Now, he's competing for a spot in the Los Angeles bullpen at Major League spring training, a far cry from less than a year ago when he was still in college.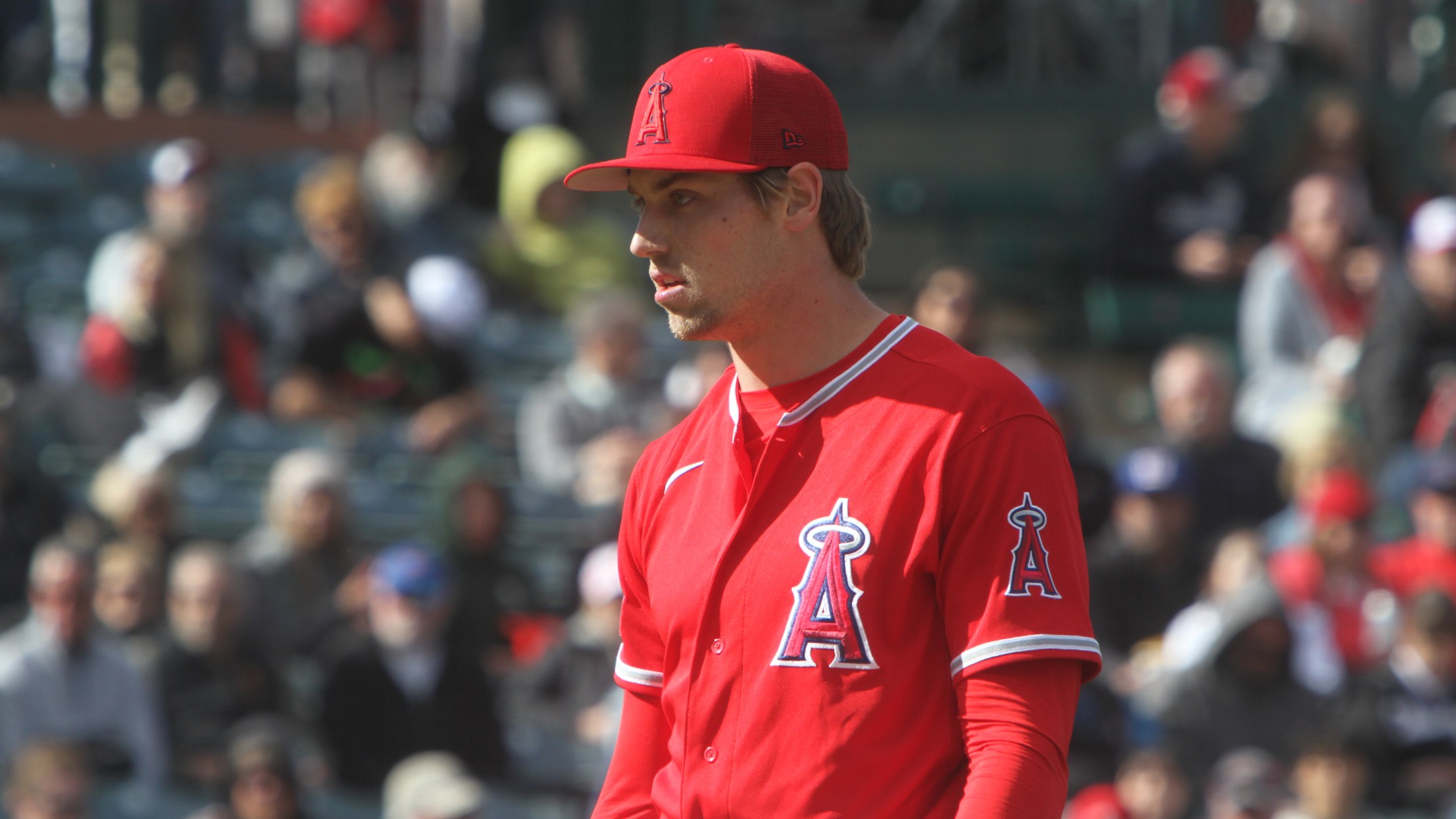 The environment of walking into a Major League clubhouse for the first time was an exhilarating one for Joyce. He's taking it all in stride with his big league dream now within reach.
"It's been a super cool experience getting to pick the brains of all these guys that have been in the league for so long," he said. "Getting to work with them every day, get better, and face big league hitters that I've watched growing up has been great."
So far this spring, Joyce has yet to give up a run over six outings between the Cactus League and the exhibition against Team USA, striking out eight over five innings. The key to the success has been simple.
"I'm trying to treat every pitch like it's my last pitch right now. That's helped me a lot, staying grounded, staying in the moment, and helped me have success so far this spring," he said. "Staying true to myself, not trying to do anything different than I've been doing the last year, two years of playing baseball. Just staying true to the hard work I've been doing, taking it one pitch at a time."