Rickwood Field echoes a bygone era
Barons return to vintage Birmingham ballpark once a season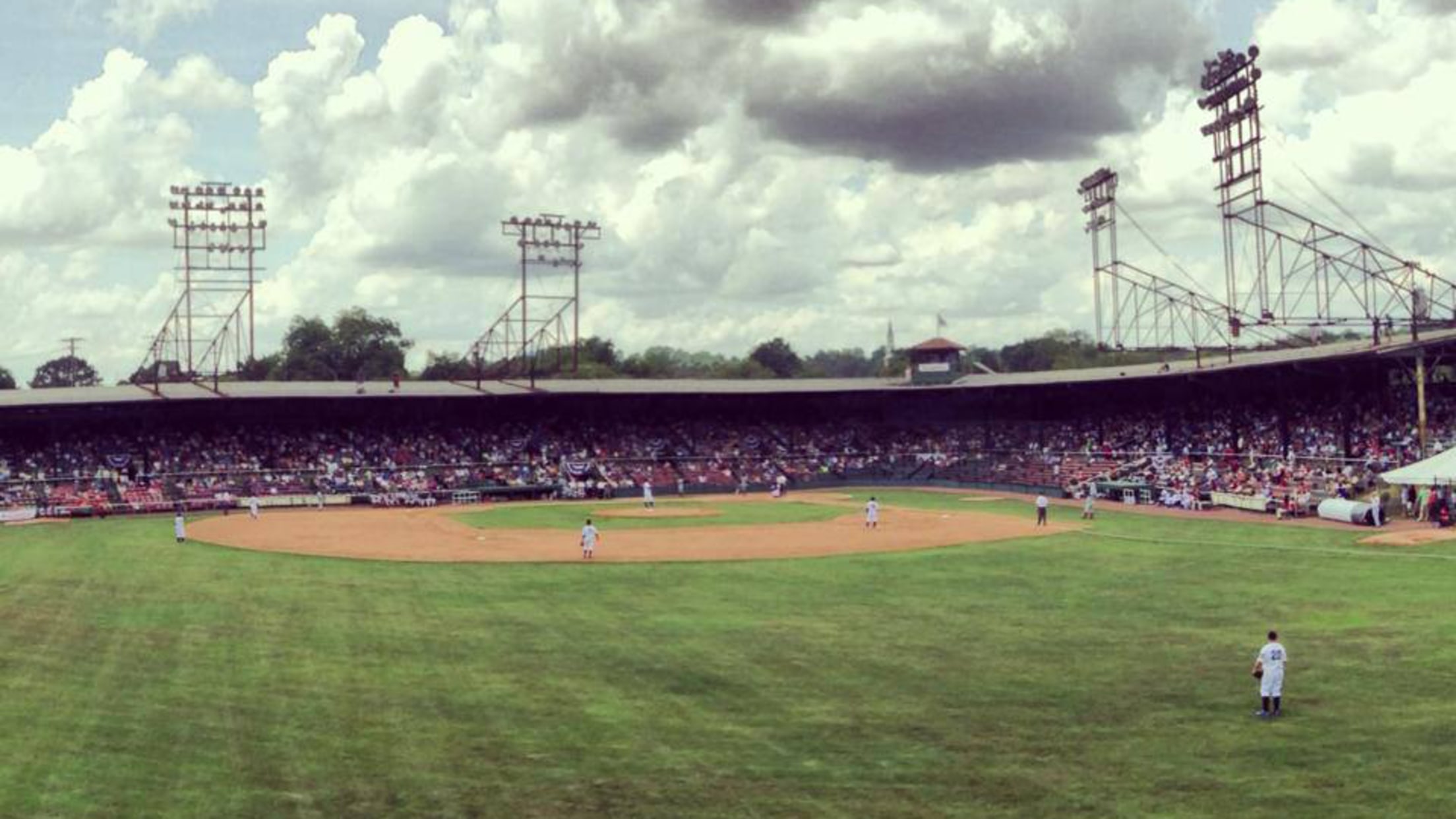 Willie Mays, Satchel Paige and Dizzy Dean are among the Hall of Famers who played games at Rickwood Field. (John Shadrick)
BIRMINGHAM, Alabama -- This urban area of roughly 1.1 million has been dubbed "The Magic City," a moniker that derives from its phenomenal growth around the turn of the 20th Century. But one trip to Rickwood Field could convince any baseball fan there's another reason for the nickname.Attendees at the
BIRMINGHAM, Alabama -- This urban area of roughly 1.1 million has been dubbed "The Magic City," a moniker that derives from its phenomenal growth around the turn of the 20th Century. But one trip to Rickwood Field could convince any baseball fan there's another reason for the nickname.
Attendees at the annual Minor League Baseball Promotional Seminar toured the nearly century-old stadium Wednesday. And while they needed barely 20 minutes to make the trip from downtown, they were transported to a bygone era.
Built in 1910, Rickwood Field is the oldest baseball stadium in the country. And it's being preserved through a unique partnership between the Birmingham Barons and Friends of Rickwood Field, a non-profit group whose mission is maintaining this relic from the city's storied baseball heritage. That partnership has enabled both entities to split organizational responsibilities and, more importantly, costs.
"It's a labor of love," Barons general manager Jonathan Nelson said. "It's a very special place."
Rickwood was home to the Barons from 1910-87 and to the Birmingham Black Barons of the Negro Leagues from 1920-63. Dizzy Dean, Denny McLain, Catfish Hunter, Rollie Fingers, Reggie Jackson, Willie Mays, Satchel Paige and "Double Duty" Radcliffe are among those who tramped its spacious confines. According to David Brewer, executive director of Friends of Rickwood Field, more than 57 members of the Baseball Hall of Fame have played at the ballpark.
"We think that's really significant for a town that never had a Major League team," he said.
All of the Friends' fundraising activities are channeled back into maintaining the ballpark and getting it ready for the annual Rickwood Classic. Since 1996, the Barons have played one regular-season game there.
"This event consumes us year-round," Brewer explained. "It takes everything we have to put this event on. ... Obviously, we couldn't do this event without our partners, the Birmingham Barons."
Each Rickwood Classic pays tribute to a different era in Birmingham baseball history. The 1999 game commemorated the Black Barons, with 35 former Negro Leaguers -- including country singer Charley Pride -- returning to Rickwood.
"We reached a portion of the community that's been showing a declining interest in baseball," Brewer said.
Four years later, organizers were able to involve the business community when the Rickwood Classic honored industrial league baseball. That game also opened previously unexplored sponsorship opportunities.
"People just flocked to the ballpark. It was a true community-level event," Brewer said.
"Connecting with the Community" was the topic on which Nelson and Brewer spoke Wednesday. And while the team and non-profit organization have received tremendous support from local media and businesses, both conceded that Rickwood provides Birmingham with unique opportunities.
"We realize we're in a very unique position," Nelson said. "Not every team can turn back the clock and return to your old ballpark."
Returning to Rickwood each year also opens financial possibilities. The 2007 game, which pitted Birmingham and the Jacksonville Suns, harkened back to the 1964-65 Barons, the first integrated team to play at Rickwood. Both teams wore vintage uniforms -- as an A's affiliate, the Barons donned garish gold and green jerseys -- that were auctioned off during the game. A unique poster was created for the event, and fans attending got an orange baseball like the ones promoted by controversial Barons and A's owner Charles O. Finley.
"This was one of those days when everything fell together," Nelson said. "We had great weather, great attendance and we won the game. It was just one of those magical days."
Each Rickwood Classic features a special guest -- Minnie Minoso, Tommy John, Walt Dropo and Vida Blue have attended in the past -- as well as a memorabilia auction. And fans are allowed on the field after the game.
"The coolest thing is when you see the old-timers come back to the park with their grandchildren and they say, 'Son, this park is just like it was when I was coming here,'" Brewer said.
"The most rewarding thing is that it attracts so many generations of baseball fans," Nelson added.
Visitors feel Rickwood Field's rustic charm the moment they step through its vintage turnstiles. Advertisements on the outfield fence have been painstakingly re-created to feature products like Burma-Shave, Hupmobile (every trip a home run!), Aromints (a feast of nectared sweets) and Ever-Ready Safety Razors.
The manually operated scoreboard has an out-of-town section that features the 16 pre-expansion big-league teams as well as Southern League teams from New Orleans, Little Rock, Atlanta and Nashville.
Beyond the wooden outfield fence is the original concrete version that was used from 1910-37. Center field was a daunting 478 feet from home plate, and a marker has been erected on the spot --- 467 feet from the plate -- where Dropo reached the fence on a fly in 1948.
Keeping the field up to professional standards is one of the major tasks of the Friends of Rickwood Field, Brewer said. While the group employs a groundskeeping service, the Barons contribute members of their staff.
"If any player gets hurt, it would be curtains for the Rickwood Classic," he admitted.
And that, everyone agreed Wednesday, would be tragic.
"This was the 13th year hosting this event, so we're doing something right," Brewer said. "Ultimately, this comes down to community members who come down to the park. We've had peaks and valleys in terms of attendance, but after 13 years, the event is still viable."
Daren Smith is an editor for MiLB.com.