Jays' Guerrero Jr. out at least four weeks
No. 2 overall prospect has strained patellar tendon in left knee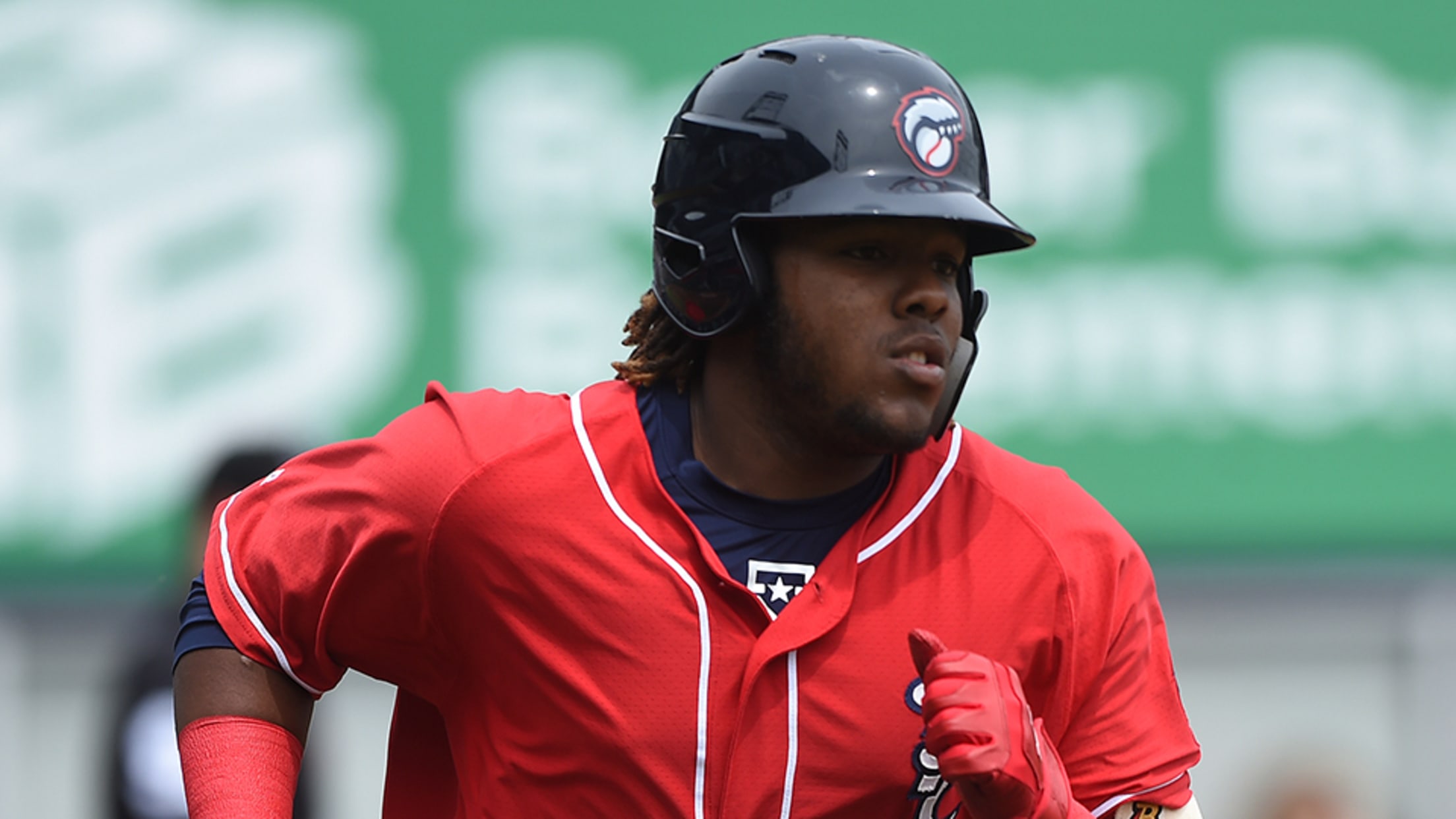 Vladimir Guerrero Jr. leads all Minor Leaguers with a 1.124 OPS and 55 RBIs in 53 games. (Kevin Pataky/MiLB.com)
Vladimir Guerrero Jr.'s removal from Double-A New Hampshire's game Wednesday turned out to be necessary and not just precautionary. MLB.com's No. 2 overall prospect suffered a strained patellar tendon in his left knee, the big league club announced Sunday. The team said he will be managed conservatively as he works back from
Vladimir Guerrero Jr.'s removal from Double-A New Hampshire's game Wednesday turned out to be necessary and not just precautionary.
MLB.com's No. 2 overall prospect suffered a strained patellar tendon in his left knee, the big league club announced Sunday. The team said he will be managed conservatively as he works back from the injury and will be re-evaluted in four weeks.
Guerrero Jr. left Wednesday's game in the fourth inning. The top Blue Jays prospect legged out an infield single and Cavan Biggio followed with a base knock. Guerrero Jr. slid into second base and immediately signaled to the dugout when he popped up before gingerly walking off the field.
At the time, New Hampshire manager John Schneider hoped the injury wouldn't be severe enough for the Guerrero Jr. to miss significant time.
"He checks out fine," Schneider said. "But with him and all of our players, we're just being careful and making sure he's good to go."
Guerrero may have suffered the injury on June 2 when he beat out another infield hit in the second game of a doubleheader against Binghamton and left for a pinch-runner in the seventh inning.
The son of Hall of Famer Vladimir Guerrero owns a .407/.457/.667 slash line with 11 homers and 55 RBIs in 53 games. He leads all active Minor Leaguers with a 1.124 OPS and tops the Eastern League in batting, on-base percentage, slugging percentage, RBIs, hits and total bases (136).
Chris Bumbaca is a contributor for MiLB.com based in New York. Follow him on Twitter @BOOMbaca.