Turley whiffed many records in 1951
Yankees righty cut legendary swath through Texas League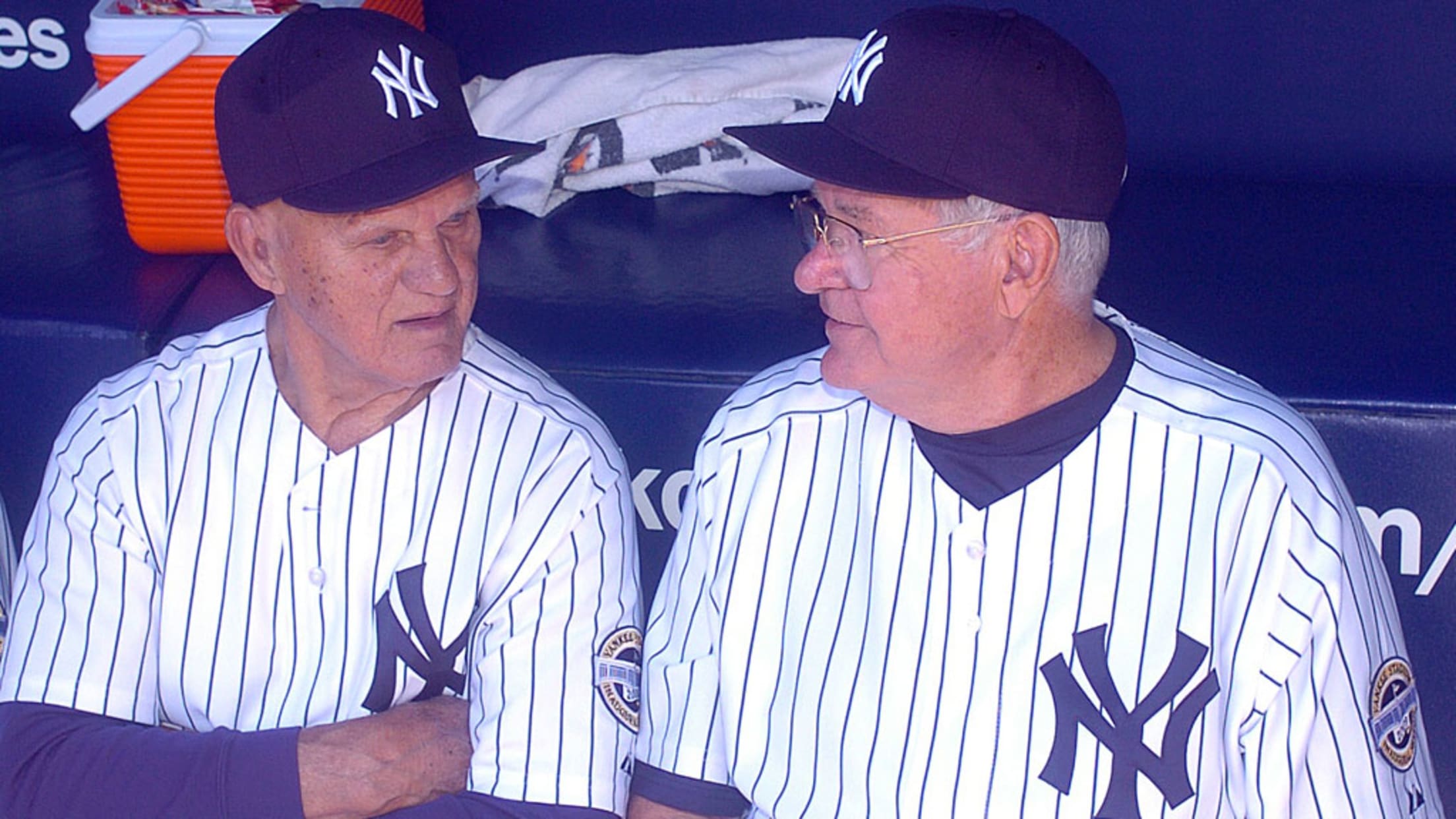 Bob Turley sits with former Yankees teammate Bill "Moose" Skowron on New York's Old-Timers' Day in 2007. (Steve Moore/AP)
Minor League Baseball is known for its rich history, dating back more than 100 years. While much has been written about the best teams and top players who have graced the Minors, there remain many stories either untold or largely forgotten. Each week, MiLB.com will attempt to fill that gap
Minor League Baseball is known for its rich history, dating back more than 100 years. While much has been written about the best teams and top players who have graced the Minors, there remain many stories either untold or largely forgotten. Each week, MiLB.com will attempt to fill that gap and explore these historical oddities in our "Cracked Bats" feature.
"Bullet" Bob Turley gained fame with the Yankees, first because of how he arrived in New York and later because of what he did once he got there. But long before Turley was dominating in the Big Apple, he was at the top of the Texas League, cutting a swath through the Double-A circuit for San Antonio in 1951 as a farmhand for the St. Louis Browns.
Turley set the league record for strikeouts on Aug. 11 that year, proving endurance was just as important as a good fastball. The overpowering right-hander struck out 22 batters in a 16-inning affair with Tulsa, a game in which -- unbelievable from today's view -- he went the distance, only to earn a no-decision when a curfew ended the contest in a 2-2 tie. The previous record had been 20 strikeouts, set by San Antonio's Willie Mitchell against Galveston in 1909.
Dave Righetti set the circuit mark for strikeouts in a nine-inning game with 21 for Tulsa in 1978, but no one else has come close to matching Turley's record, either in number or by virtue of the iron-man fashion in which he accomplished it. Turley would finish the season by going 20-8 for the Missions, fanning 200 in 268 innings to earn the league's Pitcher of the Year laurels.
Before he was through that season, Turley also laid claim to a share of another Texas League mark that still stands. While pitching against Houston on Sept. 3, he and his counterpart Vinegar Bend Mizell -- who later enjoyed a nine-year career with the Cardinals, Pirates and Mets -- combined to strike out 31 batters (Turley had 14) to set the league standard for most combined strikeouts in one game.
"I'm sure I wasn't aware that it was the record for most strikeouts in a game when I did it," said Turley, who had 16 strikeouts through nine innings against Tulsa. "But when people ask me what was the most you ever had, I can tell them 22 in San Antonio. I know that. And that night, there were some strange things that happened.
"First, I was pitching against Bob Curley from Tulsa -- Curley and Turley. And what I also remember most was that the game ended up in a tie. We had a lead going into the ninth inning and they scored a run and it remained scoreless until the 16th inning, and then it ended because we had reached the [11:50 p.m.] curfew."
San Antonio, which reached the Texas League Championship Series that season before getting swept by Houston, held a 2-0 lead going into the eighth. It appeared as though a typically dominating performance by Turley would result in yet another Missions victory. Tulsa's John Temple led off with a single in the eighth before Jim Kirby sent a low line drive to center field.
San Antonio's center fielder Bobby Balcena -- who appeared in seven games with the Reds in 1956 -- mishandled the ball, allowing it to roll between his legs. By the time he had recovered, Temple and Kirby had come home to knot the score. The Oilers scored their third run, also unearned, when right fielder Omer Tolson dropped a fly ball in the top of the 16th. But Balcena made up for his earlier miscue by hitting a solo homer in the bottom half of the inning before the game was called.
Turley allowed 12 hits, all singles, and walked nine. He set the record for most combined strikeouts in a game at 28 because of the six whiffs Curley and Tulsa reliever Dave Jolly recorded. He combined with Mizell less than a month later to break that mark.
"It gives you a lot of pride that it's still a record," Turley said. "It's just one of those records that will be hard to beat, because it's an entirely different game today. It was certainly a highlight for me, and it was the most players I had ever struck out in professional baseball. There was also a difference in conditioning in those days. We threw a lot and there was a lot of long toss. I went through my whole career without a sore arm."
Turley won his 20th game of the season nine days later, topping Fort Worth. He made his Major League debut that September for the Browns and went on to win 16 games for St. Louis and Baltimore after the team moved prior to the 1954 season. Turley had yet another brush with history that November when he was traded to the Yankees as part of an 17-player deal that included another pitcher little known at the time named Don Larsen.
The Yankees were the class of baseball throughout the 1950s and early 1960s, and Turley fit right in. He won 81 games over eight seasons for the Bombers, including going 21-7 with a 2.97 ERA in 1958 to win the Cy Young Award, at a time when the honor was given to only one pitcher, not one in each league.
Turley won four World Series with the Yanks and lost three others, including the 1960 Fall Classic to Mizell and the Pirates. He was a three-time All-Star who split the 1963 season between the Angels and Red Sox before retiring with a 101-85 mark in 310 career appearances.
While his true fame was earned in the Bronx, he built a solid foundation for what to expect during the '51 season in Texas.
Kevin T. Czerwinski is a reporter for MiLB.com.