Bradley leaves the yard twice for Akron
No. 4 Cleveland prospect drives in three, scores three times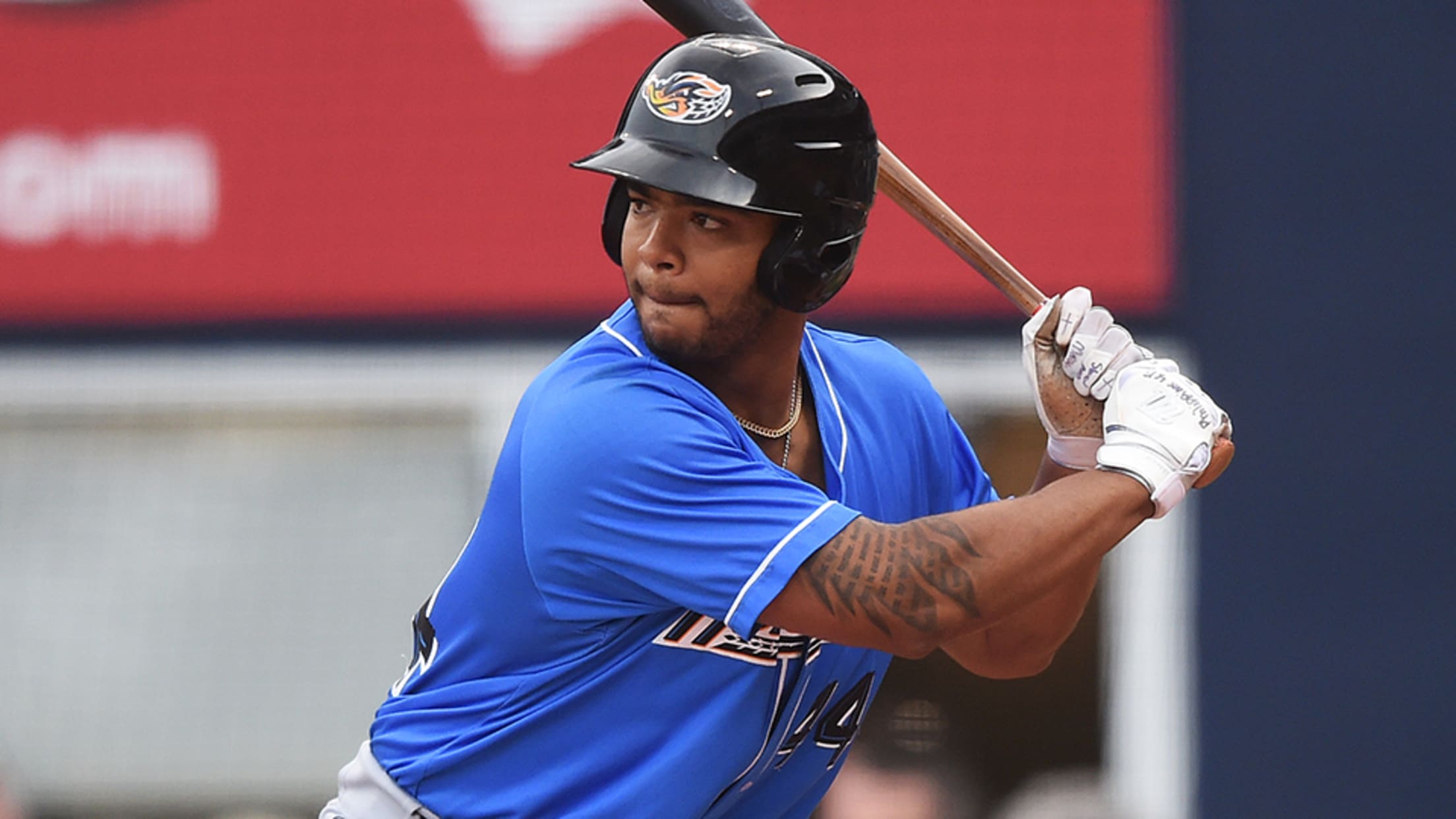 Bobby Bradley hit 23 homers and drove in 89 runs with Double-A Akron last season. (Kevin Pataky/MiLB.com)
Bobby Bradley's batting average may be on the wrong side of the Mendoza Line this season, but when he is hitting the ball, it's going a long way.Cleveland's No. 4 prospect homered twice and finished 3-for-4 with three RBIs, three runs scored and a walk in Double-A Akron's 12-5 victory
Bobby Bradley's batting average may be on the wrong side of the Mendoza Line this season, but when he is hitting the ball, it's going a long way.
Cleveland's No. 4 prospect homered twice and finished 3-for-4 with three RBIs, three runs scored and a walk in Double-A Akron's 12-5 victory over Bowie on Monday at Prince George's Stadium.
The pair of jacks gave him 14 home runs this year, tying him with Binghamton's Jeff McNeil -- who was recently promoted to Triple-A Las Vegas -- and Hartford's Brendan Rodgers for fourth in the Eastern League.
Bradley drew a first-inning walk against starter Brian Gonzalez. In the third, the 22-year-old first baseman lined a single to right field and scored on No. 6 Cleveland prospect Willi Castro's double. Standing in against reliever Cameron Ming the next inning, Bradley deposited the left-hander's 1-2 offering over the wall in right.
Gameday box score
The only time the Baysox retired the 2014 third-rounder was in the sixth when Ming struck him out swinging on three pitches.
Leading off the ninth, Bradley welcomed Michael Kelly to the game by smashing the righty's first pitch for a solo shot to right. It was his second multi-homer game of the season -- the first was on May 3, also at Bowie -- and the eighth of his career.
The Gulfport, Mississippi native upped his slash line to .198/.297/.429 with 37 RBIs and 33 walks in 66 games.
Top Orioles prospectRyan Mountcastle drilled a solo homer in the sixth, going back-to-back with Corban Joseph. He's hit .341 with a .945 OPS in June with nine hits in his last 16 at-bats.
Chris Bumbaca is a contributor for MiLB.com based in New York. Follow him on Twitter @BOOMbaca.