Red Sox Prospect Primer: Chavis coming
Slugger set to press issue in '18; Groome ready to bounce back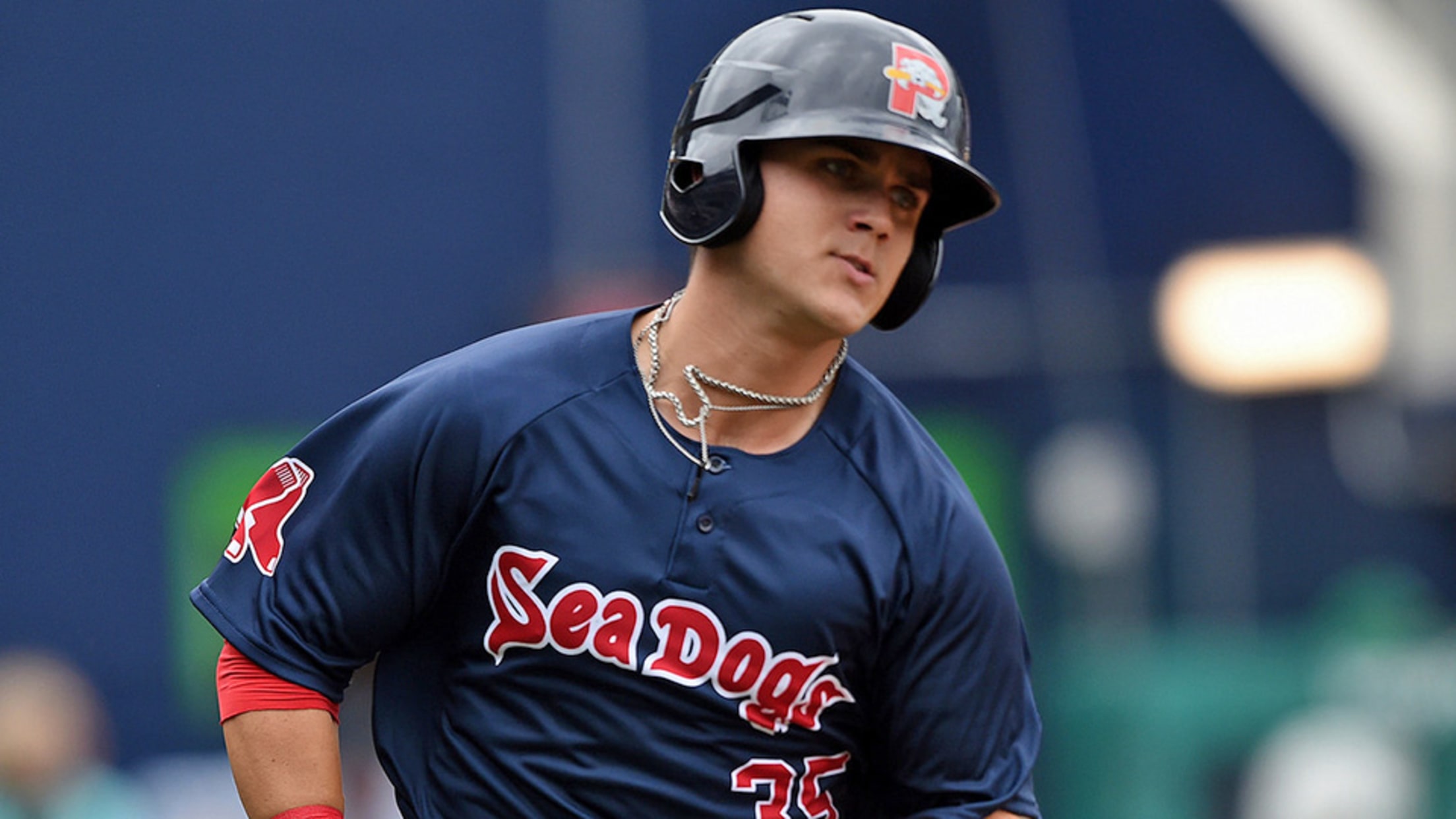 Michael Chavis' 31 homers last season put him in a tie for tops among Red Sox farmhands. (Kevin Pataky/MiLB.com)
Some players are on the verge of stardom, others are entering a crucial phase of their development and still others are getting their first tastes of full-season ball. With the 2018 season approaching, MiLB.com takes a look at the most intriguing prospects from each MLB organization. Shining star: Michael Chavis,
Some players are on the verge of stardom, others are entering a crucial phase of their development and still others are getting their first tastes of full-season ball. With the 2018 season approaching, MiLB.com takes a look at the most intriguing prospects from each MLB organization.
Shining star: Michael Chavis, 3B/1B
The Red Sox may have graduated top-100 bats in Andrew Benintendi and Rafael Devers last year, but they added one with Chavis' breakout summer. After hitting 25 homers over his first three Minor League seasons, the 22-year-old third baseman exploded for 31 in 126 games at Class A Advanced Salem and Double-A Portland. He finished with a .282/.347/.563 line and ranked third in the Minors with 68 extra-base hits. He didn't slow down much in an Arizona Fall League assignment, batting .261/.327/.478 with four homers in 23 games in prospect graduate school.
After trying to get Chavis to not sell out so much in his search for power over two seasons at Class A Greenville, the Red Sox are pleased enough with the right-handed slugger's offensive growth that they don't plan to change much about him in 2018, either back in Portland or at Triple-A Pawtucket.
"I think continue to work on what he did last year, which was more approach-based," vice president of player development Ben Crockett said. "I don't think there's a lot of significant tweaks needed for his swing. He'll try to continue to get better in any way possible. But for him, I think the biggest thing will be adjusting to higher level pitching and particularly higher level pitching approach and making adjustments to guys attacking him in different ways, both at Triple-A and eventually the Major League level."
The biggest development to watch with MLB.com's No. 79 overall prospect might be on the other side of the ball. Selected in the first round of the 2014 Draft as a shortstop, he moved to third base because of a general lack of speed. Although he can handle himself at the hot corner, Chavis finds himself blocked by Devers, the third baseman of the present and future. So the Sox sent him to the AFL to get some work at first base. Boston might be a little clogged there as well (more on that below), but the organization saw enough from Chavis in Arizona to continue to work him at both corners this spring.
"Definitely something we'll continue working with," Crockett said. "He showed really positive signs in the Fall League in some limited exposure there and looked pretty natural. He showed some good instincts over there. He showed good hands and footwork around the bag, which can be challenging for somebody who hasn't really done it. It was a nice first step with him."
Chavis was a non-roster invitee to big league Spring Training but didn't see any Grapefruit League action due to an oblique injury. As of last week, his Opening Day status was up in the air, but he had returned to baseball activities such as infield work and light swinging of the bat.
Back and healthy: Jay Groome, LHP
The 2016 12th overall pick entered what was supposed to be his first full season with a lot of hype and ended up enduring a lot of disappointment. Groome, MLB.com's top Draft prospect two years ago, had been lauded for his advanced curveball and plus fastball entering the pros but didn't get much of a chance to show either. He made one start for Class A Greenville on April 10 and missed two months with a lat strain. After three starts with Class A Short Season Lowell, he returned to the Drive in early July, only to post a 5.02 ERA with 57 strikeouts and 22 walks over 43 innings in 10 starts the rest of the way before a forearm strain sidelined him again in late August.
There could have been concerns that all those bumps in the road impeded Groome's development. After all, his first full season was meant to set the foundation for a long career. However, the Sox don't seem worried and are happy to see how Groome, who worked out with ace Chris Sale this offseason, has fought to overcome the obstacles 2017 threw his way. Their expectations remain high for the 19-year-old southpaw as he tackles Greenville again next month.
"We feel good about it, actually," Crockett said. "You're never looking for someone to get injured in the way he did. He certainly was challenged in his performance at Greenville as well. He had some really good starts and some tough ones. I think he was able to take something from that and kind of learn from that adversity. Spending a bunch of time down here [in Fort Myers] and carrying that over into the offseason with some of the workouts he did put him in really good shape physically. He's as strong as he's been. He's right where we want him to be from a body composition standpoint, and now he can just focus on baseball and the fundamental parts of that."
At the crossroads: Sam Travis, 1B
A season ago, Travis was on this list as "back and healthy" after missing much of 2016 with a torn ACL. After he appeared in 115 games between the Majors and Triple-A last season, there's no doubting his health this time around. Instead, the focus turns to his role in the organization.
The right-handed slugger was called up to the bigs three times as an injury replacement for Mitch Moreland or Hanley Ramirez last season but managed only 83 plate appearances, hitting .263/.325/.342 with a homer and six doubles. Instead of giving Travis a bigger role entering 2018, the Sox re-signed Moreland to back up Ramirez at first base and brought in free-agent slugger J.D. Martinez to serve as designated hitter. The path to playing time might be more as a utilityman at this stage, and Travis started to move toward that role by getting time in left field in both the Dominican Winter and Grapefruit leagues. He won't displace Andrew Benintendi at that position any time soon either, but the Sox would like to a way to get the Indiana University product's bat in the lineup after he produced wRC+'s of 120 and 107 at Pawtucket the last two seasons.
Travis, who normally isn't known for his power, has pushed the envelope by hitting a team-best five homers in 23 games this spring, but he'll need to carry that back to the International League if he's going to force his way into Boston's long-term plans.
"As a guy who has had a great camp so far and really anybody who's performed well offensively at the upper levels, your versatility and ability to play multiple positions is going to help your chance to impact the Major League club," Crockett said. "It's the same thing with Sam. If he's got the ability to play first and left, then that's going to give him a better opportunity."
Full-season debutant: Tanner Houck, RHP
The No. 3 Red Sox prospect and 2017 24th overall pick may not be as flashy as Benintendi, Groome, Chavis or Michael Kopech (the organization's four first-round picks before him), but the organization is excited about its highest-picked college arm since Matt Barnes went 19th in 2011. The right-hander was a starter all three years at Missouri and posted a 3.33 ERA, 1.08 WHIP and 95 strikeouts over 94 2/3 innings in his final season with the Tigers. Houck got a feel for the Minors with 22 1/3 frames at Class A Short Season Lowell.
The 22-year-old has been given plus grades for his fastball and slider -- both of which he's thrown from a low, three-quarters arm slot. The Red Sox have tried to get him to utilize his four-seamer more and add a curveball to his repertoire. That may have lifted his arm slot to a more natural angle this spring, but the team stresses it's not focused on his delivery.
"With him, that was a great job by the scouting department in identifying a guy with as much current physical ability and performance and ability to throw strikes with the added upside of some potential tweaks we can make," Crockett said. "He's thrown a little more four-seam fastball, a little more variation on the breaking ball from what he'd done as an amateur. Those changes may have naturally elevated the arm slot a tick, but that wasn't what we set out to do. It was more about utilization of pitch mix."
As advanced as Houck is, the Red Sox tend to be cautious even with college pitchers, making an assignment to Greenville likely, though Salem is an option.
Breakout prospect: Joan Martinez, RHP
The 28th-ranked Red Sox prospect wasn't signed out of the Dominican Republic until January 2016 when he was 19, roughly two years later than international prospects typically enter pro ball, but he's shown qualities of being a diamond in the rough. Martinez moved stateside for the first time in 2017 and dominated out of the bullpen, posting a 1.11 ERA and 0.87 WHIP with 31 strikeouts and nine walks over 32 1/3 innings. And he didn't allow a homer. Going deeper, his .204 wOBA-against (weighted on-base average) was the lowest among Red Sox farmhands with at least 100 batters faced. Only All-Star closer Craig Kimbrel (.201) posted a wOBA-against lower in the entire organization.
Martinez saw his velocity jump into the mid- to upper-90's with regularity last summer and he's earned solid grades for his slider and splitter. Usually, that type of three-pitch mix leads to a starting role at the lower levels, but because of his violent delivery, the Red Sox are content with keeping him in the 'pen. If Martinez continues to post eye-popping numbers, he could fly up the system even faster.
"What we've seen last year from him was pretty impressive," Crockett said. "He's a guy with plus fastball velocity who's not afraid to use it at the top of the zone. He showed a feel for a slider and a split that I think he can use against right-handed and left-handed hitters. He just needs to continue to refine his command and control his effort level. But getting to Greenville at the end of the year and pitching at the end of games for a playoff team that won a championship, that says something about the competitiveness that he has and his ability to pitch later in games."


More to keep an eye on: Alex Scherffmay have been surprised he fell to the fourth round last year, but the Red Sox were more than happy to scoop him up and sign him. The Gatorade Texas Player of the Year showed plus velocity in his prep days and has an advanced changeup that's rarely seen by high schoolers who rarely need the pitch. After not pitching at all in the Minors last summer, he's made it his goal to finish 2018 in Salem, and that work likely will start in Greenville. ... Cole Brannen was a second-round pick last June and brings plus-plus speed that'll help him stick in center field and potentially pile up stolen bases in his full-season debut. ... Mike Shawaryn led the organization and finished ninth in the Minors with 169 strikeouts over 134 2/3 innings last season. Ranked ninth in the system, he's yet to crack Double-A, however, and it'll be interesting to see if his solid fastball and plus slider will be enough to keep missing upper-level bats at similar rates this summer.
2018 organization predictions:
Most home runs in the system: Chavis
Most stolen bases: Brannen
Most strikeouts: Darwinzon Hernandez
Current prospect to get most Major League playing time: Bobby Poyner
Non-Top-100 prospect to end 2018 in the Top 100: Scherff
Sam Dykstra is a reporter for MiLB.com. Follow and interact with him on Twitter, @SamDykstraMiLB.