Davidson's moonshot secures AFL title for Peoria
Braves prospect crushes walk-off homer in 10th inning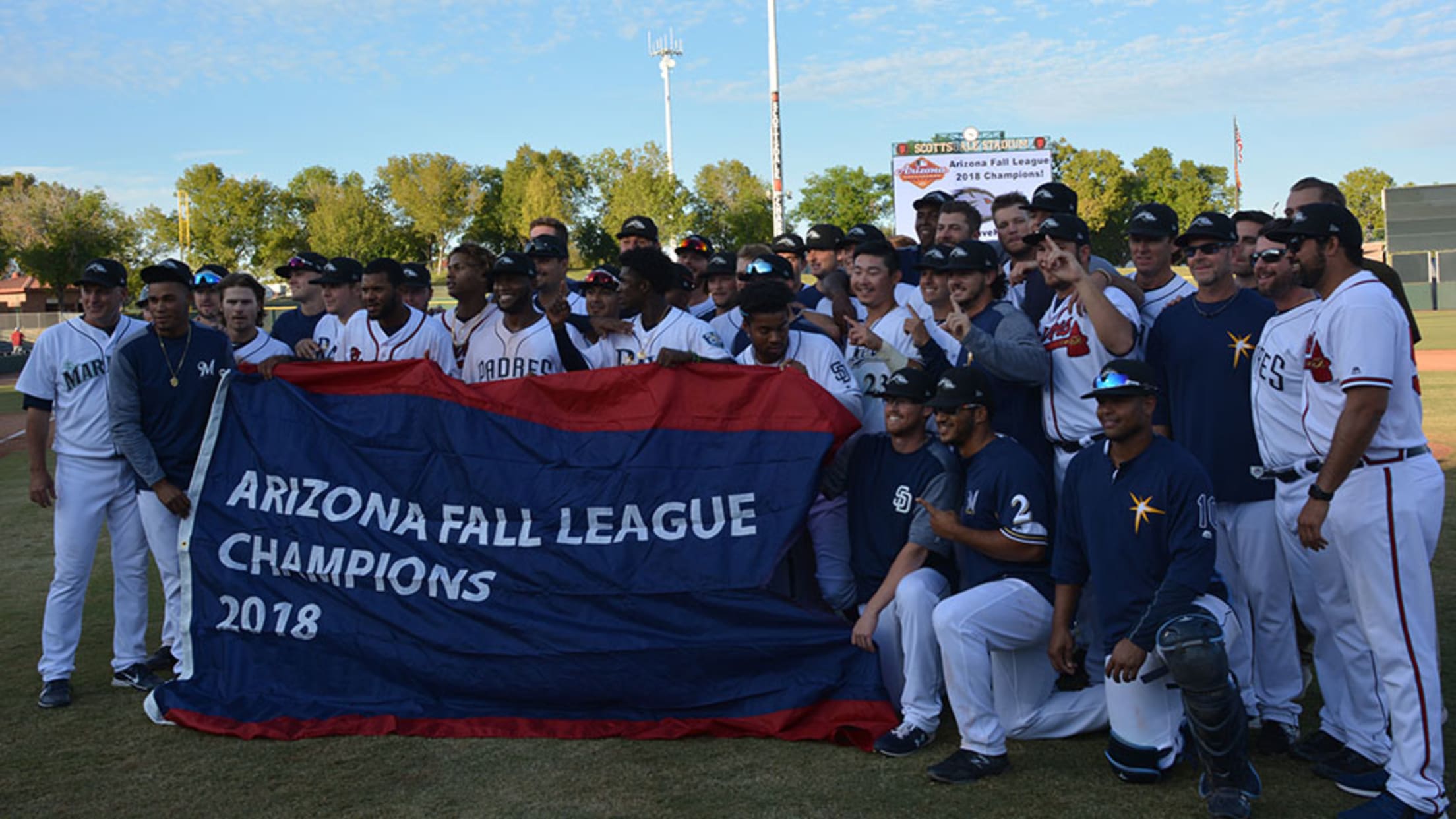 The Peoria Javelinas celebrate their 2018 Arizona Fall League championship after Braxton Davidson's walk-off homer. (Jerry Kime/MiLB.com)
Keston Hiura might be the MVP, but Braxton Davidson was the hero Saturday. The Braves prospect demolished a 2-1 fastball from Salt River reliever Taylor Guilbeau deep over the right-center field wall at Scottdale Stadium to hand Peoria a 3-2, 10-inning victory and the Arizona Fall League Championship Game. 
Keston Hiura might be the MVP, but Braxton Davidson was the hero Saturday.
The Braves prospect demolished a 2-1 fastball from Salt River reliever Taylor Guilbeau deep over the right-center field wall at Scottdale Stadium to hand Peoria a 3-2, 10-inning victory and the Arizona Fall League Championship Game.
"It was amazing. I don't think we could have wrote it any better," said Hiura, the Brewers top prospect who was named Fall League MVP on Saturday. "Going into the last game of the Fall League, definitely a little tough because you have to say goodbye to some people you've gotten really close to, but Peoria Javelinas, we're a team that's in every game, regardless of the score. That shows today how resilient we are. It starts with our starting pitching and goes all the way through to our relievers and our whole batting lineup."
Gameday box score
Davidson, who hit six homers during the Fall League regular season, knew it as soon as the ball left his barrel. His teammates piled out of the dugout to greet him at home plate and celebrate their crown, but the 2014 first-round Draft choice came up limp and had to be carried into the clubhouse after injuring himself while jumping. Davidson, feared to have fractured his left foot, was taken to a nearby hospital for X-rays. Everyone is hoping for the best and wishing him well, Hiura said.
Tweet from @wboor: #Braves Braxton Davidson has been taken to a local hospital for possible left-foot fracture. @MLBPipeline
"He's been huge for us all season," Hiura said. We're very confident with anyone in our lineup to be up at the plate in that spot. He's a great player who has tremendous power. He got on top of that fastball and drove it a long, long way."
One inning prior, Peoria was three outs away from being shut out. The Javelinas utilized a prolific offense this season, leading the fall circuit in homers (27) and OPS (.754). And Rafters reliever Justin Lawrence, the Rockies' 17th-ranked prospect who had been lights out, imploded in the ninth.
Ian Miller (Mariners) drew a leadoff walk and Rays No. 9 prospect Lucius Fox followed with a double to set up second-and-third with nobody out. With Hiura at the dish, Lawrence uncorked a wild pitch to score Miller and make it 2-1. Hiura worked a 3-1 count and with the infield playing halfway and nobody out, he was simply looking to make hard contact.
He did just that, sending a Lawrence fastball right back up the middle to tie the game at two. With two outs, Padres No. 23 prospectHudson Potts nearly ended the game, but his liner found the mitt of third baseman Josh Fuentes (Rockies) to send the game to extras.
"We knew that it was now or never," Hiura said. "We rallied together. We knew that we needed baserunners and get players on base to give us an opportunity to put us in that position. We were able to work the count well and take advantage of some wild pitches and put the ball in play and find those holes. That was huge for us and we're all pumped right now."
Miami 17th-ranked prospectJordan Yamamoto struck out six over four scoreless innings. He walked five and allowed two hits along the way, but pitched out of trouble whenever in tight spots. The right-hander stranded two runners in each of the first two innings and left the bases loaded in the third. The Hawaii native fanned Hiura to end the fourth and his outing, throwing 43 of his 77 pitches for strikes.
Marlins No. 2 prospect Monte Harrison drove in the first run of the game with a two-out, two-strike single up the middle in the second inning. Daniel Johnson (Nationals) recorded an RBI single two innings later to make it 2-0, a score that held until Peoria mounted its comeback in the ninth.
Miguel Diaz (Padres) started for Peoria and gave up both runs and lasted 3 2/3 innings. The Javelinas' bullpen took care of the rest, using six pitchers to hold the Rafters scoreless until Davidson's heroics sealed the win.
Chris Bumbaca is a contributor to MiLB.com. Follow him on Twitter @BOOMbaca.