Braves Prospect Primer: Rebuild blooms
Acuña, Soroka, Wright closing in on Atlanta from upper levels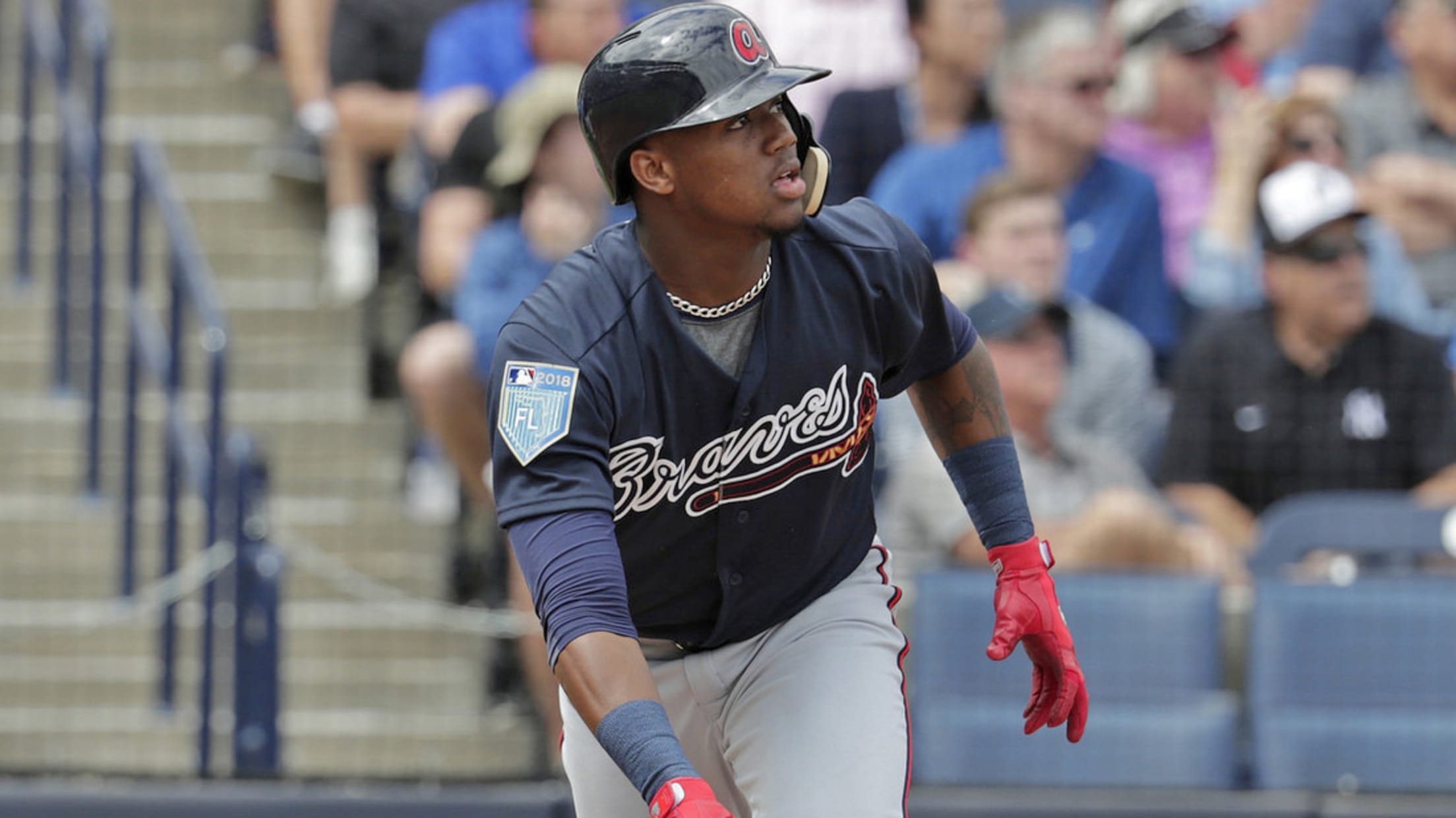 Ronald Acuña Jr. will head back to Triple-A Gwinnett to begin the season but won't be there long. (Lynne Sladky/AP)
Some players are on the verge of stardom, others are entering a crucial phase of their development and still others are getting their first tastes of full-season ball. With the 2018 season approaching, MiLB.com takes a look at the most intriguing prospects from each MLB organization.Major League-ready: Ronald Acuña Jr.,
Some players are on the verge of stardom, others are entering a crucial phase of their development and still others are getting their first tastes of full-season ball. With the 2018 season approaching, MiLB.com takes a look at the most intriguing prospects from each MLB organization.
Major League-ready: Ronald Acuña Jr., OF
It was clear when MLB.com's No. 2 overall prospect finished 2017 by hitting .344/.393/.548 with nine homers, two triples, 14 doubles and 11 stolen bases in 54 games with Triple-A Gwinnett, thus ending the season with a .325 average, .896 OPS, 21 homers and 44 steals across three levels. It was clearer still when he was named Arizona Fall League MVP after producing a .325/.414/.639 line with seven homers in 23 contests. And it became pretty close to crystal this spring when he hit .432/.519/.727 with four homers and four steals in 16 games, leading the Grapefruit League with a 1.247 OPS.
Ronald Acuña Jr. should be in The Show.
The only thing seemingly holding the 20-year-old from being the Braves' Opening Day left fielder is concerns about service time. If they keep him down until at least April 13, the Braves gain an extra year of control and delay Acuña's potential free agency by a year. But with all five of his tools grading out as potentially plus in the big leagues, there's little the Venezuela native has to show in his return to Triple-A Gwinnett. And the Braves just want to see it all on display a little longer before making things official.
"The big thing you're looking at with him is a rare five-tool player," Braves director of player development Dom Chiti said. "He can run. He can throw. He can definitely field. He can play all three outfield positions. He can hit. He can hit for power. He just needs to play baseball. He just needs to continue to play. All the little nuances that will complete him come with experience in playing. That's where he is."
Shining star: Mike Soroka, RHP
Acuña wasn't the only teenager with whom Atlanta got famously aggressive in 2017. The Braves sent their top two pitching prospects -- Soroka and Kolby Allard -- for a full season to Double-A Mississippi at just 19. A year later, it's Soroka who passed the most tests with flying colors and is looking like the next big Braves arm.
The 2015 28th overall pick posted a 2.75 ERA with 125 strikeouts and 34 walks over 153 2/3 innings with the M-Braves, marking the second season in a row he tossed at least 140 frames. Despite his age, he wasn't scared to go right after Double-A hitters and, as a result, ranked ninth among qualified Double-A pitchers with a 5.4 percent walk rate. The 20-year-old right-hander continued to impress this spring, striking out five, walking none and giving up one run on a solo homer over five innings in three Grapefruit League appearances.
Armed with an impressive sinking fastball, slider and changeup, Soroka heads to Triple-A Gwinnett as MLB.com's No. 31 overall prospect. And even that close to the Majors, the Braves don't expect anyone to be surprised by his age anymore.
"First of all, I'm not sure, but I don't think we check their IDs when they go to the big leagues," Chiti said. "There have been a lot of guys who have gone to the big leagues at 19 years old, 20 years old. So we don't look at his physical age as much as his mental maturity. His mental maturity is way past his physical age. Where Mike is with his tools and his pitchability but also his mental makeup is way past his age. ... If you want to talk about his pitches, his fastball, his breaking ball, his changeup, they're all above-average pitches. He's a complete package."
Full-season debutant: Kyle Wright, RHP
Already boasting the Minors' best stable of arms, the Braves could have been forgiven for looking elsewhere with the fifth overall pick last June. Instead, they went the always advisable route of taking the best player available, picking Wright out of Vanderbilt and signing him for $7 million.
Atlanta was cautious with the 6-foot-4 right-hander, giving him only 17 innings in the Minors last summer, but they pushed him to Class A Advanced Florida for six starts. Wright, after all, had dominated quality competition with a 121/31 K/BB ratio and 3.40 ERA in 103 innings at Vandy, thanks to an arsenal that features a mid-90s fastball, two plus breaking pitches and an impressive changeup. The Braves continue to get semi-aggressive with him in 2018, with Chiti noting Double-A is "probably the best place" to begin his first full season. (Even fellow Vandy product Dansby Swanson began his first full season at Class A Advanced for 21 games before making the jump to the Southern League.) The focus will be on getting Wright used to pitching in a professional rotation every fifth or sixth day rather than once a week, but hopes are high that he has the potential to move quickly up the chain, even if the front office pumps the brakes a bit.
"Kyle's another gifted guy, not only physically but mentally," Chiti said. "You look at the age and think, 'Oh, we may have to do this, we may have to do that.' Kyle will determine his pace. Instead of thinking there's some plan we have to stick to, if we watch, Kyle will tell us when he's ready to move. Is there a direct plan that we have to him here by this date? No. We'll watch and push him from there."
Loudest tool: Cristian Pache, OF
It's not often that a fielding tool is thought of as "loud;" it's not often that a fielding tool is as good as Pache's, either. Put another way, there are two reasons why projections of Atlanta's future don't have Acuña in center field -- either two-time Gold Glover Ender Inciarte will hold down the position long-term or Pache will be good enough to wrestle it away from him. The 19-year-old is that good at the premium defensive spot.
It starts with Pache's speed, a tool that MLB.com grades at 70 on the 20-80 scouting scale. The native of the Dominican Republic can cover a lot of ground with that speed, but he adds even more value with instincts and reads that have left many scouts raving. His arm rounds out the impressive defensive package. Last season at Class A Rome, Pache had 17 assists in 116 games in center field, most in the South Atlantic League. He also started eight double plays; no other Sally outfielder recorded more than six.
If there ever was a position player prospect who could move up his organization's chain on his glove and arm alone, it could be Pache.
"I've been in this a little while and he could be the best defensive center fielder I've ever seen in the Minor Leagues," Chiti said. "He's a gifted player and he truly has a passion for it. If you watch him when he's not taking batting practice, he's always shagging balls in center field, pushing himself to get to every ball. He's a gifted defender and he works at it. Is he gifted with his running speed? Yeah. But the other parts of it like his routes, his angles to balls, how he reacts off the bat, those things are all things that he's taken a lot of time to perfect."
Pache hit .281/.335/.343 with 32 steals in 119 games with Rome last season and could grow into some much-needed pop in his age-19 season starting next month in the Florida State League.
Breakout prospect: William Contreras, C
With all the talk of the arms in the system, the Braves boast a good number of solid batterymates, with four catching prospects featured among MLB.com's top 30. Among them is Contreras at No. 18, entering what should be his first full season with Rome.
A Contreras with good offensive potential and a strong arm behind the plate should sound familiar for William is the 20-year-old brother of Cubs backstop Willson Contreras. The younger Contreras played his second stateside season in 2017 and performed well offensively, hitting .290/.379/.432 with four homers and a 30/24 K/BB ratio in 45 games with Rookie-level Danville. He threw out 22.9 percent of attempted basestealers in the Appalachian League, but he's shown enough with the arm that that number will grow with experience.
It's not easy to find catchers with impressive plate discipline and the raw abilities to impact both sides, and if Contreras can continue to grow, add a little power and stay consistent from April to September, he could move into pole position as the future of the catching position with the Braves.
"To improve defensively and to take a 140-game season after only playing in 70 and see if he can take the same energy and passion every day, that's what we'll be looking for," Chiti said. "Will he able to catch 100 or 120 out of 140? Probably not. That can be tough on a young player. But catching is a demanding position. They don't get to take a pitch off. It should be a challenge for him. ... We're looking forward to good things with him, but we'll probably go a little slow with him too."


More to keep an eye on: Luiz Gohara was expected to begin the season in the big league rotation, but a series of spring injuries could send him back to Gwinnett when he's healthy in April. That could set him up in a Triple-A rotation alongside Soroka, Allard and No. 7 prospect Max Fried, instantly making that group one of the most interesting Minor League staffs. ... The rotation at Class A Advanced Florida could have just as many notable names, with Ian Anderson, Bryse Wilson and Joey Wentz all expected to move up following dominant seasons at Rome. ... The Braves kept the path at third base clear for Austin Riley this offseason by not chasing a premier free agent. The 20-year-old jumped into MLB.com's top 100 at No. 97 after hitting 20 homers between Florida and Mississippi in 2017 and carrying that power to the AFL, where he went deep six times in 17 games. After questions initially dogged the 2015 41st overall pick's ability to stick at the hot corner, Riley has shown improvements defensively and maintains a plus arm that remains an asset.
2018 organization predictions:
Most home runs in the system: Alex Jackson
Most stolen bases: Pache
Most strikeouts: Wentz
Current prospect to get most Major League playing time: Acuña
Non-Top-100 prospect to end 2018 in the Top 100: Pache
Sam Dykstra is a reporter for MiLB.com. Follow and interact with him on Twitter, @SamDykstraMiLB.