McKay pitches Renegades into NYPL Finals
Rays No. 3 prospect retires first 11, goes five scoreless innings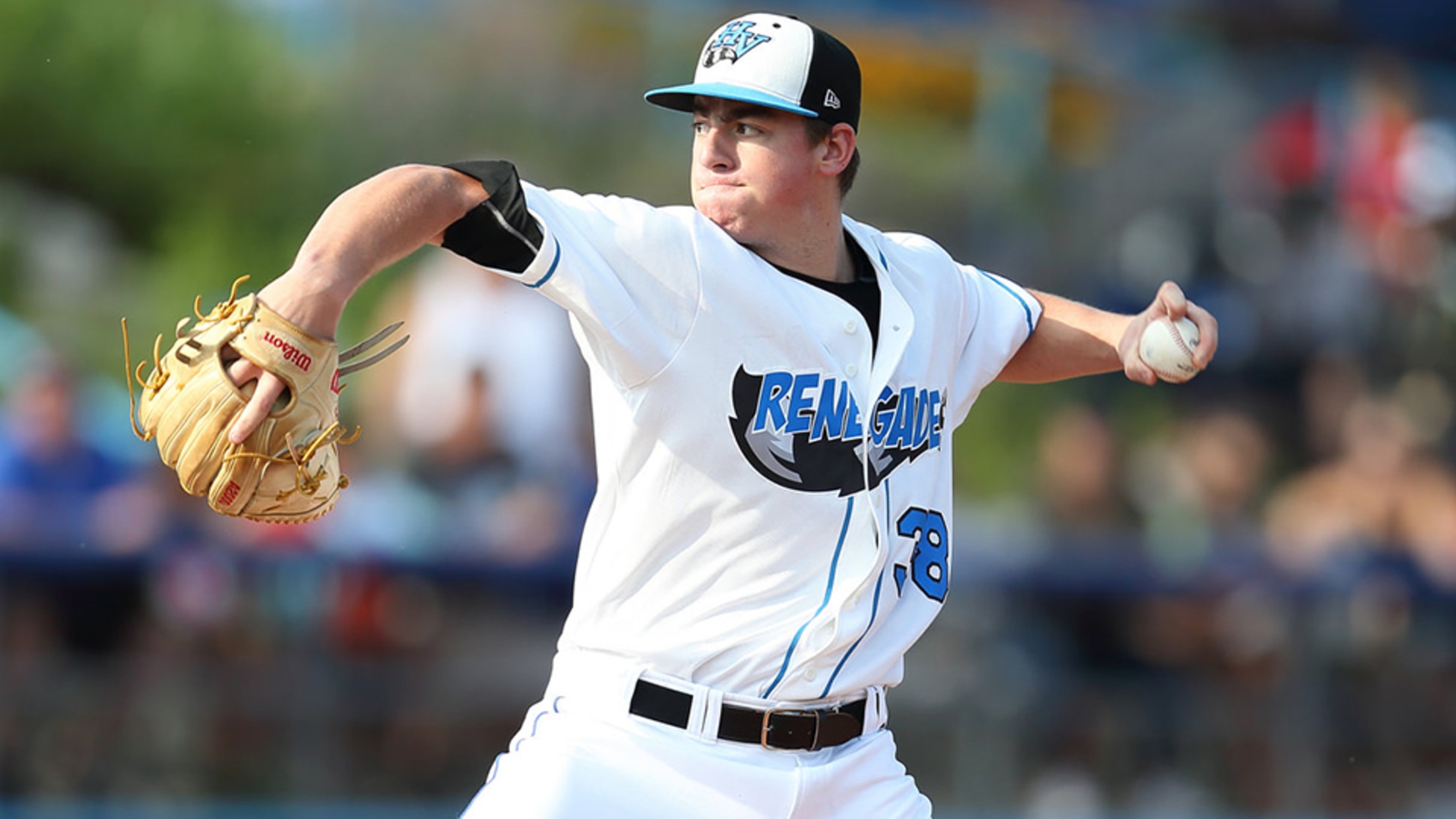 Brendan McKay has allowed four earned runs and 16 baserunners over 25 innings in his first professional season. (Sandy Tambone/MiLB.com)
Brendan McKay didn't have to be flawless Tuesday, but he was pretty close.The Rays' third-ranked prospect allowed one hit over five scoreless innings as Hudson Valley beat Staten Island, 7-1, to advance to the New York-Penn League Finals. The Renegades won the best-of-3 semifinal, 2-1, and will face Vermont in the Championship
Brendan McKay didn't have to be flawless Tuesday, but he was pretty close.
The Rays' third-ranked prospect allowed one hit over five scoreless innings as Hudson Valley beat Staten Island, 7-1, to advance to the New York-Penn League Finals. The Renegades won the best-of-3 semifinal, 2-1, and will face Vermont in the Championship Series.
Gameday box score
"I got into a lot of positive counts where I could attack and force them to swing at pitches that weren't good pitches to hit or get outs on good pitches," McKay said.
The 21-year-old left-hander retired the first 11 batters, striking out four of the five he faced over the second and third, before Timmy Robinson's infield single ended his bid for a perfect game. McKay struck out Keith Skinner before setting down the side in order in the fifth and handing the ball to the bullpen after 62 pitches, including 47 strikes.
"When you see that line, you're going to have a good chance to win," Hudson Valley manager Craig Albernaz said. "He set the tone for most part, pounding the zone. His fastball had good life, he was spinning it well and kept them off-balance. He gave our offense the chance to get something going and put pressure on them. ... Five [innings] was his max today, no matter what, and that's what we went with."
Jhonleider Salinas, who started in nine of his 13 regular-season appearances for the Renegades, gave up a run on two hits and two walks while striking out four to pick up the four-inning save.
Complete playoff coverage
After Deion Tansel opened the scoring with a first-inning single to left field, Angel Perez blasted a two-run homer to right-center in the second to open a 3-0 lead. Rafelin Lorenzo padded it with a sacrifice fly in the fourth before Staten Island's Andy Diaz homered in the sixth to make it 4-1.
Zacrey Law, whose 13th-inning walk-off homer gave the Renegades the win in Game 1, responded in the seventh with a three-run double.
"Great team win overall. We swung the bat well, played defense well," McKay said. "We've had some highs and lows as a team but kept playing, and [it's great] having fun with this group of guys one last time to win a championship."
Hudson Valley's path to the Finals has been an interesting one, with the Renegades starting the season 6-2 before losing 11 straight games. Sitting two games below .500 heading into an Aug. 9 game at State College, the Renegades reeled off 14 straight wins and ended up securing the Wild Card berth by 2 1/2 games.
"This team, our staff and our players, we're just a bunch of grinders," Albernaz said. "These guys bring it every day and they're very excited just to go and have a chance to win the championship. We just wanted to get into the playoffs and we accomplished that, and now we're in the Finals."