McKay shines again on hill for Biscuits
Rays No. 3 prospect allows two hits over five scoreless frames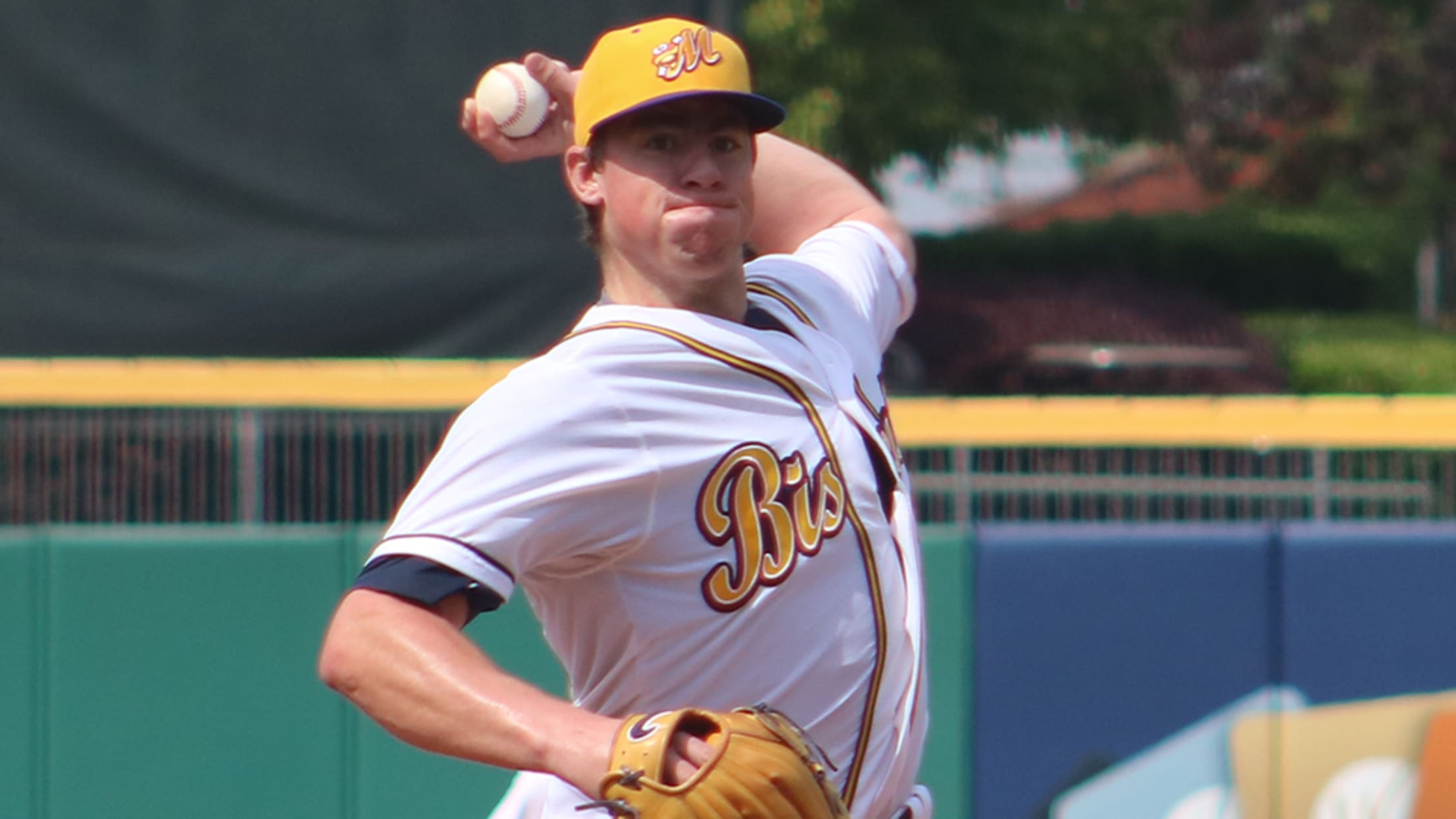 Brendan McKay moved into eighth place in the Southern League with a 2.41 ERA. (Montgomery Biscuits)
Brendan McKay hasn't been exceptional at the plate to start this season, but he was dominant on the mound again on Sunday.Tampa Bay's No. 3 prospect allowed three hits and a walk while striking out six across five scoreless frames before Double-A Montgomery dropped a 7-3 decision to Birmingham at
Brendan McKay hasn't been exceptional at the plate to start this season, but he was dominant on the mound again on Sunday.
Tampa Bay's No. 3 prospect allowed three hits and a walk while striking out six across five scoreless frames before Double-A Montgomery dropped a 7-3 decision to Birmingham at Montgomery Riverwalk Stadium.
McKay was consistently sharp, never allowing more than one baserunner in an inning en route to his first scoreless outing of the year. But according to Biscuits pitching coach R.C. Lichtenstein, that didn't come as a result of improved stuff. It came from his ability to buckle down when hitters did reach or battled late into counts, something that pleased him more than any final line.
"For me, that was even more exciting than seeing him just cruise and beat hitters easily and put them away and get swings-and-misses," Lichtenstein said. "When there was a little bit of chaos going on, he stayed calm and he made some pitches and made sure that each inning he was able to put up a zero."
That success and approach fell right in line with what McKay's been doing all season.
Gameday box score
"He's been dominant all year," Lichtenstein said. "He's got a calm easy-going demeanor on the mound. He locates the fastball well. And when in doubt, he's going to execute a pitch. He doesn't try and overpower the ball, he doesn't try and find extra. He just executes pitches that need to be thrown."
An example of this heightened execution came in the second inning, when McKay faced his biggest threat of the game. With the game tied, 0-0, No. 8 White Sox prospectMicker Adolfo doubled to center field with one out and advanced to third on a groundout by ninth-ranked Blake Rutherford. The left-hander escaped unscathed by striking out Trey Michalczewski.
McKay's success in these situations may stem from the fact that he's a two-way player, according to Lichtenstein, as MLB.com's No. 28 overall prospect has direct and fresh knowledge of what the hitter is thinking as he stares him down from the mound.
"He's got a very cerebral approach of knowing where to put the ball and what a hitter's looking for," he said. "Obviously, it probably helps that he's a hitter as well in that he seems to be kind of a step ahead of the hitters mentally."
McKay lowered his ERA to 2.41, which ranks eighth in the Southern League. He's struck out 33 over 18 2/3 innings, tying him with Birmingham's Jimmy Lambert and Pensacola's Devin Smeltzer for tops on the circuit. As a hitter, McKay sports a .200/.275/.222 slash line with six RBIs in 13 games.
Last season, the University of Louisville product finished with a 5-2 record with a 2.41 ERA across three levels, making 19 appearances -- including 17 starts -- in his first full professional campaign. The 23-year-old struck out 103 and had a .196 average against, mostly between Class A Bowling Green and Class A Advanced Charlotte. He also made two rehab starts in the Rookie-level Gulf Coast League.
Rays No. 4 prospect Jesús Sánchez hit his third homer of the season and second in three games for Montgomery, while 28th-ranked Tristan Gray went 2-for-3 and with a run scored.
Ti'Quan Forbes delivered two hits and three RBIs for the Barons, who moved ahead during a five-run seventh. Yermin Mercedes contributed three hits and drove in a run.
Jordan Wolf is a contributor to MiLB.com. Follow him on Twitter @byjordanwolf.