Graterol quickly gets up to speed with Kernels
Twins No. 7 prospect whiffs 10, allows two hits in 5 2/3 frames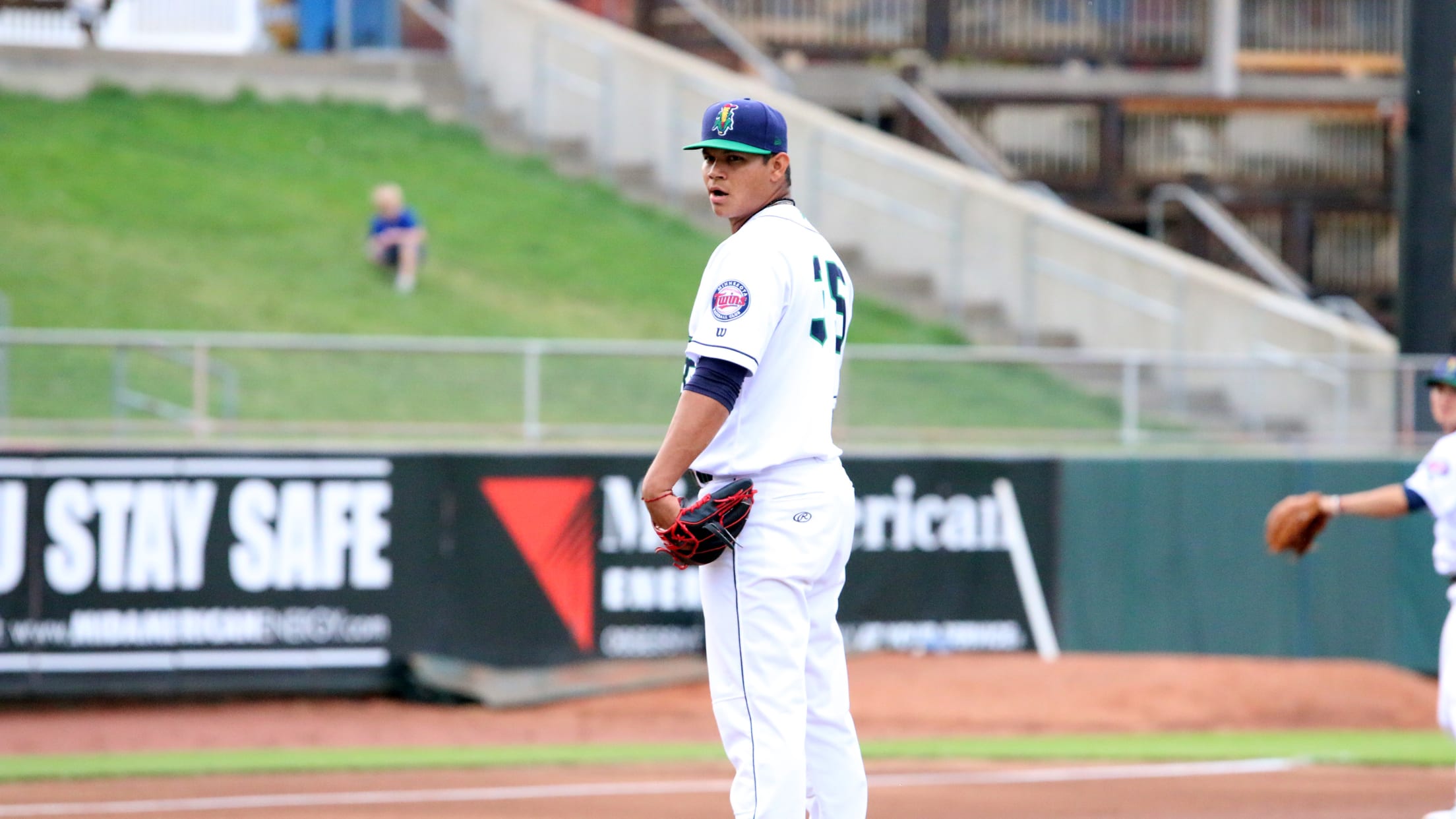 Brusdar Graterol has posted a 1.04 ERA in his first three starts. (Lakin Goodman/Cedar Rapids Kernels)
The third time was the charm for Brusdar Graterol in picking up his first win, but the Twins No. 7 prospect has made up for lost time.Graterol struck out a career-high 10 batters and allowed two hits in 5 2/3 innings in Class A Cedar Rapids' 5-1 win over Quad
The third time was the charm for Brusdar Graterol in picking up his first win, but the Twins No. 7 prospect has made up for lost time.
Graterol struck out a career-high 10 batters and allowed two hits in 5 2/3 innings in Class A Cedar Rapids' 5-1 win over Quad Cities.
Gameday box score
"It was a pretty good game tonight," the 19-year-old said through Kernels pitching coach Cibney Bello. "I was focused on trying to pitch to contact. I was trying to challenge them and pitch around the strike zone. A couple of base hits wasn't an issue. My focus was trying to concentrate and not let it affect me."
Graterol made his first start at the end of April, allowing three runs -- one earned -- on three hits while throwing 61 pitches in 3 2/3 frames at Quad Cities. He ramped up to 73 pitches, scattering three hits over five scoreless innings on May against West Michigan.
"I feel pretty good," he said. "I can't complain, I'm happy and excited the coaching staff was able to help and allow me to get better."
After coming off the seven-day disabled list for back spasms Monday, the right-hander threw 76 pitches, allowing just four baserunners and reportedly hit 101 mph three times. With one out in the first frame, Graterol gave up a single to Jonathan Arauz and walked Miguelangel Sierra but he struck out Bryan De La Cruz and induced a flyout from Jake Adams.
Jonathan Lacroix reached on a missed catch error by first baseman Trey Cabbage in the second before Graterol retired the next 10 River Bandits. After allowing a leadoff single to Jacob Meyers in the sixth, the right-hander whiffed Sierra and exited the game.
"Everything was working fine for me," Graterol said. "The fastball, curveball and changeup. All of it was in sync."
The Venezuela native compiled a 4-1 record and a 2.70 ERA in 40 innings between two Rookie-level squads last season. He started in the Gulf Coast League before being bumped up to Elizabethton ahead of his full-season debut this year.
"I've had to think a little bit different. This is a different level, and since I got here I've seen the hitters know what to do," Graterol said. "They see the ball better than where I was. The focus and concentration has been to be tough and go after guys. Trying to pitch to contact and to be ahead in the count as much as possible."
Being able to respond immediately following his DL stint was heartening for the 6-foot-1 hurler.
"I'm happy because I'm pitching well, but also trying to not pay too much attention to that," he said. "I'm trying to go one day at a time and one outing at a time. I'm glad today was a really good outing, and the last two outings were pretty good too. Instead of going big, I'm trying to go little by little and do the same thing the next outing or even be a little better."
Calvin Faucher walked one over 1 1/3 innings and Jared Finkel gave up an unearned run on two hits over two frames to close out the contest.
Andrew Bechtold plated two runs and Jean Carlos Arias scored twice to lead the Kernels offensively.
Marisa Ingemi is a contributor to MiLB.com. Follow her on Twitter @Marisa_Ingemi.