Bees' Adell collects four hits in return
Angels No. 2 prospect scores twice in first game in two weeks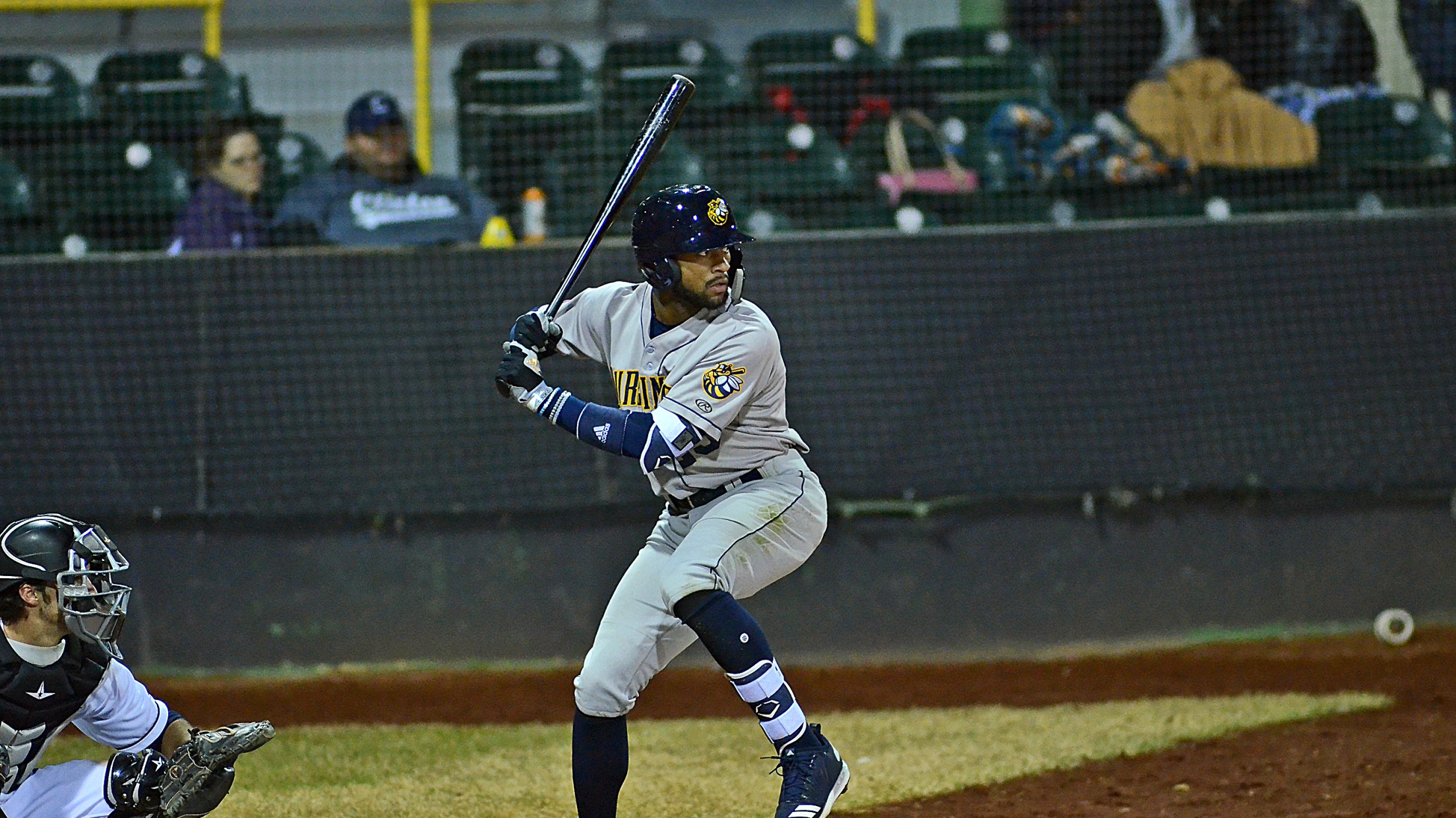 Jo Adell batted .283/.382/.457 with five extra-base hits and 16 RBIs in his first 13 games of the season. (Paul R. Gierhart/MiLB.com)
Jo Adell's performance on Tuesday was worthy of two thumbs up.MLB.com's No. 59 overall prospect collected four hits and scored twice in in his first game in two weeks as Class A Burlington edged South Bend, 4-1, at Four Winds Field.
Jo Adell's performance on Tuesday was worthy of two thumbs up.
MLB.com's No. 59 overall prospect collected four hits and scored twice in in his first game in two weeks as Class A Burlington edged South Bend, 4-1, at Four Winds Field.
"We had a lot of energy today. The guys were psyched to have me back and I was glad to be back, too, and have the chance to contribute," said Adell, who was placed on the seven-day disabled list on April 24 with a thumb injury. "I had a lot of swelling in my thumb area, so they sat me down for a little while to let the swelling go away. It was completely gone after four days, but there is a system here for getting back after injuries, so I had to follow that and do what I what I needed to do to be ready. I'm feeling really good right now, back to 100 percent, and it was great to get back out there."
With one out in the first inning, Adell hit a line drive to right field for a single off Cubs No. 17 prospectErich Uelmen.
In the third, the second-ranked Angels prospect turned around the first pitch he saw from the right-hander and sent it back up the middle for another base hit. Adell got the best of Uelmen again in the fifth by lining a single to center after working the count full.
The 10th overall pick in last year's Draft was responsible for half of the hits surrendered by the South Bend starter.
"I knew he was a sinkerballer and he threw 92-94 [mph], so my approach was just to look for something in my zone early and be ready to attack it," Adell said. "I really didn't want to wait and possibly fall behind. I was prepared early in the count to get a pitch that I could drive and do some damage with, and I feel like I did that."
Gameday box score
Lefty Yapson Gomez retired the center fielder on a comebacker in the seventh. But Adell put an exclamation point on his return with a two-out knock to center off righty Brian Glowicki in the ninth before scoring on a double by Angels No. 5 prospect Brandon Marsh.
"Jo is a special player. What he did today was no surprise to any of us and we're glad that he's feeling better and that he's back on the field," Bees hitting coach Matt Spring said. "The most impressive thing about him is his decision-making at the plate. He doesn't really chase pitches frequently and he swings at balls that he can hit hard, and the results take care of themselves. Having Jo in there changes the whole lineup. I'm pretty blessed with hitters on this team, but someone as electric as Jo really just makes the lineup that much better."
Tuesday was Adell's second four-hit game of the season, with the other coming on April 20 in a 28-7 rout of Quad Cities. In that game, he homered, doubled, drove in a career-high eight runs and scored four times.
Marsh got the scoring started for the Bees with a double to right in fifth that brought in 15th-ranked Leonardo Rivas and Adell. Torii Hunter Jr. laced an RBI double to right in the seventh.
The victory snapped an eight-game skid for Burlington.
"It was tough to be out and watch us fall short," Adell said. "But the whole time, I was just thinking that it's a long season and we're a talented group so we were going to bounce back. I feel like today we were back to playing the way we were at the beginning of the year and this is how I expect it to be for the rest of the season. We've got a lot of talent here and I just want to be one of nine guys to contribute to the team and I was glad to be able to do that tonight."
Luis Madero (1-2) picked up his first win of the season after giving up a run on five hits with five strikeouts over five innings. He set down eight of the final nine batters he faced.
Uelmen (1-4) surrendered two runs on six hits with a walk while striking out five in five frames.
Rob Terranova is a contributor to MiLB.com. Follow him on Twitter @RobTnova24.