Kieboom lights it up for Senators
Nats No. 2 prospect smacks two homers, falls single shy of cycle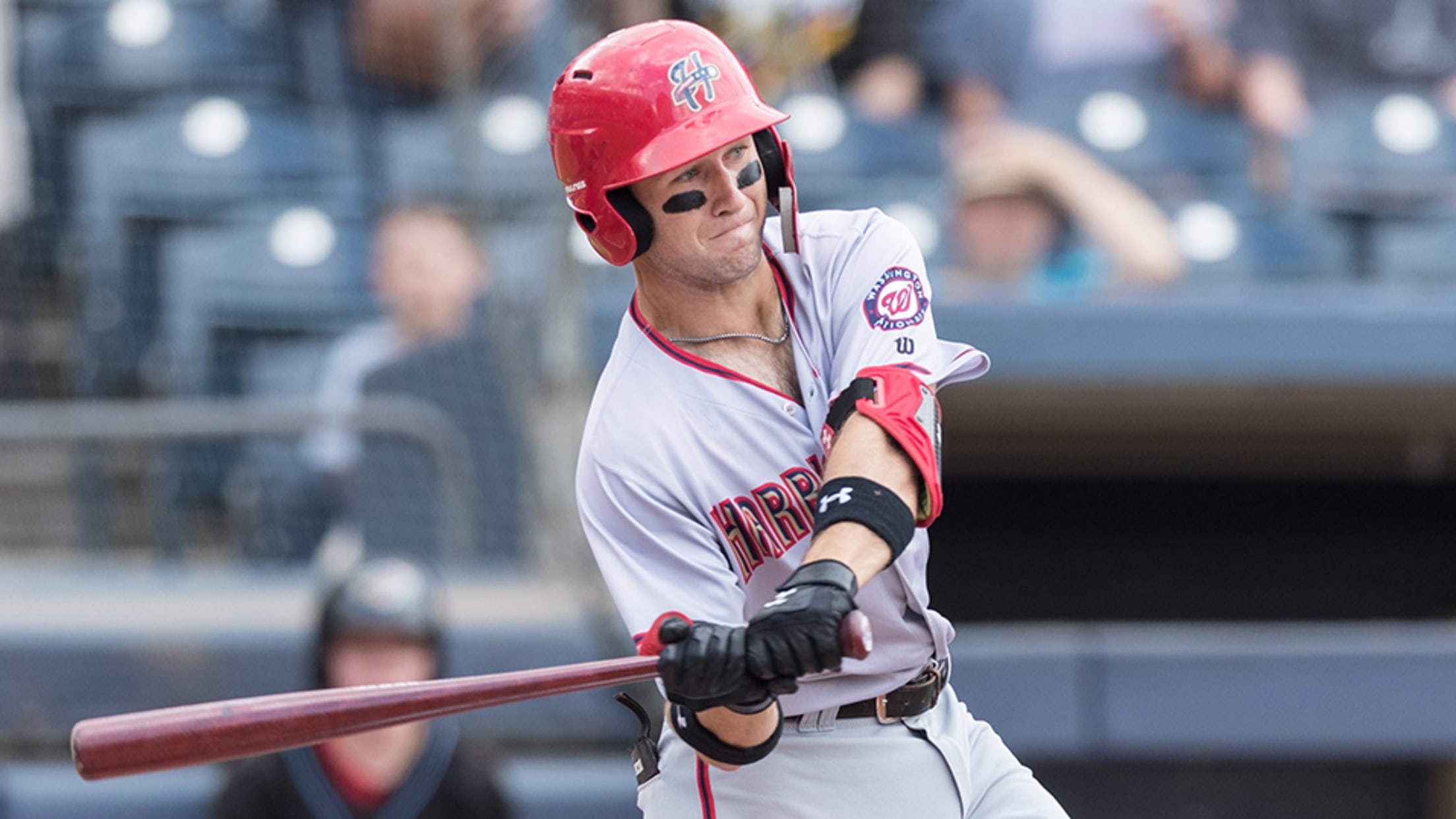 Carter Kieboom is hitting .285/.361/.464 with 44 extra-base hits and 61 RBIs in 107 games. (David Monseur/MiLB.com)
Carter Kieboom has shown his offensive firepower in fits and spurts during his first seven weeks in the Eastern League. The 20-year-old went far beyond that on a career night Tuesday.Washington's No. 2 prospect homered twice, finished a single shy of the cycle and scored a professional-best five runs as
Carter Kieboom has shown his offensive firepower in fits and spurts during his first seven weeks in the Eastern League. The 20-year-old went far beyond that on a career night Tuesday.
Washington's No. 2 prospect homered twice, finished a single shy of the cycle and scored a professional-best five runs as Double-A Harrisburg rolled past Erie, 15-3, at UPMC Park. Kieboom reached base five times and racked up four RBIs.
"When everyone is hitting, it's pretty contagious," he said. "It's always fun when games like this happen. It makes your at-bats comfortable because at that point, pitchers aren't trying to nibble. They're just throwing the ball over the plate and hope you get yourself out. We all stuck with our gameplans and nobody got too big. It was a lot of fun and nice to put it all together in one game."
Gameday box score
Kieboom kicked off the Senators' big night with a long ball to left-center field in the opening frame, his second roundtripper in 35 games. MLB.com's No. 34 overall prospect raced for a leadoff triple to center in the third and scored on a two-run blast by eighth-ranked Nationals prospect Daniel Johnson. Kieboom continued the onslaught by going yard again to left-center in the fifth. It marked the second multi-homer game of his career and his first since April 30, 2017 when he hit three with Class A Hagerstown.
After walking and scoring on an RBI single by Dan Gamache in the sixth, Kieboom stroked a run-scoring double to left and crossed the plate in the next inning on Johnson's two-RBI double. His bid for a cycle fell short, however, when he flied out to right in the eighth.
"I knew I just needed a single," he said. "But I was trying to hit the ball as hard and as far as I could, like I always do. If I hit a double in that situation, then great. That's a better outcome than a single. I really couldn't care less about getting a single there. I wanted to put together a good at-bat and keep what I had going."
The shortstop's four hits equaled his season high set on May 23 with Class A Advanced Potomac. It marked his sixth game of four or more RBIs in 2018, but his first since June 2, also with Potomac.
"I think any time you get a hit in your first at-bat, it makes your others more comfortable," Kieboom said. "Every at-bat is a new at-bat in my eyes. You can use what you did in your previous time up to help, but everything in this game revolves around having a short-term memory. I stick with my approach whether I've had two hits early on or none."
Despite notching his fourth multi-hit effort in his last 11 games, the native of Marietta, Georgia, entered Tuesday hitting .200 over his previous 10 games and .182/.280/.295 in 12 contests this month. The slump lowered his average with Harrisburg to .254 after he batted .298/.386/.494 with 26 extra-base hits and 46 RBIs in 65 games in the Carolina League.
His overall slash line improved to .285/.361/.464 with 44 extra-base hits and 61 RBIs in 107 contests.
"I didn't need to change anything," Kieboom explained of the skid. "I know I can hit and what I'm capable of doing. So why change it? Struggling is part of the game. Things are not always going to go your way, but you stay with what you know. Eventually you'll get out of it. It's a long season.
"[In Double-A], everyone is a little bit better. That's just how it works. There's going to be a difference at every level. You need to focus every single day, come to the field ready to work and realize nothing is going to be handed to you."
No. 12 Washington prospect Raudy Read, Jake Noll and Gamache added three RBIs apiece for Harrisburg, which recorded season highs with 20 hits and 15 runs.
Starter César Vargas (1-1) allowed two runs on six hits and four walks with seven strikeouts in five innings to pick up the win.
Jake Rogers -- Detroit's No. 11 prospect -- homered and doubled and No. 19 Sergio Alcántara went 3-for-4 with a double and a walk for Erie.