Smokies' Hendricks, Underwood chase history
Cubs rehabbing righty, No. 12 prospect fall just short of perfection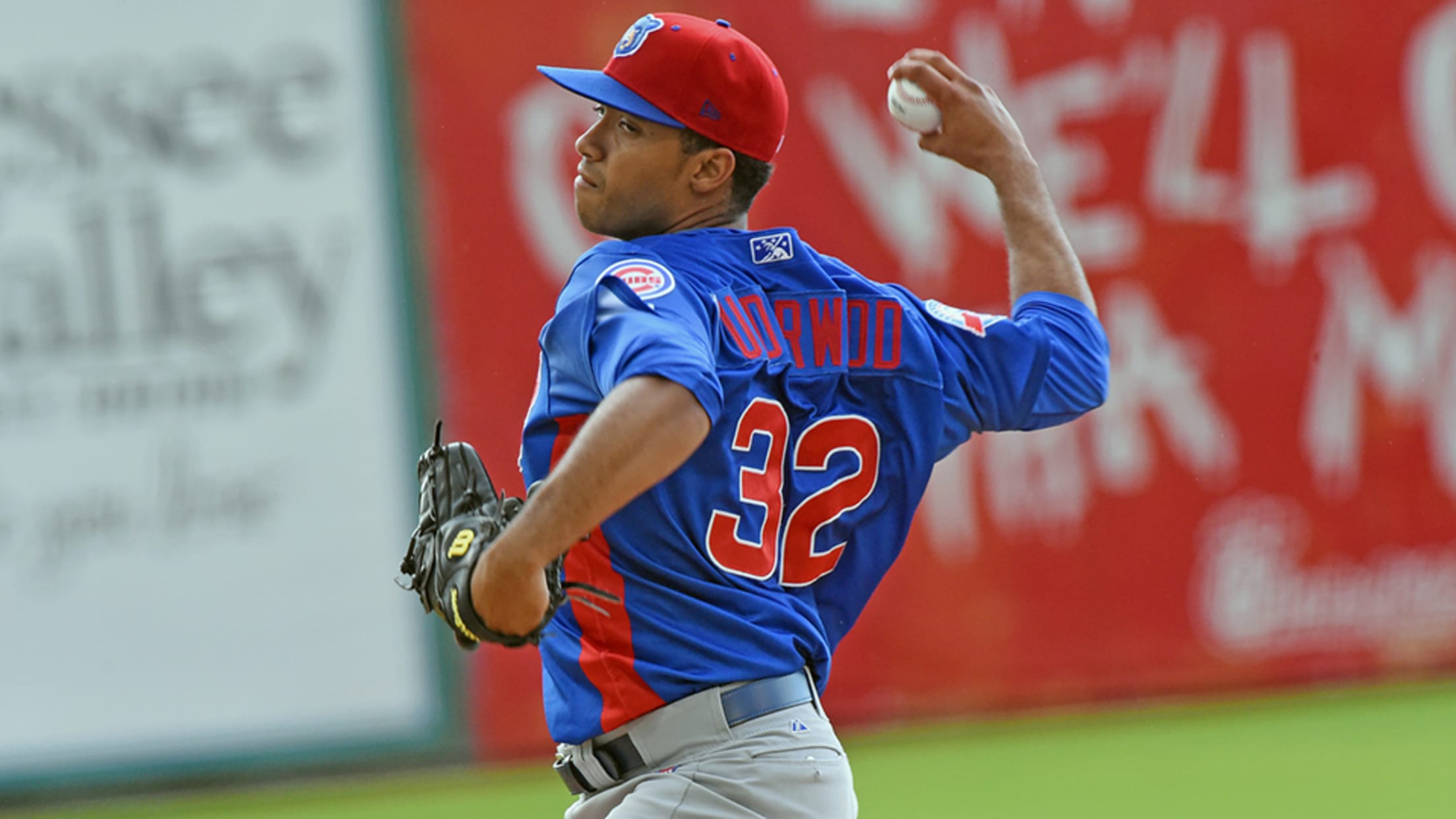 Tennessee's Duane Underwood Jr. made his first relief appearance since 2014 with Class A Kane County. (Brian McLeod/MiLB.com)
A stoic response to losing a perfect game with one out in the ninth inning might be traditional, but one wasn't going to come from Double-A Smokies pitching coach Terry Clark. As proud and pleased as the 56-year-old was of his pitchers' efforts Monday night, he still lamented coming so close
A stoic response to losing a perfect game with one out in the ninth inning might be traditional, but one wasn't going to come from Double-A Smokies pitching coach Terry Clark.
As proud and pleased as the 56-year-old was of his pitchers' efforts Monday night, he still lamented coming so close to history.
Following five perfect innings by rehabbing Cubs righty Kyle Hendricks, Duane Underwood Jr. gave up a line single to BayBears left fielder Tim Arakawa with one out in the ninth to break up what would have been the second perfect game in the Southern League this season.
Michael Hermosillo cleared the left-field fence two batters later for a game-tying homer, but Tennessee rallied to defeat Mobile, 3-2, at Smokies Stadium. Cael Brockmeyer lined a one-out single to left that scored Daniel Spingola with the winning run in the bottom of the ninth.
Even after the victory, Clark couldn't hide his feelings about the roller-coaster ninth.
"It's always disappointing. You come so close to perfection and then, 'Boom,'" the Smokies' first-year coach said. "I've come close before [as a coach] on a few no-no's, but never on a perfect game. Personally, I wasn't nervous. I really thought we were going to get it. Everything seemed to be lining up. No one hit the ball hard pretty much all night, at least until the home run."
Gameday box score
Making his second rehab start with Tennessee, Hendricks retired all 15 batters on 63 pitches -- 43 for strikes. Normally a starter, Underwood (9-4) came on in relief in the sixth and set down the first 10 hitters before he lost the perfect game, the shutout and the lead.
Following Arakawa's single up the middle, the 12th-ranked Cubs prospect fanned Alberto Triunfel for the second out. Underwood fell behind in the count, 3-0, to Hermosillo and the No. 13 Angels prospect took advantage by blasting his fourth home run to tie the game. Second-ranked prospect Matt Thaiss and Sherman Johnson followed with singles, but Josè Briceño grounded out to keep the game even.
"I really didn't notice anything different from [Underwood] in the ninth," Clark said. "He pounded the zone and did a fantastic job throughout. He fell behind 1-0 when he allowed the first hit, which was a fastball that stayed up in the zone. The home run was another fastball and the guy hit it far and high. It happens.
"I went out to try and settle him down. He was fine. A little mad but nothing out of ordinary to make me think he would lose it out on the mound. He had his wits about him and he did what he needed to do. I told him that he was throwing great and just to get the next guy and we'd try and win it in the bottom half. It worked out in the end for us."
Hendricks made his second rehab start with the Smokies after going on the disabled list on June 8 with tendinitis in his right hand. The 2016 Major League ERA leader (2.13) has surrendered a run on two hits and one walk while striking out five in 8 1/3 innings with Tennessee.
"He was a little rusty in his first start," Clark said. "But from his bullpen right into the game, he had everything working tonight. He was locating the ball great. It was fun to watch."
Mobile's Jose Rojas went 0-for-4, ending a 25-game hitting streak that began when he was with Class A Advanced Inland Empire.