Hoerner soaks up experience in Fall League
AFL's only '18 Draft pick, Cubs prospect makes up missed time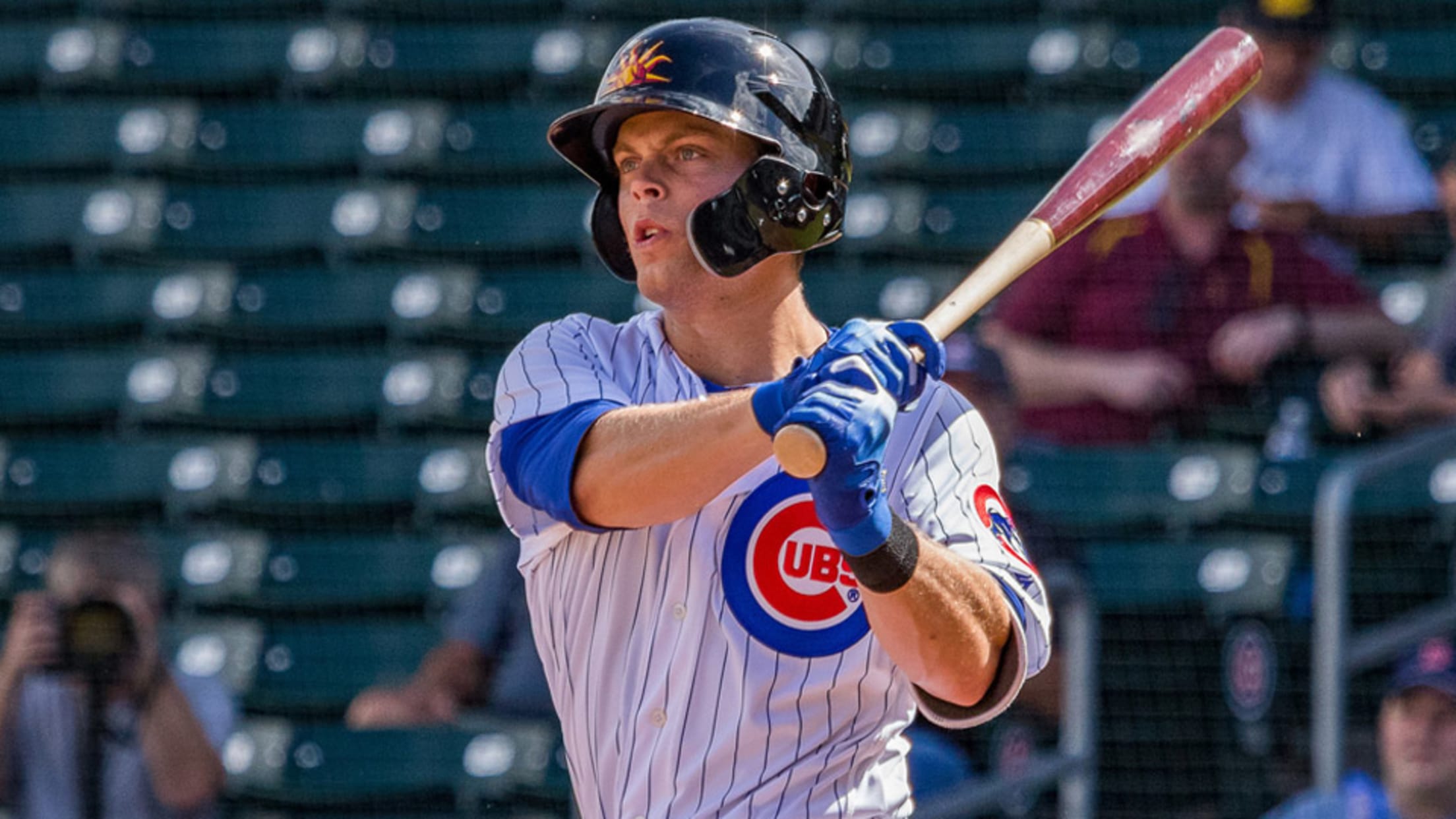 Nico Hoerner notched a .729 on-base plus slugging percentage through his first nine games with the Solar Sox. (Arizona Fall League)
Nico Hoerner caught the line drive to end the inning, then tossed the ball to the mound like he had done so many times before. But with his muscle memory revealing his inexperience, the shortstop felt instant regret."I knew I made a mistake right away, as soon as I let
Nico Hoerner caught the line drive to end the inning, then tossed the ball to the mound like he had done so many times before. But with his muscle memory revealing his inexperience, the shortstop felt instant regret.
"I knew I made a mistake right away, as soon as I let it go," he said with a laugh. "It was the kind of thing where it leaves your hand and you want to take it back."
Hoerner is the only 2018 Draft pick in the Arizona Fall League. With only 14 pro games under his belt, he is trying to pick up all aspects of Minor League life, like tossing the ball to a fan at the end of a frame rather than leaving it on the mound for the next pitcher, like they do in college.
In high school, Hoerner never missed a game. The Oakland, California, native was a model of health and consistency, and he carried that iron horse mentality to Stanford. It wasn't until this July that Hoerner was first sidelined with an injury.
During his fourth game after a promotion to Class A South Bend, Hoerner dove for a ball up the middle. Not only did he miss the ball, but he landed hard on his left arm. Although the Cubs' No. 6 prospect remained in the game, a tear in his UCL cost him the rest of the season.
The stint on the disabled list halted the momentum of an exciting start to Hoerner's career. The 21-year-old hit .327/.450/.571 with six extra-base hits, six RBIs and six stolen bases in seven attempts across 49 at-bats with the Rookie-level Cubs, Class A Short Season Eugene and South Bend.
"I've never been hurt before, so rehab was definitely a new thing for me, just being alone in Arizona, but I think it could almost end up being a good thing in that I'm able to have this experience here in the Fall League now," he said. "And the time that I had off was really a time to understand how to prepare my body and prepare for a whole new level of baseball.
"So while it stinks to miss out on the couple hundred at-bats this summer, making them up with maybe 100 at-bats here in the Fall League against better pitching is going to really, really benefit me in the long run."
His baseball season started back in February with the Cardinal squad, but Hoerner insists his Mesa teammates have endured more through their full 140-game Minor League season. Throughout his rehab process in Arizona, he was just itching to get back to his childhood dream.
"I hadn't played since mid-July and I love playing," he said. "And that was about as long as I had ever gone without playing a baseball game. ... Not only just to be playing games, but to be playing against the highest competition I've ever played against is just something to look forward to every day, for sure."
Through his first nine games against that tough AFL competition, Hoerner went 11-for-39 (.282) with three extra-base hits and seven RBIs for the Solar Sox. And that comes after going 0-for-9 in his first two contests.
Hoerner isn't sure if the slow start was due to his time off or perhaps just being too passive at the plate, but he has already begun making adjustments while working closely with Mesa hitting coach Jesus Feliciano, who is also in the Cubs system.
"It's nice for me to have that constant dialogue," the first-round pick said. "I mean, there will be more 0-for games that I'll have in this Fall League and hopefully will be more three-hit games, so it's just taking the positives out of those games."
In his time with the Solar Sox, he's also made his professional debut at second base, a position he played a lot in college. Knowing the way the Cubs move people around in the Majors, he's happy to get reps at the other middle infield position.
The AFL is known as a finishing school and accelerant for prospects, and Hoerner is excited for what could be but is also remaining focused on what he needs to do.
"[My goal is] just to consistently feel more comfortable and be more of a game-changer as the fall goes on, and finish stronger than I've started and come out a better player than I started," he said. "It is a league that, if you perform well, can really benefit you and help push you forward -- and that's something I obviously care a lot about -- but for me, right now, the development side of it is definitely my biggest priority. And I don't think there's a better place for me to develop than here."
That development, of course, pertains to all aspects of Minor League life. Hoerner has connected with and relied on Jahmai Jones and Daz Cameron, whom he's known since they graduated high school in 2015. Because the Angels prospect and Tigers prospect, respectively, did not go to college, they are able to provide the 24th-overall pick of this year's Draft with some insight about pro ball. Roommate and fellow Cubs prospect Trent Giambrone has also been helpful for that.
"It's awesome to be around guys that have played longer than me and have experienced different things," he said. "So I'm definitely listening to a lot of different experienced players around me."
After the Fall League is complete in November, Hoerner will have just six weeks to spend in Oakland before heading back to Arizona for the instructional league. And although he has been in one baseball uniform or another since February, he's happy he doesn't have to have that long of a layoff again.
"I probably wouldn't [take much time off], anyway," he said with a laugh.
Kelsie Heneghan is a contributor to MiLB.com. Follow her on Twitter @Kelsie_Heneghan.