Smokies' Higgins hits for the cycle
Cubs catching prospect singles in ninth to end team drought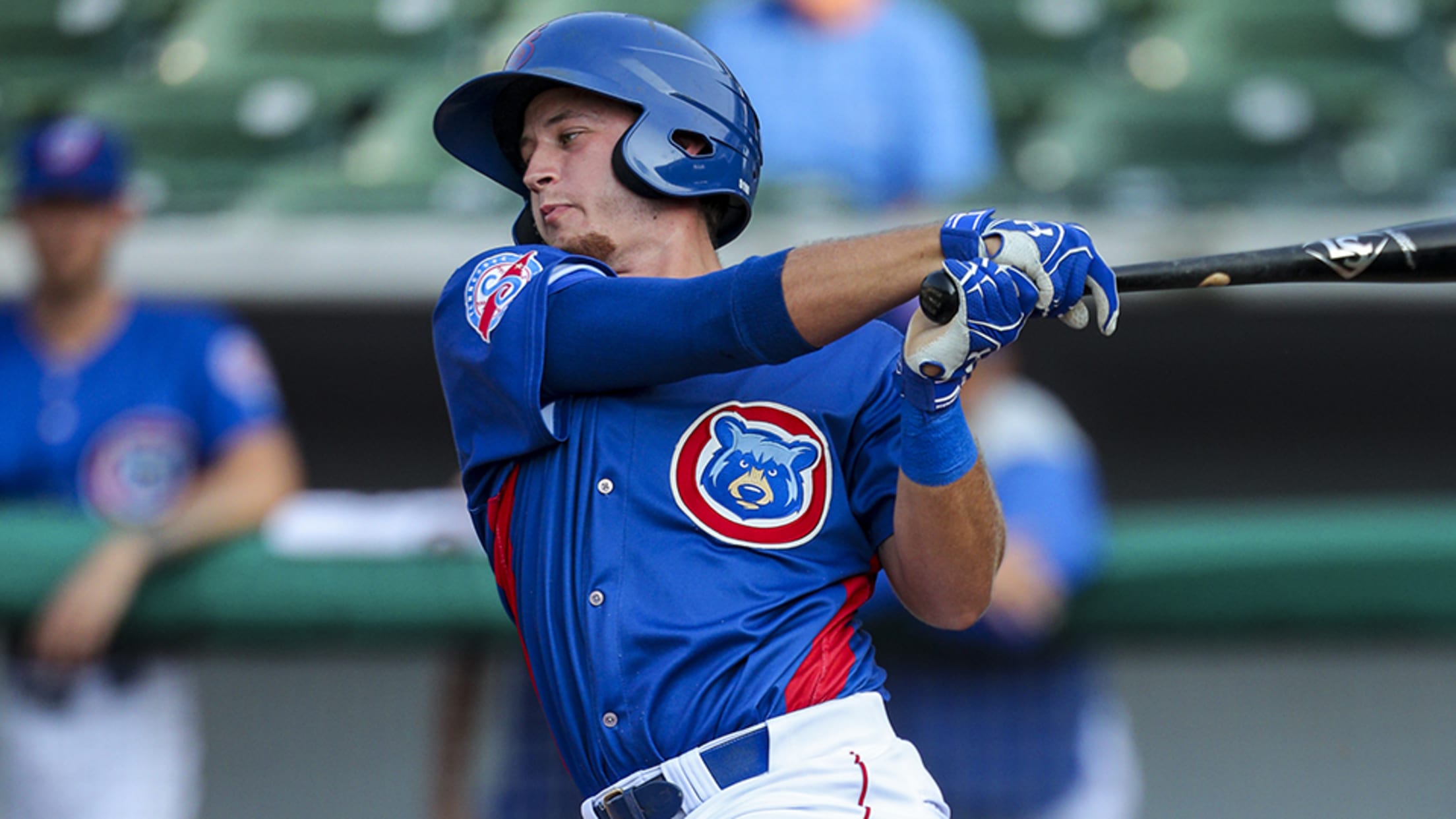 P.J. Higgins knocked his first triple in more than two years en route to Tennessee's first cycle since 2005. (Danny Parker/MiLB.com)
P.J. Higgins rounded second and darted for third, uncertain if he'd be safe it but determined not to break one of the unwritten laws of baserunning."In the back of my head, I was telling myself, 'Don't get thrown out,'" he said. "I was the tying run with no outs. You
P.J. Higgins rounded second and darted for third, uncertain if he'd be safe it but determined not to break one of the unwritten laws of baserunning.
"In the back of my head, I was telling myself, 'Don't get thrown out,'" he said. "I was the tying run with no outs. You don't want to get out there -- that's the rule."
Plenty more than tying Saturday's Southern League contest rode on Higgins' dash for third. For one, he hadn't hit a triple since July 24, 2016 with Class A South Bend. On top of that, the 25-year-old needed the triple to set up a potential cycle, his first as a pro.
The Cubs catching prospect slid in safely and, one innning later, completed the milestone with a single. He went 4-for-4, completing Double-A Tennesse's first cycle in 13 years, but the Smokies dropped a 10-6, 10-inning decision to Pensacola at Smokies Stadium. Higgins also walked, drove in three runs and scored twice.
Entering Saturday's contest, Higgins had yet to knock a triple or homer in 38 games since a promotion from Class A Advanced Myrtle Beach. He was hitting .211 with the Smokies following a 2-for-16 funk that stretched over four games. But he didn't take long to break out against the Blue Wahoos.
After walking in the second innning, the 2015 12th-round pick slugged a two-out solo homer over the left-center field wall in the fourth. Higgins followed that by lining a double to right with one out in the sixth.
With nobody out and runners on the corners in the eighth, the Connecticut native made hard contact to right.
"I got lucky there. I hit that ball toward the bullpen and it bounced off, so the right fielder had to come back in," he said. "I saw him running back for it and I ran for third."
Higgins completed the third leg of the cycle, plating Trent Giambrone and Wynton Bernard to pull Tennnessee within 6-5. He scored the tying run two batters later on a fielder's choice by Jesse Hodges.
"I was joking with my teammates afterward 'cause I was out of breath, with it being my first triple in two years," he said. "I was surprised I got to third, but that didn't mean I felt any pressure going into my last at-bat."
Stepping up in the ninth with two outs, Higgins came through with a line drive single to center off reliever Robinson Leyer to complete the Smokies' first cycle since Marland Williams had one against Huntsville on April 28, 2005.
Gameday box score
The Old Dominion product raised his Double-A average 23 points and is hitting .268 overall. He said he was focused on playing more loosely, knowing he had only a couple games left in his third full professional season. Despite the milestone, Higgins doesn't plan on wrapping up the year any differently.
"It's baseball. Sometimes you go 3-for-4 or 4-for-4 and other days you go 0-for-4. Crazy things happen in baseball, and I know this is a rare moment, but I'm going to try to put any pressure on myself to follow this up," he said. "As you get up higher, the game speeds up more and I think for a time I put too much pressure on myself to try and do too much. I just need to take a deep breath and slow the game down and play the same I've been playing. If I remember that and compete the best I can, I shouldn't have any complaints."
Aristides Aquino blasted a pair of homers, drove in four runs and scored three times for the Blue Wahoos, while Mitch Nay went 3-for-5 with three runs scored. Chris Okey capped Pensacola's four-run 10th with a two-run single.
Nathan Brown is a contributor to MiLB.com. Follow him on Twitter @NathanBrownNYC.