Cubs' Lacy, Hecht combine for no-hitter
South Bend righties throw club's first no-no since July 10, 2014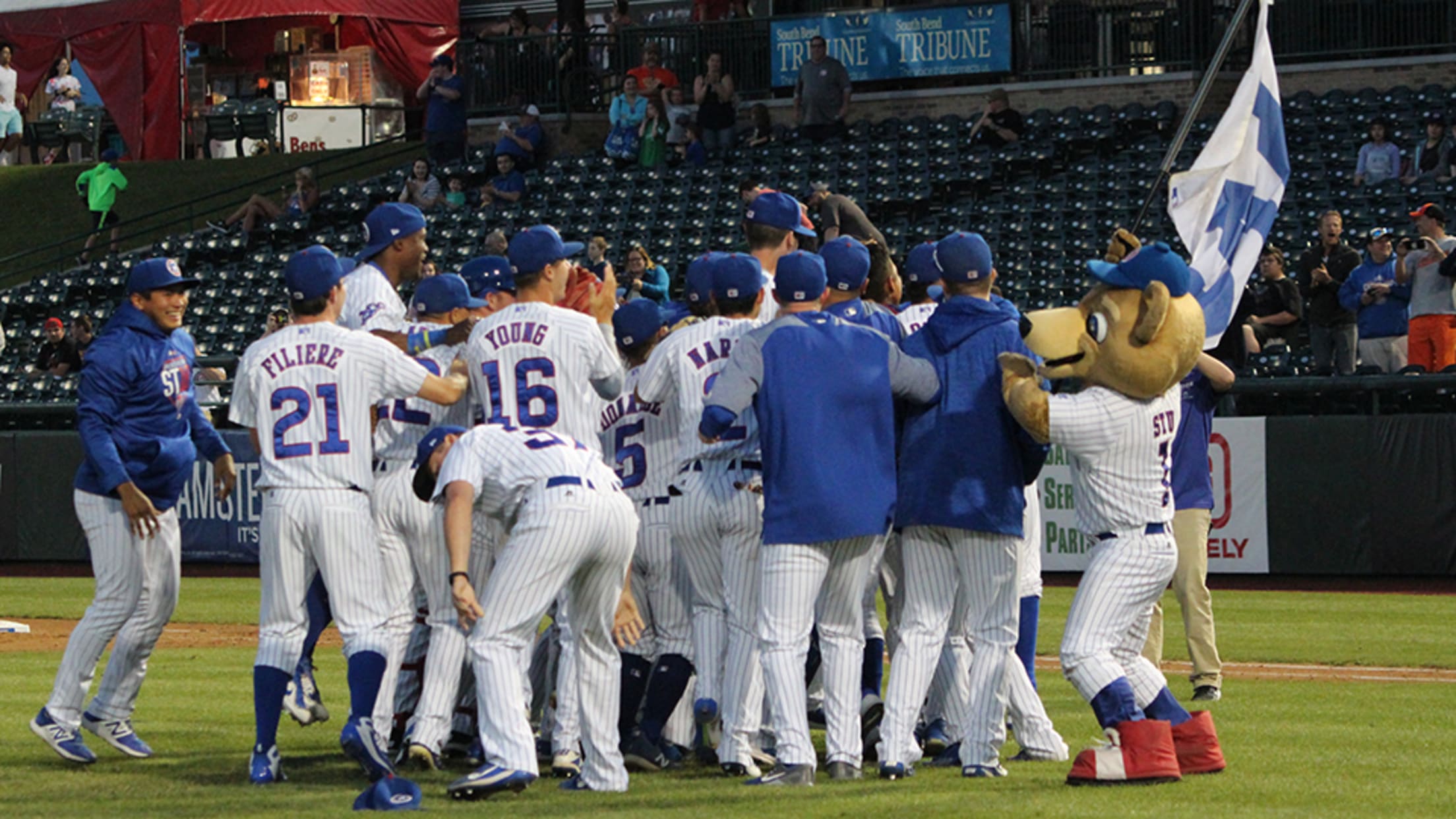 Rollie Lacy and Ben Hecht combined to throw the fourth no-hitter in the Midwest League this season. (Casey McDonald/South Bend Cubs)
Four weeks ago, Class A South Bend pitcher Rollie Lacy was throwing out of the bullpen. He came through one of six appearances hitless.What a difference a month can make.
Four weeks ago, Class A South Bend pitcher Rollie Lacy was throwing out of the bullpen. He came through one of six appearances hitless.
What a difference a month can make.
Making his sixth start of the season, Lacy allowed only two walks and Ben Hecht pitched two perfect frames to preserve South Bend's first no-hitter since July 10, 2014 as the Cubs beat Fort Wayne, 7-0, on Wednesday at Four Winds Field.
It marked the fourth no-no in the Midwest League this season, the 11th in the Minors and seventh in South Bend history.
Lacy, a 2017 11th-round pick, worked as a starter during his first taste of Spring Training but arrived in South Bend stuck in a traffic jam behind more experienced hurlers. After three years starting for Creighton University, he said he enjoyed the brief taste of relief work but welcomed the chance to shoulder the expectations of a starter when a spot in the rotation opened.
Gameday box score
"I love the pressure on my performance as far as starting the game and setting the tone on how the game is going to go," he said. "It gives you a chance to set the tone for the whole team."
After Lacy cruised through two innings, fanning three, Fort Wayne's Luis Almanzar reached on an error by third baseman Jhonny Bethencourt. But Lacy got Nick Feight to pop out in foul territory, Robbie Podorsky to ground out and Padres No. 17 prospect Jeisson Rosario to fly out.
Over the next four innings, Lacy encountered little resistance at the plate but said his defense helped make things look easy. On consecutive plays in the fifth, outfielders Nelson Velazquez and Jared Young tracked down hard-hit balls in the corners to preserve the no-hitter, reminding Lacy of a promise Young had made just days prior.
"They made those look easy, but they were high-caliber plays," Lacy said. "They were ones that if a guy had dropped one, you wouldn't have been surprised. They were the unsung heroes.
"I remember a couple days ago, halfway through a game, we were getting no-hit and a ball dropped that seemed pretty easy. Jared was sitting next to me and he said, 'That was a weird play.' I told him 'Yeah, if I ever had something going like that through five, you better be diving for me.'"
In the seventh, Lacy had to work through his own jam. After striking out Esteury Ruiz, he issued his first walk to Tirso Ornelas. Luis Campusano struck out, but Justin Lopez walked to move Ornelas into scoring position. But Lacy settled down after a visit from manager Jimmy Gonzalez, fanning Juan Fernandez to escape unscathed.
"My pitching coach [Brian Lawrence] is a sinker guy like me and I've learned from him about not caring about strikeouts as much as getting quick innings," Lacy said. "What I tried to do today was get ahead of guys and not waste pitches for strikeouts, but to get guys off soft contact for my infielders.
"But in that seventh, I knew I was close to such a strict pitch-count limit and I was trying so hard to not give up a hit that I walked those guys. After I knew I only had one more guy left, I just tried to unload whatever I had left in the tank."
Hecht threw only 10 pitches in the eighth. In the ninth, he struck out Rosario and got Ruiz to fly to center. Ornelas made the 23-year-old work to complete the no-hitter, fouling off three straight pitches and taking three balls, but Hecht landed a called third strike on the outside corner.
"I knew it would be great to have Ben come in, 'cause he has some nasty stuff," Lacy said. "Ben has electric arm action and a tight slider off his fastball. When he gets ahead, he's hard to hit, especially in the zone. He's tough for a batter to adjust to. That was a great outing for him."
Looking forward, Lacy didn't shy away from the fact that taking the mound again in five days may feel differently. But he recognized that he didn't produce the milestone moment alone, so there shouldn't be any additional pressure riding on his next start.
"It's a big deal," he said. "Next time, it may be hard to forget, but I've got to do the same thing as today. A lot of balls could have dropped, 'cause that's baseball. But I'm happy to celebrate with my teammates."
Young led South Bend at the plate with three hits and four RBIs. Zach Davis added three hits, including a triple, and scored twice, while Bethencourt tripled and scored three times.
Nathan Brown is a contributor to MiLB.com. Follow him on Twitter @NathanBrownNYC.