Court ends I-Cubs' cycle drought
Infielder's four-hit night helps erase late six-run deficit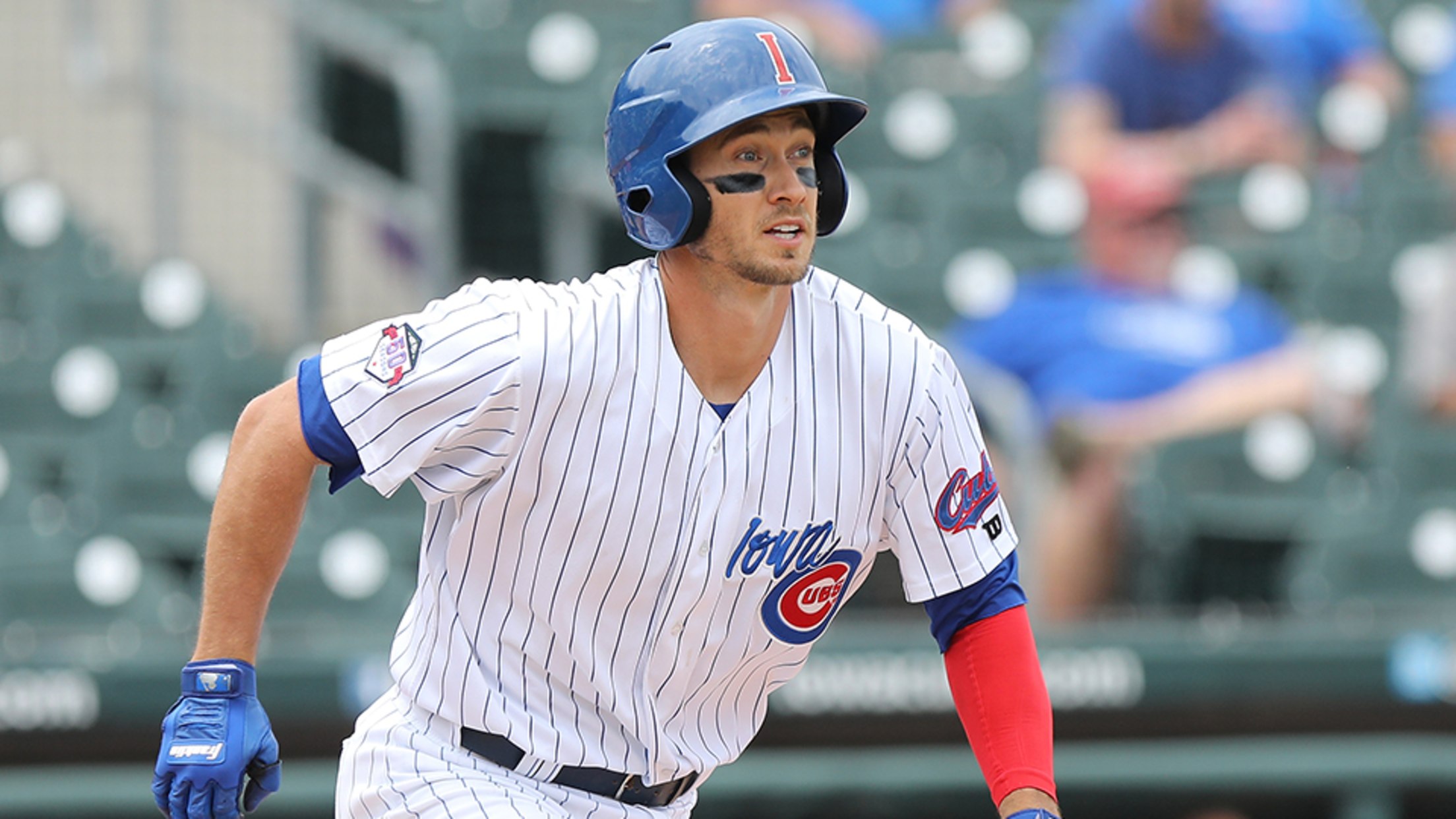 An eight-year veteran, Ryan Court twice before fell a triple short of completing the cycle. (Dylan Heuer/Iowa Cubs)
Ryan Court had come close to a cycle twice before in his long and winding professional career but fell a triple short both times.On Friday, he completed the circle.The 30-year-old shortstop became the first Triple-A Iowa player since 1997 to hit for the cycle, delivering an RBI triple in his
Ryan Court had come close to a cycle twice before in his long and winding professional career but fell a triple short both times.
On Friday, he completed the circle.
The 30-year-old shortstop became the first Triple-A Iowa player since 1997 to hit for the cycle, delivering an RBI triple in his final at-bat in the eighth inning as the Cubs rallied for a 10-8 triumph over New Orleans at Principal Park.
"It's funny. Honestly, I had no idea," Court said. "[David] Bote had just tied it, I was super-pumped and I was just trying to have a good at-bat. I've been feeling really good at the plate lately, but I wasn't trying to hit a triple because in my experience it doesn't go well when I try to get too big."
Before Court's performance, Robin Jennings was the most recent I-Cub to pull off the cycle, doing it on Aug. 15, 1997.
The D-backs' 23rd-round pick in the 2011 Draft, Court has been on one of the best rolls of his eight-year career. He's homered in back-to-back games and is 24-for-52 (.462) during a 15-game hitting streak.
Court said he hadn't done anything different that's produced the recent extra-base surge.
"You know, no, not really, I'm just keeping the swing simple. I had a good spring, hit more homers than I usually hit. We acquired Chris Coghlan a couple of weeks ago and I can't honestly say enough about how important that's been, just his mentoring, especially with a two-strike approach," he said.
The right-handed hitter began Friday innocently enough with an opposite-field single in the second. He led off the fourth with a double to right before striking out in the fifth.
Gameday box score
In the seventh, after New Orleans seemingly broke the game open on Peter Mooney's grand slam, Court and Bote -- the Cubs' No. 13 prospect -- hit back-to-back homers to pull Iowa within 8-5.
Court one-upped himself in the eighth as the Cubs grabbed the lead. After Coghlan ripped a two-run triple and Bote singled in the tying run, the Illinois State product hit a ball to right. JB Shuck dived for it but missed, allowing him to motor to third and enter the Pacific Coast League record book.
"That was a testament to Bote keeping that inning going," Court said. "Seeing him go [all-out] made me even more pumped."
The I-Cubs got plenty of other offense as Bote homered and singled twice, Taylor Davis doubled twice and Coghlan tripled and singled.
New Orleans totaled 14 hits, with Mooney's slam the big blow. Shuck doubled twice and singled twice, while Marlins No. 7 prospectIsan Díaz tripled and doubled in his second Triple-A game.
But Court was the story. A walk-on at Illinois State, Court was just happy to get drafted but kept grinding after getting released and ending up in independent ball before getting picked up by the Red Sox and now the Cubs.
The Elgin, Illinois, native burns to finally reach the Majors and help his hometown team.
"The biggest motivation is to get to the big leagues," Court said. "I just want to play in the big leagues. I want to contribute, contribute to Chicago, help them get far in the playoffs and play in the World Series.
"That's honestly what's driven me. It's just how I'm wired. I've had my ups and downs, but it's the inner competition, constantly competing to get better. There's a fire inside me."
Vince Lara-Cinisomo is a contributor to MiLB.com. Follow him on Twitter @vincelara.