Kopech to start Tuesday for White Sox
No. 13 overall prospect called up from Triple-A Charlotte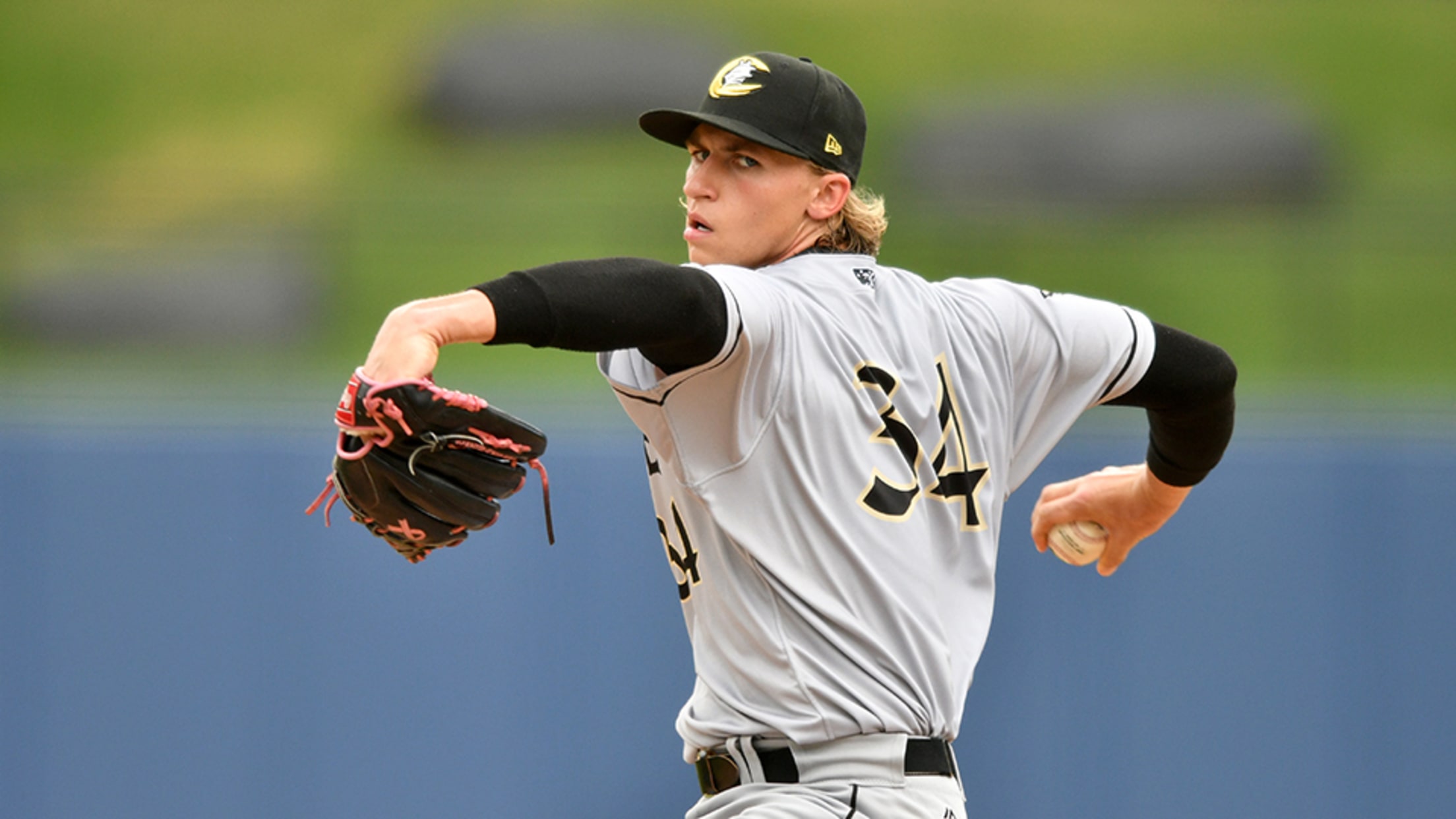 Michael Kopech has not allowed more than two runs in a start dating back to July 5. (Ken Inness/MiLB.com)
One of the game's top pitching prospects will have the chance to showcase his talents on the big stage this week. The White Sox announced Sunday that second-ranked prospectMichael Kopech will make his Major League debut on Tuesday against Minnesota. The right-hander had a 3.70 ERA and a Minor League-leading 170
One of the game's top pitching prospects will have the chance to showcase his talents on the big stage this week.
The White Sox announced Sunday that second-ranked prospectMichael Kopech will make his Major League debut on Tuesday against Minnesota. The right-hander had a 3.70 ERA and a Minor League-leading 170 strikeouts in 24 starts for Triple-A Charlotte.
Kopech has begun to find his groove over the past six weeks. He has a 1.84 ERA in his past seven starts and hasn't given up more than two runs in an outing since July 5. The 2014 first-round pick has fanned nine in each of his last three starts while striking out at least eight in six of his previous seven.
"My conversation with him is going to be real simple: Welcome," White Sox manager Rick Renteria told MLB.com. "You know what you've been doing, you know how you've been going about doing it, we know how you've been going about doing it because we get the information.
"Have some fun. This is an experience that only comes once in a lifetime when you get that first call-up. You're going to be a part of a Major League club, so enjoy it. Don't allow it to overwhelm you."
A promotion to the Majors seemed imminent in the wake of White Sox director of player development Chris Getz's comments on Chicago radio station WSCR earlier this month regarding the possibility of Kopech and top prospect Eloy Jiménez joining the big league club at some point this season. That time has apparently come for the Mount Pleasant, Texas, native.
Kopech began his career in the Red Sox system before being a centerpiece, along with Yoán Moncada, in the Chris Saletrade in December 2016. He saw immediate success with his new club, earning a spot at the Futures Game in 2017 and eventually working his way to Charlotte for three starts.
MLB.com's No. 13 overall prospect compiled a 2.14 ERA and 29 strikeouts over 21 innings in April, then posted a 5.25 ERA in 12 starts in May and June. But his brilliance over the last month and a half has shown the White Sox that he's ready.
"It's a next level fastball," White Sox catcher Dustin Garneau told MLB.com earlier this month. "There are guys who have 100 mph and there are guys who have a different kind of 100 mph. That's what he has.
"Now, the last four or five outings, he's really learned how to throw and pitch with four pitches. He's got a changeup now. He knows how to pitch with the curveball and slider and he's got a real demeanor where he's more mature on the mound. He's looking really good."
Chris Bumbaca is a contributor for MiLB.com based in New York. Follow him on Twitter @BOOMbaca.