Jimenez out two weeks with hip injury
Top White Sox prospect strained left adductor muscle Sunday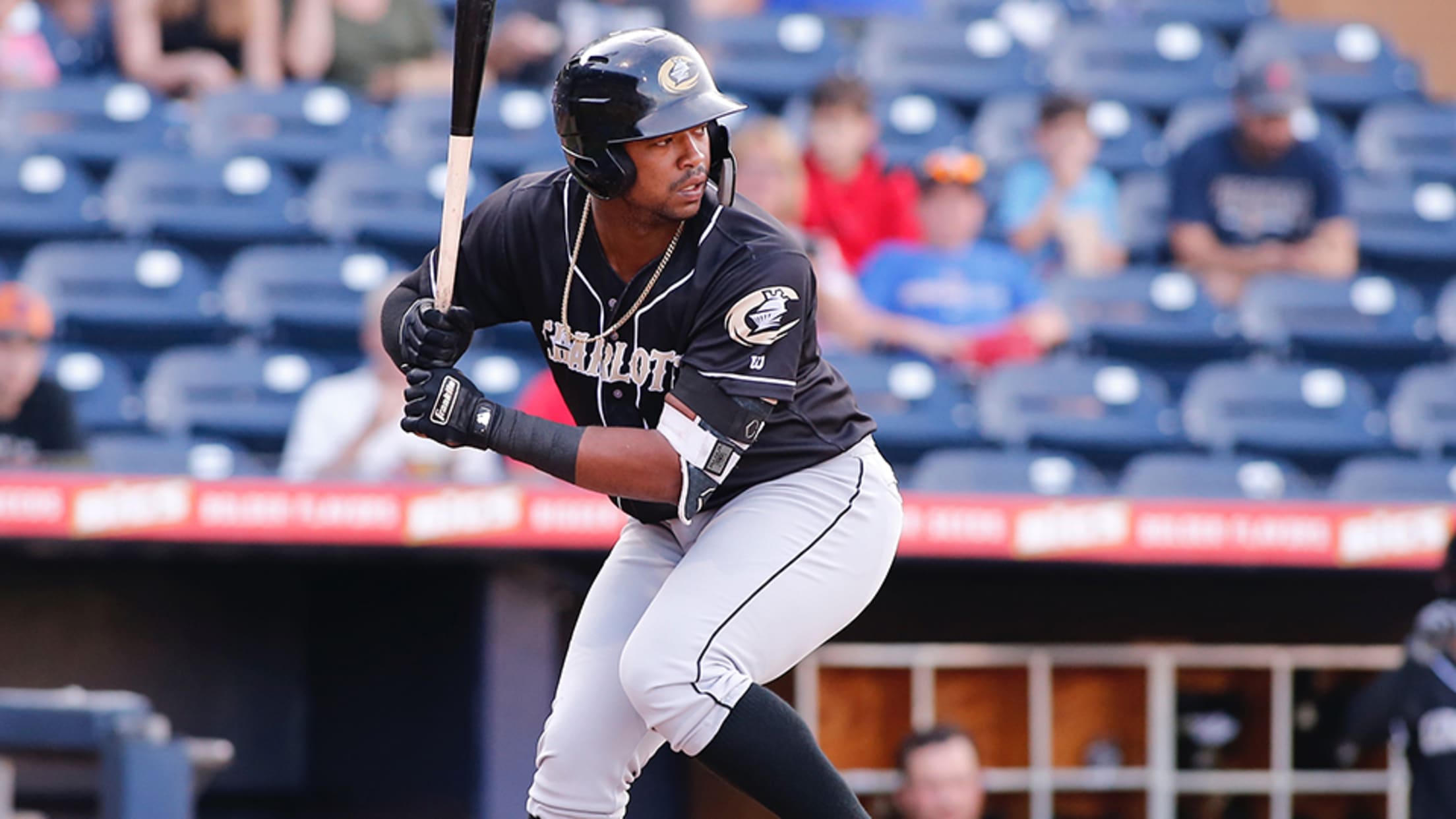 Eloy Jimenez has homered twice in 41 at-bats since being promoted to Triple-A Charlotte. (Chris Robertson/MiLB.com)
Eloy Jiménez's march to the Major Leagues will be slowed a bit.The top-ranked White Sox prospect exited Triple-A Charlotte's 7-6 victory over Gwinnett on Sunday in the second inning after suffering the injury. An MRI on Monday revealed a strained left adductor muscle, which the club said is expected to
Eloy Jiménez's march to the Major Leagues will be slowed a bit.
The top-ranked White Sox prospect exited Triple-A Charlotte's 7-6 victory over Gwinnett on Sunday in the second inning after suffering the injury. An MRI on Monday revealed a strained left adductor muscle, which the club said is expected to keep Jimenez off the field for approximately two weeks.
Gameday box score
Jimenez singled in his first at-bat and scored a run in before flying to right field to end the second in his second plate appearance, when he appeared to injure himself. Baseball's No. 3 overall prospect was replaced in left field by Dustin Garneau in the bottom of the frame.
The 21-year-old is hitting .313/.371/.541 with 12 homers and 46 RBIs in 65 games and has a .293/.383/.463 slash line in 19 games since his promotion to Triple-A. He's struck out only five times while drawing five walks with Charlotte.
White Sox prospect Robert placed on DL
The native of the Dominican Republic left Double-A Birmingham with a .317/.368/.556 slash line, 27 extra-base hits and 42 RBIs in 53 games. At the time of his promotion, he led the Southern League in slugging percentage, ranked second in batting behind Jackson's Kevin Medrano and sixth in RBIs, despite playing at least 12 fewer games than any of those ahead of him.
Jimenez missed the first two weeks of the season with a mild strain of his left pectoral muscle sustained during Spring Training. The injury did not keep him from being named Southern League Player of the Month for April after he led the circuit in hits (40), total bases (71), extra-base hits (18), doubles (11), slugging (.664) and OPS (1.082). He also earned a spot on the All-Star team and went 1-for-3 in his home ballpark of Regions Field.
Jimenez was acquired from the Cubs on July 13, 2017 in the deal that sent left-hander Jose Quintana to the North Side of Chicago.