Dash's Jimenez records first five-hit game
Second-ranked White Sox prospect batting .452 since big trade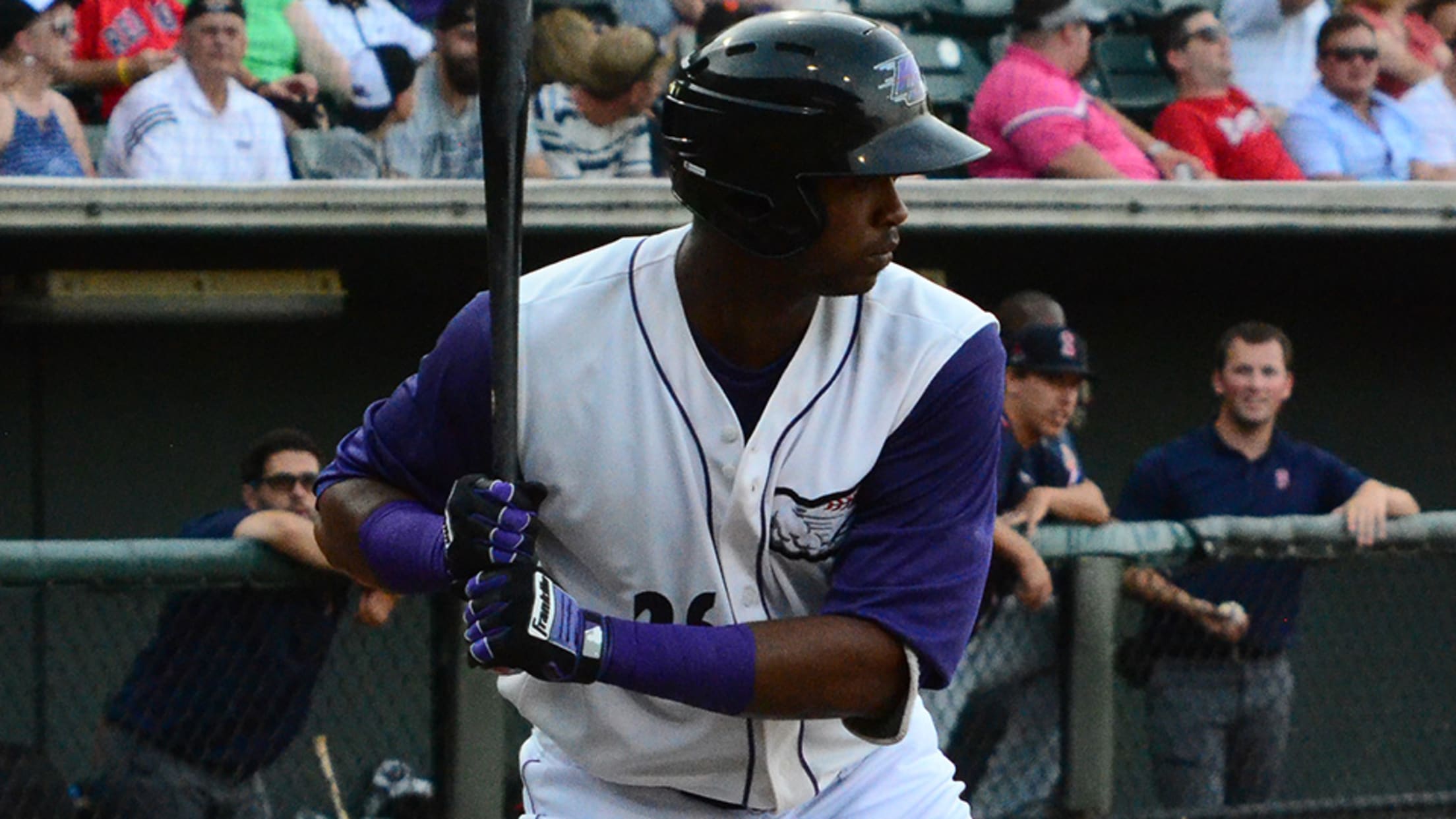 Eloy Jimenez exited Friday night's game early after fouling a pitch off of his right foot. (Ray Marsden/Winston-Salem Dash)
In less than two weeks since his acquisition, Eloy Jiménez has been the gift that keeps on giving for Class A Advanced Winston-Salem. The No. 2 White Sox prospect put a bow on the present Sunday.MLB.com's eighth-ranked prospect recorded the first five-hit game of his career while providing a late
In less than two weeks since his acquisition, Eloy Jiménez has been the gift that keeps on giving for Class A Advanced Winston-Salem. The No. 2 White Sox prospect put a bow on the present Sunday.
MLB.com's eighth-ranked prospect recorded the first five-hit game of his career while providing a late push for the Dash in an 11-10 walk-off victory over the Red Sox in 11 innings at BB&T Ballpark. Jimenez homered, doubled twice and added two singles -- including the game-tying hit in the ninth inning. He drove in three runs and scored twice.
In the nine games since he was swapped to the White Sox from the Cubs in a deal that sent left-hander José Quintana to the North Side, the 20-year-old has amassed 14 hits with two homers, five doubles and 10 RBIs in 31 at-bats.
"He was a great pickup and this dude is doing some stuff that is off this planet right now," Dash hitting coach Charles Poe said. "What a professional guy he is, what a professional player he is, and since he's been in the lineup, all he did is contribute in a very big way."
After a bone bruise on his right shoulder delayed his season debut until May 14, the native of the Dominican Republic has produced a .301/.390/.543 slash line with 10 homers, 42 RBIs and 29 runs scored in 51 games between Myrtle Beach and Winston-Salem.
Gameday box score
Jimenez was expected to miss some time after fouling a ball off his right foot and exiting Friday's game early. The absence lasted just seven innings, as he returned to pinch-hit Saturday.
"Evaluated him in the morning, he was good to go," Poe explained. "He said, 'If you need me, I'm ready to go.' That's why he got a pinch hit last night and he started today. As you've seen, and everybody else, he didn't miss a beat."
Jimenez flied out to center field in the opening inning and got his next opportunity with two outs in the third against Salem starter Roniel Raudes. He worked the count full against the right-hander and lifted a fastball on the inside half over the fence in left.
"It was pretty impressive how he kept that ball fair, because it was so far in," Poe said. "But it was one of the longest balls hit I've seen in my three-year history at Winston-Salem. It was pretty impressive."
Following Seby Zavala's leadoff single in the sixth, Jimenez lined a hit to left to chase Raudes before getting picked off at first by reliever Daniel McGrath. With two outs and two on in the seventh, Jimenez smacked a double beyond the reach of Salem center fielder Tate Matheny to score No. 12 White Sox prospect Luis Alexander Basabe.
"Anybody that's getting on base the way that he's getting on base always contributes and helps, but it just seems like he's doing it a little bit more than others right now," Poe said. "He's very comfortable and he's not missing his pitches."
The Red Sox scored three runs in the eighth to take a 6-5 lead. Then Jameson Fisher walked to start the bottom of the frame. Zavala laid down a sacrifice bunt to put him in scoring position, and Jimenez promptly grounded a single up the middle to tie the game.
After Salem scored twice in the 10th, Fisher responded with a two-run shot. In the 11th, Jordan Betts and Jose Sermo belted their second homers of the game to put the Red Sox up, 11-9.
• Get tickets to a Winston-Salem Dash game »
Jimenez led off the home half of the 11th with a double to center ahead of Brandon Dulin's homer to right-center. Brady Conlan followed with a double to left and Yeyson Yrizarri bunted him over to third before Joel Booker delivered a walk-off hit to center.
"Today was awesome, it was a back-and-forth merry-go-round," Poe said.
Basabe singled twice, drove in two runs and scored once while Dulin added two runs and two RBIs.
Gerard Gilberto is a contributor to MiLB.com. Follow and interact with him on Twitter, @GerardGilberto4.