White Sox lose Robert through May
28th-ranked prospect sprained left thumb ligament on slide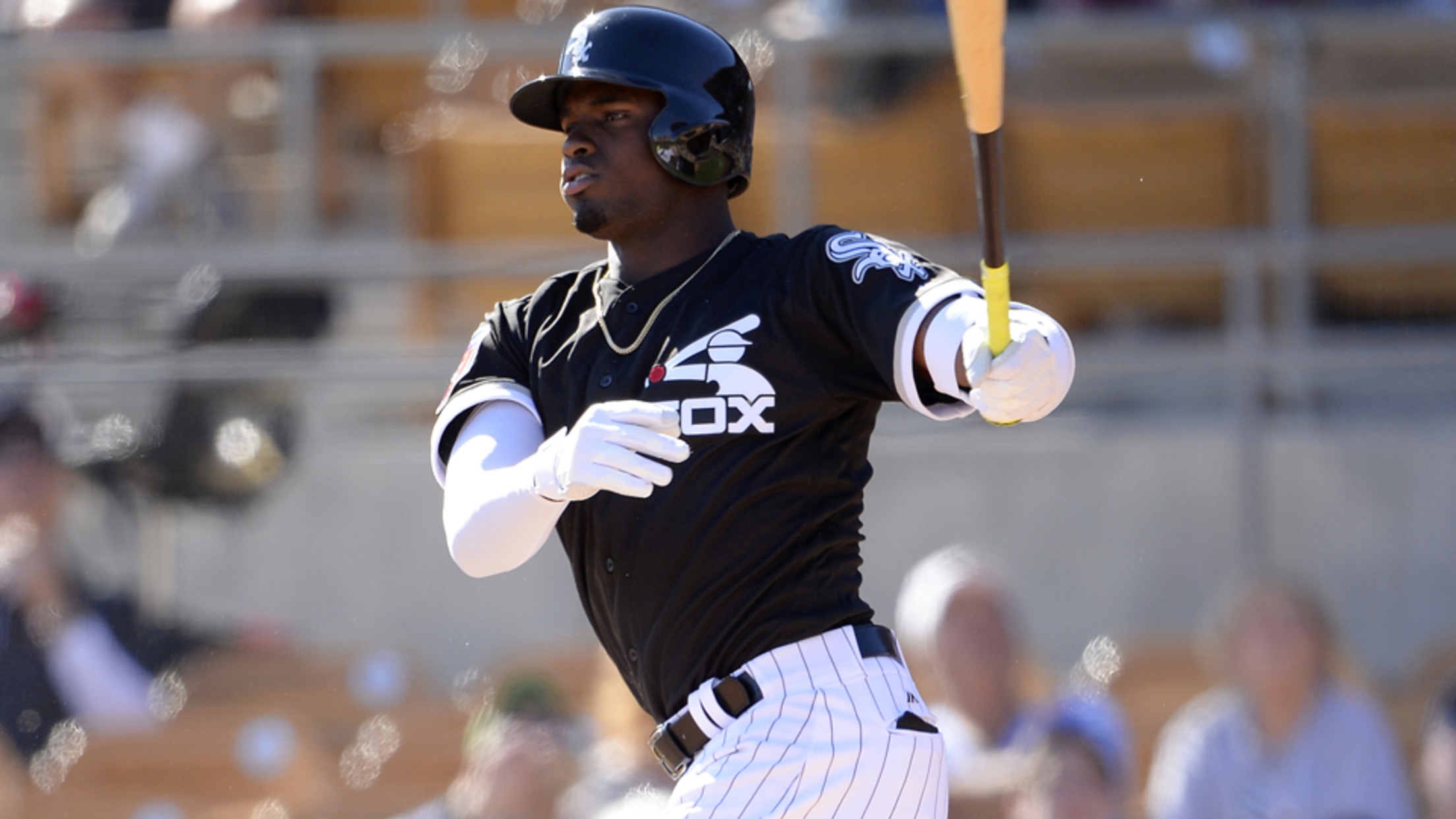 On the 20-80 scouting scale, Luis Robert has 55-grade power and 65-grade speed. (Ron Vesely/MLB Photos)
The fun had only just begun, but the White Sox have had to hit the pause button on the Luis Robert show.MLB.com's No. 28 overall prospect suffered what the team called a "moderate sprain of the ligament in his left thumb" on Wednesday. On Saturday, the organization announced that Robert won't
The fun had only just begun, but the White Sox have had to hit the pause button on the Luis Robert show.
MLB.com's No. 28 overall prospect suffered what the team called a "moderate sprain of the ligament in his left thumb" on Wednesday. On Saturday, the organization announced that Robert won't be able to use the hand for six weeks and will be held out of game action for about 10 weeks.
"The thumb will be immobilized for approximately the next six weeks," White Sox general manager Rick Hahn told MLB.com. "He will ideally be able to return to game action in roughly 10 weeks.
"As a result, he's obviously done for Spring Training. We would expect him probably roughly in extended games in early May. Hopefully, we can adjust that timetable for the better once the cast comes off, but at this time, we view it as six weeks in a cast and return to games in approximately 10.
The injury occurred in Robert's first full Cactus League game, one in which he played the hero. With two outs in the bottom of the eighth inning, the 20-year-old outfielder belted a grand slam off Reds right-hander Jackson Stephens, giving Chicago a 14-12 victory. The third-ranked White Sox prospect suffered the sprain while sliding into second base on a fifth-inning steal.
"He sustained the injury prior to the grand slam, which is a pretty impressive pain tolerance by the young man and also speaks to the speed of the potential recovery here," Hahn told MLB.com "... Given his tools and the work ethic, we continue to think of him extremely highly."
Robert was 3-for-10 with a pair of walks in nine Spring Training games. Wednesday's was the first in which he got more than two at-bats.
After leaving Cuba and establishing residency in Haiti in November 2016, he signed with the White Sox last May. Robert batted .312/.491/.536 with 12 extra-base hits and 12 steals in 28 games in the Rookie-level Dominican Summer League and is expected to move through the Minor Leagues quickly.
"Now this happened and I feel bad," he told MLB.com through an interpreter. "Because of the intensity of the game, I didn't feel much pain. It wasn't until the next day, I was pretty sore."
Josh Jackson is a contributor to MiLB.com. Follow and interact with him on Twitter, @JoshJacksonMiLB.