Giolito tosses Knights' first no-hitter since 2013
No. 8 overall prospect overcomes struggles with seven-inning gem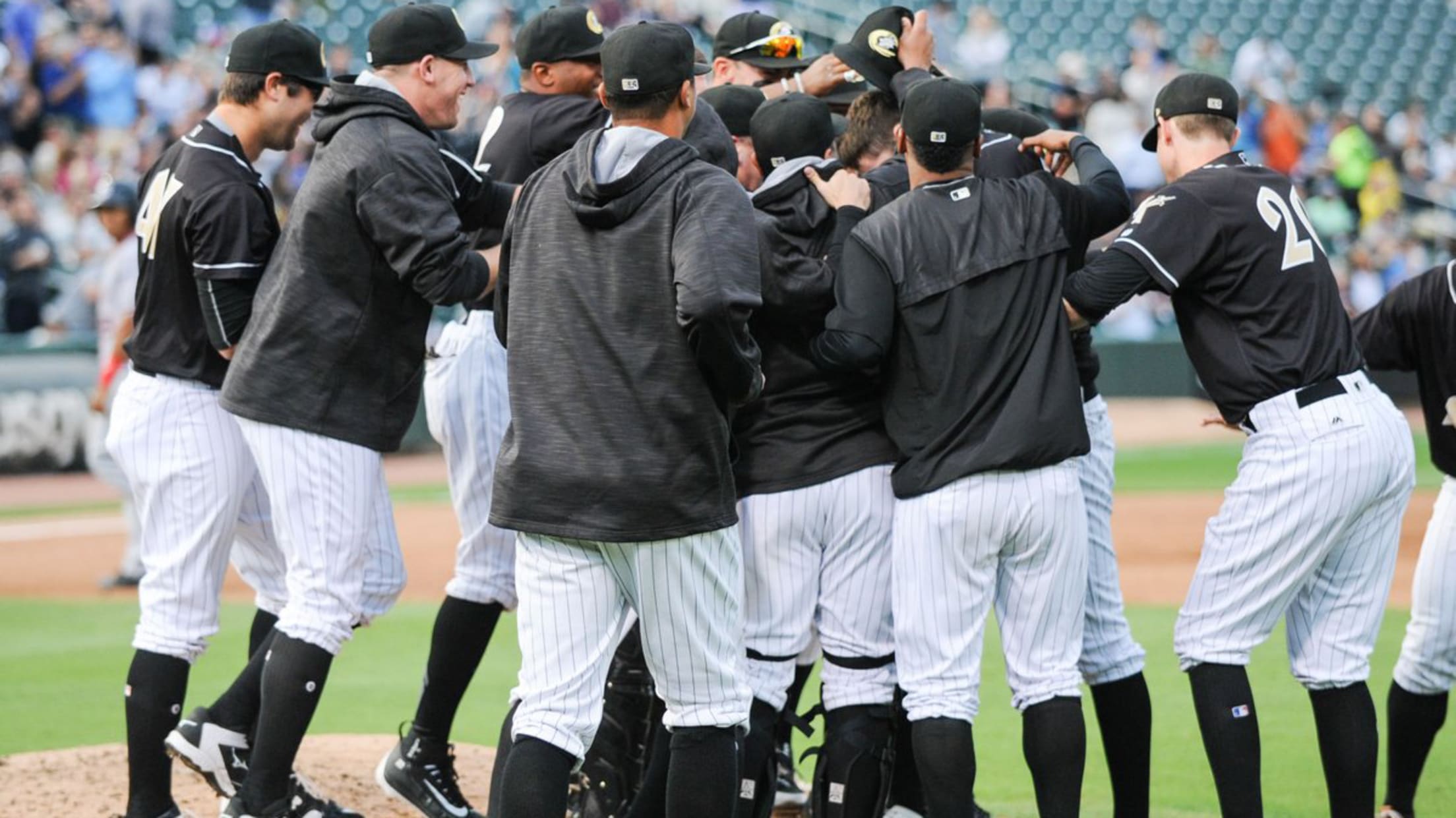 Lucas Giolito's 43 strikeouts for Charlotte this season rank ninth in the International League. (Laura Wolff/Charlotte Knights)
Lucas Giolito's first season with the White Sox since coming over from the Nationals had brought its share of difficulties. On Thursday, against the organization that traded him, he delivered a powerful reminder of just how good he can be.MLB.com's No. 8 overall prospect tossed a seven-inning no-hitter -- Triple-A
Lucas Giolito's first season with the White Sox since coming over from the Nationals had brought its share of difficulties. On Thursday, against the organization that traded him, he delivered a powerful reminder of just how good he can be.
MLB.com's No. 8 overall prospect tossed a seven-inning no-hitter -- Triple-A Charlotte's first in four years -- as the Knights blanked Syracuse, 4-0, at BB&T Ballpark.
"It was awesome that I was able to still get those last three outs there," Giolito said. "It was a huge relief, and it just felt awesome. A really special moment."
The right-hander retired 13 of the first 14 batters he faced after a two-out walk to Brandon Snyder in the first inning. He and catcher Carson Blair, who he has worked with extensively since Spring Training, were locked in from the outset, according to Giolito (2-5).
"There was a synergy," the 22-year-old said. "One thing I noticed is I don't think I shook off any pitches. We were attacking guys with the fastball. I was just trying to keep the fastball down, work both sides of the plate, and they were swinging early and often."
Around the fifth inning, Giolito noticed his teammates growing unusually distant. By then, he had realized what was going on.
"Generally, when I pitch I don't get super-intense or crazy or anything like that," he said. "I'll joke around and be myself. But I started to notice around the fifth inning, guys were leaving me alone and not really talking as much."
The seventh provided the stiffest challenge. Giolito ran the count full to each of the first three hitters of the frame before issuing a two-out walk to Pedro Severino. The 2012 first-round pick went 1-1 on Corban Joseph before he hit a ball sharply toward second. Tyler Ladendorf snared it and flipped the ball to first baseman Danny Ortiz for the final out.
"That last inning was kind of a blur," Giolito said. "Against [Joseph], we were just trying to throw fastballs and see if we could get a ground ball. The last pitch I threw was a heater.
"Honestly, off the bat, he hit it hard and I was like, 'Oh man, what's about to happen?' I think I knelt down a little bit. Tyler Ladendorf was playing second and he made a really nice, clean play -- just like the guys were all night -- and it was just elation."
The no-hitter marked the fourth in Charlotte history, and the first at BB&T Ballpark. André Rienzo pitched the club's most recent no-no, a seven-inning gem on July 25, 2013 in the first game of a twinbill against Indianapolis.
Ranked as the top White Sox pitching prospect, Giolito went 1-5 with a 6.41 ERA over 39 1/3 frames in his first eight outings of the season, his first with Chicago since changing organizations in the Adam Eaton deal with Washington.
The California native improved to 2-2 with a 4.61 ERA and 20 strikeouts over 27 1/3 innings in May after finishing 0-3 with a 6.63 ERA over 19 innings in April.
"I didn't start the year well," Giolito said. "My mechanics were off and I didn't feel the ball was coming out very well. I wasn't commanding, and that was probably the main thing. But the past few starts, I've started to make some strides forward and I feel like I'm starting to hit a stride a little bit. I'm going to work off of what I did tonight, go in the bullpen, continue to work on fastball command and hopefully put some other good ones together."
Chicago's No. 16 prospect Adam Engel, Nicky Delmonico and Danny Hayes went deep to power Charlotte's offense.
Austin Voth (1-5), the Nationals seventh-ranked prospect, was tagged with four runs on six hits and three walks and struck out two over six innings.
The Chiefs took the second game of the doubleheader, 8-4, after home runs by Clint Robinson and Caleb Ramsey.