Reds' Greene dazzles in brief debut on hill
Second overall '17 pick throws 15 pitches, records one strikeout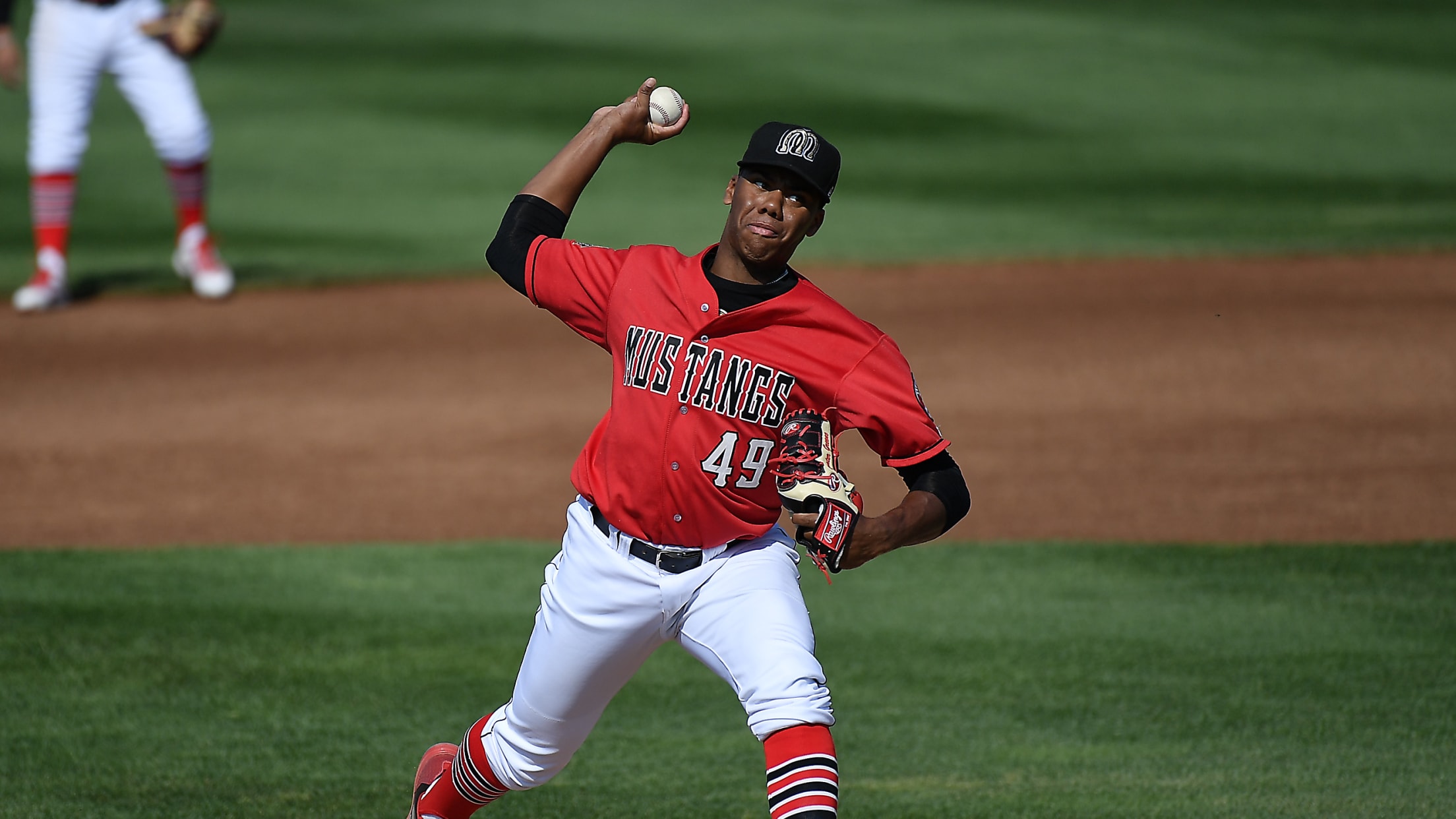 Hunter Greene was 3-0 with an 0.75 ERA in five starts during his senior season at Notre Dame High School. (Dean Hendrickson/Billings Mustangs)
Hunter Greene came to the Reds organization as a two-way player, but only showcased his offense as a designated hitter through his first seven games in the Minor Leagues. The second-ranked Cincinnati prospect made his long-awaited pitching debut in Sunday's start, allowing one hit and fanning one in one inning as
Hunter Greene came to the Reds organization as a two-way player, but only showcased his offense as a designated hitter through his first seven games in the Minor Leagues.
The second-ranked Cincinnati prospect made his long-awaited pitching debut in Sunday's start, allowing one hit and fanning one in one inning as Rookie-level Billings rolled to a 4-2 win over Helena on Sunday at Dehler Park. The right-hander tossed 12 of his 15 pitches for strikes and threw all fastballs, save one pitch.
Gameday box score
"He was dominant," Mustangs pitching coach Seth Etherton said. "I think all [of the pitches] were at the knees. His ability to repeat his delivery and direction downhill, it was very impressive for a young man of his age. He's very poised very competitive and he's fun to watch."
Selected second overall in this year's Draft out of Notre Dame High School in Sherman Oaks, California, Greene went 3-0 with a 0.75 ERA in five appearances before he was shut down in April to protect his arm from potential injury. If MLB.com's No. 21 overall prospect had any rust to shake off Sunday, Etherton didn't see any.
"He was 99 and 100 [mph]," his coach said. "That's what I had on our gun here. He averaged 100 in terms of all his fastballs. He had a max of 20 pitches. We're going to slowly build him up. He'll pitch again in five days, and I think the pitch count will go up incrementally from there. We're just going to break him in slowly, he's been doing a great job and getting accustomed to pro-ball lifestyle."
In the first inning, Greene quickly got ahead of leadoff man Kenny Corey, but the Helena second baseman fouled off four pitches in a row before hitting a single into right field. The right-hander stayed composed and got No. 8 Brewers prospect Tristen Lutz to bounce into a fielder's choice. With 17th-ranked KJ Harrison at the plate, Greene whipped a quick pickoff throw to first base to nab Lutz for the second out.
"He did it on his own," Etherton said of the pickoff. "The first pickoff was quick, he held. And that comes down to him being savvy. He has the ability to slow the game down when he needs to and hold the ball in the stretch. He's extremely athletic and has one of the quicker pickoff moves that I've seen. He got his feet around, head around and made a perfect throw. He got the guy out by a pretty good margin."
With the bases empty, Greene got back to work and recorded his first pro strikeout by whiffing Harrison on a 2-2 pitch. Etherton only sees the California native building off of the abbreviated outing.
"He just turned 18 and there's a lot of room for growth and strength," Etherton said. "That'll come with time. He threw one breaking ball that he kind of left up, but he really doesn't need to use it now. We'll see what happens in the next start, maybe he'll start mixing in some other pitches."
Offensively, Greene has a four-hit game under his belt and has amassed a .233 average with three-extra base hits and three RBIs through his first 30 at-bats. Etherton has been impressed with the way the 18-year-old has balanced his work load and preparation on both sides of the ball.
"That's one thing that I don't think a lot of people understand, it's that he's very diligent in what he does," the coach said. "He asks a lot of questions, he's a true student of the game and he's very humble. It's been great. If he's doing something he'll ask -- the aptitude is pretty much off the charts. He really absorbs it and understands information, and he knows how to use it."
Tyler Mondile (3-4) relieved Greene in the second and tossed five scoreless innings, allowing two hits while fanning a career-high six en route to the victory.
• Get tickets to a Mustangs game »
"He was outstanding," Etherton said. "We really worked with him on emotions. Today, he was under control and he just attacked on every pitch. He kept the ball down and pitched very well. He pitched backwards at times. Again, here's another young man here at 19 years old who has some great ability. It's fun watching him make the progress and he was up to 95 [mph] today."
Leandro Santana went deep as part of a three-hit, three-RBI day while No. 12 Reds prospect Jeter Downs collected three hits out of the leadoff spot for Billings.
Andrew Battifarano is a contributor to MiLB.com. Follow him on Twitter, @AndrewAtBatt.