Plutko produces perfection for Clippers
Indians prospect retires all 23 batters he faces, strikes out six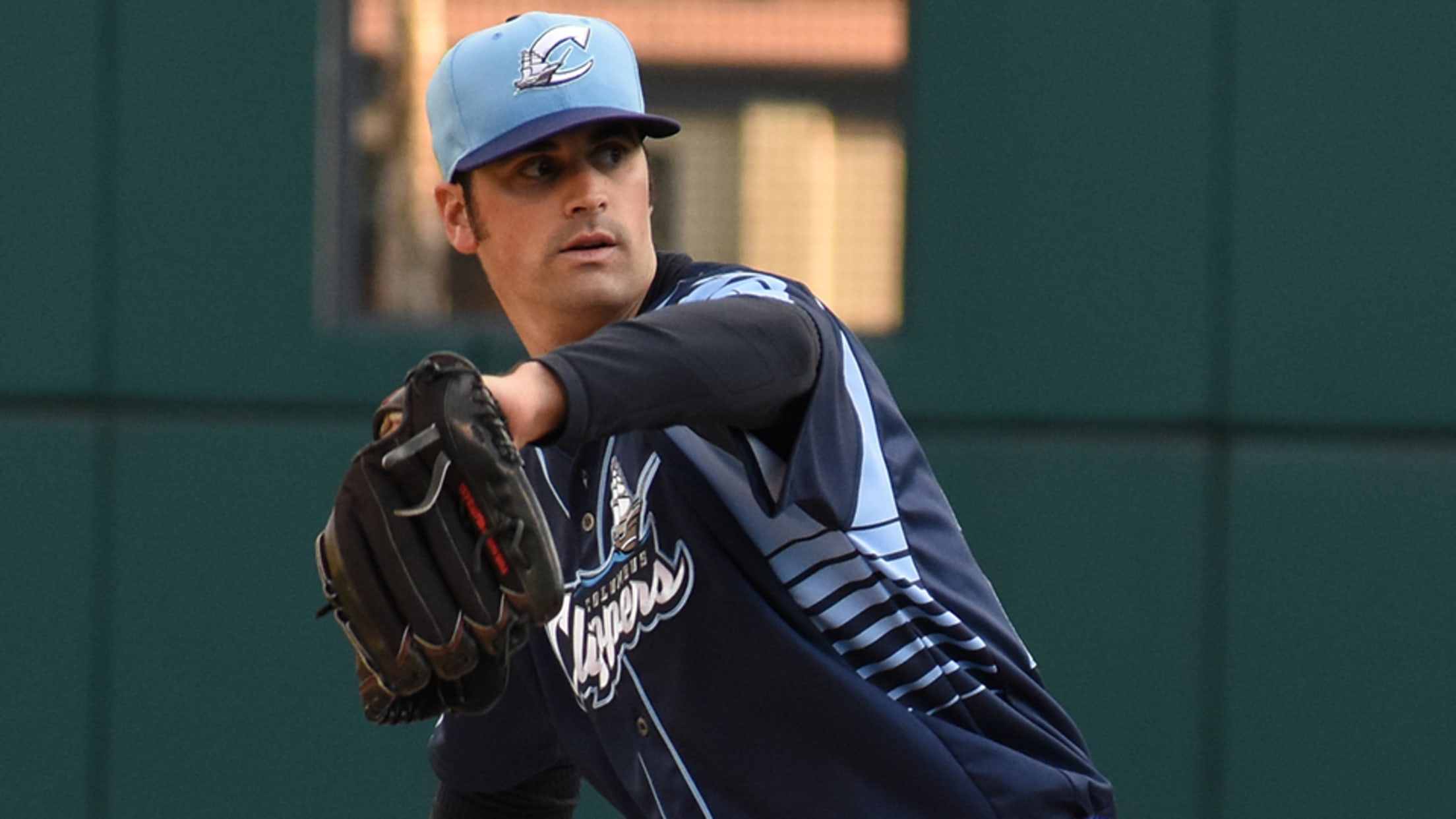 Adam Plutko is back with Columbus after going 7-12 with a 5.90 ERA in 24 games last season. (Cathryn Wood/Columbus Clippers)
As he saw Columbus manager Chris Tremie trot out from the dugout to grab the ball from him after recording his 23rd consecutive out on Saturday, Adam Plutko wasn't incensed or shocked -- even in the middle of a perfect game.  "I was bummed, but at the end of the day,
As he saw Columbus manager Chris Tremie trot out from the dugout to grab the ball from him after recording his 23rd consecutive out on Saturday, Adam Plutko wasn't incensed or shocked -- even in the middle of a perfect game.
"I was bummed, but at the end of the day, I did all I could with the pitches I had," said Plutko, who was limited to an organizationally mandated 105-pitch count. "Tremie told me after the seventh inning that I had 12 pitches to work with to get six outs. 'I was like, great, I'll get all six if I can.'
"I just didn't want to leave any pitches still left on my pitch count. I wanted to try and get those six outs any way I possibly could."
Gameday box score
The Indians prospect was pulled at 95 pitches and the perfect game dissolved quickly after his departure, but Plutko dazzled for 7 2/3 flawless innings in Columbus' 8-0 win over Indianapolis at Huntington Park. He struck out six in his first career start without allowing a hit.
"He's very meticulous with his game planning, so he always has a good game plan going into each start," Clippers pitching coach Steve Karsay said. "It really comes down to the execution of his pitches and throwing the ball to all four quadrants. He pitched in really well and got guys off the plate so he could use his off-speed on the outer half, and things worked out for him."
The Glendora, California, native was replaced after striking out Pirates No. 23 prospect Jordan Luplow, but the chance for a combined no-hitter was quickly thwarted as Jacob Stallings doubled on the first pitch thrown by Neil Ramirez.
Indianapolis couldn't solve Plutko, one night after totaling 17 runs on 23 hits against the Clippers.
"They just hit everything inside," Plutko said, referring to Friday's game. "We just really wanted to focus on executing pitches down in the zone and making sure they're not too comfortable by pitching in effectively and not just hanging out over the plate."
Plutko was roughed up in his last outing, serving up three homers and allowing four runs on eight hits over five innings in a 9-0 loss at Scranton-Wilkes/Barre on Monday.
If Plutko finished without a blemish, he would have tossed the second nine-inning perfect game in franchise history. Justin Germano threw nine flawless frames in 2011. Chuck Tiffany throw a seven-inning perfect game in 2004 and Yankees legend Mariano Rivera twirled five perfect innings in 1995.
The UCLA product also was four outs away from throwing the 17th perfect game in International League history.
If there's anyone to blame for Plutko's inflated pitch count, it's his former teammate at UCLA, Kevin Kramer. The Pirates' No. 9 prospect worked a 10-pitch at-bat in the seventh before popping out in foul territory.
"I can speak ill of him real quick and say that he is the main reason that I couldn't finish it," Plutko said. "He just kept fouling off pitches and we both kind of gave each other a smile after a few."
Pablo Reyes went seven pitches deep in the third and Austin Meadows, Stallings and Christopher Bostick had six-pitch at-bats to further drive up his pitch count.
Plutko recorded most of his outs through the air, inducing eight flyouts and five popups. Third baseman Yandy Díaz made a pair of tough catches in foul territory and Brandon Barnes gloved a deep fly to left while tracking backward to record the first out of the eighth and preserve the perfect game.
Saturday was an encouraging sign for Plutko and the Indians organization, as 2018 is a vital year for him.
The 26-year-old struggled in his first full season in the International League, compiling a 5.90 ERA over 24 appearances, including 22 starts, but Plutko said he pitched the entire season with a torn labrum in his right hip, which he eventually repaired with surgery in October. Although he was knew something was awry, he wasn't aware of the severity of the injury -- and didn't want to know.
"I wanted to continue to get the ball," Plutko said. "Especially when you're struggling, the last thing you want to do is not pitch. You want to continue to pitch. I didn't know officially what is was, I just knew that it was bothersome and that's pretty much it."
Plutko was back for Spring Training but allowed four runs over 1 2/3 innings before being optioned to Triple-A on March 12.
The Indians farmhand said he wanted to put 2017 completely in the rear view, while also not making excuses for his shortcomings.
"Last year was last year," Plutko said. "There's nothing that says I'm going to repeat last year and there's nothing that says I'm going to be unbelievable this year. I'm just trying to go out and compete every single day that I'm handed the ball, and that's the extent of it anyway. I'm not going to loop last year into this year, because it doesn't matter."
"I didn't execute pitches very well, either. I gave up a lot of home runs and walked a lot of guys, and from being a command guy, that's all part of me not performing well. It's an all-encompassing thing. Sure, I was hurt; but I didn't perform well in a multitude of different ways last year."
That mindset has led to success so far, with Plutko posting a 2.35 ERA and 0.82 WHIP in five starts.
"Obviously, confidence is huge and that is something that understandably I was lacking last year," he said. "How could I stay confident when I had a seven ERA through most of the year? But for the most part, it's about the day-to-day work. It's about the days that I'm not pitching than the games that I am."
Plutko hopes his fresh perspective culminates with another callup to the Majors. He allowed three runs over 3 2/3 innings in his first stint with Cleveland in 2016 and was called up in June 2017 but didn't pitch and was optioned back to Columbus.
"I want to compete and I want to play in the World Series," Plutko said. "Talking to the guys, like Mike Clevinger and other guys about what the feeling is like, that's what we all play for, is the chance to win and to win a lot. I couldn't have really picked a better team and a group of guys, not only in Triple-A but also in the big leagues, to continue to hunt for that pennant and that World Series. It's just really an organizational culture."
Indians No. 6 prospect Yu Chang thumped a two-run homer, while 20th-ranked Eric Haase went 2-for-3 with a pair of runs scored behind Plutko.
Josh Horton is a contributor to MiLB.com. Follow him on Twitter @joshhortonMiLB