Hillcats' Cervenka marching toward history
Indians prospect looking to make it from Prague to the Majors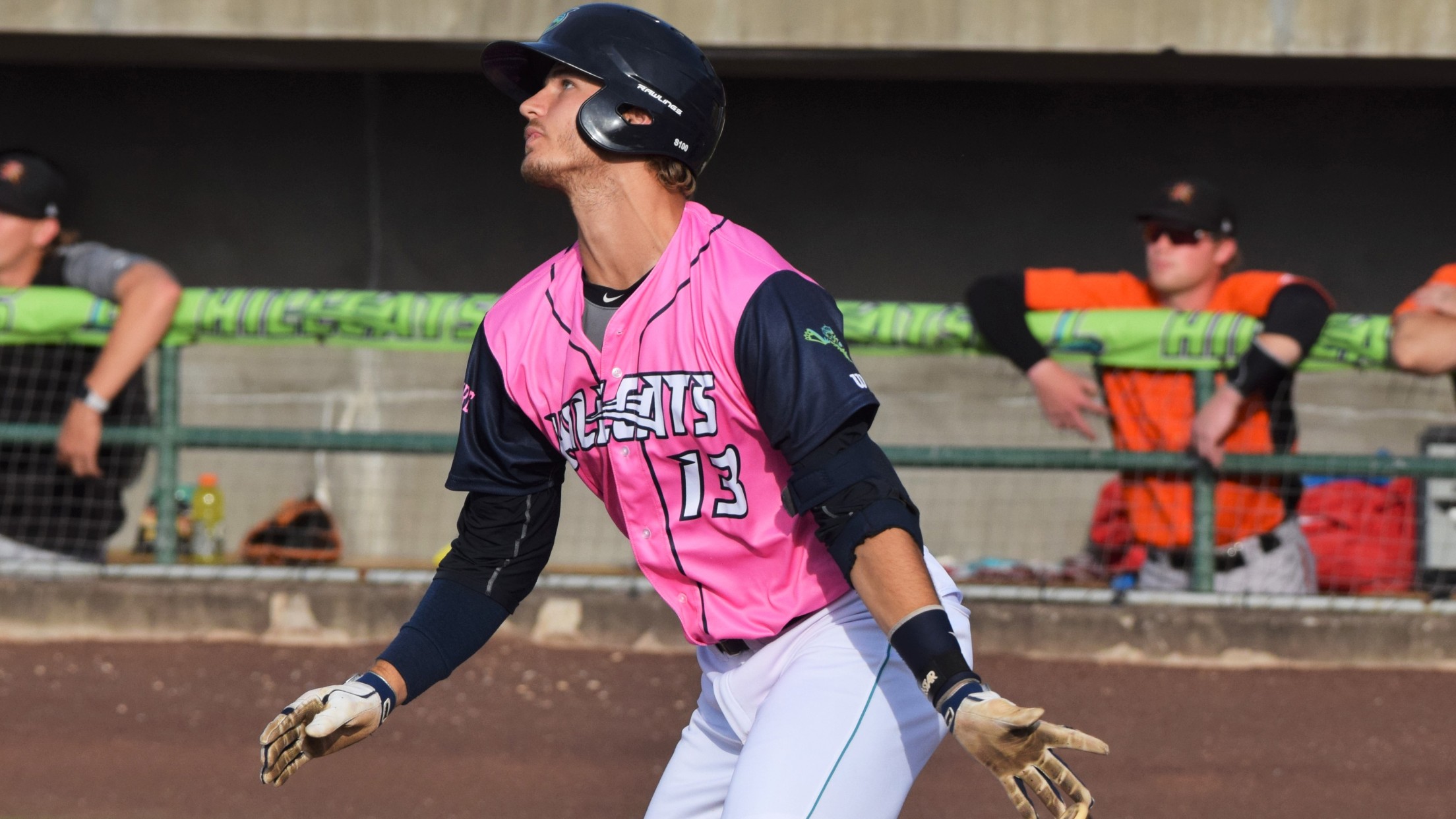 Martin Cervenka has his sights set on being the first Czech-born Major Leaguer since Carl Linhart in 1952. (Patrick Cavey/MiLB.com)
Martin Cervenka's baseball journey started the same as millions of other kids. His dad, Filip, was his first coach and taught him and his brother, Marek, how to play. Marek wanted to be a pitcher, so naturally, Martin's destiny took him behind home plate."I started playing when I was 4
Martin Cervenka's baseball journey started the same as millions of other kids. His dad, Filip, was his first coach and taught him and his brother, Marek, how to play. Marek wanted to be a pitcher, so naturally, Martin's destiny took him behind home plate.
"I started playing when I was 4 or 5," Cervenka said. "My dad played a lot back home and he coached my brother and me for a while, so that's how we got into it. One time over dinner he asked me and my brother where we wanted to play. He wanted to pitch and I said I wanted to be a catcher, so I've been a catcher ever since I started playing."
Just like that, Cervenka fell in love with America's pastime. The problem -- he was far away, in his hometown of Prague, the capital of the Czech Republic.
The Czech Republic, also known as Czechia, was formed in 1993 when the former Czechoslovakia split into two independent nations -- Slovakia and the Czech Republic. The landlocked nation of roughly 10.5 million people sits in the heart of Europe, where baseball fields are few and far between.
"It's nothing like it is here," the 24-year-old said. "There are five or six fields in all of Prague. Every team has one or two [to play on], maximum. There are no big complexes, and there are only one or two baseball stadiums in the whole country. Most of the fields are just small places with stands for like 50 people."
As Cervenka and his brother grew up, they brought their love for baseball with them to school, and it expanded into their circle of friends. While most kids in Prague spent their afternoons kicking around a soccer ball or doing their best Jaromir Jagr impression, the Cervenkas could be found on one of the few sandlots that the "City of a Hundred Spires" has to offer.
"It was fun. I mean, we were young, so it was just about enjoying the game," he said. "It was something to do with my brother and my friends back home after school. Most played soccer, and we just went out and played baseball together. It was a little different for Czech people, but for me, it was a lot of fun."
Baseball may have been his favorite sport, but Cervenka still found time for other, more popular sports.
"I'm a baseball fan but I'm also a hockey, [soccer] and tennis fan," he added. "I basically watch all the sports that Czechs are good at. I've always liked Jagr -- even to this day I still admire what he does. He's my favorite athlete."
The baseball scene in Prague, which is home to just over two million people, may be small, but the youth setup isn't all that different from the way Little League operates here.
"In Prague there were six or seven teams and we'd play games once a week and have practices three times a week," Cervenka explained. "And then in September we'd have one big tournament where all of the regions come together for and all of the best teams play each other."
From there, Cervenka eventually played for Kotlarka Praha, which at the time played in the country's second-highest division. In May 2008, he attended MLB tryouts in the Czech capital and impressed enough to earn a spot at the European Elite Camp in Tirrenia, Italy.
"They picked about 55 guys in Europe and Africa," he explained. "I went there with eight other guys from Czech. There were scouts there, and it was kind of like Spring Training. We'd have practice in the morning and then games against each other in the afternoon."
Cervenka, 16 at the time, caught the eye of Indians scout Peter Gahan in Italy, and a few weeks later received an e-mail explaining that the Indians had interest in making him their first-ever European signing, which came to fruition in February 2009.
The team and Cervenka agreed to a deal that would allow him to finish high school. The Indians also let Cervenka play with Kotlarka during the 2009 season. After the school year ended, he reported to extended spring training and then spent the summers at the MLB Academy in Australia, where he played in the Australian Baseball League.
"I was lucky. I got to ease into it. I didn't go straight to the U.S. and start playing here full time," he said. "I got a little taste of what it would be like for two years, and I got to go back home and finish high school, and after I graduated I came here full time."
Once he came over for good, Cervenka admitted there was a steep learning curve compared to almost every other player in the organization. The 6-foot-1 backstop appeared in just 43 games in his first two years with the AZL Indians and posted a .208 batting average between 2011 and 2012.
The Indians still felt that Cervenka had shown enough in the Arizona League that they gave him his first non-complex action with Class A Lake County to begin 2013. His first year with the Captains got off to a tough start. Cervenka posted a .176/.276/.176 slash line in 15 games, prompting the Indians to reassign him to Class A Short Season Mahoning Valley, where he produced a .188/.270/.236 slash line in 45 contests.
The adjustment to professional ball in the States was clearly taking a toll on Cervenka, who hit .181 with Mahoning Valley in 2014 and .184 in 49 games with Lake County the following year. The numbers may have painted an unpromising picture, but Cervenka remained patient as he adapted to a completely different baseball culture.
"There's a huge difference between the level of competition here and back home," Cervenka said. "That and playing baseball everyday and learning how to take care of your body were new to me."
After his original contract ended in 2015, Cervenka was a free agency but ultimately re-signed with the Tribe that November. The confidence that the team showed in him soon came through on the field as Cervenka hit .263/.323/.363 in 2015 and earned a promotion to Class A Advanced Lynchburg for four games.
"Things have become a lot easier just because I've spent so much time here now, so it doesn't feel as different as when I first came over. I can't complain about not being able to talk to my teammates now or feeling alone or anything like that," he added.
Cervenka has taken another step forward with Lynchburg in 2017. He's put together a .283/.340/.438 slash line, setting career highs with seven homers and 28 extra-base hits. Cervenka has also put up a .155 ISO, impressive considering he came into the year with eight homers in his first 273 Minor League contests.
"Things have gone pretty well for me so far this season," noted Cervenka, who's .283 batting average is tops among catchers in the Carolina League. "I'm trying to take it one day at a time and learn something new every day. I've had a lot of fun every chance I've got to play."
Despite taking a significant step forward this year, Cervenka knows he's still got a long way to go before he can become the first Czech-born player to make it to the Majors since Carl Linhart appeared in three games for the Detroit Tigers in 1952.
"[When I tell people where I'm from] they're a little surprised. Most people tell me they didn't know anybody even played baseball over there," Cervenka laughed.
In fact, Cervenka thinks baseball is still so off-the-radar in Czechia that even if he does overcome the odds and make it to the Majors, he doesn't think it would turn the heads of his fellow Czechs.
"It would be a big deal for me and the baseball community back home, but I don't know if the general population would even know about it," admitted Cervenka, who plans on coaching in his native country when he hangs up the cleats. "It will get baseball into more people's minds just because somebody made it to the big leagues. Hopefully, if it's not me, someone from the Czech Republic makes the sport more popular back home."
Michael Leboff is a contributor to MiLB.com.