Spanberger finds groove in Home Run Derby
Rockies No. 25 prospect captures South Atlantic League crown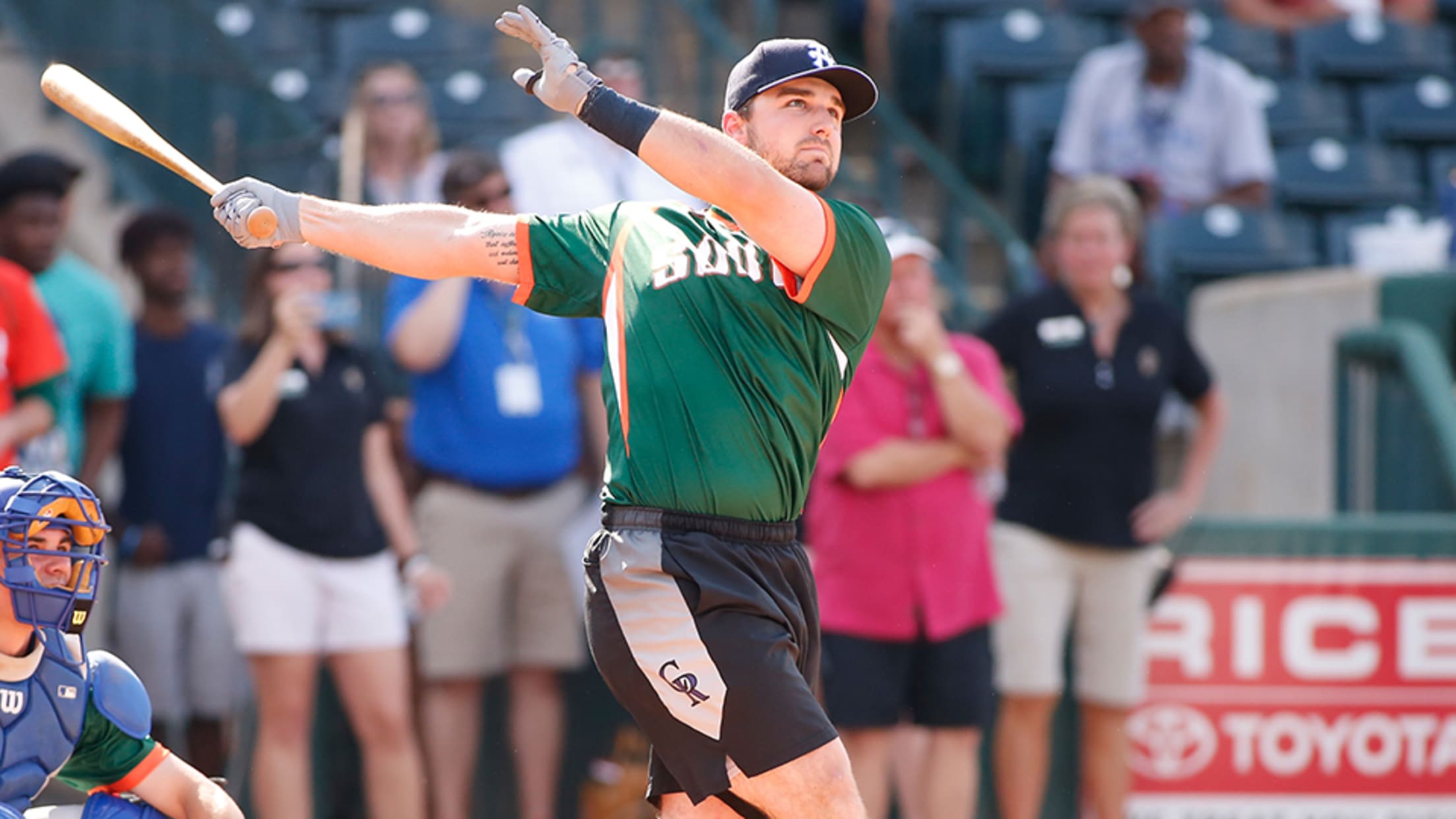 Chad Spanberger leads the South Atlantic League with 58 RBIs and 35 extra-base hits. (Chris Robertson/MiLB.com)
GREENSBORO, North Carolina -- Chad Spanberger not only hit the most long balls in Home Run Derby at the South Atlantic League All-Star Game on Tuesday, he probably belted the farthest as well.It was quite a show by the Asheville Tourists first baseman."I got a nice rhythm going," Spanberger said
GREENSBORO, North Carolina -- Chad Spanberger not only hit the most long balls in Home Run Derby at the South Atlantic League All-Star Game on Tuesday, he probably belted the farthest as well.
It was quite a show by the Asheville Tourists first baseman.
"I got a nice rhythm going," Spanberger said of the competition at First National Bank Field. "Just trying to stay in the groove."
It was no surprise that Spanberger unleashed some towering shots. If not for Lexington Legends outfielder Seuly Matias, who leads all Minor Leaguers with 22 homers, Spanberger might be all the rage.
The Rockies' No. 25 prospect became the center of attention in the derby, winning it with ease. The left-handed slugger took aim at right field, sending a couple of shots over the 66-foot high scoreboard.
"I have to hit them hard to get them out," he said. "The wind was blowing out that way, so that was nice."
The derby field included Matias, who tied for fourth with 10 and did not make the three-man finals.
Still, Matias hit some notable blasts.
"I see this every day and it's still unbelievable," said Legends teammate and Royals No. 2 prospect Nick Pratto.
Spanberger, who hit 18 homers in the first half, has seen Matias in action in the Southern Division, so he was aware of the stiff competition for the $250 top prize.
"I've seen him hit them like 450, 460 feet," Spanberger said. "But it looked like it was farther. … I've seen him play in games. This guy has 22, so this might be hard to win."
Despite Spanberger's 235-pound frame and habit of hitting balls over the fence, he said this was his first true home run derby as a participant other than a small-scale version in high school that involved about seven swings.
Pratto named All-Star MVP after breakout game
In the finals, Kannapolis Intimidators second baseman Tate Blackman totaled two blasts after hitting 16 in the first round. Intimidators outfielder Craig Dedelow slugged 13 in the second round for a total of 28.
That ended up being an easy target for Spanberger, who notched 19 in the first round and 10 more in the second to win with 92 seconds to spare.
Tourists teammate Casey Golden also was a participant, but he didn't advance to the finals. Still, he and Spanberger vowed to take the title back to Asheville.
"We said that [one of us] has got to win it," Spanberger said.
The 22-year-old was a sixth-round pick last year out of the University of Arkansas. Many of his former college teammates were playing Tuesday at the College World Series, something that would have Spanberger's attention after the All-Star festivities.
"Hopefully, when our game is over I can go watch," he said.
He already put on his show.

In brief
Star of the family:
Lakewood BlueClaws infielder
Nick Maton
had a special distinction as the lone All-Star with a brother in the big leagues.
Phil Maton
is a San Diego Padres pitcher, although he's in the midst of an injury rehab stint. The elder Maton didn't have an All-Star game assignment. "I don't think he had time to, he moved up the system so quick," Nick Maton said. " … I check on his stats every single night."
Catching on:
Greensboro Grasshoppers pitcher
Ryan Lillie
was an unlikely All-Star selection, considering he finished his first collegiate season as a catcher about three years ago. The conversion to the mound began at UC Riverside and has gone well enough for him to be one of the representatives of the home team Tuesday night in his first full Minor League season. "It's a result of hard work and good coaching," he said. "I took care of my business and this is the result."
Hot stuff:
SAL president Eric Krupa said he was wary of the weather forecast because of temperatures that reached the upper 90s during the day. The scoreboard showed 86 degrees at first pitch. This is the first All-Star Game in Greensboro since 2008, when
Madison Bumgarner
,
Freddie Freeman
and
Jason Heyward
were among the participants.
Bob Sutton is a contributor to MiLB.com.