Malcom's proposal nets him two W's
Cardinals hurler gets a 'yes' from his girl, a victory in box score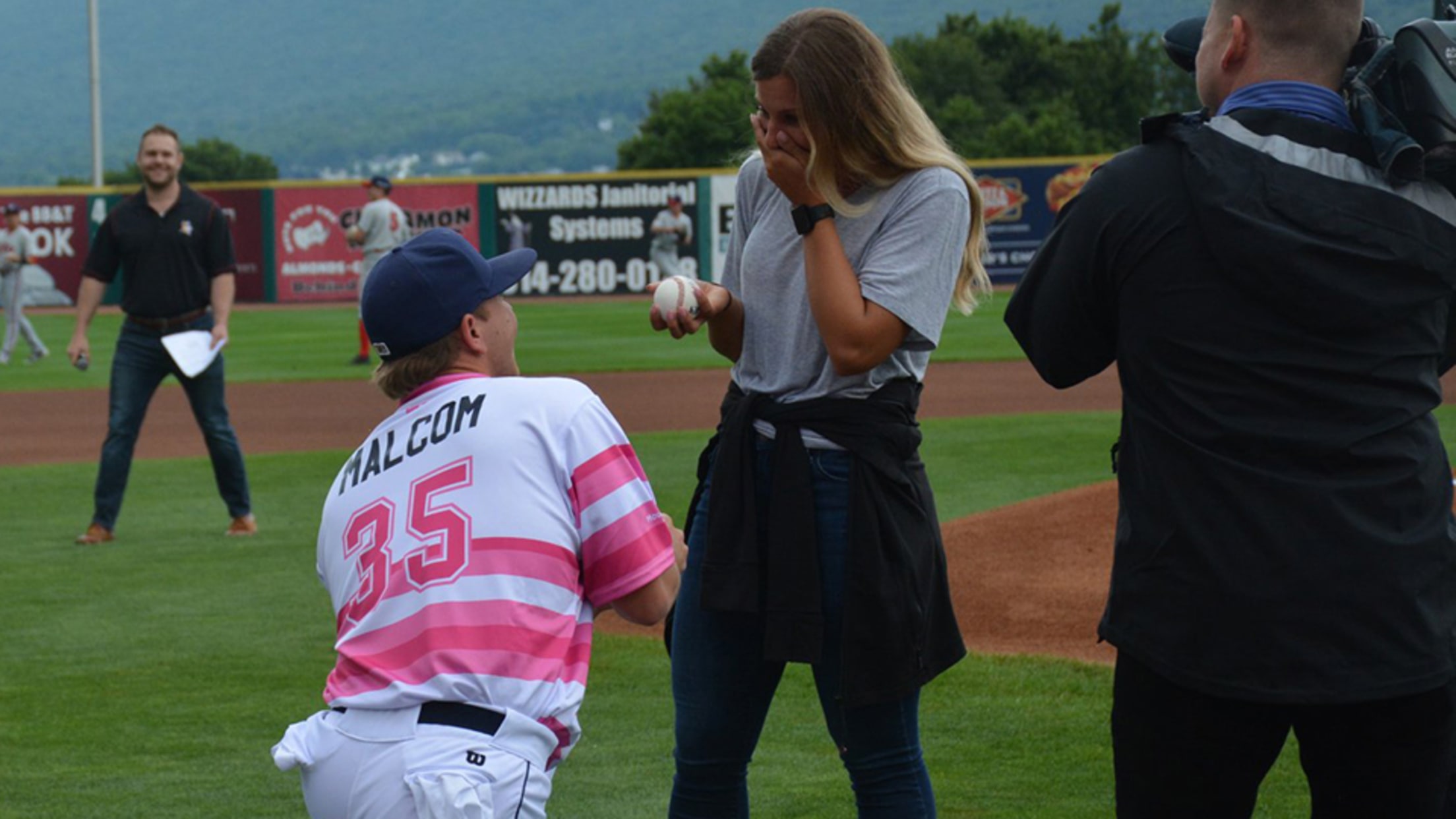 Cory Malcom proposed to his girlfriend, Kayla Turner, prior to notching his second win of the season. (State College Spikes)
The biggest win for Cory Malcom didn't come at the conclusion of Sunday's game, but before it even started.Just hours after the right-handed St. Louis prospect brought his unsuspecting girlfriend, Kayla Turner onto the field and asked for her hand in marriage, he picked up the win in relief as
The biggest win for Cory Malcom didn't come at the conclusion of Sunday's game, but before it even started.
Just hours after the right-handed St. Louis prospect brought his unsuspecting girlfriend, Kayla Turner onto the field and asked for her hand in marriage, he picked up the win in relief as Class A Short Season State College rallied for a walk-off 3-2 victory over Auburn in 10 innings at Medlar Field at Lubrano Park.
The 23-year-old entered a scoreless game in the 10th inning and surrendered two runs -- one earned -- on two hits while striking out one. The Spikes answered with a three-spot in the bottom half to give Malcom (2-0) the win in the record books, but it was his pregame victory that meant even more to him.
Gameday box score
"I've had the [on-field proposal] in my head for a little while," Malcom said. "I wanted to do it in front of a lot of people. She deserves that. State College had a lot of people throwing out first pitches tonight, so I thought this was a great way to get her out there. She had no idea."
Of course, to get Turner on the field was the most difficult part, so he enlisted the help of his host family, the Schaffers.
"I told her my host brother [Caleb] was going to be one of those throwing out a first pitch," the University of Arkansas-Little Rock product said. "So with that in mind, I mentioned how I'd like to her get on the field too, so we could all take a picture together. Once she was out there, everyone convinced her to throw a pitch too, even though she really didn't want to. The Schaffers helped me out."
After hauling in the ball from his soon-to-be fiancée, Malcom took the ring out of his back pocket and got down on one knee.
"She probably asked me, 'Are you serious?' about 30 times," he said. "After that there were tears and enjoyment. We've been together four years and she's been such a big part of my life. It's important to have stability outside of baseball, because if you don't, it can affect your game. She's always been supportive and that's the biggest thing. Baseball is hard enough. Having someone like her on the outside makes it a little bit easier."
Although he had not pitched since last Tuesday, Malcom was told he wouldn't come into the game because of the emotional day unless the teams went to extra innings. That was exactly what happened as the clubs battled to a scoreless tie through nine frames.
Auburn tallied twice in the 10th, but Malcom's teammates helped complete his special night.
"I thought everything turned out just how I wanted it to," he said. "It was a bit of a bummer to have to sit there during the game and not be able to be with Kayla and talk to her, but that's my job and that's what I have to do. But now that tonight's over, we're able to hang out, celebrate and enjoy our time together."