Javier dominant out of Quad Cities bullpen
Houston's No. 19 prospect fans nine over four scoreless innings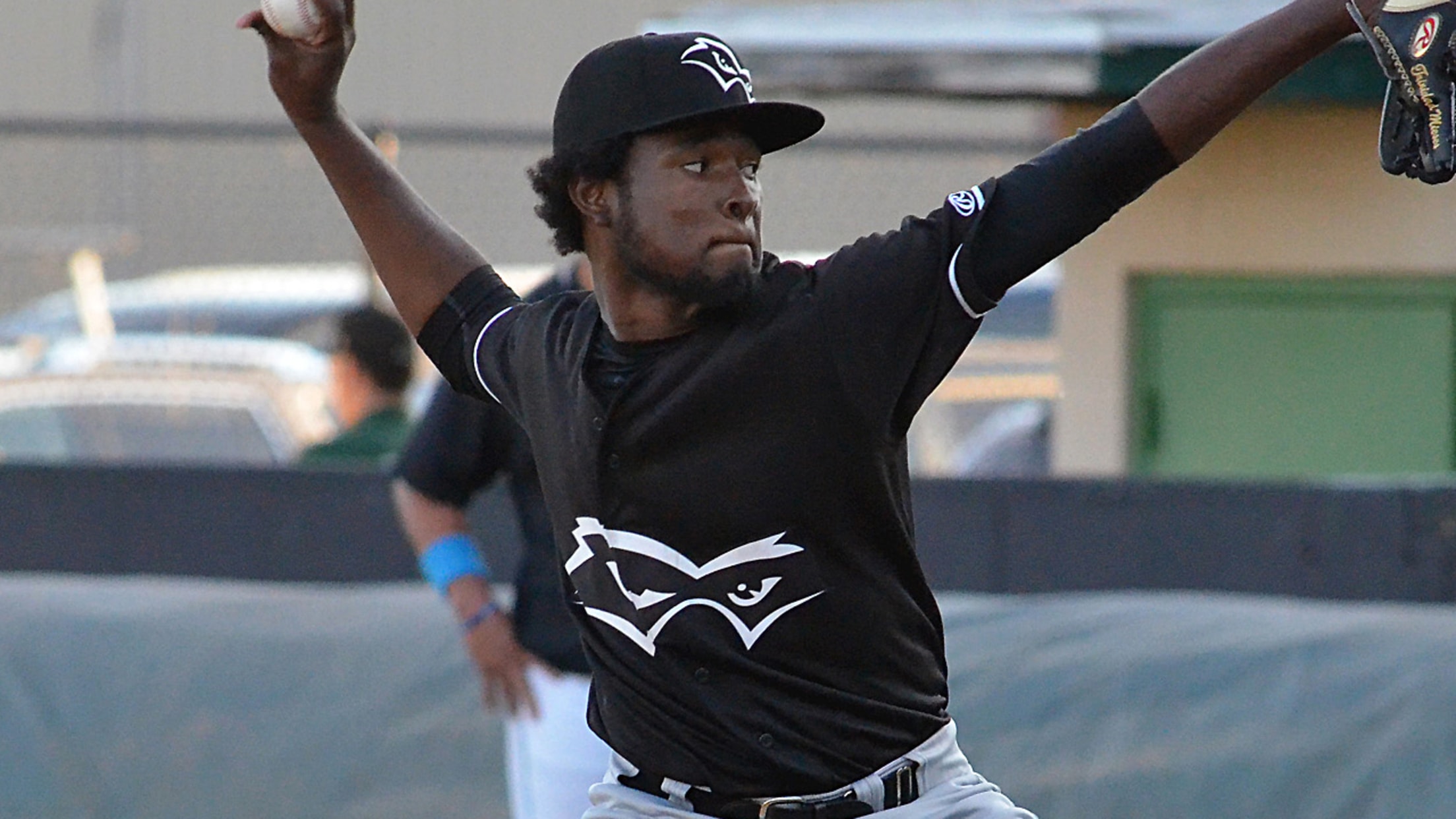 Righty Cristian Javier made four straight starts from April 17-May 4 for Class A Quad Cities. (Paul R. Gierhart/MiLB.com)
Five days ago, Cristian Javier put together his most impressive start of the season for the Class A River Bandits. On Monday night, his relief-pitcher alter ego was just as good.Houston's No. 19 prospect fanned nine batters in four scoreless innings out of the bullpen, keeping his relief ERA at
Five days ago, Cristian Javier put together his most impressive start of the season for the Class A River Bandits. On Monday night, his relief-pitcher alter ego was just as good.
Houston's No. 19 prospect fanned nine batters in four scoreless innings out of the bullpen, keeping his relief ERA at a perfect 0.00 as Quad Cities fell to visiting Wisconsin, 2-1. He scattered three hits and a walk.
"He's just got a lot of confidence in multiple pitches," River Bandits pitching coach Graham Johnson said. "He was primarily fastball-changeup-slider and kind of had a feel for all three right from the get-go."
Javier's appearance came in relief of righty Yohan Ramirez, who allowed two runs on six hits over five innings. Despite dealing with traffic on the basepaths in three of his four innings, Javier didn't allow the Timber Rattlers to add on more runs.
"Both of his offspeed pitches are really good, but they play off the fastball," Johnson said. "He's able to get whiffs with the fastball that's honestly not a high-velocity fastball, but it's got some characteristics. He's got a little bit of deception in his delivery, and I think he's able to put some doubt in some hitters' minds on the fastball. That just makes the changeup and slider play that much better."
Gameday box score
The 21-year-old struck out the last batter he faced in the sixth before fanning the side in the seventh and eighth and notching two more K's in the ninth. Johnson credited the strikeout binge to Javier's ability to keep hitters off balance.
"He's a mature kid, that's for sure, and kind of knows who he is," the coach said said. "At the same time, I wouldn't classify him as a command guy with lesser stuff. He's just got that sneaky fastball, whether it's spin rate, whatever it is that you want to classify it as. He's just got that little bit of deception to where when you put all the pieces together with his fastball, it's still a pitch that's able to generate whiffs throughout the zone. He can get down and in, he can go away, and the big thing for him is commanding the top part of the zone as well."
Strikeouts enabled the righty to work out of trouble. Javier walked Wisconsin's Devin Hairston with one out in the seventh and allowed a single by Nick Roscetti behind him, but stranded the pair with strikeouts of Joantgel Segovia and Tristen Lutz. The Dominican Republic native also marooned runners in scoring position with strikeouts to end each of his final two innings.
"He's coming off a five-inning start where he struck out 10, so he was kind of able to carry it over," Johnson said of Javier's win over Cedar Rapids on May 16. "He really hasn't had to deal with a lot of traffic. Honestly, we were trying to get his changeup usage up tonight. It's a pitch that's got really good shape. He's growing his confidence in it, but at the same time, it's not a pitch that he's had to lean on very much, and we're actually making him use it. It just speaks to him with how good it is and how good of a pitcher he is that it's a pitch he's not super comfortable with and he's still able to generate the results that he was."
In 12 innings across three relief appearances, Javier hasn't allowed an earned run on seven hits while striking out 22 and walking six. In five starts, he's gone 2-0 with a 3.43 ERA and fanned 34 in 21 frames.
"At the end of the day, these guys' goal is just to climb," Johnson said. "You don't know what your role is going to be going forward, so it's definitely about getting them the experience in as many types of situations so when they find themselves in that situation. Hopefully he's climbing the ladder at some point, and as the games get more and more important to him and his career, he's got experience to fall back on so he can feel confident in those situations.
"Especially the guys who get drafted out of high school or are coming to us from the Dominican Republic, they've started all their lives. They really haven't had any experience coming out of the bullpen, so I think that's one of the primary things along with keeping the pitch counts, to a lesser degree, within reason of what we're trying to do."
Javier's next outing will be a start and Johnson knows what he'll stress for him to build on.
"I'd point to two things: fastball command and the quality mix," the coach said. "For him, when he's got those two things going, he's a pretty tough pitcher to square up and get good contact."
Tyler Maun is a contributor to MiLB.com. Follow him on Twitter @TylerMaun.