Backed by Tucker, Sneed goes distance
Astros righty fans 11 in complete-game two-hitter for Grizzlies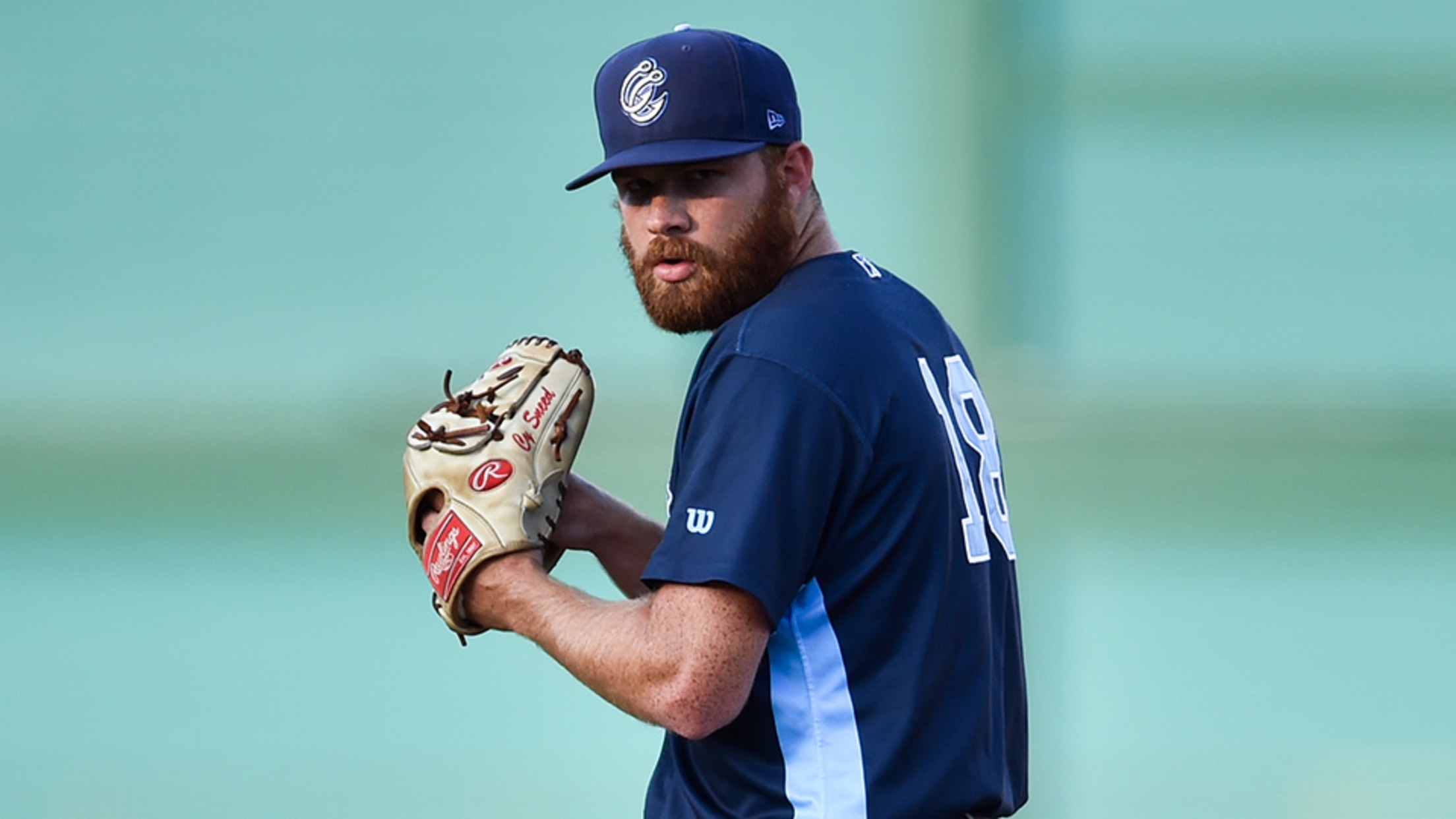 Cy Sneed set career highs with nine innings and 11 strikeouts against Albuquerque. (Shane Roper/MiLB.com)
Cy Sneed has had three scoreless outings this season, but had yet to complete one. On Thursday, he put it all together.The Triple-A Fresno right-hander struck out a career-high 11 in his first nine-inning complete game, holding Albuquerque to just two hits in an 8-0 shutout at Chukchansi Park. He
Cy Sneed has had three scoreless outings this season, but had yet to complete one. On Thursday, he put it all together.
The Triple-A Fresno right-hander struck out a career-high 11 in his first nine-inning complete game, holding Albuquerque to just two hits in an 8-0 shutout at Chukchansi Park. He was aided by the third straight three-hit game by Houston's No. 2 prospectKyle Tucker.
Sneed (7-3) went the distance without his best stuff for quite some time.
"I did it mainly with my fastball and curveball," he said. "My changeup and slider didn't work until late."
The pitching gem has become almost rote of late for the Grizzlies as Sneed's outing marked the fourth time since Saturday that a starter went at least five innings without allowing a hit.
At Round Rock on Saturday, right-hander Trent Thornton didn't allow a hit until two outs in the eighth inning, righty Rogelio Armenteros didn't give up a hit until the fifth Sunday and righty Brock Dykxhoorn hurled five perfect innings Tuesday.
Gameday box score
"I think it's a testament to our catchers and our staff, our strength coach getting us ready and trainer doing a good job. That and [credit to] our pitching coach Dyar Miller," he said.
Sneed wasn't tagged for a hit until Raimel Tapia started the seventh with a single to right. The 2014 third-round Draft pick got a double play to end that inning, breezed through the eighth and worked out of a second-and-third jam in the ninth by fanning Mike Tauchman to end it.
Sneed was definitely aware about his chance to make history when he kept posting zeros in the hit column.
"Obviously I knew, and especially as you said with four of the last five games we have taken no-hitters into the fifth inning," he said. Everybody knows [when it's going on]. It's just part of baseball."
The Dallas Baptist University product needed just 105 pitches, 70 for strikes, to navigate a lineup that included Rockies No. 6 prospectGarrett Hampson, No. 20 Jordan Patterson and one-time big leaguers Tapia -- who had both hits -- and Tauchman.
Sneed was particularly proud of his ability to quickly dispatch his opponents.
"Yeah, efficiency is the No. 1 thing," he said. "I able to get a lot of guys out quickly, and in the eighth, I threw seven pitches. That's huge. But it's just a testament to [catcher Tim Federowicz] and a good gameplan. You add that together and it makes my job a bit easier."
Tucker and the Grizzlies gave Sneed plenty of breathing room. The lefty hitter stayed hot, going 3-for-5 with his 10th homer, a solo shot in the first. He has a 10-game hit streak and has gone 19-for-42 (.452) with two homers and nine RBIs over that span.
Speedy Astros No. 20 prospect Myles Straw singled, walked twice and stole two bases, giving him six in five games with the Grizzles. Overall, he leads the Minors with 41 thefts. Federowicz -- known more for his receiving and game calling -- hit his sixth homer, and AJ Reed doubled and drove in three runs.
But Thursday was about Sneed, who is not bothered about not being ranked in one of baseball's best systems.
"It helps me to have perspective," he said. "Whether I throw a complete game or I'm chased in the first inning, it doesn't define who I am. We have a good system and probably the best starting rotation in the big leagues, so that adds a degree of difficulty."
Vince Lara-Cinisomo is a contributor to MiLB.com. Follow him on Twitter @vincelara.