Nuts' McCaughan continues stingy stretch
M's prospect makes it three straight starts without an earned run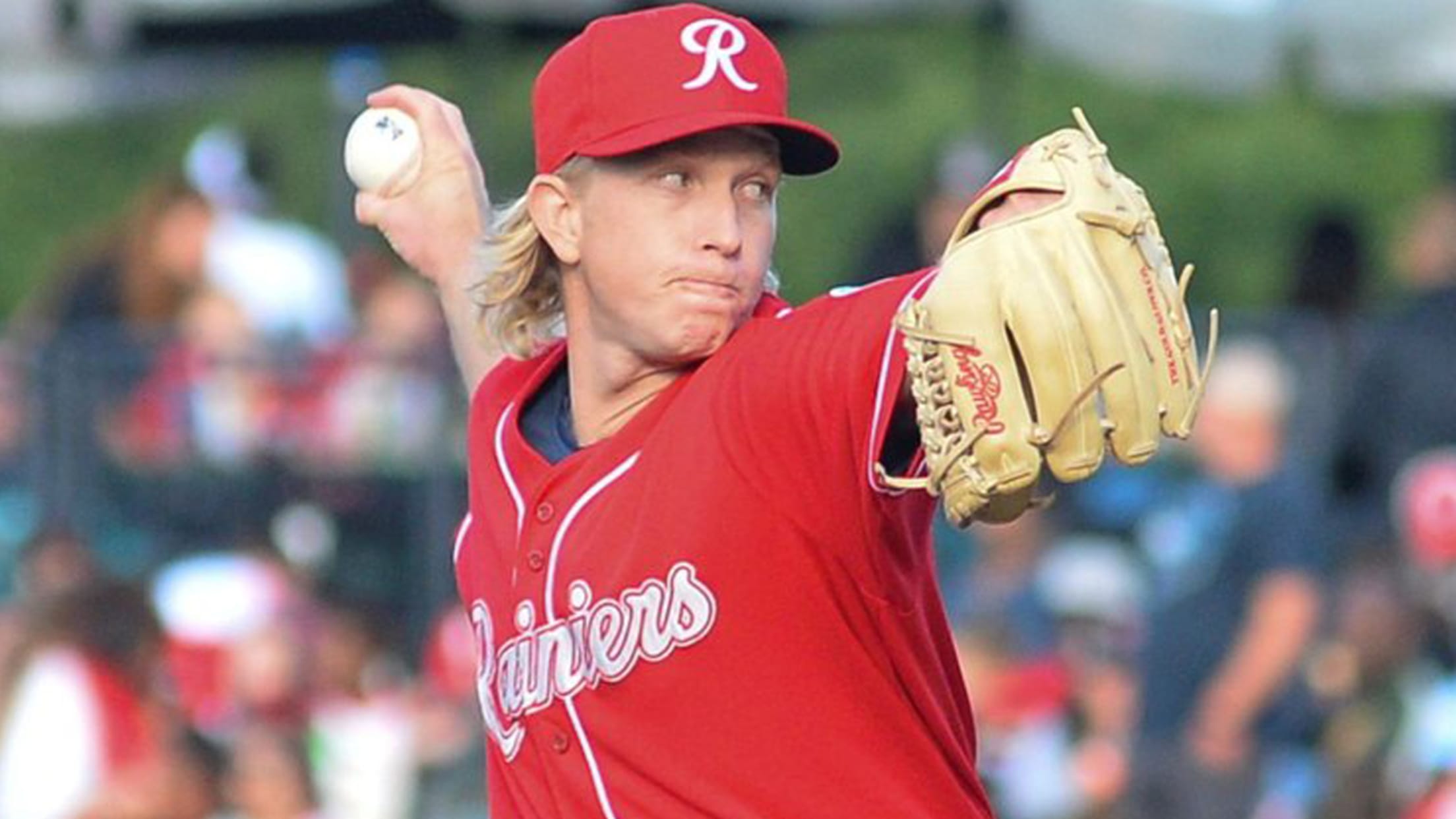 Darren McCaughan tossed 6 1/3 scoreless innings in a spot start for Triple-A Tacoma on June 1. (Tacoma Rainiers)
Six days after befuddling Triple-A hitters in a spot start, Darren McCaughan had no trouble getting reacclimated to Class A Advanced.Back in the California League, the Mariners prospect posted his third straight start without allowing an earned run, scattering five hits over seven innings as Modesto walked off with a
Six days after befuddling Triple-A hitters in a spot start, Darren McCaughan had no trouble getting reacclimated to Class A Advanced.
Back in the California League, the Mariners prospect posted his third straight start without allowing an earned run, scattering five hits over seven innings as Modesto walked off with a 1-0 win over Visalia on Thursday night at John Thurman Field.
Gameday box score
McCaughan's first full-season foray has been impressive, so much so that the Mariners trusted their 2017 12th-round pick with a two-level jump last week.
"We were actually in Stockton, and [manager] Mitch [Canham] called me into his office and told me what was happening," McCaughan said. "Next thing you know, I had to go up there. It was a big thing not really making it -- obviously, it's a big deal -- but not really making it bigger than it is. It's still baseball. Well-executed pitches get guys out no matter where you're at. I just wanted to go into it with that mentality, but it was great. It was great going up there, great atmosphere. At the end of the day, it's still baseball. Just go up there and have fun."
McCaughan dealt 6 1/3 scoreless innings for Triple-A Tacoma on June 1, getting the bump on the heels of an 8 1/3-inning gem in which he yielded an unearned run for Modesto on May 27. At the Minors' highest level, the 22-year-old silenced the Pacific Coast League's best offense in the Pacific Coast League, keeping Salt Lake off the board in the Rainiers' 4-1 victory.
"What I took away from it, it was a great experience being up there, but no matter where I'm at, you don't want to get complacent," he said."You want to keep doing what's working, stay within yourself. When you get results like that, the confidence is definitely going to come with it. It goes to show that if you get ahead and make good pitches, no matter who you're facing, it's still tough to hit a baseball."
Returning to Modesto, the right-hander got an assist from his defense early against Visalia. After D-backs No. 6 prospectDaulton Varsho reached on an infield single to open the second, Pavin Smith -- MLB.com's No. 82 overall prospect -- doubled to center field. Varsho tried to score from first, but center fielder Anthony Jimenez and shortstop Bryson Brigman combined on a relay to get him at the plate and keep the game scoreless.
From there, McCaughan cruised, retiring nine of the next 10 batters. Following singles by Stephen Smith and Marcus Wilson in the sixth, the 22-year-old set down the next six Rawhide hitters to wrap his night. He finished with five strikeouts against one walk.
"I can't really say that there was a specific approach to this game," he said. "You just go through the game, the hitters tell you what adjustments you need to make, what adjustments they're making and what adjustments you don't need to make. Just keep pounding with what you've got. If they're not going to adjust, just keep going at them."
McCaughan hasn't allowed an earned run since the opening frame of his May 22 start, a span of 26 2/3 innings, and hasn't yielded more than one run in any start since April 30.
"I think just my preparation has been solid every week, knowing where my body's at, going into the game feeling solid physically," he explained. "I think that leads you to have a good mentality going into the game. Nothing's really hindering you; kind of a clear mind. Just being able to go out there and execute all my pitches for strikes and for what look like strikes but aren't strikes. I think that's the key."
Brigman, the Mariners' No. 27 prospect, got the Nuts' ninth started with a single to right field and moved up when Manny Pazos reached on a throwing error as pitcher Robby Sexton tried to force Brigman. With two aboard, Anthony Jimenez pulled back his bunt and laced a walk-off single to center as Modesto avoided the three-game series sweep.
"We've kind of been a walk-off team this year. We've had a couple," McCaughan said. "Jimenez came through with a big slash [bunt]. That was huge. It was super-cool to see. Everyone was stoked."
Tyler Maun is a contributor to MiLB.com. Follow him on Twitter @TylerMaun.