Dragons' Siri has hit streak snapped at 39
Reds' No. 24 prospect goes 0-for-3, draws controversial walk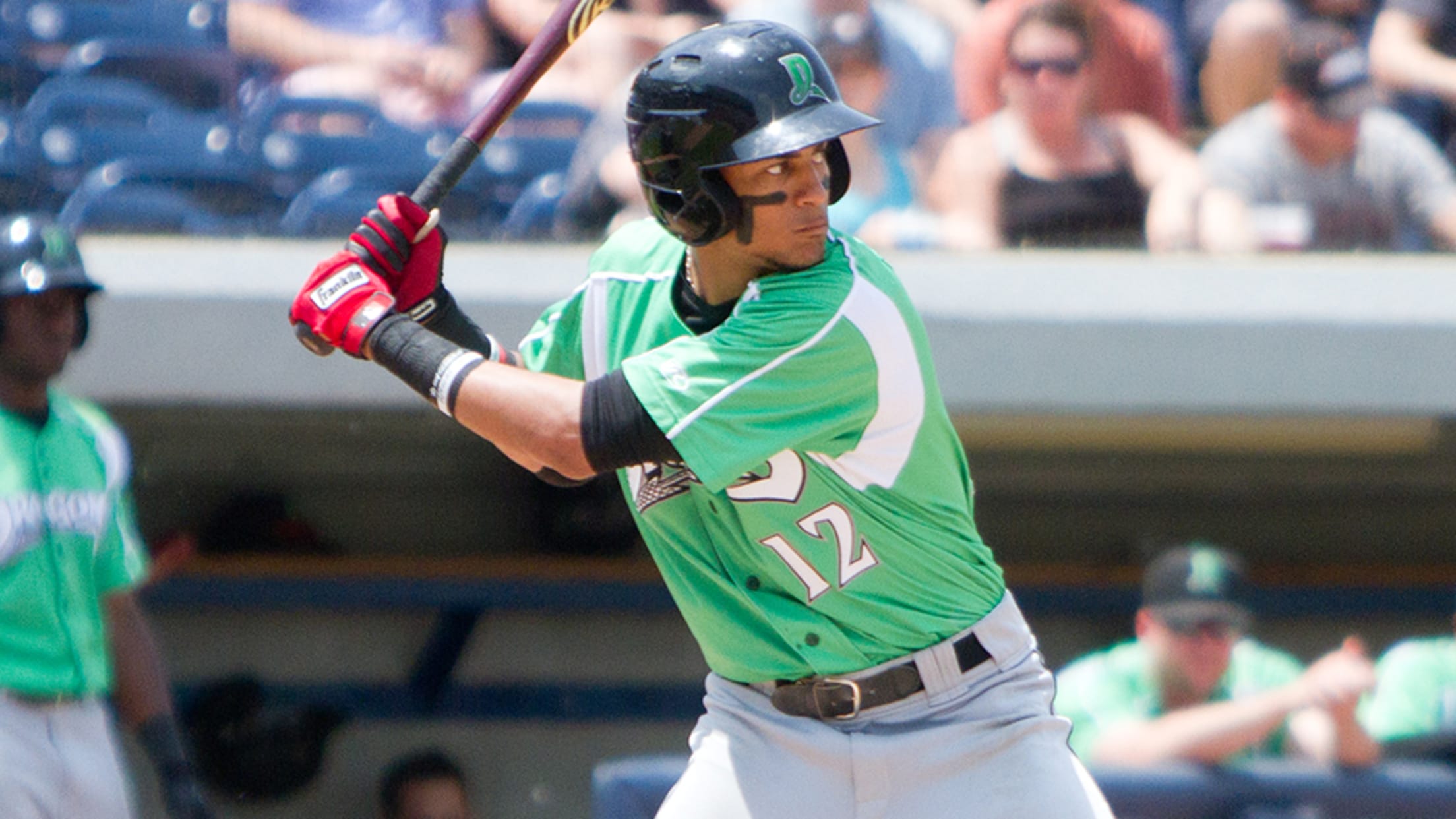 Jose Siri went 59-for-173 (.341) at-bats during his 39-game hitting streak. (Emily Jones/MiLB.com)
The longest hitting streak in professional baseball this season came to a controversial end Friday night.Jose Siri had hit safely in a Midwest League-record 39 consecutive games but went 0-for-3 with a walk for Class A Dayton in a 4-2 loss to Great Lakes at Fifth Third Field. 
The longest hitting streak in professional baseball this season came to a controversial end Friday night.
Jose Siri had hit safely in a Midwest League-record 39 consecutive games but went 0-for-3 with a walk for Class A Dayton in a 4-2 loss to Great Lakes at Fifth Third Field.
Gameday box score
The 24th-ranked Reds prospect had a .341/.363/.671 slash line with 13 homers, three triples, 12 doubles and 32 RBIs during the streak, which began June 22. The run reached a Midwest League-record 36 games on July 31 against Fort Wayne after Siri singled in his final at-bat in the eighth inning.
"This means a lot to me; I am very happy," the 22-year-old told MiLB.com after breaking Tony Toups' 1977 record. "When the count got to 0-2, all I was thinking about was letting the ball get to me and not picking up my foot and just driving the ball somewhere."
For the third consecutive game, Siri was given one last chance to keep the streak going. He came up in the eighth against right-hander Ryan Moseley with the Dragons trailing, 4-1. Moseley's first pitch nearly struck the letters across the back of Siri's jersey, buzzing all the way to the backstop.
After dancing out of the way, Siri paced the area surrounding the plate, removed his helmet and wiped his brow before stepping back in the box. After collecting himself, the native of the Dominican Republic made an unsuccessful attempt to lay down a bunt on the next pitch.
Siri worked the count full before Moseley's seventh offering was low and off the outside edge for ball four. The walk gave Siri a 41-game on-base streak as he also drew a free pass in his lone plate appearance against West Michigan on June 26, a game that did not count toward the hitting streak.
As Siri made his way to first, he and Moseley exchanged words, prompting both benches to empty. The dustup did not reach the same intensity that escalated to a brawl between the Dragons and West Michigan in early June that garnered a three-game suspension for Siri.
When order was restored, Siri recorded his league-leading 30th stolen base, continued to third when the throw from catcher Steve Berman went into the outfield and scored on a wild pitch.
• Get tickets to a Dragons game »
Siri took his first three at-bats against Great Lakes right-hander Dustin May, bouncing out to third in the first inning, striking out in the third and flying to center in the sixth. May (7-6) allowed a run on six hits while striking out four over six innings.
Reds No. 3 prospect Taylor Trammell doubled and singled twice for the Dragons.
Gerard Gilberto is a contributor to MiLB.com. Follow and interact with him on Twitter, @GerardGilberto4.