Isabel reigns supreme as FSL's top slugger
Reds outfielder blasts pair, eclipses 68-year-old league mark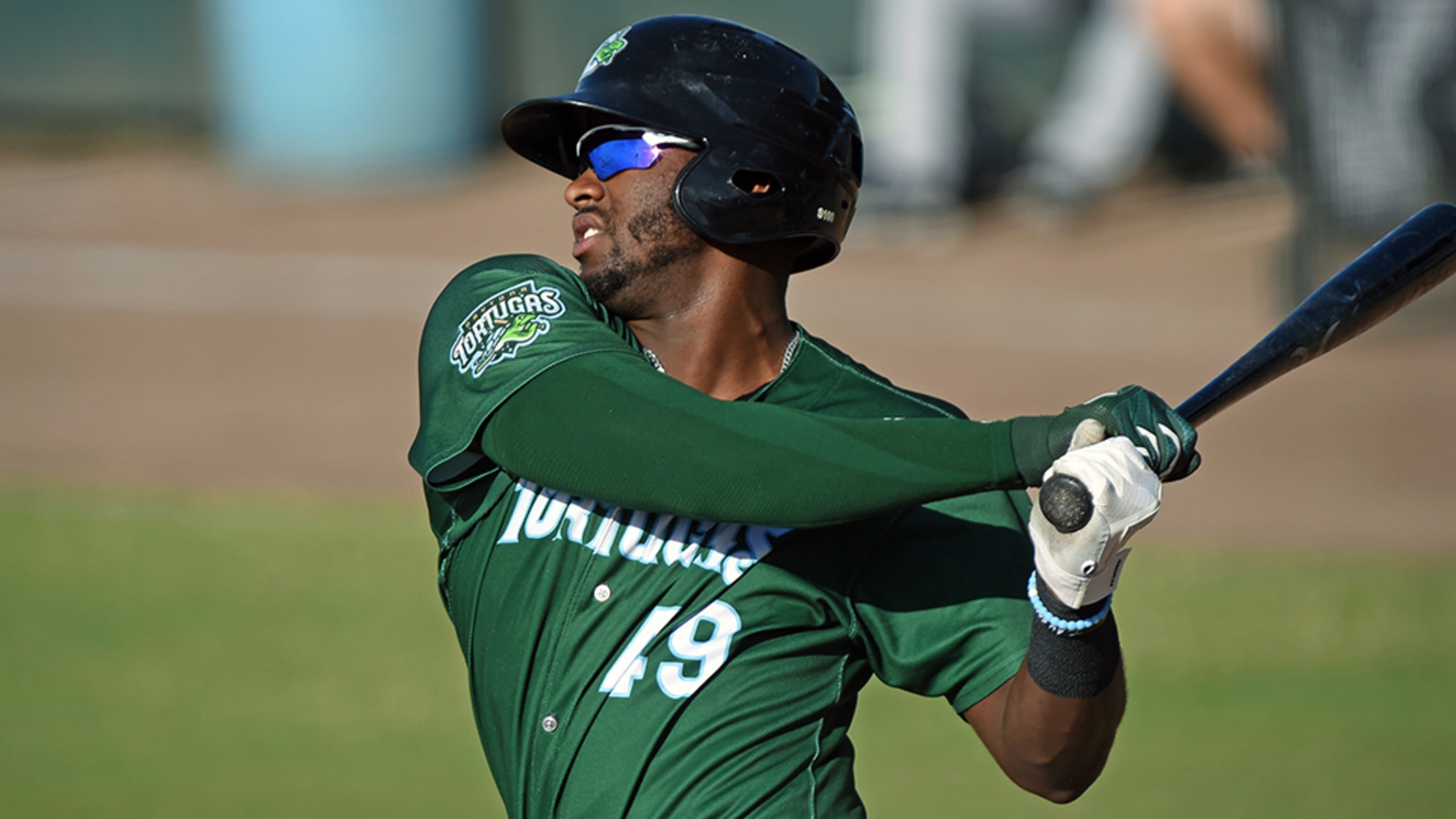 Ibandel Isabel also leads the Minor Leagues with 36 long balls overall this season. (Brian McLeod/MiLB.com)
Ibandel Isabel's tenure as co-holder of the Florida State League home run record lasted less than 24 hours. One night after tying the 68-year-old record, the 23-year-old stands alone as the circuit's top single-season home run hitter.The Cincinnati outfield prospect slugged his record-breaking 34th dinger and added another for good
Ibandel Isabel's tenure as co-holder of the Florida State League home run record lasted less than 24 hours. One night after tying the 68-year-old record, the 23-year-old stands alone as the circuit's top single-season home run hitter.
The Cincinnati outfield prospect slugged his record-breaking 34th dinger and added another for good measure to finish with three RBIs as Class A Advanced Daytona defeated Charlotte, 5-3, on Tuesday night at Charlotte Sports Park.
Isabel has gone deep in three consecutive games for the second time this month. He also swatted four in a three-game span from Aug. 10-11 and leads the Minor Leagues with 36 overall, much to the amazement of his manager.
Gameday box score
"I haven't seen someone do what he's done at this level," Tortugas skipper Ricky Gutierrez said. "It's amazing what he's doing, and all the credit goes to him and hitting coach Alex Pelaez. They work really hard on a daily basis. Isabel is still a young kid and he's just starting to find himself. To me, he can only keep moving forward. The sky's the limit for this kid."
The Dominican Republic native took sole possession of the record with a two-run homer to left-center field in the first inning off Charlotte's Brian Shaffer. Edward Levy set the benchmark with 33 long balls for Sanford in 1950, which was equaled by Miami's James Fuller 21 years later.
"It's been a joy to watch," Gutierrez said. "He's a tremendous kid and he goes about the game the right way. He works very hard on all aspects of his game. He's a kid you pull for and want to see succeed. Everyone was jumping up and giving him high-fives and he had a big smile on his face. He's a great teammate and he gets along with everyone, so we're all happy for him."
Isabel was at it again in his next at-bat, clubbing a leadoff shot to left-center for his third home run in three at-bats going back to his record-tying blast Monday. He flied out to right with the bases loaded to end the seventh before grounding out to second in the ninth.
The Tortugas slugger has six multi-homer performances this season and has reached the seats four times in his last six games. He's driven in a run in six consecutive contests, totaling 11 in that span.
Homers and run production are nothing new for Isabel. The 6-foot-4, 225-pounder signed with the Dodgers as an undrafted free agent in 2013. He cleared the fences 28 times and drove in 87 runs with Class A Advanced Rancho Cucamonga during his first full-season campaign in 2017.
Isabel began this year back in the California League before he was traded to the Reds on April 17 in exchange for Ariel Hernández. He entered June with seven home runs in 33 games across the two circuits, but has gone yard 29 times in 73 games since, including 12 this month.
It's a continuation of what Gutierrez has seen from Isabel since he joined the organization in mid-April.
"He's a quick learner and catches on quick," the former big league infielder said. "He's loose every day and has fun. He's a big teddy bear, really. We're extremely happy to have him here in this organization and everyone is ecstatic with what he's done. We couldn't be happier to have this happen to someone like him."
Bruce Yari chipped in a two-RBI single in support of starter Tommy Bergjans (5-2), who allowed two runs on six hits in five innings. The right-hander walked two and struck out three.
Rays No. 16 prospectJosh Lowe singled twice for Charlotte.
Shaffer (2-2) was charged with three runs on six hits and two walks with three strikeouts in five frames.