Tigers' Deatherage makes powerful entrance
Detroit prospect collects first three-homer game in GCL since 2011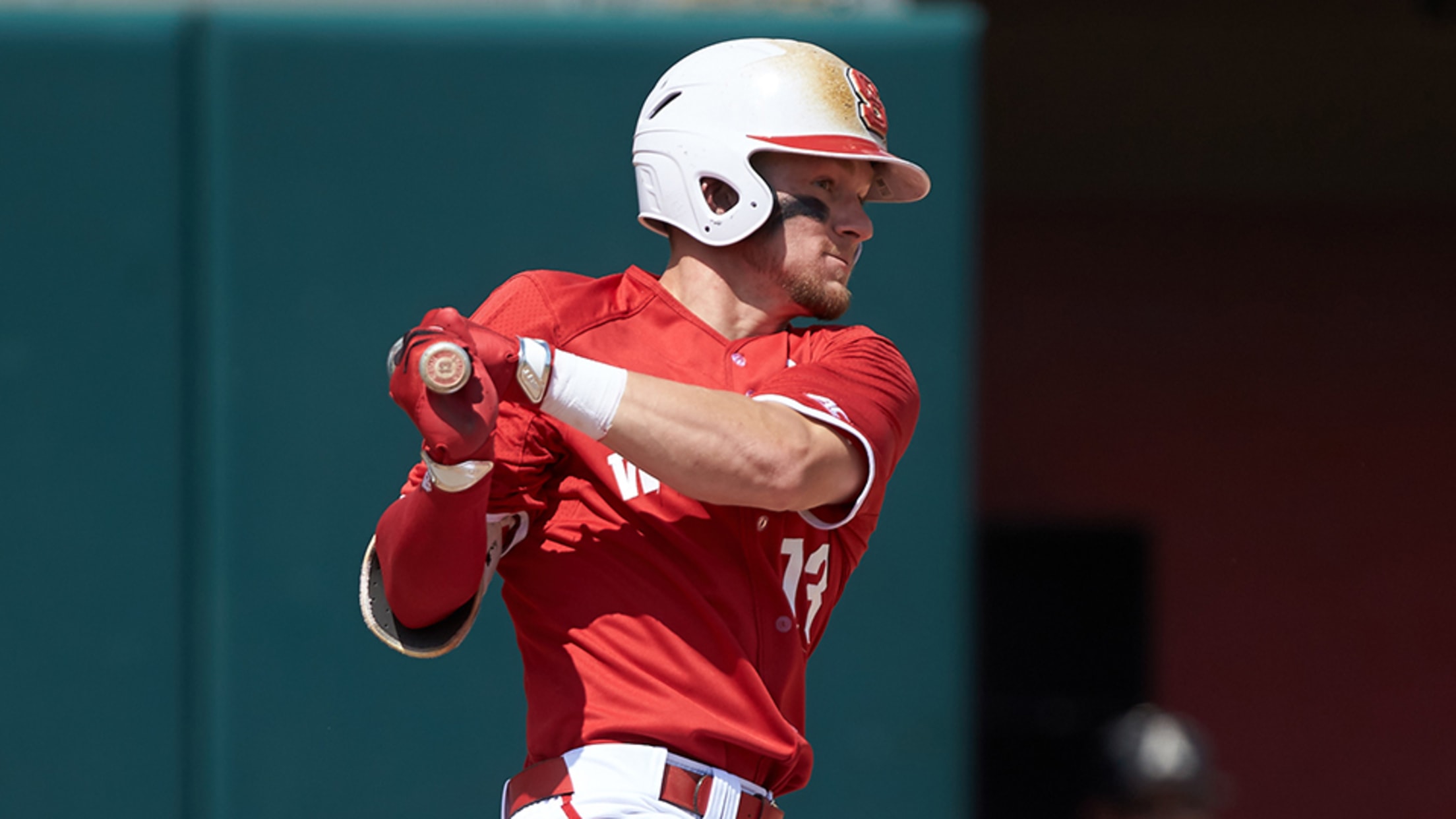 Brock Deatherage collected 24 home runs in 227 games over four seasons at North Carolina State. (NC State Athletics Communications)
There's making an entrance into professional baseball and then there's what Brock Deatherage did Monday afternoon. In his Minor League debut, the Detroit 10th-round pick slugged three solo home runs and scored four times to lead the Rookie-level GCL Tigers West to a 9-3 victory over Yankees East at the Yankee
There's making an entrance into professional baseball and then there's what Brock Deatherage did Monday afternoon.
In his Minor League debut, the Detroit 10th-round pick slugged three solo home runs and scored four times to lead the Rookie-level GCL Tigers West to a 9-3 victory over Yankees East at the Yankee Complex in Tampa. It was the first three-homer effort in the Gulf Coast League since Michael Knox completed the feat for the Cardinals on June 22, 2011.
Box score
"Oh man, it was great," Deatherage said. "I thought there were going to be a lot more nerves than there were. I just went out there and was comfortable. It's a great group of coaches, great group of guys that I'm playing with. I've been in Lakeland for a week now. Kind of have a good relationship going with everyone. I just tried going out there and have fun. That's what I did, I put some good swings on some balls.
"I had a good approach going in and I was pretty much locked in on fastballs the whole day until it was proven otherwise that I needed to do something else. That approach stuck with me the whole day and it worked out in my favor."
Originally selected by the Pirates in the 29th round in 2017, Deatherage elected to return to North Carolina State for his senior season and then was taken by the Tigers in this month's First-Year Player Draft after putting together a solid final campaign in the ACC. The outfielder sported a .307/.397/.548 line with 14 homers and 41 RBIs in 60 games with the Wolfpack to close out his college career.
On the first day of his last year with North Carolina State, he slugged two home runs over the course of a doubleheader against Seton Hall.
"I hit 14 [home runs] my senior year, and that was a grind," Deatherage said. "My junior year, I hit three the whole year. Coming in hitting three in my debut is huge. ... We played two games, but I still hit two home runs on my Opening Day senior year. So that was kind of funny. If that becomes a routine, I'll be OK with it."
Deatherage reached on a fielder's choice in the first inning, scoring two batters later on John Valente's groundout. In the third against right-hander Juan Then, the 22-year-old smoked his first homer of the day to right field. It didn't dawn on Deatherage until after the third long ball that his first career hit was a roundtripper. He made sure the ball was returned to him for safe keeping.
"That was one of the last things on my mind, going up there and hitting a home run," Deatherage said. "It's a short porch in right and the wind was blowing in a little bit. It's kind of a tall [wall] and they've got a net there that's above the fence. I didn't know if it was high enough.
"I got to home plate and the dugout and everyone was going nuts. It was definitely a good way to remember my first career professional hit. It's one definitely to remember, so I'm very thankful."
After bouncing out to first in the sixth, Deatherage took reliever Elvis Peguero deep to right. With two outs in the ninth, Deatherage stepped in against Alex Mejias and capped the parade of dingers with his third of the afternoon. He became the second Tigers prospect in a week to slug three homers in a game as fifth-rankedJake Rogerscompleted the feat last Tuesday for Double-A Erie.
Over the course of his college career, Deatherage had a few multi-homer games with the Wolfpack, but never hit three in the same game. To achieve such a milestone in his first game as a professional made the debut even more special.
"It was something new for me, especially going into that last at-bat," he said. "A lot of guys in the dugout were saying, 'You only hit three.' And I never really thought about it. And I was just thinking to myself, 'No way I hit three, I've never done that in my life. That's unheard of.' But sure enough, I hit a first-pitch fastball. I didn't think I got it. It was a low pitch and didn't have much launch angle on it, but sure enough, I saw it skip on their batting cages beyond right field. And I was like, 'Shoot, I hit three.' I was speechless and I didn't know what was going through my mind, to be honest."
Unlike the first homer that he'll have for safekeeping, the other two homers weren't retrieved for the trophy case.
"I don't know what happened to the next two, the second one was pretty well hit -- I don't know if that was going to be found," Deatherage said with a laugh. "The last one I had no idea. But I have the first one, and that's all that matters to me."
It's been whirlwind month, going from the NCAA ranks to penning his professional contract to suiting up in a Tigers uniform the first time. But after all that, Deatherage said the biggest adjustment to his new life might be dealing with the subtropical climate of Florida.
"It was definitely a different experience, I had to get used to all this humidity in Florida," he said. "Have to drink a lot of water. Other than that, it's been a good week of practice and just getting to know all of the guys that are in here."
Dayton Dugas, a 16th-round pick, belted his first career home run as the Tigers collected 10 hits.
Xavier Javier (1-0) allowed three runs on three hits and five walks with three strikeouts over six innings en route to the victory.
Andrew Battifarano is a contributor to MiLB.com. Follow him on Twitter, @AndrewAtBatt.