Top pick Mize goes from Tigers ... to Tigers
Draft stays in college for No. 2 Bart (Giants), No. 3 Bohm (Phillies)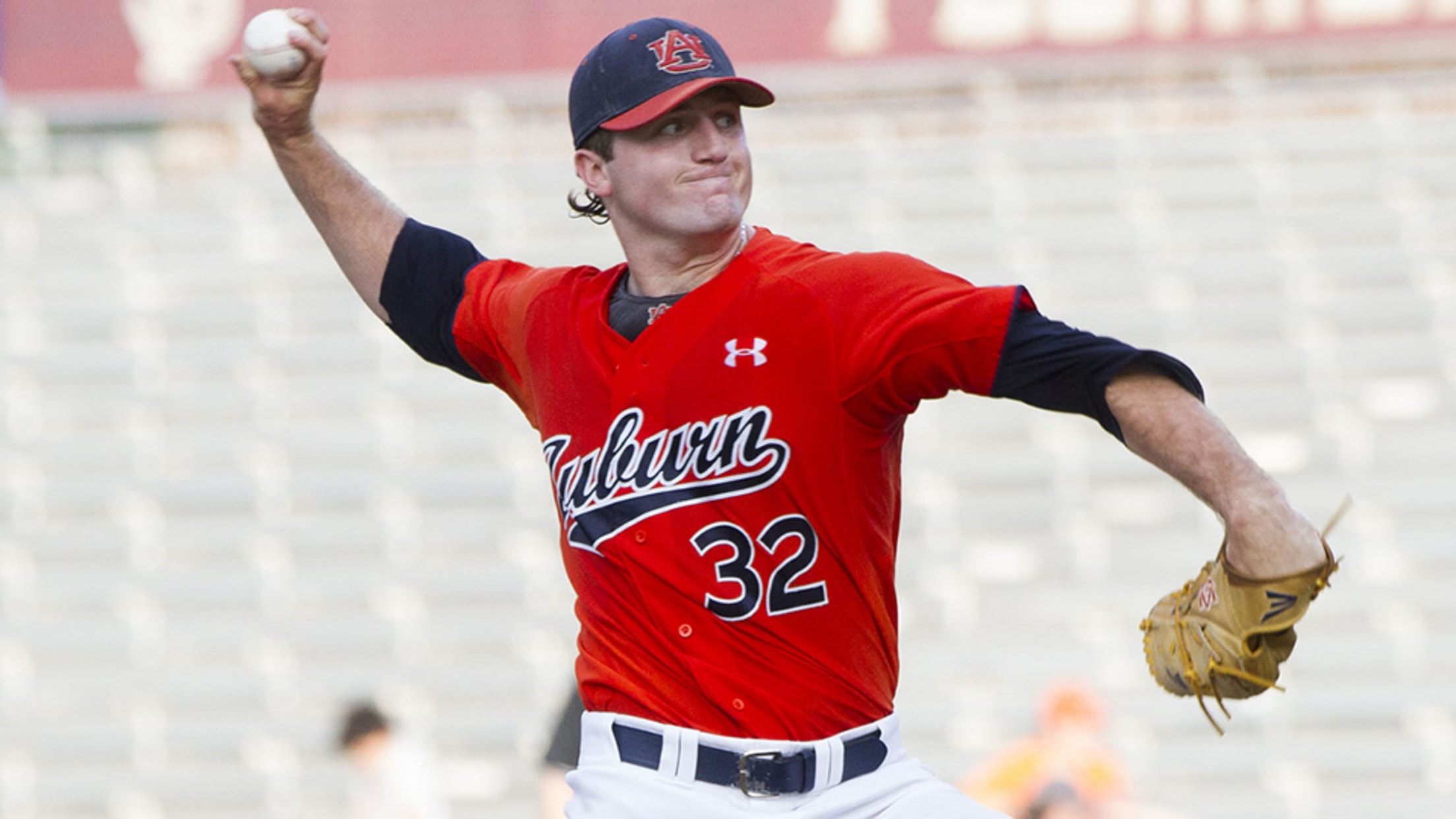 Casey Mize is the highest drafted player out of Auburn University, beating out 1988 fourth overall pick Gregg Olson. (AP Images)
SECAUCUS, New Jersey -- Monday was a night of dream making in affiliated baseball.Amateur players from the high-school and college ranks in the United States and Canada get selected in the first, second and compensation rounds to begin the 2018 First-Year Player Draft on Monday at the MLB Network Studios.
SECAUCUS, New Jersey -- Monday was a night of dream making in affiliated baseball.
Amateur players from the high-school and college ranks in the United States and Canada get selected in the first, second and compensation rounds to begin the 2018 First-Year Player Draft on Monday at the MLB Network Studios. They still have to sign on the dotted line and step up to the mound and/or plate, but for all intents and purposes, this is the beginning of their professional careers in baseball.
The following is a breakdown of the top picks made in the first round of the Draft:
First round
1. Detroit Tigers: Casey Mize, right-handed pitcher, Auburn University --
After speculation they might look elsewhere, the Tigers finally took their man and the
top overall talent in the Draft
in Mize. The Auburn right-hander utilizes a plus-plus splitter and pinpoint control along with impressive offerings in his fastball, slider and changeup to dominate on the hill. He struck out 140 and walked only 10 during 102 2/3 innings during the regular season as a junior, and it's widely believed he could move quickly through the Minors, even in a Detroit system already dominated with right-handed arms such as
Franklin Perez
,
Matt Manning
,
Beau Burrows
and 2017 first-rounder
Alex Faedo
.
"It means a ton," Mize told MLB Network after the pick was revealed. "I'm very thankful the Tigers thought of me to take me with the first selection. I can't describe this feeling right now."
2. San Francisco Giants: Joey Bart, catcher, Georgia Tech --
With this pick, the Giants plan for a future in which one franchise cornerstone, Buster Posey, can hand off catching duties to another in Bart. The 21-year-old backstop is plenty capable behind the plate, having caught 36.4 percent of attempted basestealers this spring, and he should show some good power at it as well. Bart hit .359 with 16 homers and a 1.103 OPS as a junior. Catchers taken this high have to have all-around package, and the Giants see that type of potential in Bart.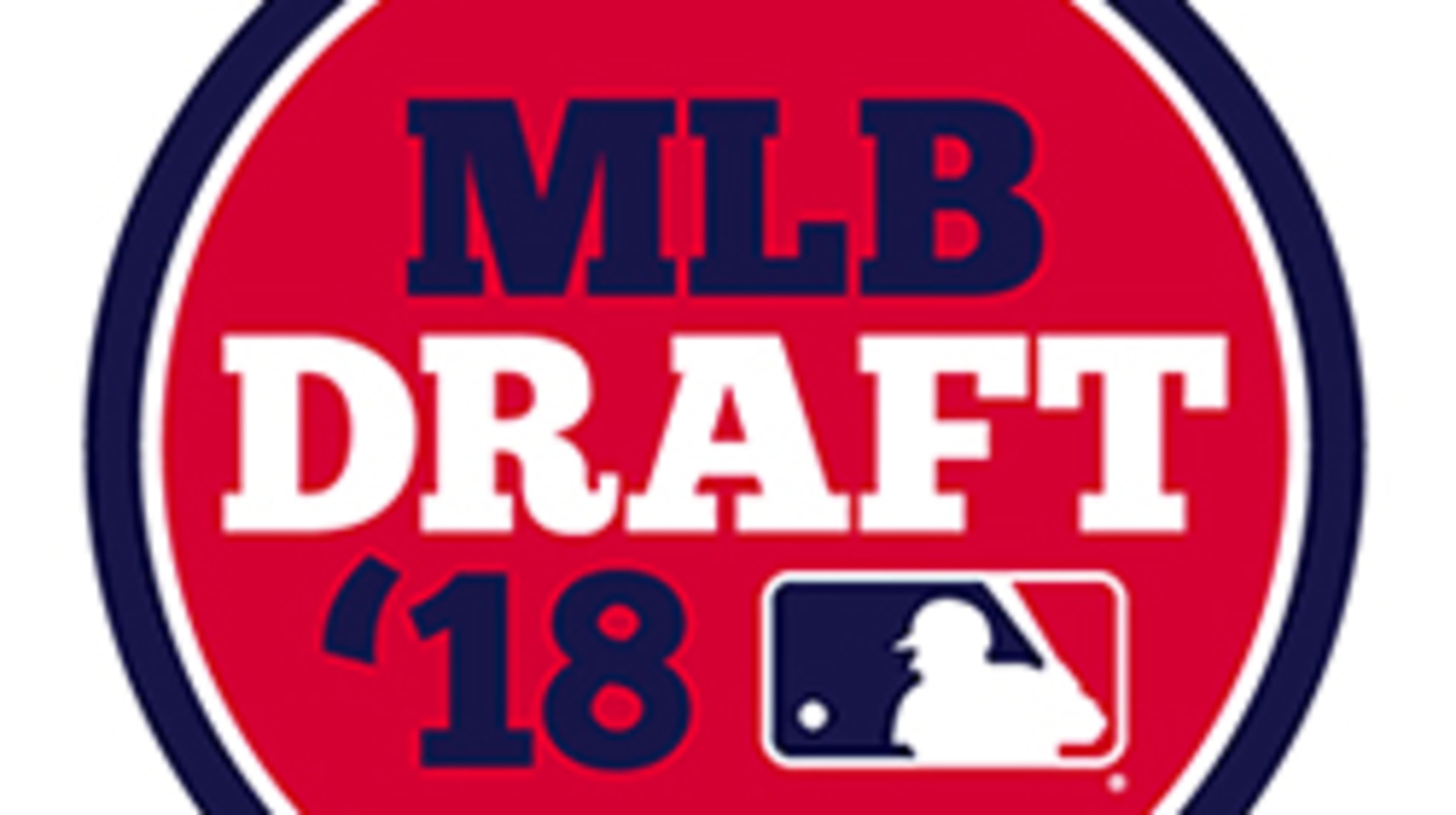 3. Philadelphia Phillies: Alec Bohm, third baseman, Wichita State University -- There was some question as to whether Bohm or Jonathan India would be the first college third baseman off the board. The Phillies went with Bohm, MLB.com's No. 7 Draft prospect, because of his offensive exploits during his three years at Wichita. The right-handed slugger batted .339/.436/.625 with 16 homers and 55 RBIs in 57 games as a junior, and that came after he hit .359 with five homers, 10 doubles and a .912 OPS in 39 games in the esteemed wood-bat Cape Cod Baseball League the summer before. Though there are questions about whether Bohm has the defensive chops to stick at third base, he certainly has the bat to provide value in the Phillies system, where he could vault past last year's first-rounder Adam Haseley to become their top position-player prospect.
"If they're not criticizing you, they're not doing their job," Bohm said about the defensive questions. "I'm not worried. I work hard to play third base, and I plan to stick there."
4. Chicago White Sox: Nick Madrigal, second baseman/shortstop, Oregon State -- One of the more interesting talents in this Draft, Madrigal is expected to be a potentially special hitter with impressive speed. Even after missing time with a broken wrist earlier this year, the 21-year-old middle infielder hit .406/.470/.586 with 11 stolen bases and only five strikeouts in 32 games as a junior with the Beavers. That's coming off a sophomore campaign in which he batted .380 and struck out in only 5.7 percent of his plate appearances on his way to All-American honors. But he's hampered some by his size at 5-foot-7, though stars such as José Altuve, Ozzie Albies and Dustin Pedroia have shown doesn't matter for middle infielders who can hit. Madrigal could challenge Eloy Jiménez to be the best pure hitter in the White Sox system going forward.
5. Cincinnati Reds: Jonathan India, third baseman, University of Florida -- As good a hitter as Bohm is, India could be the better all-around third baseman. The right-handed slugger packs plenty of thunder with the bat as he's hit .364/.504/.733 with 18 homers and a positive 48/49 K/BB ratio in 59 games this season with the Gators. But he's also got above-average speed, as evidenced by his 12 stolen bases, and a good-enough glove that some believe he could play some shortstop in the pros. The Reds have already exhibited a willingness to move a prized third baseman, as they've given 2016 first-rounder Nick Senzel time at second base this season. Cincinnati would love to see both on the same Major League infield in the next few years.
First-Year Player Draft tracker
6. New York Mets: Jarred Kelenic, outfielder, Waukesha West (Wisconsin) High School -- Notably, Kelenic is the first Wisconsin high schooler to go in the first 10 picks. He's also the first prep player from anywhere off the board in 2018. He earned that by showing off a plus hit tool from the left side while possessing a 60-grade arm from the outfield and above-average speed that can help both on the grass and dirt. There are questions about how much power the 6-foot-1 player will be able to generate in the pros, but it should be an average tool by the time he arrives in the big leagues. Ranked as MLB.com's No. 10 prospect in the Draft, Kelenic enters a Mets system without a Top-100 talent at present.
7. San Diego Padres: Ryan Weathers, left-handed pitcher, Loretto (Tennessee) High School -- The Padres go with a prep left-hander for the second straight year after taking MacKenzie Gore at No. 3 overall in 2017. Weathers is a different hurler from his new organization mate, however. The 18-year-old southpaw and son of 19-year Major League veteran David Weathers, stands at 6-foot-2, 210 pounds and gets above-average (though not plus) grades on his fastball, curveball and changeup. He also earns plaudits for his repeatable delivery and the solid control that allows the arsenal to play up. Six of the Padres' top eight prospects spend their time on the mound, and Weathers gives one of the best systems in the game another impressive arm.
8. Atlanta Braves: Carter Stewart, right-handed pitcher, Eau Gallie (Florida) High School -- The system that's arguably the deepest already when it comes to arms added another big-time option by scooping up Stewart. The 18-year-old right-hander's curveball has been one of the talks of the Draft, thanks to a tracked spin rate that would actually lead the Major Leagues. But he's also got a plus fastball that can touch the mid-90s already, and at 6-foot-6, he's got plenty of projection to perhaps add more velocity in the years to come. Between Kyle Wright (2017), Ian Anderson (2016) and Stewart, the Braves have taken a right-handed pitcher with a top-10 pick each of the past three years.
"I think that's a driving force," Stewart said of the organizational pitching depth. "It's definitely competition for sure. Having those guys next to me, who are good … you have to feed off of somebody. You have to have someone you're playing with or against that's as good as you or better. So I feel like that's how I've gotten better in the past and how I could keep getting better is playing with teammates that are better than me."
9. Oakland Athletics: Kyler Murray, outfielder, University of Oklahoma -- This may have been the first shock of the Draft. Murray is no doubt talented with plus-plus speed and has shown promising power with 10 homers and a .556 slugging percentage in 51 games with the Sooners this spring. But he's also set to be the starting Oklahoma quarterback this fall as he was expected to take over for Baker Mayfield in Norman. The rawness in his baseball ability, along with the potential for him to stick to pigskin, was thought to scare off some early clubs, but Oakland apparently wasn't one of them. It's possible the A's could pull something similar to what the Jays did with Anthony Alford, allowing him to play NCAA football while signing him as a pro ballplayer, but a bonus in the neighborhood of the $4,761,500 slot value could talk him into playing baseball full time.
10. Pittsburgh Pirates: Travis Swaggerty, outfielder, University of South Alabama -- Swaggerty becomes the first South Alabama player taken in the first round -- a notable achievement for a program that's produced Luis Gonzalez, Juan Pierre and Jon Lieber among others. The 20-year-old left-handed center fielder has the potential to be above-average with his hit, run, arm and fielding tools, and his power continued to grow as junior for the Jaguars -- he hit .296/.455/.526 with 13 homers in the spring. Swaggerty will look to join the running list of homegrown Pirates outfielders that includes Andrew McCutchen, Starling Marte, Gregory Polanco and Austin Meadows.
"They can expect me to go hard every day," Swaggerty said of how he'll introduce himself to Bucs fans. "I'll never big league a ground ball and jog it out. I'll sprint a hard 90. I'll go hard every day. I think I can bring all five tools to the tables when it's all said and done."
11. Baltimore Orioles: Grayson Rodriguez, right-handed pitcher, Central Heights (Texas) High School -- Teams don't draft for need this high, but the O's could use pitching help at every level and Rodriguez will provide some assistance there. At 6-foot-5, he stands out first for his size, and he packs plenty of heat with a fastball that has touched the high-90s. The slider is the only other option in his arsenal that grades out as above-average, but he does have a curveball that gives him a deeper mix than most prep arms. Rodriguez was reportedly a late bloomer so he might need some more time to iron out his raw issues in the Minors, but Baltimore is willing to put in that time.
12. Toronto Blue Jays: Jordan Groshans, third baseman, Magnolia (Texas) High School -- Groshans became the third third baseman taken in the first round and the first from the prep ranks. There's some power to dream on with his 6-foot-4 frame, and he showed that off plenty in Draft showcases. But he's a solid overall hitter too, and as a high school shortstop, he's shown a good arm that should translate to the hot corner. If there's an organization that knows how to develop teenaged third basemen these days, it's the one north of the border.
13. Miami Marlins: Connor Scott, outfielder, Plant (Florida) High School -- The Fish stayed in state by going with Scott -- the highest-drafted outfielder by Miami since Jeremy Hermida went 11th overall in 2002. Scott's standout tool by far is his plus-plus speed, and he's likely the fastest position player taken to this point. He's also got an above-average hit tool from the left side and a good arm that should help him in center or right. The power isn't there yet, but Scott could still play a prominent role in the rebuilding project in Miami.
14. Seattle Mariners: Logan Gilbert, right-handed pitcher, Stetson University -- A lot was made about Gilbert's drop in velocity early on this spring, but the Stetson starter still moved to Seattle in the middle of the first round. When he's on, the 21-year-old right-hander can show three above-average pitches in his fastball, slider and changeup. Even with the early issues, he struck out 157 in 107 innings in the NCAA ranks this spring.
15. Texas Rangers: Cole Winn, right-handed pitcher, Orange Lutheran (California) High School -- Winn was mentioned as high as No. 2 at times before the Draft but went to the Rangers here. That's still a solid jump for a player who transferred from his native Colorado to California to show he could handle tougher prep competition. The 6-foot-2 right-hander has earned solid grades for his fastball and changeup, and his slider continues to develop into an impressive breaker. Neither of the Rangers' top two pitching prospects (Hans Crouse, Cole Ragans) has pitched in the Minors yet in 2018, so Texas could use some good news from Winn once he signs.
16. Tampa Bay Rays: Matthew Liberatore, left-handed pitcher, Mountain Ridge (Arizona) High School -- The top-ranked left-handed pitching prospect, prep or college, popped up for his ability to hit the upper-90s with his fastball at times, even if the heater traditionally sits a little lower. With above-average breaking pitches and a better changeup than is typical of high-school hurlers, Liberatore's certainly got the starting kit when it comes to stuff that will translate in the pros. The fact that he's 6-foot-5 and projectable only helps that cause. He's got some experience already on the big stage as the winning pitcher in Team USA's win over South Korea in the U18 World Cup last September. It'll be a little easier for the Rays to sign him because they own the second-highest Draft pool this year.
17. Los Angeles Angels: Jordyn Adams, outfielder, Green Hope (North Carolina) High School -- This answers a lot of questions. Adams is up there as one of the toolsiest outfielders on the board this year with his top-of-the-line speed standing out immediately. The trouble is that speed also translates to the gridiron, and he was expected to be a two-way athlete at the University of North Carolina, where his dad coaches the defensive line. In trying to persuade Adams into going pro, the Angels can point to their developments of toolsy outfielders such as Jo Adell, Brandon Marsh and, oh yeah, that Mike Trout guy as reasons why the speedster should move to the diamond full time.
18. Kansas City Royals: Brady Singer, right-handed pitcher, University of Florida -- A second-round pick in 2015, Singer looked like he could have been the top talent/college arm in this year's class before he got passed by Mize on both counts. But even as his stock slipped, the 6-foot-5 right-hander still looked like a formidable talent with a mid-90s fastball, a plus slider and a solid changeup. He has posted a 2.27 ERA with 98 strikeouts and 19 walks in 95 innings during the regular season in Gainesville. Singer will easily be the top-ranked pitching prospect in the Royals system, even if it was a surprise he fell this far. It'll help that the Royals have the largest bonus pool. They won't have trouble keeping Singer from turning down the Draft a second time.
19. St. Louis Cardinals: Nolan Gorman, third baseman, Sandra Day O'Connor (Arizona) High School -- Get the most shocking part out of the way. Gorman was born May 10, 2000, thus becoming the first draftee born after the dawn of this millennium. More importantly for Draft purposes, he's most well-known for his power as he stood out over and over again during showcase home run derbies. Everything else could be average, and it's possible he doesn't stick at third base long-term. But the power will be plenty for the Cardinals to dream on.
20. Minnesota Twins: Trevor Larnach, outfielder, Oregon State University -- Larnach gives the Beavers two top-20 picks, and if Madrigal has the better hit tool of the two, Larnach undoubtedly has more power. The left-handed slugger has gone deep 17 times this spring while sporting a .327/.455/.626 line in 58 games. This is a new development, however. He hit just three homers combined in his first two seasons at Oregon State. Larnach also has an above-average arm to give him some added value.
21. Milwaukee Brewers: Brice Turang, shortstop, Santiago (California) High School -- There was a time when Turang was in the discussion as the best prep position player in this class. He may have been a victim of those high expectations as a senior, and he entered the Draft with his stock arrow pointing down. That said, the 18-year-old does fit the shortstop mold well with an above-average hit tool, good speed and an above-average glove and arm for the position. There's little doubt he'll stick at the demanding position, and if he starts to show off his pre-2018 potential again, he could be a steal for a Brewers club that has used its Minor League depth for Major League help and in trades recently.
22. Colorado Rockies: Ryan Rolison, left-handed pitcher, University of Mississippi -- The Rockies will always have to develop pitching, and after missing out on a first-round pick in 2017, they go back that route at No. 22 with Rolison. The Rebels southpaw has posted a 3.70 ERA with 120 strikeouts and 45 walks in 97 1/3 innings this spring. Those aren't the rosiest numbers for a first-round talent, but Rolison's stuff, namely a plus curveball and an above-average fastball, pushes him to this spot. He's the highest left-hander drafted by Colorado since Kyle Freeland went eighth overall in 2014.
23. New York Yankees: Anthony Seigler, catcher, Cartersville (Georgia) High School -- Seigler was one of six Draft prospects to make the trip to the New York City area Monday, and it's in the Big Apple he shall stay. Ranked as MLB.com's No. 46 overall Draft prospect, the Georgia native has drawn headlines for his ability to pitch ambidextrously, but he'll start his pro career as a catcher. His ability to play multiple spots (in the outfield and infield) speak to his athleticism, and he's considered a gifted switch-hitter. The above-average arm will help him make the full-time transition behind the plate. The fact he handled a gifted U18 pitching staff at last year's World Cup is a major point in his favor as well.
After spending part of his day at Yankee Stadium, Seigler still didn't expect he'd finish it in pinstripes.
"I mean, yeah, it did enter my mind," he said. "But really, it was just like 'If it happens, it happens.' But I never figured it would come true."
24. Chicago Cubs: Nico Hoerner, shortstop, Stanford University -- Hoerner moved into the first-round discussion when he hit .300 with an .812 OPS last summer on the Cape, and he's solidified that standing by batting .345/.391/.496 with a near-even 22/20 K/BB ratio in 57 games for the Cardinal this spring. His 15 steals almost doubled everyone else's total on the team and speak to his above-average speed. He has some experience at second base in the past, and he could move back there eventually. Either way, it's likely his value comes from his bat and feet.
25. Arizona Diamondbacks: Matt McLain, second baseman, Beckman (California) High School -- McLain was listed on MLB.com's Draft rankings as a shortstop, was announced as a second baseman and has the plus arm to potentially play third. That'll all be determined in time. MLB.com's No. 54 overall prospect got here because he's a plus runner and has the potential to be solid in all aspects with the bat. There may not be anything extremely flashy yet, but McLain will still stick out in a low-level D-backs system.
26. Boston Red Sox: Triston Casas, third baseman, American Heritage (Florida) High School -- The Red Sox were tied to power bats pretty consistently in pre-Draft mocks, and they got one of the most promising ones in MLB.com's No. 20 Draft prospect. Casas led the U18 World Cup in homers last summer and showed off his pop on the showcase circuit. At 6-foot-4, 238 pounds, he's got the size for the power to carry pretty easily into the Minors. In an interesting wrinkle, he was announced as a third baseman with the Boston pick, even though many believe first base will be his future home. A standout pitcher as well, he has the arm to handle the hot corner, but he'll have to maintain his athleticism as he climbs the Boston chain to do so.
"Obviously watch my weight," Casas said of his plans to stick to third. "There was obviously a third baseman in Boston in Pablo Sandoval that's had some problems. Just stay agile and just continue to take a lot of ground balls and do my thing."
27. Washington Nationals: Mason Denaburg, right-handed pitcher, Merritt Island (Florida) High School -- Denaburg could have gone much higher had biceps tendinitis not held him out for about two months this spring. When healthy, the 6-foot-3 right-hander has hit up to 97 mph on the radar gun, and his curveball earned a 55 grade on the 20-80 scouting scale. The Nats seem willing to bet on the potential over the injury risk with this selection.
28. Houston Astros: Seth Beer, outfielder, Clemson University -- One of the most divisive Draft prospects in the Class of 2018 goes to the defending World Series champs. Beer has done nothing but hit during his three years at Clemson, and the spring of 2018 was no exception. The left-handed-hitting slugger has produced a .301/.456/.642 line with 22 homers and a 36/54 K/BB ratio in 63 games. The problem? Nothing but hit is a little too on the nose. Beer goes in the Draft as an outfielder, but most expect him to move to first base or even designated hitter during his pro career. What's more, he's struggled in wood-bat environments, putting more question marks on his best tools. It's a boom-or-bust pick for an organization that has seen plenty of boom in recent years.
29. Cleveland Indians: Noah Naylor, catcher, St. Joan of Arc Catholic (Ontario) Secondary School -- Naylor, whose brother is 14th-ranked Padres prospect Josh Naylor, is a catcher for now but could very well head to third base in the future. His arm would certainly play there if he can't develop the receiving technique to handle duties behind the plate. At either spot, Naylor has shown plenty of power from the left side in high-school home run derbies. No matter where Naylor plays, he'll give the Cleveland system another intriguing left-handed bat next to fellow high picks Bobby Bradley, Nolan Jones and Will Benson.
30. Los Angeles Dodgers: J.T. Ginn, right-handed pitcher, Brandon (Mississippi) High School -- On pure stuff alone, Ginn is a no-doubt first-rounder. The 19-year-old right-hander has been clocked in the upper-90s to give him a plus-plus fastball, and his curveball is considered a legitimately plus pitch. But his delivery has a lot of movement, and some have issues with his size at a listed 6-foot-2, making a reliever profile a possibility when he reaches the Majors. The Dodgers should give him every opportunity to start, however.
Sam Dykstra is a reporter for MiLB.com. Follow and interact with him on Twitter, @SamDykstraMiLB.