Tigers' Manning springing forward in 2018
No. 55 prospect preparing to break camp with full-season club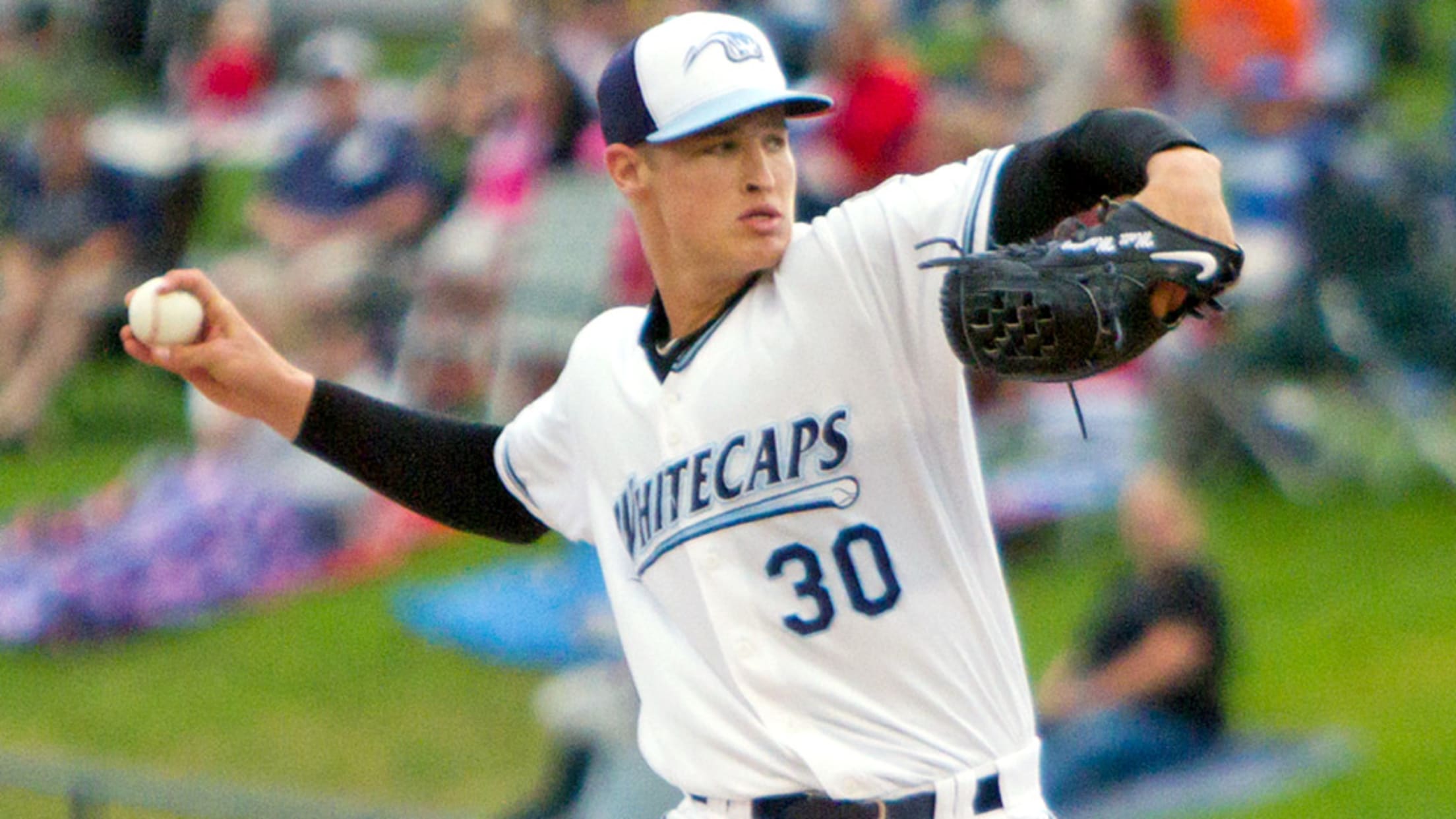 Matt Manning only threw 51 innings in the Minor Leagues last season across two levels. (Emily Jones/MiLB.com)
LAKELAND, Florida -- Matt Manning knows he was a little too quiet in his first trip to Spring Training 12 months ago.The 6-foot-6 right-hander -- son of former Grizzlies and Clippers forward Rich Manning -- had been the ninth overall pick by the Tigers in the previous Draft on the
LAKELAND, Florida -- Matt Manning knows he was a little too quiet in his first trip to Spring Training 12 months ago.
The 6-foot-6 right-hander -- son of former Grizzlies and Clippers forward Rich Manning -- had been the ninth overall pick by the Tigers in the previous Draft on the strength of his size, projectability, mid-90s fastball and plus curveball and was given 3,505,800 reasons to give up a basketball scholarship to Loyola Marymount. He was now a fully professional baseball player. Without knowing much of the organization's players, coaches or executives, he stuck mostly to himself, taking everything in and filing things away for what he'd hoped would be a long career.
"It was something I had to figure out for myself," he said.
After practicing with the Class A West Michigan squad for most of the spring, Manning was pulled into an office in the last days of 2017 camp and told he would be sticking around. He was still too raw. The best place for him to work things out would be right where he was, in extended spring training, and not in the deeper waters of the Midwest League.
"I was disappointed," he said. "But I trust in what they know and what they say and their expertise. Just didn't doubt it, came back and worked hard."
"Everybody wanted him to [go to West Michigan], including myself," said Tigers vice president of player development Dave Littlefield. "But the reality is you're responsible for putting the players in the best spot for them. It isn't always what they want to do. You try to use your staff's experience and your own experience to put them in a place to be successful and then build on that success to make improvements and move to wherever they're going to move to. In that case, we felt like he wasn't ready to go to West Michigan. It was clearly the right call."
Now in his second Spring Training, the Tigers and their No. 2 prospect believe last year's slow road helped build a foundation that will mean big things for the right-hander, starting right away this April and over the long term of his career.
One of the biggest goals was getting Manning to find a smoother delivery -- one he could repeat -- in order to get the most of his long levers and consistently fire his plus-plus fastball into the strike zone, ideally on the low side. Because of his elevated Draft and prospect status, it might have been more difficult for that to happen effectively at Class A, where Manning could be picked apart by opposing hitters if he wasn't effective enough or prospect evaluators if he wasn't showing his pre-Draft stuff.
The Tigers thought it best if he avoided the bright lights for a while.
"I came to get more experience in behind closed doors without any people keeping track of the score or anything like that," Manning said. "I could focus every day and didn't have to worry about expectations."
After two more months, Detroit decided it was time to test out Manning with an assignment to the Opening Day roster for Class A Short Season Connecticut. Unsurprisingly, Manning was the club's Opening Day starter and made many wonder where he'd been all along by striking out nine in 4 1/3 scoreless innings in his season debut on June 20. He became Connecticut's ace over the following six weeks, posting a 1.89 ERA with 36 strikeouts in nine starts (33 1/3 innings).
• Tigers hoping for big things from Verlander trio »
On Aug. 4, Manning was finally sent to West Michigan, about four months later than expected. But instead of hitting the ground running, he showed why the Tigers were right to be cautious about a jump to a full-season affiliate. Manning allowed 11 earned runs and walked seven over 6 2/3 innings in his first three starts with the Whitecaps. No longer was it just the Tigers telling him that he had things to work on; Midwest League hitters were proving it.
That type of humbling experience, like the initial assignment to extended, did the trick. Manning rebounded to toss 11 scoreless innings in his last two starts of the regular season, striking out 15 and lowering his West Michigan ERA from 14.85 to 5.60. He set a career high with 10 K's while allowing just one run over five innings in a Midwest League playoff appearance that proved to be a massive confidence booster entering his second offseason.
"The last couple, I started to get my feel back," he said. "It was my first time getting promoted. They were on a win streak. It was almost like Spring Training all over again. I just needed to get comfortable with the guys and their style of play and that atmosphere. When I did, I thought it went really well."
"He was really looking like a high first-round pick, a high-ceiling guy with a bright future," added Littlefield of Manning's last starts.
There were reports of reduced velocity, however, as the season went along. Once clocked as high as 98 mph before his Draft selection, Manning was clocked at only the high-80s with his heater at times in 2017. The organization, though, wasn't asking the then-19-year-old to light up the radar gun every night. Command, repeated delivery, throw low in the strike zone -- those were the mantras. As long as he continued to progress on the Tigers' checklist, they didn't care about what anyone else had on theirs.
"It was very clear to us that he was working hard and concentrating on those consistent parts of his delivery and arm action but also throwing strikes," Littlefield said. "I think he understands that being efficient with your pitches is a key part. I'm frankly extremely pleased that he has taken to that as well as he has. Because in the long run, building that foundation of consistent delivery and consistent release points and pitching down in the strike zone is going to be imperative to him at the Major League level. You look at a 6-foot-6, 200-pound right-hander that hasn't played much baseball and he's going through his first full season, you'll frequently see drops in velocity, particularly with the way he's concentrating on things. There's no issue whatsoever for us."
The hurler himself added that the velocity drops were done at times by his own design and nothing physical was at issue.
"I can go out there and throw mid-90s whenever I want," Manning said. "I like to get ahead of hitters, focus in on my location, mix up speeds with fastball, go low to high when I'm ahead. It's just the kind of pitcher I feel I'm developing into. It keeps me away from three-ball counts at this time for this year. Next year, I'll be able to lock it all in and throw it all the time. It's not anything I'm worried about."
That's been evident this spring with Manning hitting 96 on the gun in a recent workout on the backfields in Lakeland.
But it's also noteworthy that the right-hander claims he's still at least another year away from putting the whole package together when it comes to velocity and command. With that in mind, the goal for 2018 is to repeat the gains he made with affiliates last season for an extended period of time, namely from April all the way to September.
Yes, that means for the first time Manning will break a Spring Training camp with a full-season club. He said he hasn't been told whether he'll head to West Michigan to continue his momentum or Lakeland for a new challenge. Littlefield was equally non-committal but added the "natural progression" would be to let Manning build on his West Michigan experience after only five starts there.
No matter where he begins 2018, Manning has said he's already more comfortable at this edition of Spring Training than he was in his first. He's tried to be more vocal, talking to the pitchers he got to know last summer and the new ones he's just getting to know now. He isn't the most recent first-round pick anymore. Alex Faedo took over that mantle. He isn't the organization's top prospect anymore either. That title belongs to Franklin Perez.
He can just be Matt Manning, and in 2018, that means being a full-season pitcher.
"I think he's learned dealing with the first-round pick and the pressures that go with that, the expectations, the niche of the prospect fan group out there, the autograph seekers, all that stuff, he's got to learn to deal with it," Littlefield said. "The anxiety and the pressure of going out there and performing while forgetting with all the other stuff that is really meaningless. That takes some time. From a distance, we can take that for granted. But over time, it looks like he's learned to relax more. As he goes out there and pitches more often, he'll be able to do it more and more."
"At the end of all of it, I knew they made the right decision," added Manning. "I tip my cap to them. They did it right. They know what they're doing, and whatever they want, I'm all for it."
Sam Dykstra is a reporter for MiLB.com. Follow and interact with him on Twitter, @SamDykstraMiLB.