'Caps' Manning dazzles in career-long start
Tigers No. 2 prospect allows three hits in seven shutout innings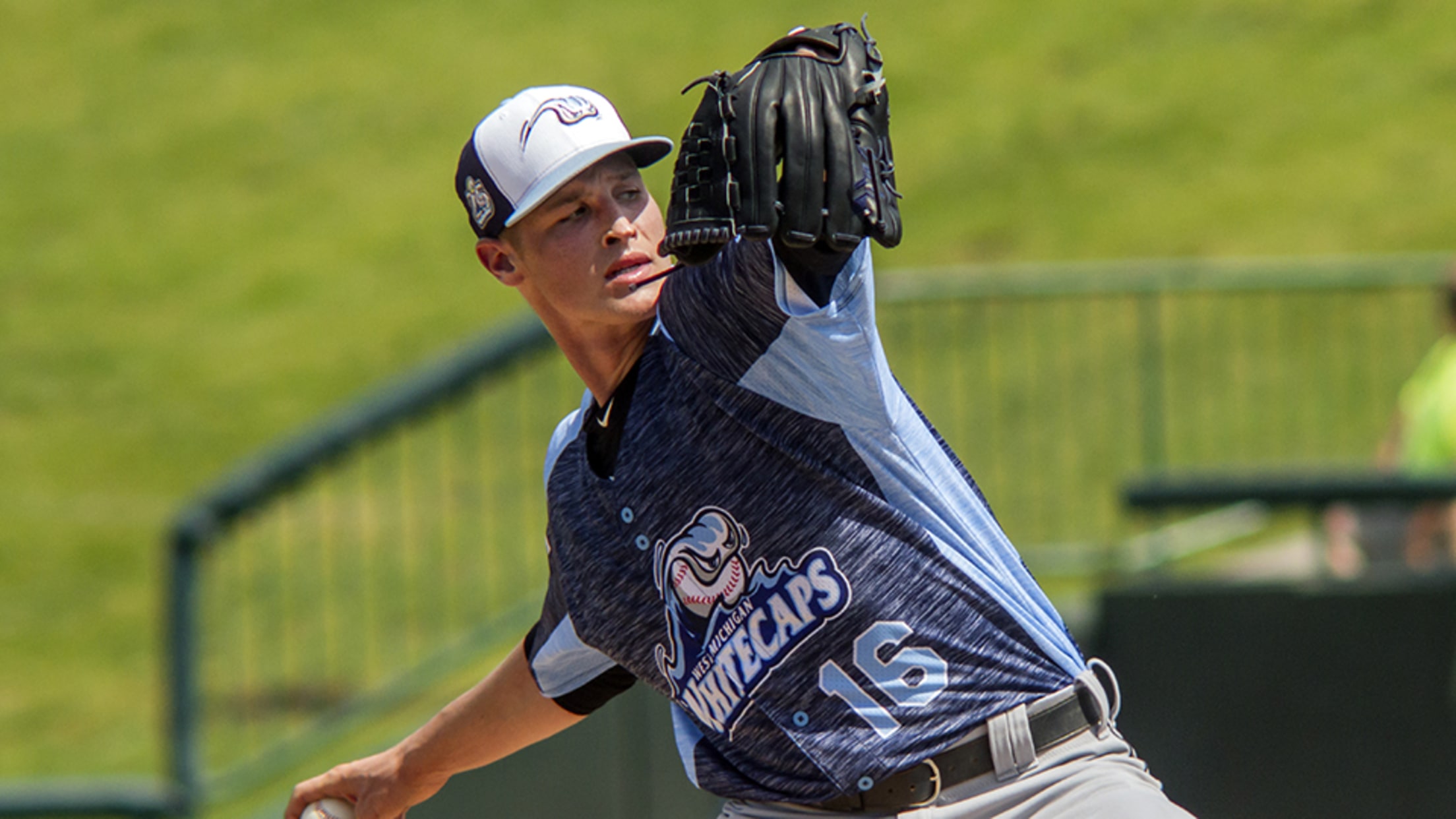 Matt Manning has averaged 12.3 strikeouts per nine innings over three Minor League seasons. (Justin Edwards/MiLB.com)
Feeling the heat of the low-90s temperatures at Fifth Third Ballpark, Matt Manning wanted to make sure he attacked the strike zone early to ensure his teammates could get back to the shade of the dugout quickly. In sticking with that approach, the hurler not only got the results he
Feeling the heat of the low-90s temperatures at Fifth Third Ballpark, Matt Manning wanted to make sure he attacked the strike zone early to ensure his teammates could get back to the shade of the dugout quickly. In sticking with that approach, the hurler not only got the results he wanted, but also delivered one of his best professional starts.
Detroit's second-ranked prospect tossed a career-high seven scoreless innings, allowing three hits and a walk while striking out six to lead Class A West Michigan in an 8-0 blanking of Dayton.
"If I get through that first inning, I thought I was going to be cruising from there," Manning said. "I felt pretty good with my stuff. My fastball command was there. I think the big thing for me today was that I pitched to contact. I forced the hitters to swing the bat. Yeah, I didn't get as many strikeouts, but that's why I got to the seventh."
The fastball control throughout the zone was the key in keeping the Dragons in check, according to Whitecaps pitching coach Jorge Cordova.
"He was locating his fastball in and out, up and down," Cordova said. "He was elevating the fastball -- by design -- late in the at-bats. You want to get swing-and-misses with the fastball up in the zone. He was outstanding locating the fastball, especially inside, to lefties and to righties."
Gameday box score
In his first full professional season, Manning (2-3) has had no trouble with the strikeout pitch, racking up 68 punchouts in 48 2/3 innings. MLB.com's No. 47 overall prospect has been hampered by walks, however, as he's issued 28 through 10 starts.
After walking three over six frames in his last outing, Manning's WHIP climbed to 1.51. But the right-hander got back in command Sunday, yielding just one walk and throwing 62 of 90 pitches for strikes. He retired 10 of 25 batters on three or fewer pitches while lowering his WHIP to 1.38.
A little over a month ago, Cordova talked with Manning about what he could do to better attack hitters in the Midwest League. The pitching coach noted that the 6-foot-6, 190-pound hurler had a strong enough repertoire to not have to worry about striking everyone out. That -- while also managing the run game against a team second on the circuit in steals (90) -- was what Manning followed through with Sunday.
"He needs to understand with the great stuff that he has that he doesn't have to pitch to swing-and-miss," Cordova said. "It's going to happen, he's got such a great fastball, he's got a great curveball and he can get a hitter off balance with the changeup. Today he realized he needed to be efficient because it was 94, 95 degrees.
"He was holding runners pretty well, he had only four baserunners. ... He's learning, he's understanding he needs to be quick to the plate. He needs to vary his look, he needs to hold the ball as long as he can."
As for what made him especially difficult to hit, Manning said part that had to do with the studying he put in over the weekend to understand the tendencies of the Dragons lineup.
"I watched [Dayton] for the two days leading up to my start," he said. "I thought my fastball would play really well. And if I showed them I had the curveball too, then that would get them off my fastball. I just had to pound the zone and force them to swing the bat."
Following a nine-pitch first inning, Manning walked Reds No. 10 prospectStuart Fairchild to begin the second. The 20-year-old faced no issues working out of the stretch, recording back-to-back strikeouts of Hendrik Clementina and John Sansone before getting Mark Kolozsvary to fly to right.
Manning gave up leadoff hits in the third and fourth to 11th-ranked Cincinnati prospect Jose Garcia and Leandro Santana respectively, but worked out of the jams. The right-hander retired 12 of the next 13 batters to close out the longest start of his career.
"I don't think one runner got on third base today and that was really big for me," Manning said. "My direction was a lot better. As I threw more out of the stretch, I felt really confident in pounding the zone and not losing any [velocity] or anything on my stuff. It was being determined to leave the guys on the basepaths and throw up a zero."
His plus pitches played all the way up until the end, as he retired the side in the seventh inning on just eight pitches. With the strong command throughout the start, he picked up his first win since May 9 and trimmed his ERA to a season-best 3.70.
Cordova told West Michigan manager Lance Parrish that Manning had enough in the tank for the seventh. The starter proved that with not only a quick frame, but also with an uptick in his fastball velocity.
"I made the decision to give him the chance to prove himself that he can be in the game as deep as he can go." Cordova said. "And he got stronger in the seventh. He was throwing 91, 93 [mph] from the first inning. Maybe once in a while 94 to the fifth. But in the sixth and the seventh, his fastball was in between 94 and 96. He got stronger at the end."
While his family wasn't in attendance for the outing, Manning talked with them over the phone afterward.
"I felt really good, that was the longest I've thrown in my career," he said. "Going seven out of nine was really big for me. I thought it was a really big milestone and I'm glad that I could do it on Father's Day. ... I talked to [the family] already and I told them it was a good gift for my grandparents and my dad."
In relief, Clate Schmidt allowed one hit and fanned two over two innings to complete West Michigan's fourth shutout of the year.
Tigers No. 17 prospect Jose Azocar went 4-for-5 with two RBIs while Colby Bortles drove in three runs and scored twice to pace the West Michigan offense.
Andrew Battifarano is a contributor to MiLB.com. Follow him on Twitter, @AndrewAtBatt.