Tigers Prospect Primer: Rebuilding from within
Stewart, Gerber bash on door; Manning preparing for distance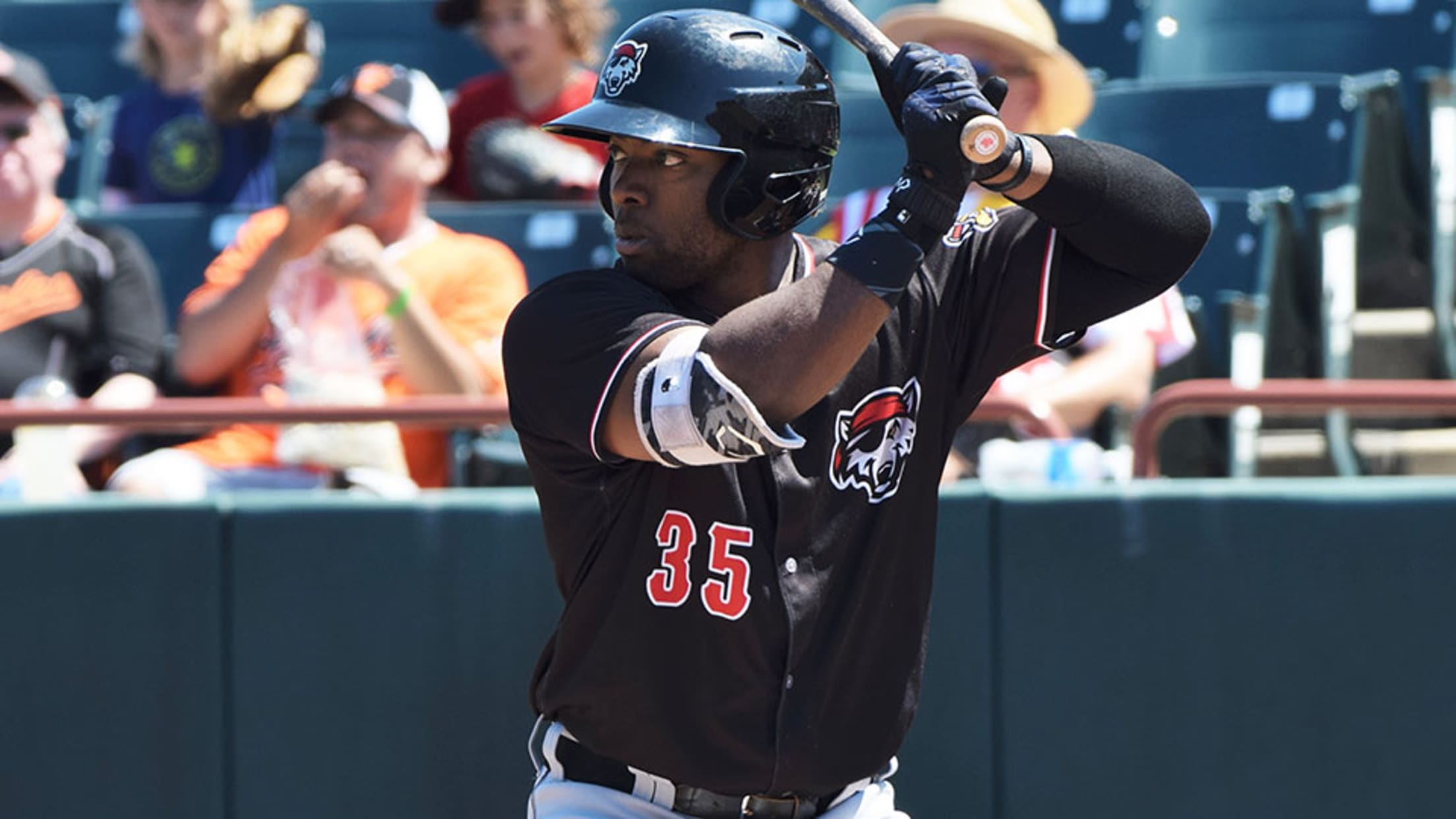 Christin Stewart boasts intriguing power potential with 58 homers over the past two seasons. (Patrick Cavey/MiLB.com)
Some players are on the verge of stardom, others are entering a crucial phase of their development and still others are getting their first tastes of full-season ball. With the 2018 season approaching, MiLB.com takes a look at the most intriguing prospects from each MLB organization.Shining star: Christin Stewart, LFThe
Some players are on the verge of stardom, others are entering a crucial phase of their development and still others are getting their first tastes of full-season ball. With the 2018 season approaching, MiLB.com takes a look at the most intriguing prospects from each MLB organization.
Shining star: Christin Stewart, LF
The Tigers captured four consecutive American League Central Division titles from 2011-14 with power bats Miguel Cabrera, Victor Martinez and Prince Fielder as fixtures in the lineup. As the club begins to rebuild for the future, Stewart has shown the ability to provide middle-of-the-order pop at the next level.
The 24-year-old Atlanta native smashed 28 homers and drove in 86 runs in 136 games with Double-A Erie last summer. He was a model of consistency after a 2016 season in which he totaled 30 long balls and 87 RBIs across two levels. The club's 10th-ranked prospect began the year with Class A Advanced Lakeland before playing in 24 games for the SeaWolves.
"He's got a really quick bat with a lot of power," Tigers director of player development Dave Owen said. "[He] has had some really good, productive last couple years … showing his power and power potential. Hopefully, we expect Stew to keep that going."
The lefty-swinging first-round selection in the 2015 Draft also provided 29 doubles, three triples and batted .256/.335/.501 in Erie last year. He played exclusively in left field on days he wasn't the designated hitter and made just three errors while compiling seven assists.
"He's working his tail off, he's getting better," Owen said. "It's not that he's Gold Glove, but he's OK and he's working to get better every day. Really the more experience he gets out there, the better he's becoming."
Stewart was mostly kept out of Major League Spring Training this year, but made the most of the cameos afforded to him, getting seven hits in 10 at-bats.
Full-season debutant: Matt Manning, RHP
MLB.com's No. 55 overall prospect bowled over the New York-Penn League last season, posting a 1.89 ERA while going 2-2 with 36 strikeouts in 33 1/3 innings. He was promoted to Class A West Michigan on Aug. 4 and amassed a 5.60 ERA and a 2-0 record in five starts. Although his Midwest League ERA doesn't jump off the page, he collected 26 punchouts in just 17 2/3 innings.
"Obviously, it is a short sample size with Matt, but he's a talented young man," Owen said. "He's got a lot of weapons and he's got a very high ceiling."
The organization was cautious with its second-ranked prospect to begin the 2017 season. He began the summer in extended spring training before his assignment to Class A Short Season Connecticut. Manning was not stretched beyond six innings in any start and his highest pitch count reached 88. He finished with 62 strikeouts in 51 total innings, a 3.18 ERA and held opposing batters to a .218 average. The training wheels may begin to come off as he is slated for full-season play once he returns from a low-level oblique strain suffered this spring.
"As it goes, he's got some things to continue to work on, and he is. He's a hard-working kid and we're just really expecting good things out of Matt," Owen said.
The 6-foot-6, 190-pound righty, the son of former NBA big man Rich Manning, was a former high-school basketball star who committed to play at Loyola Marymount University before signing with the Tigers. Owen has taken notice of what Manning's hoops background has done for his athleticism on the mound, citing it as an asset that can help him one day contribute to a Major League rotation.
"Just knowing his body, learning how to repeat deliveries and we see that as a plus for him," Owen said.
Loudest tool: Derek Hill, OF
Hill's defensive exploits have been well documented throughout his four-year professional career. The 22-year-old has proven to be a human highlight reel in the outfield.
"He can absolutely go get them in any ballpark and just really play center field," Owen said. "Good arm. Range, whatever you want to say about him, he can make it happen on the defensive side of the ball. He makes a statement out there, he makes -- obviously -- the other outfielders around him better with plays that he's able to make. He's exciting to watch."
The club's No. 13 overall prospect is aided in the field by the tool behind the tool -- his 70-grade speed. His largest hurdle, one that has kept him in the low levels of the Minors, has been staying off the disabled list. He has been limited to just 204 games over the past three seasons.
His difficult time staying healthy skewed his numbers at the plate, but they also point to hitting as an area which may need improvement. In 58 total games last season with Lakeland, West Michigan and in the Rookie-level Gulf Coast League, Hill batted a combined .246/.346/.379 with 19 extra-base hits, 30 RBIs and 29 stolen bases.
"We've got to continue to make his bat better, but he's another kid that works hard," Owen said. "We hope, No. 1, that he's healthy this year and we're looking forward again to him having a good year."
Major League-ready: Mike Gerber, OF
The 25-year-old Gerber made a huge leap forward, beginning the season in Lakeland before getting promoted twice and finishing the year with Triple-A Toledo. The 15th-round pick in 2014 lasted only five games with the Flying Tigers, spending most of the season in Erie.
"Gerbs is a young man that has really kind of flown under the radar for a little bit," Owen said. "But he just quietly goes about his business."
The Nashville native provided a steady complement for Stewart in 92 games with the SeaWolves. He had 47 extra-base hits -- including 13 homers -- and 39 RBIs in Erie. He went 7-for-17 (.412) with a homer and two doubles in his four-game stint with the Mud Hens to amass a combined slash line of .304/.373/.496.
"He's mostly a gap-to-gap-type hitter, but he can run one out of the ballpark on you too," Owen said. "He's kind of got some sneaky power. We just really think he's going to be a nice part of our club."
Gerber has shown ability to play all three outfield positions, but the lion's share of his experience has come in center or right. In his fourth Grapefruit League go-round this spring, the Creighton product batted .350 (7-for-20) with a homer and three doubles in 15 games before being reassigned to Triple-A on March 13.


Breakout prospect: Alex Faedo, RHP
Similar to the caution the Tigers displayed in handling Manning, Faedo didn't make his professional debut after getting drafted last June. The 6-foot-5, 220-pound right-hander threw 123 2/3 innings in his junior season at the University of Florida before getting selected at No. 18 overall.
"We shut him down last year just [because] he had a lot of innings, just to be careful with his arm," Owen said.
Detroit's third-ranked prospect signed with the club for a $3.5 million bonus after putting together a 9-2 season with the College World Series-champion Gators. He struck out 157 batters and pitched to a 2.26 ERA over that span.
Faedo made his professional debut with one Grapefruit League inning this spring, allowing an inside-the-park homer and notching his first strikeout.
"We've seen him a little bit in Spring Training so far and it is exactly what it is, it's Spring Training," Owen said. "He's still working into his rhythm, working into his pitches and getting stretched out.
"But another guy … you expect him, in the future, to be a guy that plugs into your starting rotation in Detroit. We sure hope so and again we look forward to getting Alex out and getting some experience under his belt as a pro and just see how it goes."
More to keep an eye on: The Tigers will be adding the No. 1 overall Draft pick into the mix this season because of that difficult season, but some players acquired through trades stand out in a system with four Top-100 prospects. Detroit's top prospect Franklin Perez joined the organization with Jake Rogers and outfielder Daz Cameron in the deal that sent Justin Verlander to Houston. The right-hander Perez will miss three months to start the season with a strained lat muscle, but will likely earn an opportunity to crack the Major League rotation later this year. Rogers, a defense-first backstop, projects to join Cameron in Erie. Infielder Dawel Lugo, who came to the Tigers in the J.D. Martinez deal, batted .277 with 13 homers in Double-A last season.
2018 organization predictions:
Most home runs: Stewart
Most stolen bases: Hill
Most strikeouts: Beau Burrows
Current prospect to get most Major League playing time: Perez
Non-Top 100 prospect to end 2018 in the Top 100: Kyle Funkhouser/Stewart
Gerard Gilberto is a contributor to MiLB.com. Follow and interact with him on Twitter, @GerardGilberto4.