Rodriguez hits for cycle, adds extra homer
Mud Hens third baseman goes 5-for-6 with 14 total bases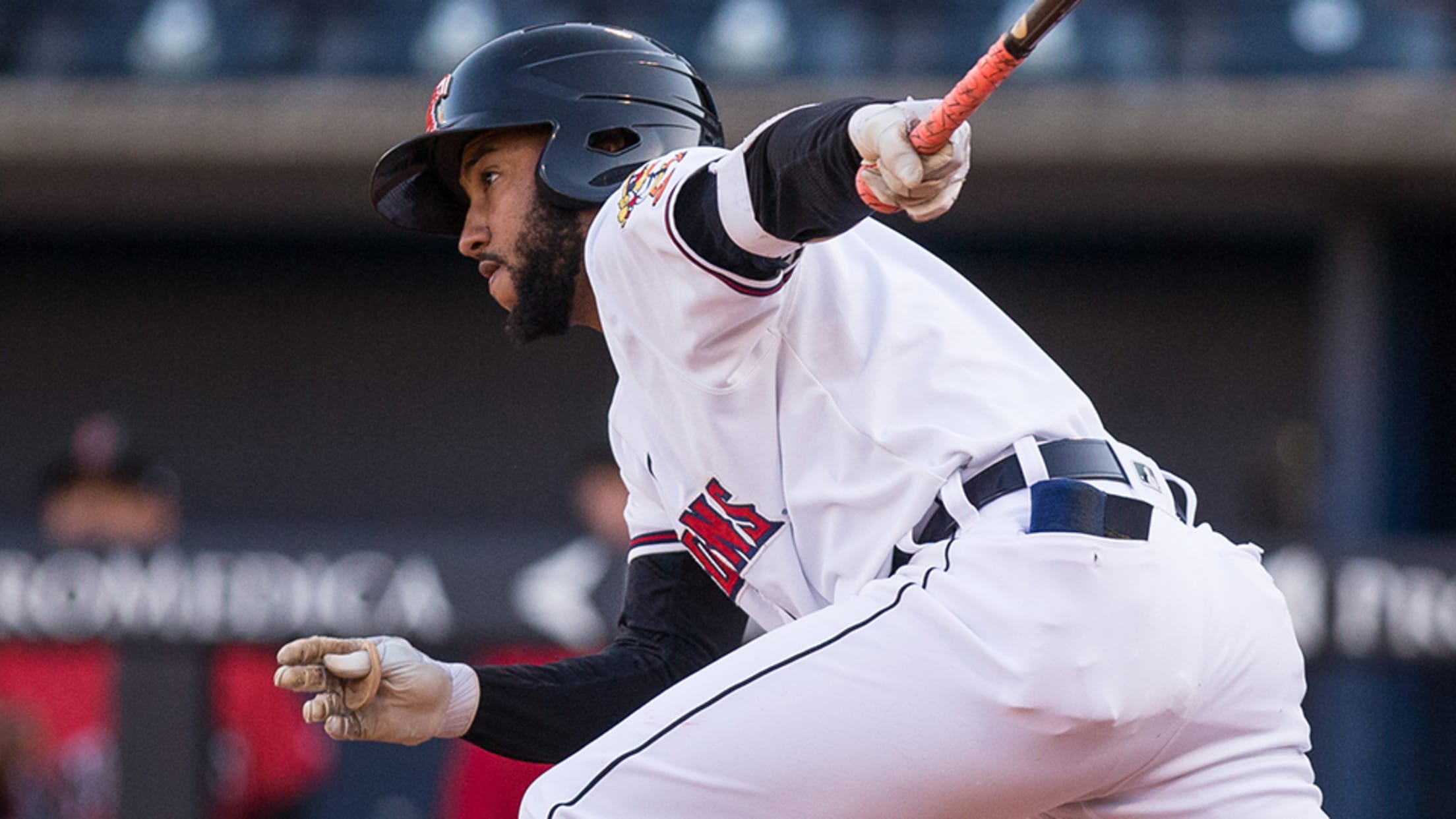 Ronny Rodriguez tied a career high with five hits against Triple-A Syracuse on Wednesday. (Toledo Mud Hens)
With a 10:30 a.m. first pitch scheduled for Wednesday, Triple-A Toledo manager Doug Mientkiewicz and his hitting coach, Brian Harper, huddled before Tuesday night's game against Syracuse -- an eventual 10-2 loss -- to decide who should have the evening off in anticipation of the quick turnaround. The brain trust decided
With a 10:30 a.m. first pitch scheduled for Wednesday, Triple-A Toledo manager Doug Mientkiewicz and his hitting coach, Brian Harper, huddled before Tuesday night's game against Syracuse -- an eventual 10-2 loss -- to decide who should have the evening off in anticipation of the quick turnaround.
The brain trust decided that Ronny Rodríguez, who'd played in 47 of the Mud Hens' 50 games this season, deserved a breather. The choice paid dividends Wednesday in his 48th game of the year, a 12-7 victory over Syracuse at NBT Bank Stadium, where the 26-year-old hit for the cycle, adding an extra homer to finish with five hits, five RBIs and four runs scored.
"He's really kind of the guy who makes our team click," Harper said.
"He's a fun guy to coach because he loves to play the game," the hitting coach added. "He's very aggressive with the bat. He's been on fire lately."
Rodriguez led off the game against Chiefs starter César Vargas by doubling to left on a 1-2 pitch. With one out, the Dominican Republic native tried to tag from third for the game's first run, but was thrown out at the plate to end the first inning.
Gameday box score
Leading off the third, Rodriguez deposited Vargas' first pitch of the frame over the left-field wall for his seventh homer of the season. In the fourth, Harold Castro led off with a single and Rodriguez went to the opposite field for a two-run homer, again jumping all over the first offering of the at-bat from Vargas.
"Ronny's just an aggressive kid," Harper said. "He plays defense aggressive. He runs the bases aggressive. He swings the bat aggressive. That's just his personality. He gives off a lot of energy, which is contagious for the team. He really has fun playing baseball and it's fun to watch."
Facing Syracuse right-hander Phillips Valdez with one out in the sixth, Rodriguez found himself in an 0-2 count. He scorched a ball to to shortstop, where Bengie González made a nice diving play to get a glove on it and keep it in the infield, but Rodriguez easily reached first for an infield single. The 6-foot, 170-pound prospect was retired for the only time by a fielder's choice in the eighth.
"The only [ball] that wasn't hit hard was the triple," Harper said.
A Mud Hens rally in the ninth brought Rodriguez to the plate one more time with a chance to complete the cycle. With two runners on base, Rodriguez skied a popup to shallow right field. The ball deflected off Syracuse second baseman Jacob Wilson, who made a lunging attempt at the ball after lost the ball in the sun, and ricocheted away from the fielders toward the bullpen down the first-base line, giving the runners opportunities to score and allowing Rodriguez to slide into third on a close play and complete the first cycle of his career.
"You saw him slide into third and get called safe and we're going 'Wait a second, he's got the cycle. That's right!'" Harper recalled. "Everybody got excited after that.
"He's one of those players who always hustles and plays hard. Most guys probably would have just gotten a double on that."
The performance raised Rodriguez's batting average to .318 with eight homers and 35 RBIs. He's never hit higher than .291 in the Minors and his current home run pace will challenge his career high of 19, which he set with Class A Advanced Carolina in 2012.
The 2017 MiLB.com Organizational All-Star elected free agency after last season and signed a Minor League deal with Detroit in December with an invitation to Spring Training, where he went 11-for-37 with three doubles and three RBIs.
Between Rordriguez's ability to play almost every position in the field and what he brings to the lineup, Harper couldn't be happier with the acquisition. The hitting coach said Rodriguez's demeanor on and off the field reminds him of his former Minnesota Twins teammate Kirby Puckett.
"Even though he's been playing for six, seven years, he's still only 25 years old," Harper said. "It's not like he's a 30-year-old veteran or anything like that. I think he got stuck in Cleveland, where they've obviously had a pretty good team the last couple years. It probably wasn't as good a fit for him. I think with us, it's a pretty good fit. Hopefully, good things will happen for him. I know we like him in our lineup, put it that way. ... He just exudes energy."
Wilson racked up four hits, including a two-run homer, and four RBIs -- coming a triple shy of the cycle -- for Syracuse.
Chris Bumbaca is a contributor for MiLB.com based in New York. Follow him on Twitter @BOOMbaca.