Hall, Katz unhittable but Shorebirds lose
Orioles No. 4 prospect fans seven as Delmarva takes bid to 10th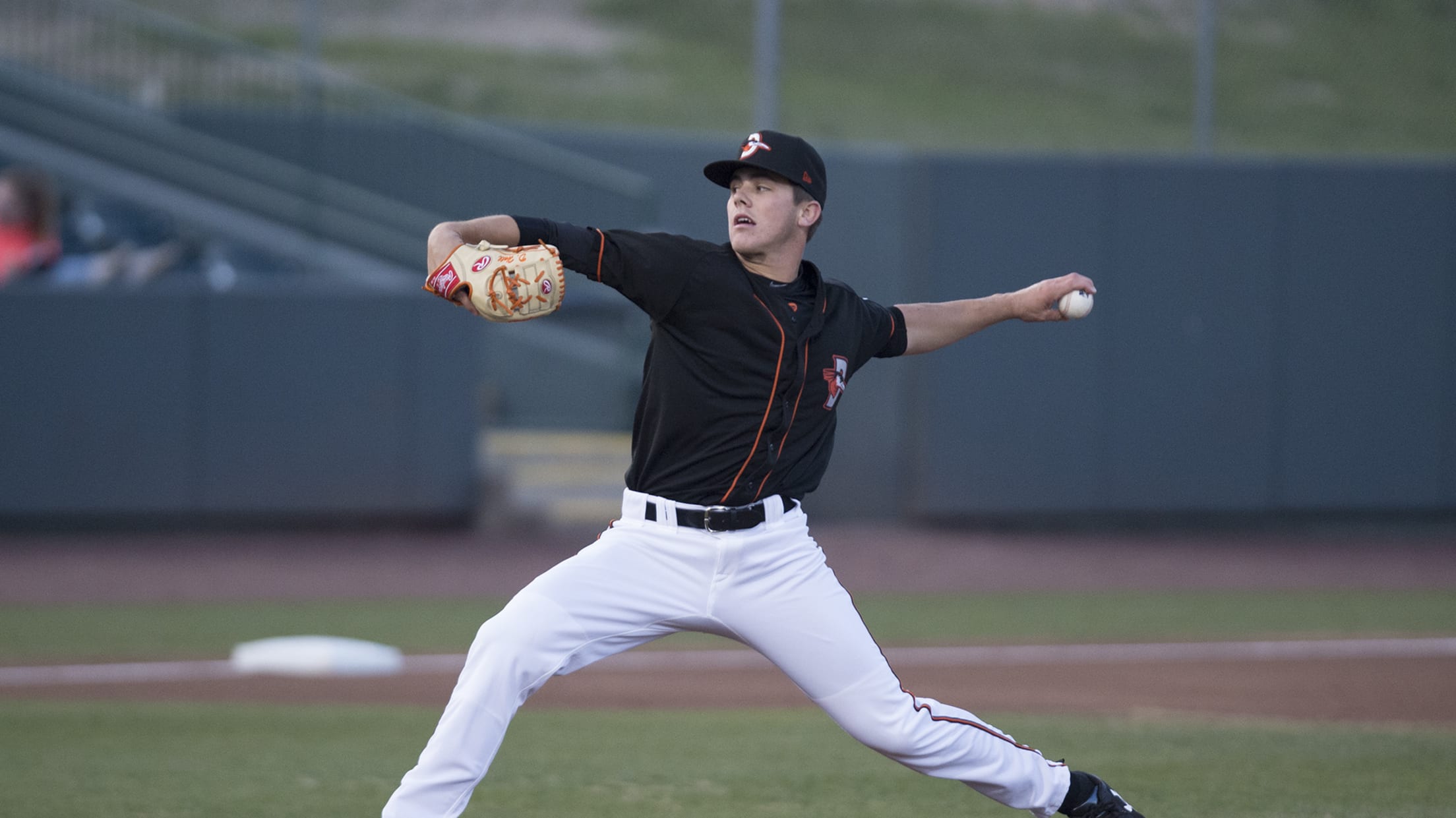 DL Hall has amassed 49 strikeouts over 54 1/3 innings in the South Atlantic League this season. (Joey Gardner/MiLB.com)
Just breathe.DL Hall and Class A Shorebirds pitching coach Justin Lord made a minor addition to Hall's routine. He made the adjustment for the first time Thursday and it resulted in the best outing of his career.Baltimore's No. 4 prospect tossed 5 2/3 hitless frames with a pair of walks
Just breathe.
DL Hall and Class A Shorebirds pitching coach Justin Lord made a minor addition to Hall's routine. He made the adjustment for the first time Thursday and it resulted in the best outing of his career.
Baltimore's No. 4 prospect tossed 5 2/3 hitless frames with a pair of walks and a career-best seven punchouts and Alex Katz didn't allow a hit over 3 1/3 innings, but Class A Delmarva fell to Hagerstown, 1-0, in the 10th at Arthur W. Perdue Stadium.
Gameday box score
"We've been working on implementing a new pre-pitch routine, and it's just to take a small, quick breath before every pitch to help lock me back in," Hall said. "I've been working on it for some time, but used it for the first time tonight, and it really helped me keep focus through every single pitch. Especially if I was missing with some pitches, it made me realize I needed to reset."
Hall has not allowed a run over his last 9 2/3 innings, lowering his ERA from 3.43 to 2.82 over that span. The 19-year-old southpaw has not taken a loss in his last three outings. On Thursday, he sat down the side in order in the first, third and fifth frames while throwing 57 of his season-high 97 pitches for strikes.
"I think the biggest thing for me was just being focused on hitting the glove," he said. "Instead of trying to overpitch, I was just throwing to the glove and trusting my stuff. I had great command of my fastball and my slider was really working well against lefties and there were good plays behind me all night. I tried to keep the no-no going for as long as I could. It was exciting."
Hall retired nine of the first 10 batters he faced, and the only person to get on base over that stretch was Jake Scudder, who reached on a throwing error by third baseman Branden Becker to lead off the second. After hitting Washington's 20th-ranked prospectCole Freeman to start the fourth, Hall sat down the next six hitters -- three via strikeout.
The 21st overall pick in last year's Draft walked Nationals No. 27 prospect Armond Upshaw on six pitches to begin the sixth. He fielded a bunt by sixth-ranked Yasel Antuna and fired to second for the forceout and induced Freeman to fly out to left on a 3-2 pitch after that.
"I knew the batter was gonna try to get him over and the bunt came right to me, so when I fielded it, I just turned and threw it to second with everything I had without sliding my feet," he said. "Luckily I put it in the right spot. It was all instinct."
After Hall issued a walk to Gage Canning, he was lifted for Katz.
"I didn't really think too much about [the no-hitter] until I went out there for the sixth, but I try not to give up any hits every time I go out there," he said. "When I headed out there for the sixth was the moment it really sunk in, and I had a feeling it would be my last inning because I never threw that many pitches. So I just tried to leave it all out there."
Katz maintained the no-hit bid through the ninth and finished with four punchouts. The left-hander retired the final nine hitters he faced.
"I knew exactly what the situation was, but I always try to pitch my game no matter the situation," Katz said. "I felt great in my pregame and I was able to carry that over. My fastball was down in the zone, I had good sink, lots of ground-ball outs and I picked up strikeouts on my slider.
"DL is a lefty as well, so I watched how he attacked throughout the game and I also talked to him [after the sixth] about what he did and got a little scouting report from him. That definitely helped me with how I attacked those hitters."
Washington's No. 19 prospect Tomas Alastre yielded one hit and a pair of walks while fanning six over six frames for Hagerstown. It marked the right-hander's second scoreless outing of the season. On May 7, he scattered six hits and two walks with six strikeouts over six innings against Kannapolis.
"We've got such a great offense, I just kept waiting for that one inning where they were going to break loose," Hall said. "They'll come out and score 15 tomorrow."
The Suns pushed their run across in the 10th after a leadoff single by Alex Dunlap moved automatic runner Branden Boggetto to third and a wild pitch by lefty Ryan Wilson (0-1) brought Boggetto home.
Rob Terranova is a contributor to MiLB.com. Follow him on Twitter @RobTnova24.