White, Hermeling toss Quakes' first no-no
Dodgers right-handers shut down Ports in seven-inning game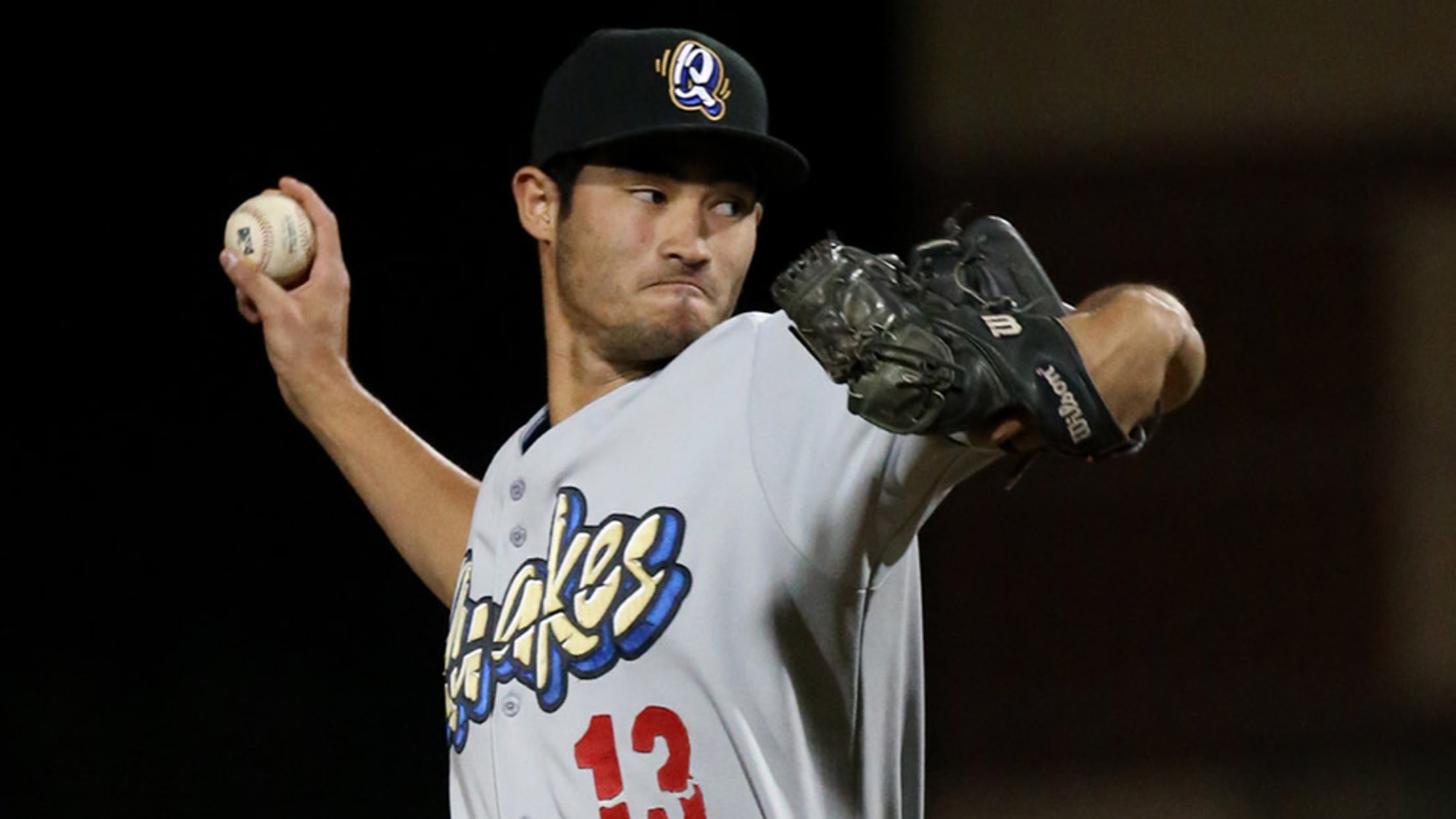 Mitchell White has yet to yield a run over 26 innings since he was drafted last year. (Larry Goren/Four Seam Images)
After the day and night Mitch White and Alex Hermeling had, they'd be the first ones to tell you to not put too much stock in any one game, no matter the outcome.Coming off the first game of a doubleheader that saw Class A Advanced Rancho Cucamonga two outs away from
After the day and night Mitch White and Alex Hermeling had, they'd be the first ones to tell you to not put too much stock in any one game, no matter the outcome.
Coming off the first game of a doubleheader that saw Class A Advanced Rancho Cucamonga two outs away from being on the wrong end of a perfect game, White -- the Dodgers' No. 11 prospect -- and Hermeling combined on a seven-inning no-hitter in the nightcap as the Quakes beat Stockton, 4-0.
It was the first no-hitter of any kind in Rancho Cucamonga's 25-year history.
Box score
"In a nutshell, that's the game of baseball," Hermeling said. "One game does not mean anything for the next. We just got back in the locker room and regrouped a little. The guys here are so mature. They are good baseball players and they know what's in the past is in the past."
"It was quite a swing," White added. "I knew what I needed to do, which is to get ahead and attack those guys and put them on their back foot."
White opened the game with back-to-back strikeouts before adding three punchouts over the next three frames.
"I thought I was pretty solid to both sides of the plate," he said. "I felt pretty good going out there early, but I wasn't trying to make too much out of it. I just kept staying level for the most part."
Command slipped away from the 22-year-old right-hander in the fourth as he issued all three of his walks.
"It was just a lack of focus," White said. "I got lax a little and started rushing some stuff in my delivery. It kind of took some high-leverage situations to get the adrenaline back and kick-start what I needed to do and get back on track."
A double play helped White stay out of trouble, and Hermeling handled the rest of the historic game.
"I truly had no idea going into the game," the 24-year-old right-hander said of the no-hit bid. "But I did happen to look up at the scoreboard in between the sixth and seventh and got the blood rushing a little."
Hermeling threw 19 of 26 pitches for strikes to finish up and fielded the final out himself after Brett Siddall hit a comebacker.
"It was actually really slow, horrible footwork by me," the Illinois native said. "It was everything but the right way for a pitcher to field a ground ball. It got the job done though."
California League no-hitters
The no-hitter was a first for Hermeling, but he knew to not get too worked up.
"It's definitely a cool moment to be a part of, but at the end of the day, it's still just game two of a 140-game season. We are going to wake up tomorrow and come back at it again," he said.
Ibandel Isabel provided all of the Quakes' offense with a pair of two-run home runs, while Garrett Kennedy chipped in two hits.
In the opener, Stockton's Brett Graves set down all 12 batters he faced, striking out five. Joey Wagman came on in the fifth and kept the Ports perfect into the seventh inning. After retiring Dodgers No. 19 prospect Drew Jackson and No. 12 prospect Omar Estevez, Wagman gave up a single to 20th-ranked prospect D.J. Peters, then got Isabel to ground out to end a 2-0 win.
Michael Peng is a contributor to MiLB.com. Follow him on Twitter @MichaelXPeng.