Cinnella threw no-hitters for first two wins
Orioles righty launched career with 1-0, 4-0 NYPL feats in 1986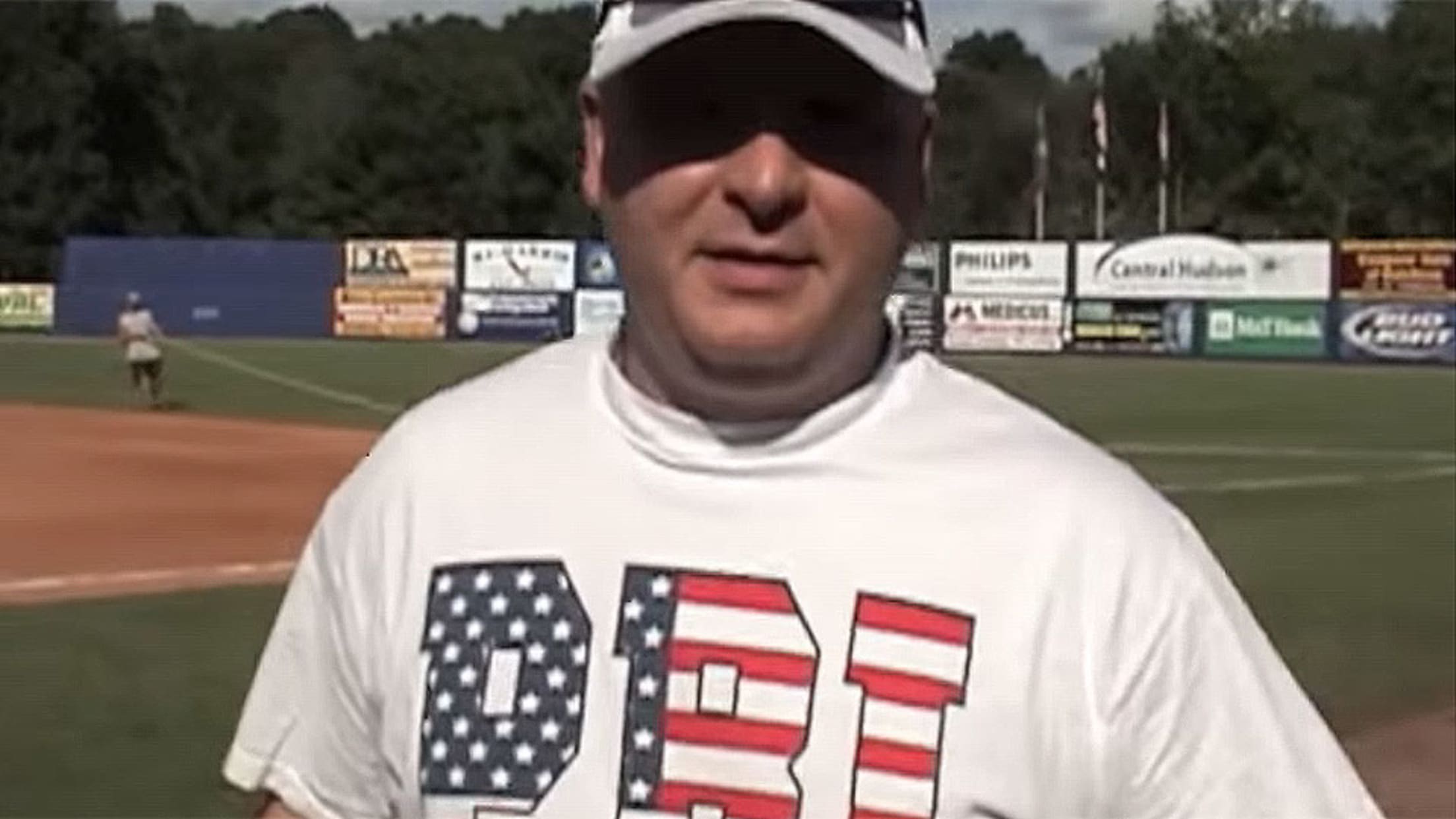 Doug Cinnella made history with no-hitters for the Newark Orioles, who later became the Hudson Valley Renegades.
Minor League Baseball is known for its rich history dating back more than 100 years. While much has been written about the best teams and top players who have graced the Minors, there remain many stories either untold or largely forgotten. Each week, MiLB.com will attempt to fill that gap
Minor League Baseball is known for its rich history dating back more than 100 years. While much has been written about the best teams and top players who have graced the Minors, there remain many stories either untold or largely forgotten. Each week, MiLB.com will attempt to fill that gap and explore these historical oddities in our new feature, "Cracked Bats."
The glass case that sits just inside the entrance of the Professional Baseball Instruction offices in northern New Jersey is stocked with memorabilia. Fans and clients who file through are treated to a smorgasbord of delights, including autographed items from Barry Bonds, Pete Rose, Phil Rizzuto and John Smoltz.
Closer inspection reveals an unprepossessing scrap of paper, and its story is as entertaining and enthralling as that of any of the other items in the case.
The paper is a 20-year-old telegram, a congratulatory note to Doug Cinnella, praising the former Baltimore farmhand for tossing a no-hitter for the Newark Orioles against the Oneonta Yankees in a New York-Penn League game. That feat might have been largely forgotten by now had it not been for events surrounding that game and what would follow in the days to come.
Incredibly, the gem was the first victory of Cinnella's professional career, which had begun just a month earlier after the right-hander was drafted by Baltimore in the fourth round out of Seton Hall University. But, as if tossing a no-no for his first career victory weren't enough, Cinnella followed the performance up 10 days later by throwing another no-hitter, this one against the Auburn Astros, for his second career win.
Cinnella is the only pitcher in the 68-year history of the New York-Penn League to toss two no-hitters in one season. During a nearly decade-long career, he never reached the heights one might have expected after witnessing that 10-day stretch in 1986. But Cinnella remains among the New-York Penn's most celebrated players ever, and his accomplishments for the Newark Orioles are still talked about today.
"After the first no-hitter, I got the telegram from Hank Peters, who was Baltimore's vice president of player personnel," Cinnella said. "It says that no-hitters are always special but against the Yankees, it's something else. The fans in Baltimore don't mind if we finish second as long as we beat the Yankees."
While Cinnella's laughs as he recalls the story of the telegram, there's nothing funny about the way the hard-throwing right-hander dominated during his first few weeks as a professional in 1986. While the baseball world was busy focusing on what was happening downstate with the Mets, Cinnella was busy making a small town on the shores of Lake Ontario just as exciting.
He tossed that first no-no against Oneonta on July 23, topping the league-leading Yankees, 1-0. Cinnella had no such luck in the next game, dropping a decision to the St. Catharine's Blue Jays, a contest in which he allowed eight runs. But he rebounded in his subsequent outing, no-hitting Auburn on Aug. 3 in a 3-0 win to pick up his second and final victory of the season.
"The game in-between the first and second one, I wasn't focused," Cinnella said. "I wasn't prepared for the game after the first no-hitter. Then I pitched another [no-hitter], and said, 'I'm not going to make the same mistake twice.' I was able to maintain focus in that fourth game, and I didn't give up a hit until the fourth or fifth inning, and that was on a questionable call."
What made the second no-hitter even more special was the fact that his parents were in attendance -- they were there celebrating his birthday -- as was Tom Giordano, Baltimore's executive director of player development.
"My main pitches were a four-seamer and a two-seam sinker and slider, and I threw a change-up on occasion," Cinnella said. "About the fifth inning of the second no-hit game, I threw a change-up to Ed Whited, whom I had played against when he was at Rider [College]. He hit the ball to left field and I'm thinking, 'There goes the no-hitter,' but Walt Harris made a pretty extraordinary catch.
"I settled in after that. In the simplest terms, I was thinking, 'Let's not lose a no-hitter on your third-best pitch.' So I just kept throwing my best stuff."
And his best stuff was good enough to make NY-P League history. While other pitchers have made their mark on the short-season circuit, none made the immediate splash that Cinnella did. Alas, while he pitched well enough, he would not post another "W" through the remainder of the year, let alone throw a no-hitter.
Still, Cinnella's final record of 2-6 with a 2.70 ERA was impressive enough for him to win New York-Penn League Most Valuable Player honors. While he didn't begin pestering Peters or the rest of the Orioles front office for a promotion -- Who could have blamed him? -- he did mention in one of the many stories written about him that he could lead Baltimore's youth movement much like Jose Canseco was doing in Oakland and Dwight Gooden was doing with the Mets.
The Paramus, N.J., native -- he grew up less than an hour away from Shea and Yankee Stadiums -- said he wasn't cocky enough and didn't have the wherewithal to tout himself. He had only been a pro for a month, and he admits he wasn't comfortable with the idea of making demands.
Cinnella came close to tossing a third career no-hitter in 1988 while pitching for West Palm Beach in the Florida State League, losing the bid with two outs in the ninth inning on a dribbler in front of home plate. By that point, he had been dealt to the Expos and was looking to make an impression on his new organization.
"The first no-hitter was a 1-0 game, so I couldn't let them score. And even though the second one was 4-0, we were playing the division leaders," Cinnella said. "That game in West Palm Beach, we were winning 12-0, and I walked the first two guys in the ninth inning. Felipe Alou was the manager, and he came out to the mound and calmed me down, just telling me to throw the ball. I got the next two outs, but then they got the hit and I had a one-hit shutout."
While Cinnella wasn't able to make his mark with Montreal -- he asked for and was granted his release in the spring of 1990 -- he did pitch well enough to continue playing for four more seasons in the Mets' system, reaching Triple-A Norfolk before calling it a career.
Cinnella was back in baseball in the spring of 1995 as a replacement player during the labor disagreement. But when the players settled, he once again found himself on the outside. Still, he made history one more time, taking the Yankees to court over money he asserted was owed him per the contract they'd signed. He was the first player to engage in such a suit and eventually settled out of court, reaching a confidential agreement with the club.
That, however, is just a minor footnote to what was a productive career. Cinnella's history-making effort is still part of New York-Penn League lore. And the fans and clients who enter his baseball instruction academy -- where the likes of Leo Mazzone and Sam Perlozzo have served as guest instructors -- are treated to as entertaining a tale as Minor League Baseball has to offer.
"It's something that's always there with you," Cinnella said. "It's like going home to your mom and dad's house. It's something that I accomplished that no one else has. I was pretty comfortable with how my baseball career went. I was never bitter, and I've been able to keep that chip off my shoulder that a lot of players who never made it have. It's something that makes me feel pretty good about myself."
Cinnella's effort wasn't quite Johnny Vander Meer, but it was close enough -- certainly impressive enough to captivate the baseball world two decades ago.
Kevin Czerwinski is a reporter for MLB.com