Hogestyn recalls his younger 'Days'
Injury ended daytime drama icon's first career as Minor Leaguer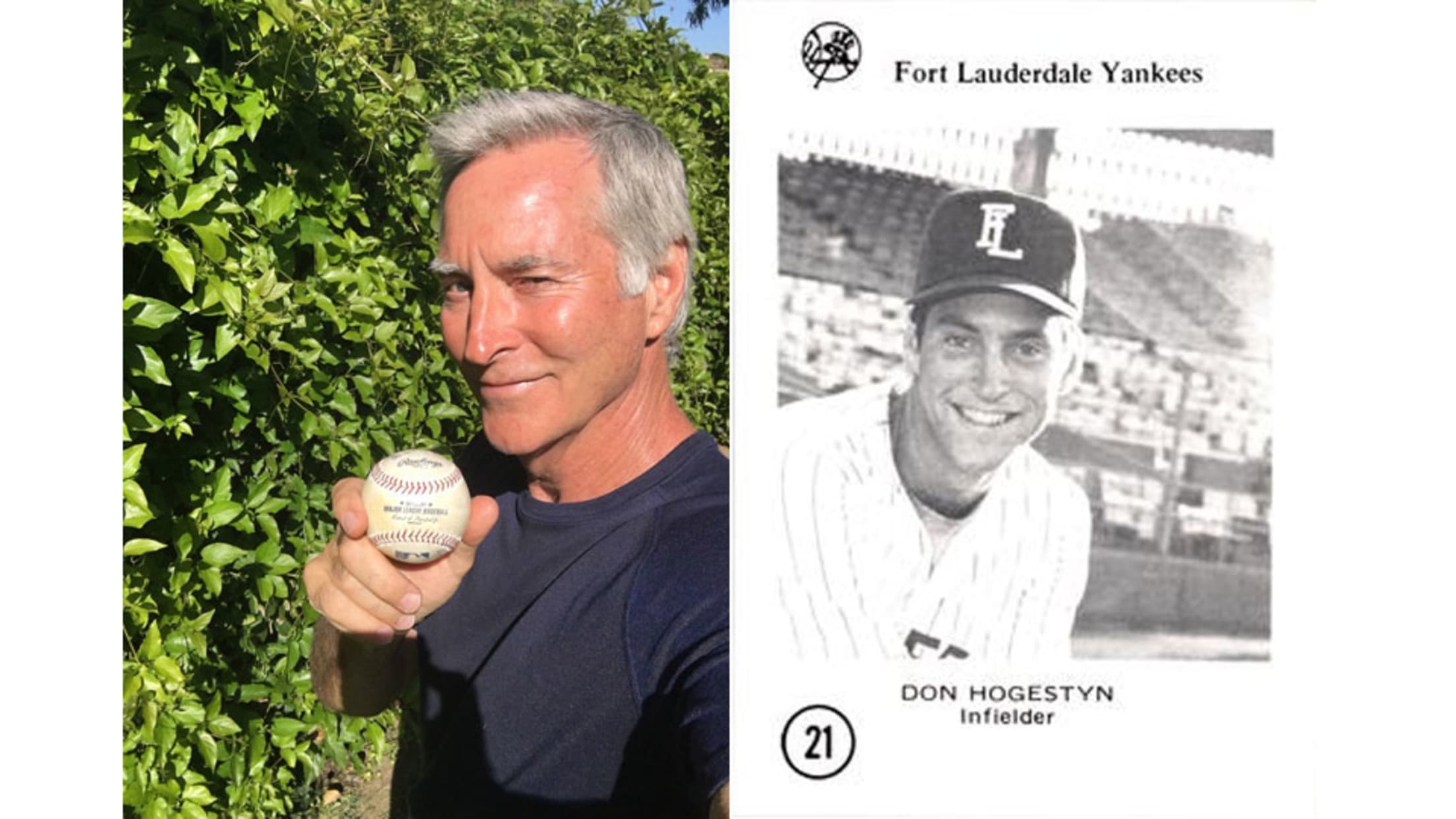 Known as Don Hogestyn during his playing years, former Yankees prospect Drake Hogestyn went on to become a soap opera legend.
For 20 years, Drake Hogestyn has lived out the many lives and loves of John Black on "Days of Our Lives." The character's tumultuous antics began as the show's version of the amnesiac title character in "The Bourne Identity" and ended up a mainstay on NBC's long-running daytime drama.Hogestyn's own
For 20 years, Drake Hogestyn has lived out the many lives and loves of John Black on "Days of Our Lives." The character's tumultuous antics began as the show's version of the amnesiac title character in "The Bourne Identity" and ended up a mainstay on NBC's long-running daytime drama.
Hogestyn's own life also has been subject to sharp turns, fluke timing and a star-crossed romance. He lived his dream of being a professional baseball player for his favorite team, if just in the Minor Leagues. For a couple years, Don "Hogey" Hogestyn, 52, toiled for low-level farm clubs for the New York Yankees.
When he became an actor, his middle name, Drake, became his moniker. But the memories of his baseball career still resonate, and he credits his lessons learned on the field for his later success off of it.
"I make analogies to baseball every day on the set of 'Days of Our Lives,'" Hogestyn said. "It goes hand and hand with life. You have to focus, and be able to block out things when it is most important. You have to meet the challenge of it all. It's the preparation before the game. When you walk out on the set, you've got to have your game face on. It's all an extension of baseball."
Hogestyn's first break came during a winter break baseball camp while he was at Broward Junior College. At that time, baseball players were not drafted out of four-year schools, and Broward was situated in Fort Lauderdale, Florida, the Spring Training home of his beloved Yankees.
"We were waiting for the college scouts to show up," he said. "For the first week and a half, we didn't really see anyone. Then on New Year's Day, they gave us the option of playing baseball or going to the beach. More than half went to the beach. That's when the scouts came."
With fewer participants in camp, the scouts put all of those remaining through individual workouts, testing their five tools -- speed, hitting, hitting with power, fielding and throwing. Harry Hayes, a scout for the St. Louis Cardinals, showed some interest, and Hogestyn was taken in the second round, 35th overall by the Cardinals. "You're totally flipping out. This is what you wanted to do," he said of receiving the dream Draft call.
The interest was great, but the money wasn't. Dick McComb, his coach on a semi-pro team in Indiana, encouraged him to play out his junior college season as a Spring Training of sorts before jumping up to the Cardinals. But that didn't play out right. In the very first game of the season, Hogestyn suffered a bad right knee injury in a collision at home plate. He underwent a then-fledgling arthroscopic surgery procedure that sidelined him for two months. He returned enough to make a regional All-Star team, but he wasn't 100 percent. "The Cardinals said see ya later, which basically broke my heart," he said.
After representing the United States in South America, he moved on to the University of South Florida, then an independent school that still managed to boast an impressive array of national talent. It also was located in the same city as Yankees owner George Steinbrenner's business interests. At the time Hogestyn's major was pre-dental, but he also had a bead on medical school.
Coached by famed former University of Maine skipper Jack Butterfield, Hogestyn remembers the Bulls as a renegade team. Also aboard was Chris Welsh, the longtime color commentator for the Cincinnati Reds. "We played hard and partied hard," Hogestyn said. "Me and Chris were the only ones who went to college to study."
Right off the bat, Welsh knew there was something different about the guy he calls "Hogey."
"He jumped out of his blue convertible Camaro with the Eagles' 'Desperado' on full blast," Welsh remembered. "The rest of us were wearing cutoff jeans and Budweiser caps. We were a ragtag group of players. And here he comes in his matching Arizona State gear with his shirt, shorts, shoes, wrist bands and swoosh shoes long before anyone ever heard of (Nike). Everyone looked at him like he was crazy. He didn't care."
That translated to his play as well, Welsh added. "He would punch his glove at third like he was getting ready for a pitch and he would yell out to the plate, 'I got your career right here, Meat.' It was so out there that the guy would come out of the box and say, 'What are you talking about?' And he had a special way of whistling. We almost came up with our own language. If there was a pretty girl, he could say what he wanted to without embarrassing himself or her."
South Florida boasted some fierce rivalries with other state schools, and scouts came out to see the battles with Miami or Florida. Among those in the lineup were Rick Stenholm, Garry Smith, team captain Hogestyn and Welch. All four of them eventually were drafted by the Yankees -- Hogestyn in the final round, 581th overall -- and Steinbrenner even spoke at the school's awards ceremony -- although he cut out early to catch a Yankees-Red Sox game. "There was a reason we were all drafted by the Yankees," Hogestyn said. "The Yankees were actually watching our team."
So he got another crack at living out his childhood dream when New York scratched out his name to cap the '76 Draft. Hogestyn lost his childhood sweetheart, Victoria, in the process, and wound up in Oneonta, New York. John Black may have lost his memory, but the first day as a pro player never faded for his portrayer.
"The first day of practice, I'm running wind sprints. My heart is racing and there's a small breeze and the sun is burning your eyelids. And I'm just laughing in the outfield," he said. "They were paying me $500 a month to play baseball. I remember it so clearly as if it just happened.
"They gave me Thurman Munson's pants and Bobby Murcer's jersey. And that was a really huge moment. I think the Yankees do it that way on purpose. It gives you a sense of honor, duty and responsibility. It's about taking the talent and matching it up with something more. Can your mental fortitude withstand what it takes to play for that team?"
But Oneonta was a long way from Yankee Stadium. And the Yankees were more invested in top prospect Pat Tabler than final pick Hogestyn. So much so that when the organization decided to convert Tabler to the hot corner, they even tried to use Hogestyn's equipment to do so.
Cue analyst Welsh: "The manager asked Hogey for his glove. Hogey said, 'This is my tool, no one uses my tool but me.' He saw the writing on the wall. It cracked me up: 'No one uses my tool.' I've told that story on the air several times."
The Oneonta team left a lot to be desired. "We had a dreadful season," Hogestyn said. "It was an eclectic group. There were high school kids who had never been away from home before. There were Dominicans who had never been away from home before, and they didn't speak very much English."
In one game, Hogestyn recalls his badly slumping team winning in the ninth inning by three runs. They called on lefty reliever Neal "Ralph" Palmer. "Every time he was called in, it would take no longer than a minute for him to start vomiting," Hogestyn laughed. "He would never pitch. This time, he did."
Palmer walked the first guy on four straight pitches. He beaned the second batter and walked the third. Hogestyn went to the mound, begging for him to let the batter hit it. He did, and it was a sky-high pop between first and second. At first base was Casimiro Dorville, whose broken English sounded to Hogestyn like Scooby Doo saying "I rot it."
Hogestyn expected Dorville to have some trouble with the play -- "He can't catch. I'd hit him in the chest so many times with a ball, he wouldn't even get leather on it." So he sauntered over to try and make the out. Dorville wouldn't have any of it. "He waved his fist at me and shoved the second baseman," Hogestyn said. "The ball landed six feet over his head and everyone was running, so the game was tied and the batter was on third."
But that wasn't the end of it. "Dorville picks the ball up and slams it down by Ralph. It hits the corner of the rubber and shoots out into center and the guy walks home. Cut to us running sprints while the sprinklers are on. It's just one of those Minor League stories you never saw in Little League or in college."
Bats were in short supply in Oneonta. In one game, he shared a bat he had nailed and wood-puttied together with two other players. "We got up and hit back-to-back-to-back home runs," Hogestyn said. "That goes back to like schoolyard days. That's a good memory. I have that bat."
Of course, practical joking was also in order, especially for players who refused to use their own toiletries. "We took a hair dryer apart, filled it with talcum powder and then when someone used it, he would get covered. Then we'd put an 'atomic bomb' in the end of the toothpaste and we'd be like 'Oh yeah, go ahead and use that'. Then, squirting liniment into jock straps ... and then when they're out there sweating and scratching during a hot game. ... It bonds you together as teammates."
And then talk about the highs and lows, the Bicentennial game between the Oneonta Yankees and the rival Red Sox in Elmira, New York, sported both. Hogestyn's family, including his father who was supposed to be away on business in Germany, showed up in the stands as he stepped in the batter's box with bases loaded.
"The next pitch, he brings some heat, and I take it off the handle," Hogestyn said. "It looks like it'll land somewhere between second base and center field. But then (the center fielder) starts to back pedal and back pedal and then he starts to run. The ball goes 450 feet. You know when you hit one and when you don't. This was a lazy popup. I didn't get anything and my hands were on fire."
The fact that his father was taking pictures of the feat without any film in the camera proved to be the least of his worries. Just as he gets on the team bus, Hogestyn was handed an article from the Fort Wayne newspaper. It was a wedding announcement for his former flame, Victoria. "It's the penthouse to the outhouse in two seconds," he said.
In 39 games, Hogestyn hit .305, scoring 24 runs and driving in 23. He got 40 hits, including nine doubles, three triples and two home runs. This led to a callup to Class A Fort Lauderdale. It was a completely different world, but one that Hogestyn was familiar with and comfortable in. Texas Rangers manager Buck Showalter was a teammate. "The field was pristine (because the Yankees used it in spring)," he said. "There was no reason to make an error."
But after a quick start, Hogestyn again fell victim to the injury bug when he chipped his right heel on a pier cement block at the beach. He's had two joint replacement surgeries on it since.
"You try to play with a heel wrapped up and with all kinds of stuff and none if it is working. It was really trashed. So then you're not able to thrust when you throw. What happens next is your shoulder blows out. And then you can't push off the back foot anymore."
But there was time for some heroics before his career came to an end. Hogestyn got stitched up after taking spikes in his thigh in the first game of a doubleheader, he wound up at bat against future Royal and frequent junior college competitor Craig Eaton in the second game. He cranked a walkoff grand slam off of him.
"I hit that ball so freakin' hard," he said. "I stood there at home plate and I was like 'See ya'. In junior college, I used to say 'I'm taking this one out. I'm dialing 8 to the boneyard.' I hit it to dead center field. It was the farthest I ever hit in my life."
"When you get locked in, it doesn't matter where you throw it. It looks like a beach ball coming in there. The next night, it looks like children's aspirin," Hogestyn added. "I would hit three or four home runs in three or four days, but my mother could be pitching underhanded to me for a week and I couldn't touch her."
Check out Hogestyn's baseball stats, and you'll find a pitching line as well. In two relief appearances, he fanned four and had an 0.00 ERA. He allowed two hits and a walk over those two innings. But after following his 20-game .322 average stint in 1976 was followed by a sub-par .230 season in '77, the Yankees pink-slipped him. Hogestyn understood, but that didn't make it hurt less.
"Those who can keep injury-free and their head together and their weight down, those are the ones who are going to move up," he said. "But when you're a last-round pick and you mix in an injury ... there's no investment there. And I knew that. I knew that the very day when I was lying on the field looking at the sky in Oneonta."
Hogestyn was trying out for an Independent team in Alexandria, Virginia, "with half the Florida State League," when his life changed on a whim. One of the players saw an ad in the paper for the Columbia Pictures National Talent Search. He and his friends got their 8x10 glossy baseball pictures together and light-heartedly sent them in a package to the search with 150-word essays on why they wanted to be movie stars.
The next twist could have been right out of a soap opera plot. While visiting the Smithsonian Institution in Washington, Hogestyn's car was broken into and all his Yankees club gear was stolen. His parents called, Hogestyn had gotten a reply from the talent search. "Maybe things are supposed to happen sometimes," he said.
When he got to Los Angeles, he found out the talent search wasn't exactly on the up-and-up. There were workshops with Dustin Hoffman, Walter Matthau, Sydney Pollack and other top talents, but Columbia had 29 professional actors and actresses they wanted already in tow. And when he got to Los Angeles, he found out they weren't too happy to share their opportunity with a newcomer off the street.
During the workshop in which studios judged the performers on their scenes, Hogestyn made an impression. He didn't have any acting preconceptions and that livened up his scenes. As a result, he was one of five people who got a contract with Columbia. But in true Hollywood fashion, turnover at Columbia made all of that go away. He did talk his way into a scene that earned him a Screen Actors Guild card though.
The switch to acting didn't come as a big surprise to his longtime friend. "We always knew he was destined to do something entertaining," Welsh said. "His stories just come one after another. All the stories that seemed unbelievable are true. Once (in Tampa) we were at a doctor's office. And it was packed. All of a sudden, Hogey jumped up and started telling stories. I knew it was all (exaggerated), but he had 25 or 30 people -- not just five or six -- all enthralled. He has no qualms about getting up in front of people and talking."
It might have been baseball that also landed Hogestyn work in commercials. He was used as a ringer on an industrial league softball team. Another ringer on the squad was Rob Lowe, who enjoyed Hogestyn's "Bull Durham"-esque screenplay "National Pastime" about the craziness of baseball and introduced him to his agent. That led to a year-long stint on "Seven Brides for Seven Brothers" in 1982 and a friendly competition with "Seven Brides" co-star Richard Dean Anderson for a couple shows three years later.
The alleged gem was a highly touted futuristic show called "Generation," which Hogestyn landed. The other was a little project called "MacGyver," which Anderson starred in for eight years. "We still laugh about that," Hogestyn said. "Rick was so [ticked] he didn't get 'Generation.'"
Hogestyn, in turn, was asked to do a three-month stint for sweeps on "Days of Our Lives." In January, he marked two decades with the soap. "I've been through four identity changes, multiple wives and families on the show," Hogestyn said. "The fire still burns for me. I'm still attached to the character and the show."
Welsh, who stays at Hogestyn's condo when he's in town, has experienced his friend's fame first-hand, particularly when he broadcast late NBC games in town and promoed Hogestyn appearances on his telecasts.
"When he hit it big, he was doing all these parties, all these shows like the Daytime Emmys, making guest appearances at malls, county fairs," Welsh said. "Everybody wanted a piece of his time.
"Once we were out somewhere ... and the waitress recognized Drake. Within five minutes, the place is just crawling, mostly with girls. Tim Flannery, the Padres' third base coach at the time, said, 'This is like going out to dinner with Elvis.' We had to go out the back door and hit the road and try to find a place where he's not recognized. But he's the same guy today as he was back then."
Hogestyn's daytime star eventually propelled him to where he once wanted to be most -- Yankee Stadium. He played in a charity game there in 1993, just after he turned 40. Former teammate Showalter managed at the game.
"Andy Pettitte came up to me and said, 'We've heard Hogey stories'," Hogestyn said. "I hit a home run that game. (My former manager said,) 'You never played like that for us.' We're sitting there and laughing and scratching and reminiscing about baseball."
Talking about his baseball days brings up a wealth of memories for Hogestyn, who eventually reunited with and married Victoria. They now sport a family of four -- Rachael, Whitney, Alexandra, and Ben.
"I've seen a lot of natural athletes," he said. "They are so God-gifted and they just [threw] it away. It was really sad to see that. But I was one of the lucky ones for a while. I'll cherish those days forever. They were some of the best days of my life."
Paige Schector is a staff writer for MLB.com.