Meadows caps big night with walk-off blast
Rays newcomer goes yard twice, collects four hits, five RBIs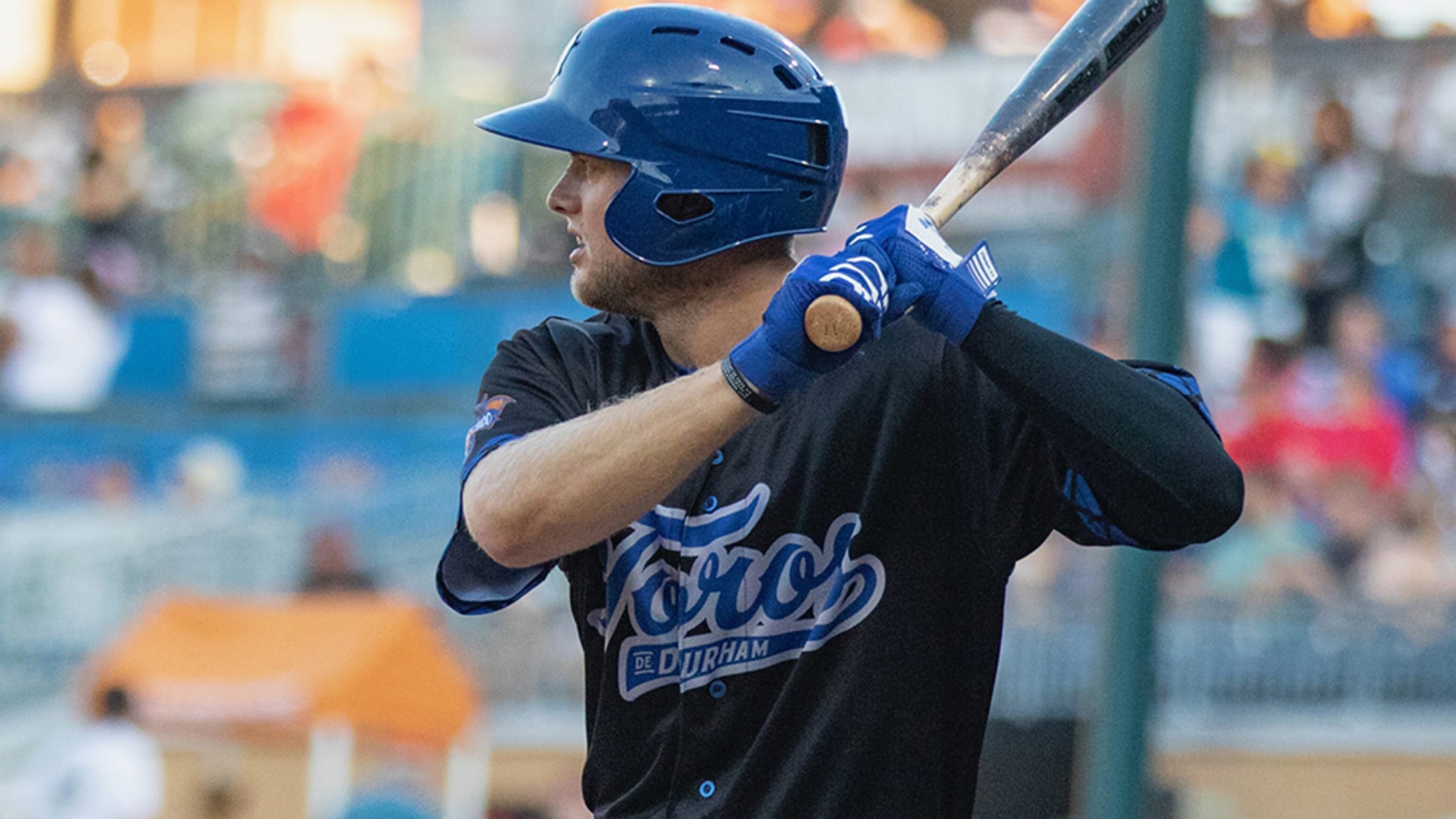 Austin Meadows is hitting .387 with three homers and eight RBIs in nine games since joining Durham. (Durham Bulls)
Austin Meadows was holding in a secret.As soon as he swung at Cale Coshow's 0-2 offering, he knew it was plastered. And when he jogged down the first-base line, he peered at the home dugout, savoring his teammates' gaze at the ball sailing into the night sky while anticipating whether
Austin Meadows was holding in a secret.
As soon as he swung at Cale Coshow's 0-2 offering, he knew it was plastered. And when he jogged down the first-base line, he peered at the home dugout, savoring his teammates' gaze at the ball sailing into the night sky while anticipating whether it would disappear over the fence or fall short into the center fielder's glove.
Watching his counterpart's tense dispositions swiftly flip to jubilation was priceless for Meadows, keen on the impression he just made with his brand new teammates.
The Rays outfielder, who landed with the organization at the Trade Deadline, drilled his second homer of the game in the ninth inning to cap a four-hit, five-RBI night and give Triple-A Durham a 10-9 win over Scranton/Wilkes-Barre on Saturday at Durham Bulls Athletic Park.
"Right when I hit it, I knew I had gotten it," Meadows said. "Being able to round the bases with adrenaline and meet my teammates at home plate, it's definitely a really, really cool feeling -- and it's hard to describe. It would be really cool to have some more of those, for sure."
After the RailRiders scored five runs in the top of the frame, Meadows was looking fastball from Coshow and, with the Bulls down to their final strike, he deposited it into the right-center field stands to plate Micah Johnson, who doubled on the first pitch he saw to lead off the inning.
"I had faced [Coshow] before, and I knew he had a really good fastball and he throws really hard," Meadows said. "For me, knowing that he has that good fastball and I'd be able to react to an off-speed, especially with two strikes, so just be ready for the fastball. I knew he'd try and challenge me.
"For me, it was just staying on the heater and not trying to sit on something different. And I was able to put a good swing on it and it was able to go over."
Gameday box score
Meadows was a part of one of the more high-profile deals at the Trade Deadline, as the 2013 first-round pick was acquired with right-hander Tyler Glasnow and a player to be named from the Pirates for right-hander Chris Archer. The 23-year-old was Pittsburgh's second-ranked prospect before exhausting his eligibility after hitting .292/.327/.468 in 154 big league at-bats this season.
He said he had a feeling he could be included in a deadline deal, especially with the Pirates not-so-secret interest in Archer. But the No. 9 overall Draft pick in 2013 found out in a peculiar way: watching MLB Network in the Pirates' workout room.
"It's almost like you don't really believe it at first," Meadows said. "You're kind of like, 'OK, my name is in there.' And then it gets close to the deadline, you start seeing rumors and tweets on the TV that the Pirates are the top team pursuing Archer and you're like, 'Dang, this is actually going to happen.'
"It's just shocking, it really is. Because you don't really know much about it, you can't read the GM or the front office's minds of what they want to do. And finding out through the TV, it was pretty shocking. I was anxious to see if my name was going to be called or not and if I was going to be traded, and boom, it hits you just like that."
Meadows singled in the opening inning, then walloped a two-run homer in the third on a first-pitch offering from RailRiders starter and Yankees No. 13 prospect, Chance Adams. He also lined a double to left to score Kean Wong in the fourth.
The 23-year-old said he's thrilled to be a part of the Rays organization and eager to join his friend Glasnow, who allowed one run on two hits and struck out nine in his debut with Tampa Bay on Tuesday.
"I know the Rays have a plan in place for me and whenever that time comes, it comes," Meadows said. "I'm excited to meet some new people up there and play with Tyler again as well. We've played a lot together in the Minor Leagues and somewhat in the big leagues. It's an exciting time for both of us, definitely."
Since being traded to the Rays organization, Meadows is batting .387 with three homers and five doubles.
Rob Refsnyder was 2-for-4 with a solo homer against his former team as the Bulls totaled 15 hits.
Ryan McBroom homered, doubled and drove in four runs on a three-hit night, while Mike Ford was 3-for-5 with a pair of doubles and an RBI for Scranton/Wilkes-Barre.
Josh Horton is a contributor to MiLB.com. Follow him on Twitter @joshhorton22