Bulls 'clubbie' Saunders passes away
Clubhouse manager had been with Rays organization for 17 years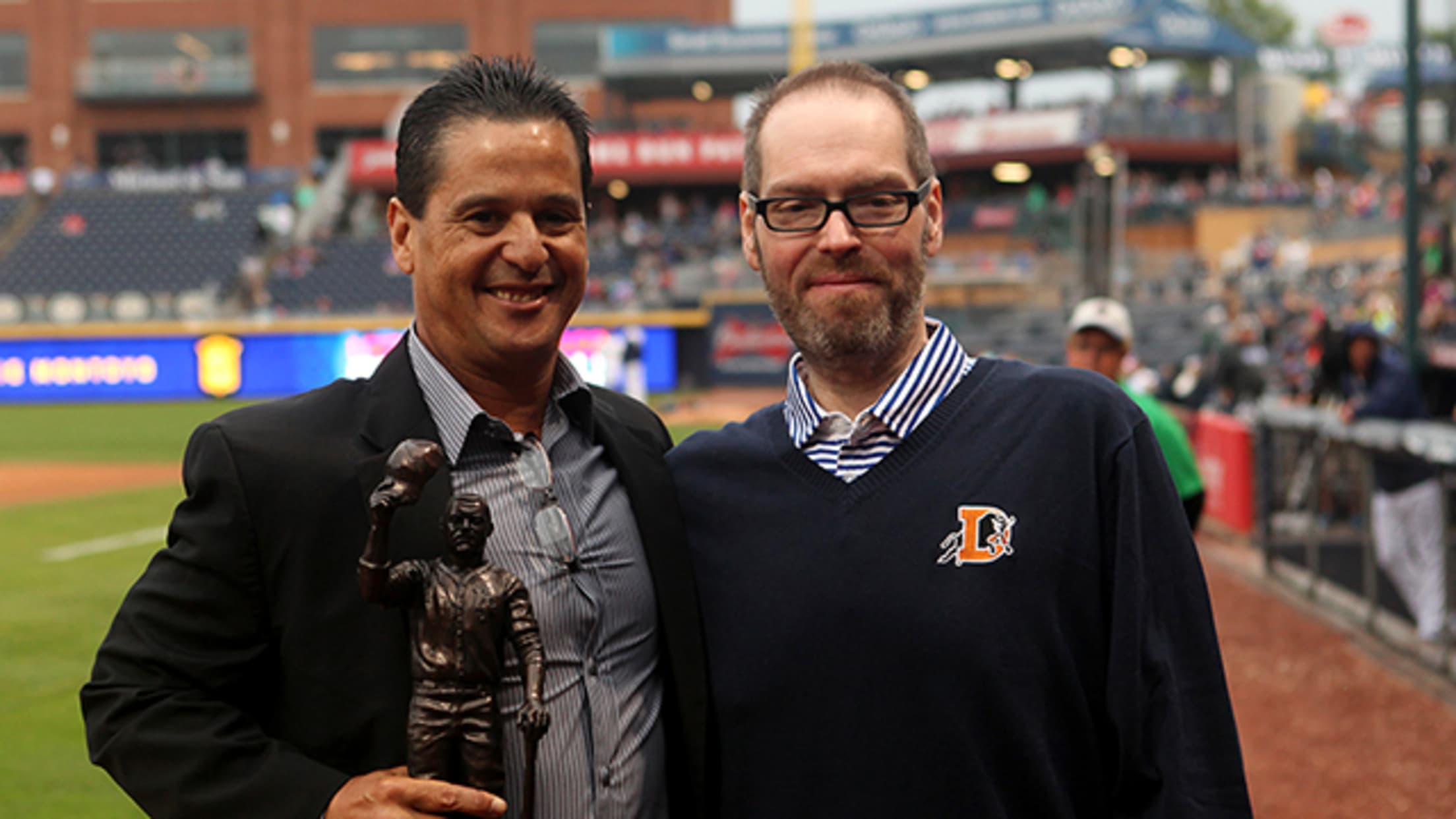 Colin Saunders (right) with former Bulls manager Charlie Montoyo at Durham Bulls Athletic Park last year. (Durham Bulls)
Home clubhouse manager Colin Saunders, one of the longest-tenured members of the Durham Bulls organization, died Sunday from complications from diabetes, the team announced. He was 42."Today is a tough day for our Durham Bulls family," Bulls general manager Mike Birling said in a statement. "Colin was an important part
Home clubhouse manager Colin Saunders, one of the longest-tenured members of the Durham Bulls organization, died Sunday from complications from diabetes, the team announced. He was 42.
"Today is a tough day for our Durham Bulls family," Bulls general manager Mike Birling said in a statement. "Colin was an important part of our front office for 14 years, and many members of our staff have story after story of memorable times they had with him. The [Durham Bulls Athletic Park] won't be the same for many people, from our front office to our coaching staff to our players, knowing we've lost a true friend."
Saunders was admitted to the hospital briefly in January when doctors diagnosed him with diabetes and began to sort through complications from the disease.
"Things seemed to be going fine, but roughly a month ago, things kind of turned for the worse," Birling told MiLB.com Sunday evening. "We still had a lot of hope, but then his kidneys started failing on Thursday, I think it was. It just got worse over the last few days."
Saunders joined the Bulls in 2003, his fourth season in the Rays organization. Throughout his career with Tampa Bay, he began each season working at the club's Spring Training facility in Port Charlotte, Florida.
"At the big league level, you see long-term clubbies, but at the Minor League level, you really don't see that," Birling said. "That, to me, goes to the person that Colin was -- extremely loyal."
Early on Sunday, former Bulls players expressed their condolences on Twitter.
During his tenure with the Bulls, Saunders worked with two International League Hall of Fame managers, Bill Evers and Charlie Montoyo, as well as future Major League stars like Evan Longoria, Chris Archer and Ben Zobrist. Birling expressed his club's appreciation of the former players' outpouring of support.
"It's good to see that the 'little people,' the ones who are kind of doing all the dirty work in their careers, doing the little things to help [the players] along, it's great to see that they appreciate that," he said.
Prior to joining Durham, Saunders served in the same role with the Rays' former Double-A Southern League affiliate in Orlando, working as a clubhouse manager in various capacities for 17 seasons.
"Like I said, those are the unsung people. Fans don't get to know who a clubbie is. The clubbie is the guy who's meeting the team at 3, 4 in the morning when the bus shows up or staying and vacuuming after everyone leaves at 1 in the morning, all those little things that have to get done to make sure that our players are successful," Birling said.
Saunders was surrounded by family -- both related and his adoptive Bulls group -- at the time of his passing. His loss leaves a void in Durham.
"When you have somebody that's been here that long, he's going to be really hard to replace," Birling said.
Tyler Maun is a contributor to MiLB.com. Follow him on Twitter @TylerMaun.