Watt lit up Eastern League in '65
Throwing two no-hitters in season remains circuit record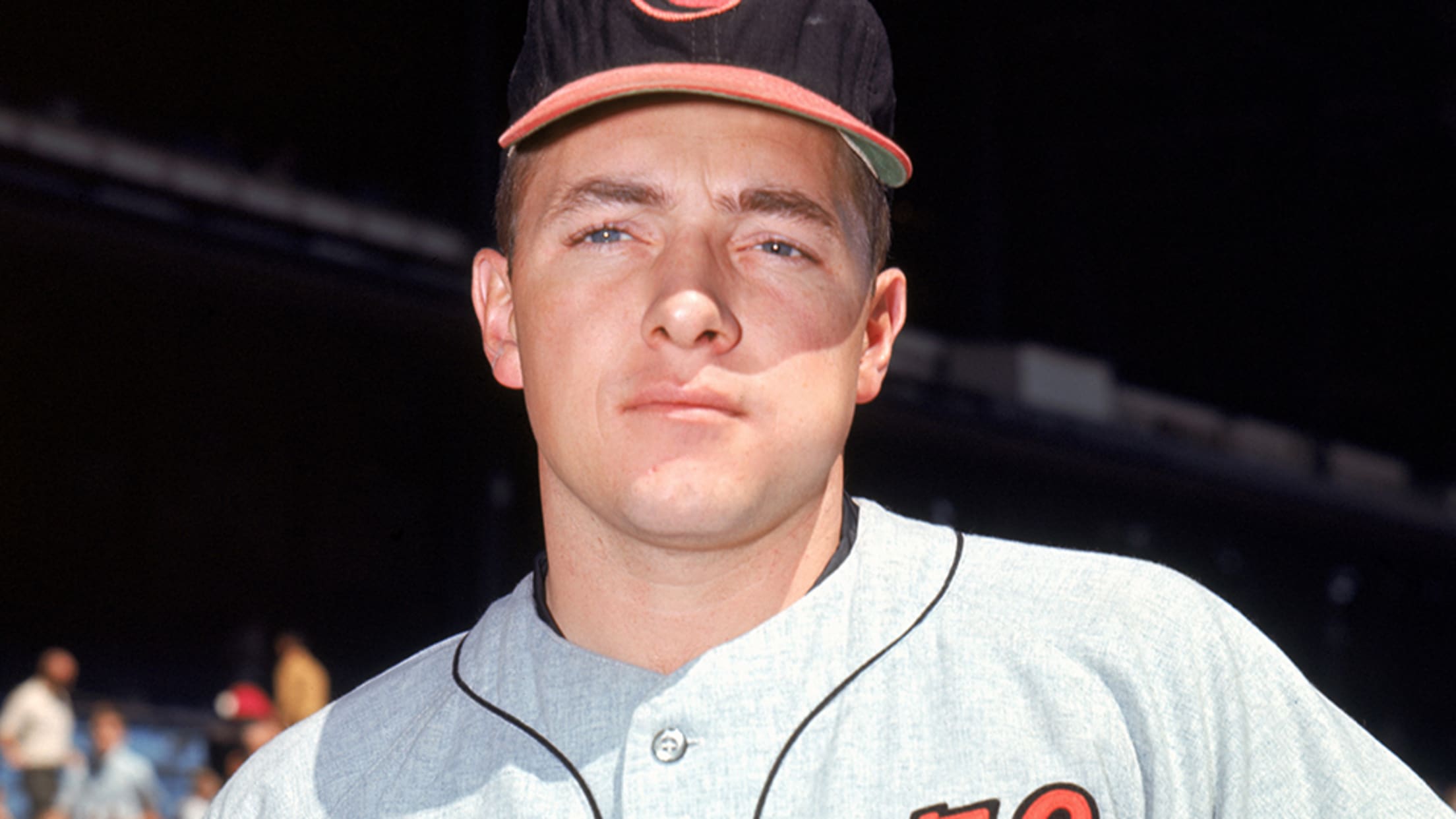 Eddie Watt pitched for the Orioles in the World Series in 1969, 1970 and 1971. (Louis Requena/Getty Images)
Minor League Baseball is known for its rich history, dating back more than 100 years. While much has been written about the best teams and top players who have graced the Minors, there remain many stories either untold or largely forgotten. Each week, MiLB.com will attempt to fill that gap
Minor League Baseball is known for its rich history, dating back more than 100 years. While much has been written about the best teams and top players who have graced the Minors, there remain many stories either untold or largely forgotten. Each week, MiLB.com will attempt to fill that gap and explore these historical oddities in our "Cracked Bats" feature. Know of any stories to be considered for this feature in the future? Send an email and let us know.
The newspaper articles that described Eddie Watt in the spring of 1965 had a certain comedic value. While each of the stories written about the Elmira pitcher focused on his obvious ability on the mound, they all seemed fixated on his appearance.
The Waterloo Daily Courier, in his home state of Iowa, referred to him as "the stubby right-hander." The Gettysburg Times, which covered the Eastern League at the time, described him as "the barrel-chested, tobacco-chewing flamethrower." Other papers made reference to the "chunky pitcher," all of which brought a chuckle from Watt.
"They're all close to being right," he said. "I guess they were being polite because I've been called everything from chunky to stocky to everything but tall and slender."
All it served to prove was that appearances truly are not what they seem to be.
While Watt may not have looked like a traditional ace in the Hollywood sense, he certainly pitched like one, etching his name in the Eastern League record book with a Johnny Vander Meer-like feat that had the circuit buzzing. Watt threw a pair of no-hitters that spring for Elmira, both of which came during the first three games of the campaign, and he remains the only pitcher in league history to toss two no-hitters in the same season.
"It was just a pitchers' league and I can't honestly tell you why," Watt said. "There's no one reason why I can pin it down. Elmira had a good park to pitch in. There was a lot of room for foul balls and there was a big outfield. And we had a very good groundskeeper, so there were never any bad hops. That made it easier to pitch."
Even if the groundskeeper wasn't as efficient, it might not have mattered to Watt. Big things were expected of him, based on what he did the previous season while splitting time between Aberdeen of the Class A Northern League and Elmira. He combined to go 17-2 in 25 starts (3-1 at Elmira) with a 2.04 ERA, setting the stage for a big year in the Eastern League in '65.
Elmira manager Earl Weaver, who went on to have a legendary career on the bench in Baltimore, named Watt as the Opening Day starter against Williamsport on April 24. The Pioneers were the home team and since the crowd was slow in arriving, team officials were allowed to delay the start because a sellout was expected.
"I was all set down in the bullpen, getting ready, when Weaver came down and said sit down for a few minutes because the crowd wasn't there yet," Watt said. "I had only thrown seven or eight pitches, but the general manager wanted to wait, so I sat down. I waited another 10 or 15 minutes, and then I began to throw again.
"It was interesting because Weaver said the last guy that had to do that went out and pitched a complete game. It didn't really bother me because the weather was good [that afternoon], so I just sat in the 'pen and waited."
It was well worth the wait.
Watt went out and dominated Williamsport, hurling the first no-hitter of his professional career. The game, however, was not without some controversy. Early in the contest, third baseman Frank Peters slipped while making a routine throw to first base. The runner was safe and the official scorer credited him with a base hit. But in the seventh inning, with that play standing between Watt and a no-hitter, the scorer reversed his decision and charged Peters with an error, leaving the no-hitter in tact.
Watt was nearly as effective in his second start, allowing three hits over 6 2/3 scoreless innings at Pittsfield. He did not figure in the decision, though, in what proved to be a wacky game for other reasons.
"At Pittsfield, you usually only played a half inning and then you had to wait for the sun to go down because it was in the batters' eyes," Watt recalled. "Then you got up and played again. In that game, we got sunned out in the first inning, then had a rain delay later on and a fog delay after that. Then all that lifted, and we played, but it was quite a game."
Interesting but not nearly as exhilarating as what Watt did on May 6 against Reading. He pitched another no-hitter and had yet to allow a run through 24 2/3 innings. He'd yielded only three hits and appeared to be making a mockery of the Eastern League.
"At the end of the third game, I was thinking that this was easy," Watt said. "But in the fourth game, we went over to Reading and I got the holy hell beat out of me. I might have lasted three or four innings. They beat the ball around everywhere and I proved to everyone, including myself, that I was human and that maybe I wasn't as good as I thought I was at that particular second in my life.
"But then in the fifth start of the year, back in Elmira, I took a no-hitter into the seventh. We had a good staff that year with Dave Leonhard. We were probably the oldest and most experienced pitchers. Though the other three pitchers were young kids with control problems, they had good arms."
Larry Haney, who went on to play 12 seasons in the Major Leagues and won a World Series with Oakland in 1974, caught both of Watt's no-hitters. He remembered the right-hander as a pitcher who had no problems finding the plate.
"He was a low three-quarter guy and he was very tough on right-handed hitters," Haney said. "He threw strikes. He didn't play around, either. He went right after hitters. He wasn't a power guy. But with his arm angle and his ability to throw his breaking ball for strikes, he was tough. He was a big, breaking-slider type of guy."
In fact, it was his slider that proved to be his dominant pitch. Veteran manager Lou Piniella was on Elmira that season and spoke about Watt's slider.
"He could pitch," Piniella said. "What a competitor he was. He always liked to talk pitching. I remember facing him in intrasquad games and making Eddie feel good about his slider because I couldn't hit it."
Not many folks in the Eastern League could.
So after going 7-2 with a 1.85 ERA in 14 starts, he was promoted to Triple-A Rochester. Watt went 6-4 with a 3.52 ERA for the Red Wings and was in Baltimore to start the 1966 season. He went on to play 10 seasons in the big leagues, converting strictly to a relief role in 1967. Watt finished his career with 38 wins, 80 saves and a 2.91 ERA in 411 appearances.
Kevin Czerwinski is a reporter for MiLB.com.