Cabrera in complete control for Grasshoppers
Marlins No. 12 prospect allows one hit in first two starts of season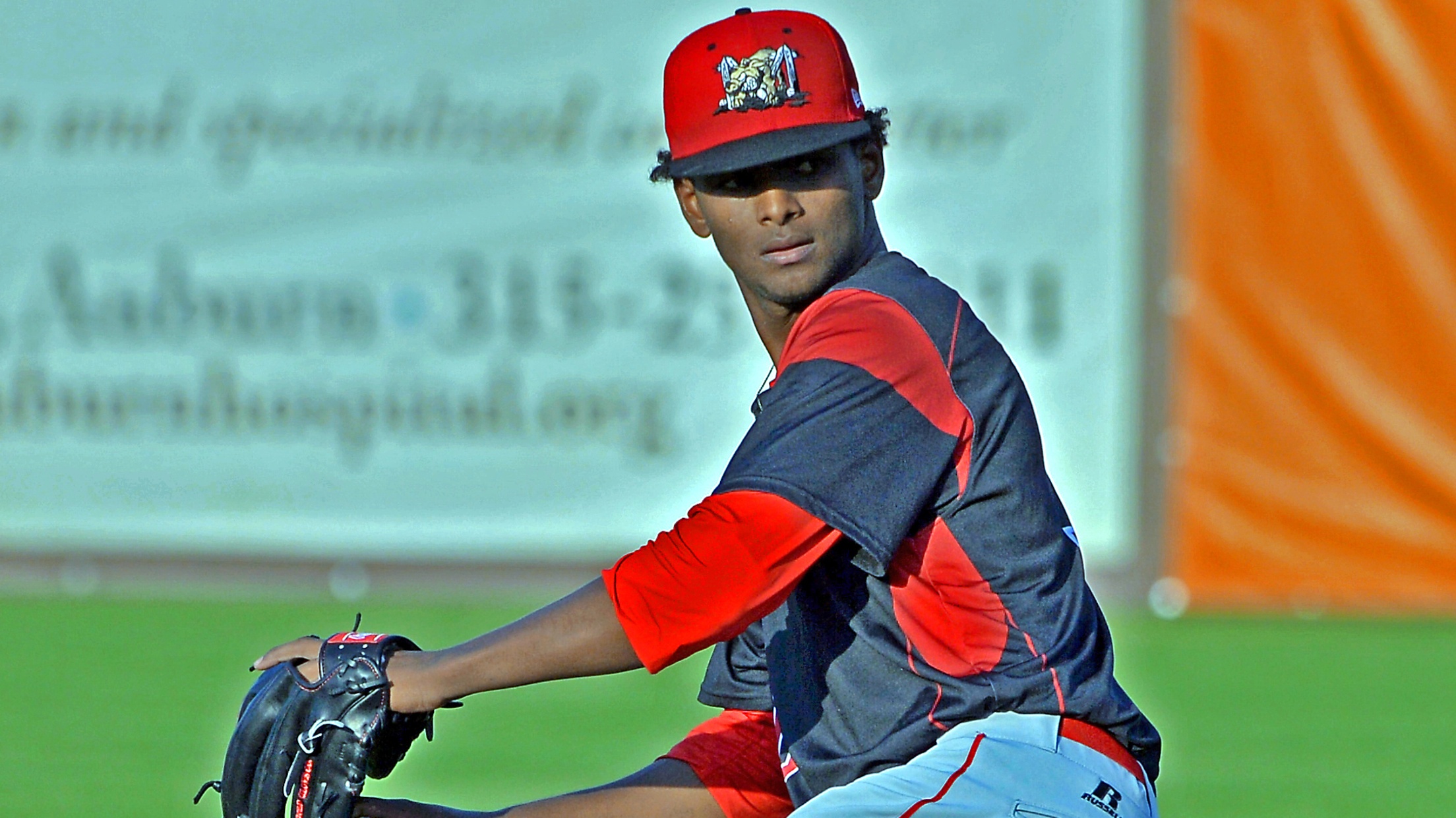 Edward Cabrera allowed a run on one hit over five innings in his first outing of the season. (Rick Nelson/MiLB.com)
The Grasshoppers couldn't ask for much more from Edward Cabrera following his first start of the season. But Monday, the Marlins No. 12 prospect did even better.Cabrera didn't allow a hit and walked two over six innings in Class A Greensboro's 1-0 victory over Lakewood at FirstEnergy Park. He gave
The Grasshoppers couldn't ask for much more from Edward Cabrera following his first start of the season. But Monday, the Marlins No. 12 prospect did even better.
Cabrera didn't allow a hit and walked two over six innings in Class A Greensboro's 1-0 victory over Lakewood at FirstEnergy Park. He gave up a run on one hit and five walks in five frames in a loss to Augusta in his season debut April 10.
Gameday box score
Cabrera tossed 37 of Monday's 68 pitches for strikes, whiffing three BlueClaws.
"So far this year, he's the most composed we've seen him in recent years," Greensboro pitching coach Mark DiFelice said. "I know he's only 20 years old, but that's one thing we've worked on is having him slow the game down so he can command his fastball. I think to start the season, the way he's done that is the most composed he's been."
Opposing hitters have batted .030 against the 6-foot-4, 175-pound right-hander who signed with the Marlins out of the Dominican Republic in 2015. Cabrera showed some raw potential in the Rookie-level Gulf Coast League his first year, striking out 28 and walking 10 in 47 innings while he worked on the command of his fastball. He allowed 45 hits and eight walks over 35 2/3 innings with Class A Short Season Batavia last year.
"The pace and tempo of the game, we're trying to slow it down so he can really command that fastball in the strike zone," said DiFelice. "He did a really good job at that tonight. I think starting last year in Batavia, they were working on doing that. He took that at the end of the regular season into Spring Training, and we saw him mature in that regard."
According to MLB Pipeline, Cabrera can hit up to 101 mph on the radar gun, but his fastball usually rests around 95-100. The righty utilizes a slider that works as an out pitch, and his changeup projects to be a solid third pitch by Pipeline. On Monday, he topped out at 98 mph.
"He had a curveball that kept the hitters off balance," DiFelice said. "He mixed in a few changeups, but the curveball was his best secondary pitch. He was able to throw for strikes and to chase. He was really in control."
The Marlins have worked on limiting Cabrera's workload the past couple seasons, and Monday, he was pulled after 68 pitches due to pitch count.
"Every time out there, he gains experience," DiFelice said. "Pitching into the fifth or sixth innings. Keeping his pitch count low is huge, if he can do that, I'm sure his innings will go up as well."
Bryce Howe (1-0) allowed a leadoff single by Simon Muzziotti in the eighth, then struck out two over two innings for the win and RJ Peace pitched a perfect ninth for his first save.
Aaron Knapp drove in Marcos Rivera with a ground-ball single in the eighth for the game's only run.
Marisa Ingemi is a contributor to MiLB.com. Follow her on Twitter @Marisa_Ingemi.