El Latigo left legacy in a career cut short
Chavez strung together 17 straight complete games for Decatur in 1965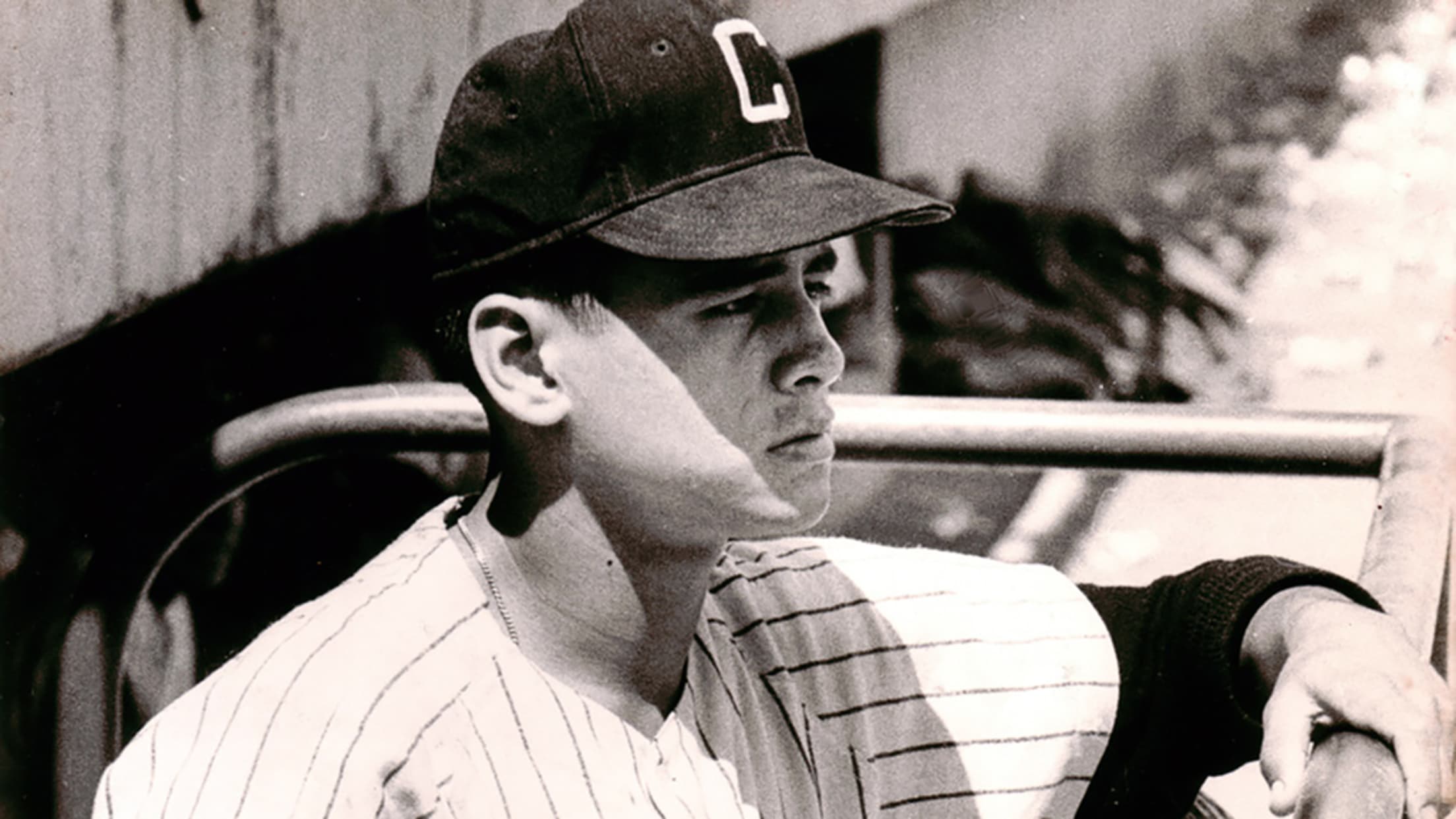 Nestor Chavez posted a 1.99 ERA during a streak of 17 straight complete games for Decatur in 1965. (Nestor Chavez)
Minor League Baseball is known for its rich history, dating back more than 100 years. While much has been written about the best teams and top players who have graced the Minors, there remain many stories either untold or largely forgotten. Each week, MiLB.com will attempt to fill that gap
Minor League Baseball is known for its rich history, dating back more than 100 years. While much has been written about the best teams and top players who have graced the Minors, there remain many stories either untold or largely forgotten. Each week, MiLB.com will attempt to fill that gap and explore these historical oddities in our "Cracked Bats" feature.
The "Tale of the Whip" is one that hasn't been told often, at least in the United States.
The "Tale of the Whip," though menacing by name, is actually anything but. It is the story of a young Venezuelan pitcher who dominated the Minor Leagues for a time in the mid-1960s. It's the tale of how that young man nearly rose to prominence, only to have his life and career cut short in a terrible tragedy, dashing the hopes of a people who came to love the player they called "El Latigo."
Nestor Isaias Chavez was about as dominant as one could be on the mound when he came out of Venezuela in 1964. He was one of the country's most overpowering pitchers as a teenager, grabbing headlines and leading his juvenile team, Los Celis, to a string of impressive victories over the course of the 1962 and 1963 seasons.
It was during this time that Chavez earned the nickname "El Latigo" -- The Whip, in English -- because of his blazing fastball. According to Alfonso L. Tusa, who authored "El Latigo del Beisbol, Una Biografia de Isaías Chávez," it was Los Celis manager Dario Celis who inadvertently gave him the nickname while trying to recruit him to pitch for his team.
"You have a whip in your arm. Come play for us and you'll become a better pitcher," Celis said, according to Tusa.
"El Latigo" was certainly dominant as a 15- and 16-year-old, at one point winning 17 consecutive games for Los Celis. The San Francisco Giants took notice of the 6-foot, 170-pound right-hander and signed him to a free-agent deal in the fall of 1963, two months after he turned 16. The Giants sent him to play winter ball that year, and the following season assigned him to Decatur of the Midwest League, where he went 6-4 with a 5.27 ERA in 28 games (eight starts), setting the stage for one of the most magnificent seasons in that circuit's history.
• More Minor League Baseball history »
Chavez hadn't yet turned 18 when the 1965 season began. He found himself back in Decatur, this time in the Commodores' starting rotation. And what he would do over the next five months would cement his standing in Venezuelan lore -- and earn him a place in the Midwest League record book. Chavez posted a 2.15 ERA in 23 starts with Decatur that season, compiling a modest 12-9 record. But it was what he did en route to achieving those numbers that stands out.
The teenager tossed 17 consecutive complete games, a streak that began in late May and ran through the middle of August. Chavez was 2-2 when he started the opener of a doubleheader against Cedar Rapids on May 27. He went the distance, striking out seven and scattering 10 hits as the Commodores picked up a 4-2 victory. Little did Chavez know that he wouldn't require the help of his bullpen again until Aug. 23.
Chavez tossed a 5-0 shutout over Dubuque in his next start. Afterwards, according to Tusa, Chavez was willing to spread the accolades.
"My fastball was OK," Chavez said. "My breaking ball really hurt them. I had complete command on my deliveries. That's why I didn't give any free pass [walks] and struck out nine in the seven frames that the game lasted. I have to thank the catcher DeGold Francis for helping me to keep controlling my throwings on the strike zone".
And so it went through the rest of June and into July. There was the 6-0 three-hitter against Waterloo on June 13, the day Dick Jackson tried to knock Chavez out with an elbow as he attempted to field a bunt. There was his nine-strikeout effort against Clinton on June 27. There was a five-hit shutout of Clinton on July 20 as Chavez collected 12 more strikeouts. There was the 10-strikeout, four-hit shutout of Quad Cities five days later, in a game that saw him collect three hits, including a double and an RBI. And he closed out the month Aug. 30 with a two-hitter against Waterloo, striking out 11 for his 16th complete game in 18 starts.
August began in the same fashion as July had ended. An Aug. 4 victory over Fox Cities was followed by an Aug. 10 win in the opening game of a doubleheader at Quincy. Chavez finally lost a game on Aug. 14, dropping an 8-4 decision to Quincy, but he pitched the entire game for the 16th consecutive outing.
Chavez's streak reached 17 games on Aug. 18 when he tossed a six-hit shutout against Burlington. He struck out 13 and collected a hit in the 3-0 victory. But the streak came to an end Aug. 23 at Dubuque. The Packers emerged with a 5-4 victory in 14 innings, the first 13 of which Chavez pitched. He struck out 13 and afterwards was rewarded with a promotion to the Eastern League.
He posted a 1.99 ERA during the streak (140 2/3 innings) while striking out 125. Six of Chavez's seven shutouts that season were tossed during the streak. He finished the Midwest League season with 20 complete games, 163 strikeouts and 46 walks in 193 innings. Chavez then allowed just one unearned run in six innings during his only start with Springfield.
Chavez split the 1966 and '67 seasons between Springfield and Phoenix of the Pacific Coast League, going 28-16 with a 3.29 ERA in 66 games (40 starts). Finally, in September of '67, shortly after his 20th birthday, Chavez made his Major League debut for the Giants on Sept. 9, allowing two runs in an inning of work. He wouldn't pitch again until Sept. 30, when he earned his first and only victory with three shutout innings against Philadelphia.
He returned to Phoenix for the 1968 season, but an injury to his right ankle limited him to 17 games (13 starts). He went 5-5 with a 3.92 ERA but suffered an elbow injury as well, the result of his favoring the ankle. The pain in his elbow became so intense that he had had to undergo surgery in January of 1969 to remove calcium deposits.
Pain-free and eager to resume his big league career, Chavez was to fly from Venezuela to Phoenix on March 16 to begin rehab on his elbow. But the plane in which he was flying struck power lines near the runway upon takeoff and crashed. He was among the 84 passengers and 70 people on the ground that were killed.
"Isaías Chavez is a ballplayer who left his fingerprints in the Venezuelan amateur and professional baseball," Tusa said via email from his home in Venezuela. "He had accomplished several goals [played for champion teams in the amateur and professional Venezuelan baseball, established records in the Venezuelan Winter League and in the Midwest League, played for the Giants in MLB] at the moment of the plane crash. He's very well known among the people of his generation and the ones before it. And surprisingly, a lot of people from the new generations know about him, too. Because their parents have talked to them about Isaìas Làtigo Chavez, the pitcher who left so many memories in such a short time."
Kevin Czerwinski is a reporter for MLB.com.