Jimenez bolsters burgeoning White Sox system
Outfielder's star potential adds to excitement around South Siders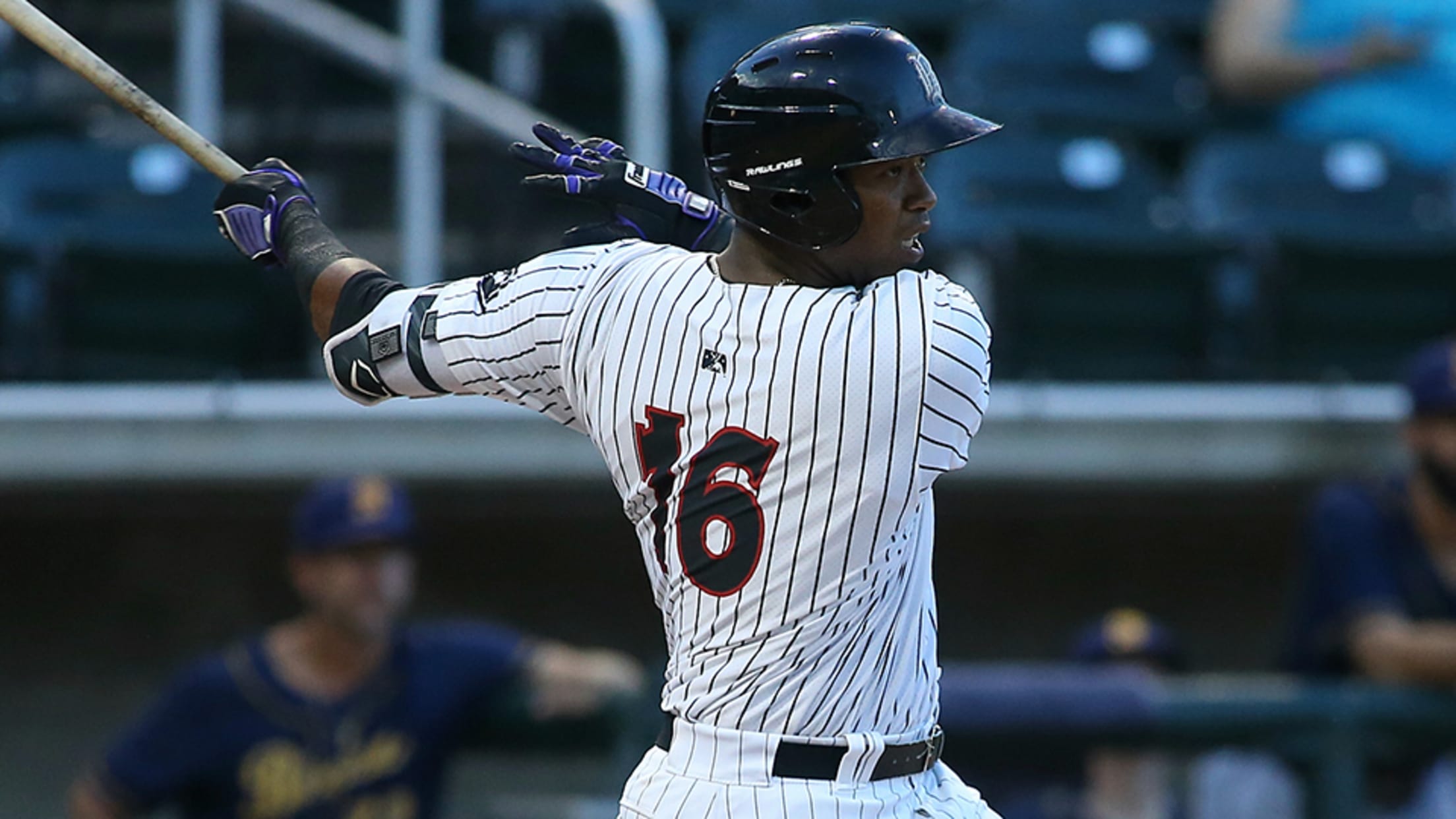 Acquired from the Cubs in July, Eloy Jimenez collected 44 extra-base in 89 games across two levels. (Jimmy Mitchell/Birmingham Barons)
This offseason, MiLB.com is taking a look at the most outstanding campaigns by players in each system across Minor League Baseball and honoring the players -- regardless of age or prospect status -- who had the best seasons in their organization.While the crosstown Cubs currently cast a long shadow across
This offseason, MiLB.com is taking a look at the most outstanding campaigns by players in each system across Minor League Baseball and honoring the players -- regardless of age or prospect status -- who had the best seasons in their organization.
While the crosstown Cubs currently cast a long shadow across town, the White Sox are in the midst of a rebuilding effort that's beginning to bear fruit. The early returns from the South Siders' last two Drafts have been positive, and the club has turned veteran assets at the Major League level into top-end Minor League talent through several trades.
The result is an organization that holds six of MLB.com's Top 100 prospects, including two in the top 10: Eloy Jiménez and Michael Kopech. That list doesn't include Yoán Moncada, who was rated as baseball's top prospect before his promotion to the Majors in July. Of the six White Sox prospects featured in the top 100, four have come via trades in the last 10 months.
White Sox Organization All-Stars
Catcher -- Seby Zavala, Kannapolis (52 games), Winston-Salem (55 games): Zavala makes a second consecutive appearance as an Organization All-Star following a breakout 2017. The 24-year-old, who set numerous career highs offensively, hit .282/.353/.499 with 21 homers and 72 RBIs in 107 games between the South Atlantic and Carolina Leagues. Defensively, Zavala caught 25.2 percent of runners attempting to steal in his 77 contests behind the plate.
"The power is what stands out, but it's also where he hits them," White Sox director of player development Chris Getz said. "He has power to all fields and really puts together good at-bats. Defensively he's a solid fielder with a very good arm. [2017] was a step in the right direction for him, and you can never have enough catchers, so it was very nice to see."
First baseman -- Gavin Sheets, AZL White Sox (four games), Kannapolis (52 games): The rise was swift and productive for Sheets, who was Chicago's second-round Draft pick out of Wake Forest in June. The No. 15 White Sox prospect appeared in four games in the Rookie-level Arizona League and was promptly promoted to Class A. Sheets finished with a .279 average, 16 extra-base hits and 28 RBIs in 56 games overall.
"Gavin's a solid all-around player with a very good feel for the game," Getz said. "He's a smart kid with a really good approach, and he stays consistent with it. He's got some pop and good defensive actions. He makes a big target at first and moves around the bag well."
Second baseman -- Yoán Moncada, Charlotte (80 games), Chicago (54 games): The crown jewel of the system after he was obtained from Boston in the Chris Sale trade, Moncada showed his new organization why he was considered MLB.com's top overall prospect entering the season. Coming off an impressive 2016 campaign that ended in Double-A, the Cuba native began 2017 in Triple-A and carried a .282/.377/.447 slash line plus 17 stolen bases to the Majors when he was promoted on July 19.
"He showed just what he's capable of the last few weeks in the bigs," Getz said. "It took him a little bit to get going, but the fans got a good glimpse of what he's going to be about. He impacts the game in so many areas -- average, power, speed. He's fun to watch run and his defense continues to get better. His arm is strong, and he has a good exchange on the [double play]. Being athletic and dynamic with that type of ability ... it's what you look for in a trade when dealing a player like Sale."
Third baseman -- Jake Burger, AZL White Sox (four games), Kannapolis (47 games): The 11th player taken in June's Draft enjoyed a solid introduction to the pros. Burger spent four games in Arizona before moving to the SAL, where he hit .271/.335/.409 with 15 extra-base hits and 27 RBIs in 47 games. The club's No. 10 prospect notched a pair of five-hit games, including an Aug. 24 performance in which he hit for the cycle and reached safely in all six at-bats.
"Jake looks like he's going to be a nice middle-of-the-order bat for us," Getz said. "His hand-eye coordination is something that really stands out so far. He's got very good power and good hands, good foot work and a good arm on defense. Add in strong leadership qualities and we're excited about his future for sure."
Shortstop -- Danny Mendick, Winston-Salem (84 games), Birmingham (41 games): A midseason All-Star for the second straight year, Mendick batted .289/.373/.468 in 84 games at Class A Advanced. Although his numbers dipped after his promotion to Double-A, the 24-year-old still set numerous career highs offensively, including home runs (10), RBIs (51) and games played (125).
Outfielders -- Eloy Jiménez, Winston-Salem (29 games), Birmingham (18 games): Although the 20-year-old played less than two months in the White Sox organization, he certainly earned his ranking as the club's top prospect. Obtained from the Cubs on July 13 in a five-player deal centered around Jose Quintana, Jimenez hit .348/.405/.635 with 28 extra-base hits, 33 RBIs and 31 runs scored in 47 games across two levels, and .312/.379/.568 with 19 homers and 65 RBIs in 89 games overall.
"He's a gifted hitter who uses the whole field with a clean, smooth stroke that features terrific [bat] speed," Getz said. "He's got good temperament and a strong idea of what he's doing up there. His raw power excites us in what we think it will become. But in talking about Eloy, I think it's up to him as to what type of hitter he wants to be. Whether it's power or average, he can do so much in the box, so it's tough to cap his potential. He's the type of player that doesn't come along very often."
Micker Adolfo, Kannapolis (112 games): Only 21 years old, Adolfo enjoyed the best season of his four-year professional career in 2017. Spending the entire campaign in the South Atlantic League, Chicago's No. 14 prospect began to display some of the power expected out of his 6-foot-3, 200-pound frame. Adolfo went deep a career-high 16 times and drove in 68 runs with a .264/.331/.453 slash line in 424 at-bats.
"Micker's always had raw ability, but he really got a grasp on it this year," Getz said. "He's willing to hit the ball the other way, and he's so powerful that he doesn't need to try for home runs. As a result, he's staying on the ball longer, and the difference is noticeable in the results. Defensively he's got a very strong arm and covers good ground. We're very excited to see what he does in 2018 after so much improvement [this past year]."
Craig Dedelow, Great Falls (60 games), Kannapolis (five games): Another of Chicago's 2017 Draft picks who made a big splash in his first taste of pro ball, Dedelow earned midseason and end-of-season All-Star selections after hitting .321/.353/.574 with 36 extra-base hits -- including 12 homers -- and 54 RBIs over 60 games in the Rookie-level Pioneer League.
Designated hitter/Utility -- Anthony Villa, Great Falls (63 games): Repeating the Pioneer League did wonders for Chicago's 19th-round Draft pick in 2016, who took home league MVP honors in his second professional season. Villa erupted to bat .314/.453/.619 with 16 homers, 35 extra-base hits and 57 RBIs in 63 games for the Voyagers. After playing almost exclusively at first base in 2016, the 23-year-old split time evenly between first and third this season.
"He had a great year with the bat," Getz said. "The end result was him looking like one of the best, if not the best offensive players out there. Anthony's a true pro who profiles best at first base, but who can also handle third. He really opened some eyes, and we look forward to seeing more of that next year."


Right-handed starting pitcher -- Alec Hansen, Kannapolis (13 starts), Winston-Salem (11 starts), Birmingham (two starts): Drafted in the second round in 2016, Hansen had a fine professional debut before bursting onto the prospect scene this season. The No. 6 White Sox prospect led the Minor Leagues with 191 strikeouts and won 11 games while posting a 2.80 ERA in 26 starts across three levels.
"From the moment we drafted Alec, he really took to pro ball," Getz said. "He connected well with [Kannapolis pitching coach] Matt Zaleski. He stays over the rubber with his delivery and doesn't get too quick, and his ability to get swings and misses on his fastball, both up and down in the zone, is a real asset. He's got a plus curveball that works well off the heater and an improving slider and change."
Left-handed starting pitcher -- Bernardo Flores, Kannapolis (14 starts), Winston-Salem (nine starts): Flores recorded a strong professional debut in 2016, and that success carried over into 2017 as the club's No. 29 prospect set career highs across the board during his first full-season campaign. The 22-year-old southpaw posted a 3.42 ERA and won 10 games while compiling a 103-to-32 strikeout-to-walk ratio in 118 1/3 innings across two levels.
"Flores is a guy who really began to mature physically," Getz said. "He's got a very good changeup, and he's learning to repeat his delivery while consistently going after batters and throwing strikes. He added a cutter/slider this past season to go along with a strong curve, and the results were solid. We expect big things from him moving forward."
Relief pitcher -- Kyle Kubat, Kannapolis (21 games, one start), Winston-Salem (seven games, one start), Birmingham (seven games, one start): Kubat put together the best season of his three-year pro career in 2017, which ended with a promotion to Double-A. The 24-year-old posted a 1.69 ERA and held opposing batters to a .184 average in a career-high 35 games. The lefty fanned 77 batters in 74 2/3 innings and posted a sterling 0.83 WHIP.